What canvas print is best for you?
By Amy Wright | May 15, 2023
Looking to add some interest to boring white walls? Or, you have some dear memories you'd like to proudly display at a specific area in your home. Fortunately, the right canvas prints can do both jobs exceptionally well.
Canvaspop's prints offer eye-catching, gallery-quality pieces that can make any space come to life. As long as your print of choice embodies your unique personality, there's no limit to the creative wall art you can achieve.
Whether you choose a piece of large-scale art or a loving picture from a recent family trip, know that your canvas prints are printed on museum-standard archival canvas, so that their vibrancy and detail are unmatched.
If you catch yourself wondering "how to choose the right canvas print?" or "what canvas print is best for me?", you're not alone. We've got you covered. Let's discuss how to choose the right canvas print for your space.
1. Consider your wall space
If you don't have any wall space in mind, don't worry. Spotting one is easier than you think. All it takes is a quick look around your home!
You might notice empty walls that could use a much-needed focal point. Or, you might realize your staircase has nothing interesting to look at when going up or down. Or maybe, you have a couple of rooms with wall art you've grown tired of and would happily replace. Take note of all the blank spaces that could use something special.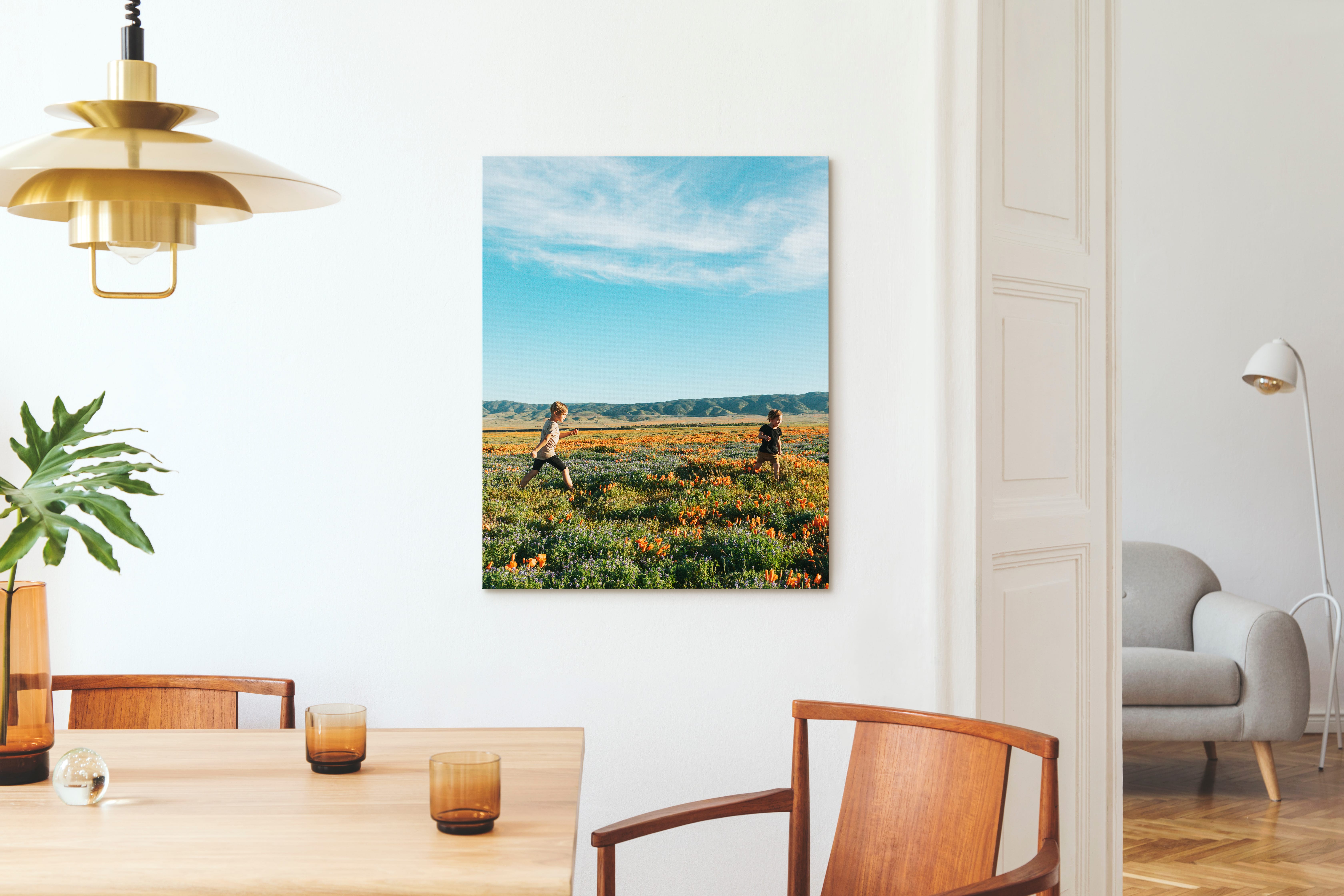 As for how much space your wall art should take up, it depends which rooms you'll be designing. Space is a big factor here. If the size isn't right for your chosen space, you might not love the final result – no matter how beautiful your new prints might look.
So how big should you print? You don't want to leave any significant white spaces, and you don't want a larger canvas print to overshadow other elements in the room. Keep that in mind when planning your design.
You don't have to select just one big piece, by the way. You could group a few smaller pieces together to create a stunning gallery wall.
If you want a large piece but can't decide on a single photo, you can choose up to 24 of your fondest moments to create a beautiful photo collage print. It's all up to you!
At Canvaspop, we offer custom-size canvas prints ranging from 8'' going all the way up to 72''. All you have to do is click "custom size" when creating your print, and enter your preferred width and height to match your space. When in doubt, you can take a look at our best-selling sizes to grab a few ideas.
2. Determine the design
This is the most fun part of choosing your canvas prints. The possibilities are endless!
On the other hand, with so many ideas to choose from, some people tend to get overwhelmed. Don't worry, we can give you a few ideas to get started.
Start by choosing what you'd like to print. You can choose from: - A beautiful landscape photo you have taken - A family portrait you adore - A commissioned digital art print from your favorite local artist - Pictures from your favorite trip - A portrait of your pet! - An artwork your kid has masterfully crafted - A piece of modern art, abstract art, famous artwork from our designer collections - Word art with some of your favorite quotes
It's important to take your time to think about what you want printed. Talk to your family, your kids, and your friends, as they could have awesome ideas to share with you.
You can always draw inspiration from top wall art trends, which include peaceful art, generative art, and wall-popping colors. Also, our Instagram page is filled with ideas you'll love.
3. Determine the colors
Should your canvas prints match the room? It depends on your personal preference. Some people find colors fascinating, whereas others don't mind as much. And that's okay – what matters is what feels right for your personal taste.
When selecting wall art for their home, a lot of people start with the basics of color theory. We have a whole post you can read if colors matter to you, or if you want to dip your feet into foundational color principles.
What you definitely want is for your canvas prints to engage the eyes and create a sense of balance in the room. You can reference the color wheelto pick out complementary shades to have contrasting pops of color.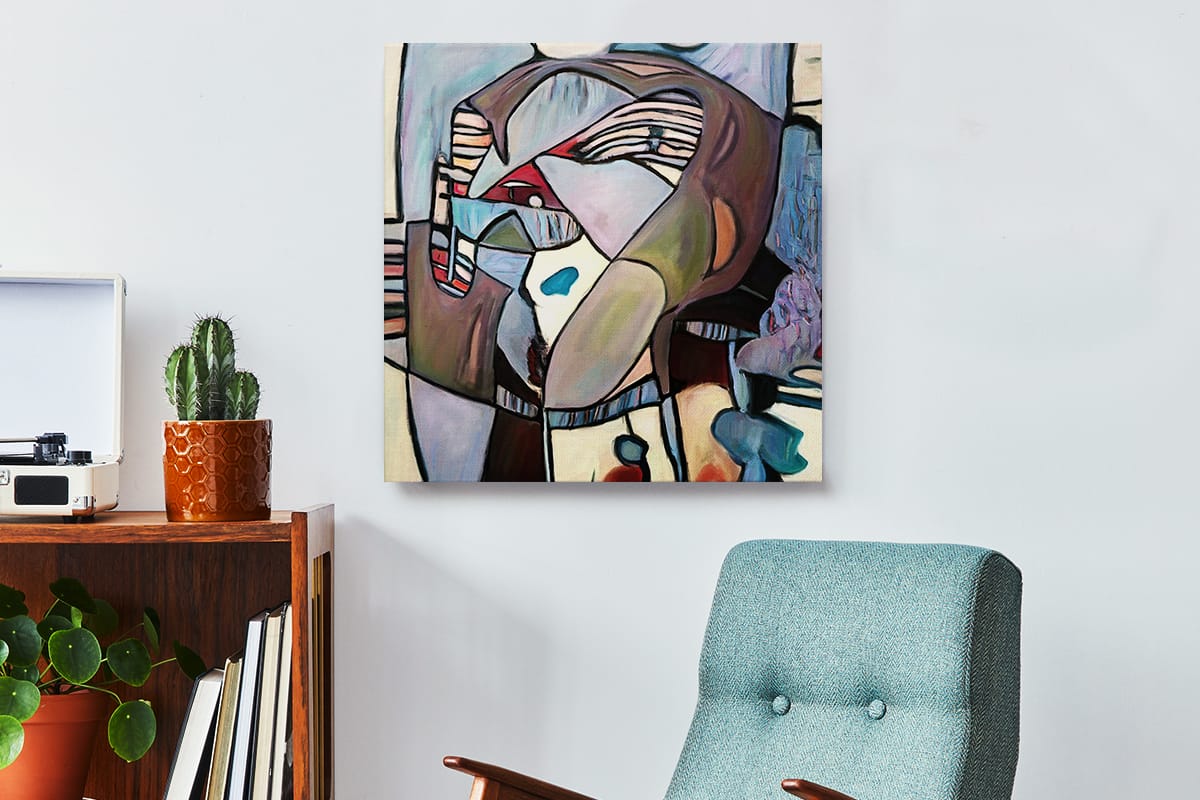 When in doubt, you can never go wrong with timeless black and white photos. They allow the viewer to focus on the beautiful details printed on the canvas, making for a beautiful, distraction-free composition.
What's more, color "rules" shouldn't limit you. Truth is, there are no rules. Whether the colors match your space or not, your canvas prints and wall art should be all about something that brings you joy every time you look at it.
4. To frame or not to frame?
Looking for something a little more sophisticated? You can have your picture printed in a high-quality framed print for a touch of contemporary elegance. They look beautiful when hung as a pair or group, or by themselves.
Framed prints involve printing images on premium vibrant luster fine paper, and placing them on long-lasting frames. They're crafted by hand with an extra-thick 2'' mat for a graceful look. They look especially interesting if you want one or more canvas prints to be a focal point, as they add depth to any picture.
You can choose between three shades: black, white, or espresso. Our dark black frames are a solid choice for modern homes and elevated statements, while our espresso frame adds to more warm, traditional looks. Our crisp white frames are a perfect addition for neutral, clean-looking interiors. We have the perfect frames to enhance any design or color palette.
5. Hang it up
If you're more of a do-it-yourselfer, here are a few standard tips for hanging your canvas print: - Start by considering factors like size of the print, wall space, lighting, the height to hang it at. At this point, you've already selected the best space to hang your canvas print. Once you're 100% sure your print is appropriately sized for the spot you choose, it's time to get to work. - Gather every material you'll need. For a small (8"x10") to medium (18"x24") piece, all you'll need to hang it up is a hammer and a nail. For pieces larger than 20"x30", you'll need a picture frame hanger. You'll also need a measuring tape, a level, a hammer, a pencil, and some painter's tape. - You can sketch out the right placement for your canvas with painter's tape.This way, you can easily visualize how your print will look once it's hung, as well as if it's well-positioned on the right amount of space. - Now, it's time to hammer your nail or attack the hooks to the wall. Check the back of the artwork to determine the type of hardware you're working with. Different sizes of frames include varied hanging hardware, including sawtooth hangers, hooks or come with a hanging wire. Our very large prints already come with a wire for easy hanging. - Before you're ready to hang, If the piece is located above furniture, hang it 4-6 inches above it. If you're hanging multiple pieces, you should leave 2-5 inches between each frame for proper spacing. Or, if you want more tight spacing, you can hang them 1-2 inches apart. - Next, all you have to do is hang your prints by looping the wire or sawtooth hanger around the hook or nail. And you're done!
Now, if the thought of hanging your canvas prints yourself makes you twitch, you can give a quick call to a trusted expert. You won't have to do the hard work, and you'll get perfectly placed canvas prints every time.
6. Show it off!
You now have beautiful canvas prints that contain a piece of you. You've poured your creativity and work into them, which means it's time to flaunt them.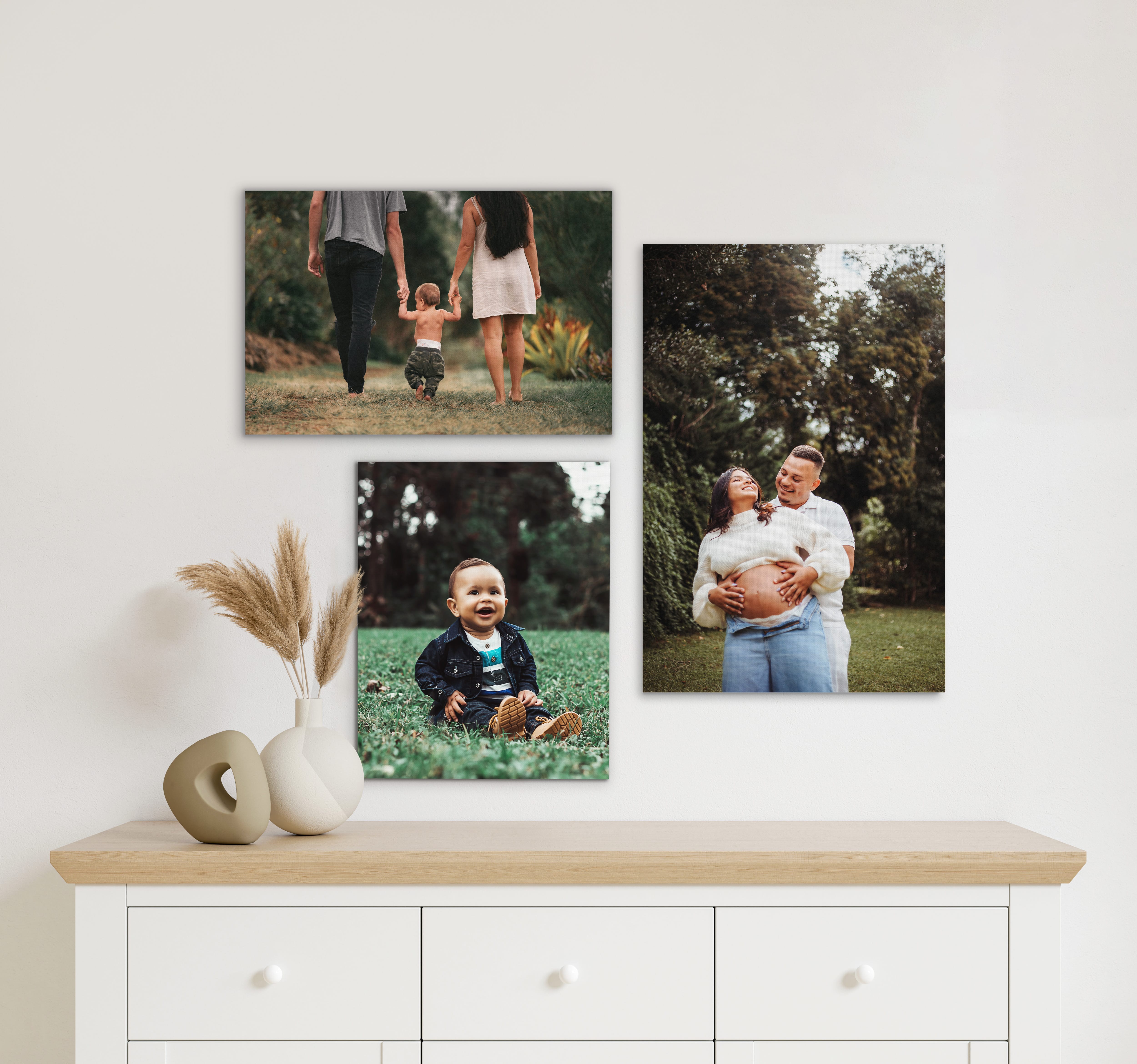 Upload your brand new wall art to Instagram and tag @canvaspop for a chance to win $100 in monthly draw. Your creativity could inspire our followers to create their own canvas prints. Plus, we'd love to see what you came up with!
When you're ready, go ahead and create your custom size prints on Canvaspop's website. We're more than happy to answer any questions, as well as help with selecting a unique custom print size for your needs. Don't hesitate to reach out via phone, email, or chat. We're always available to help you out!