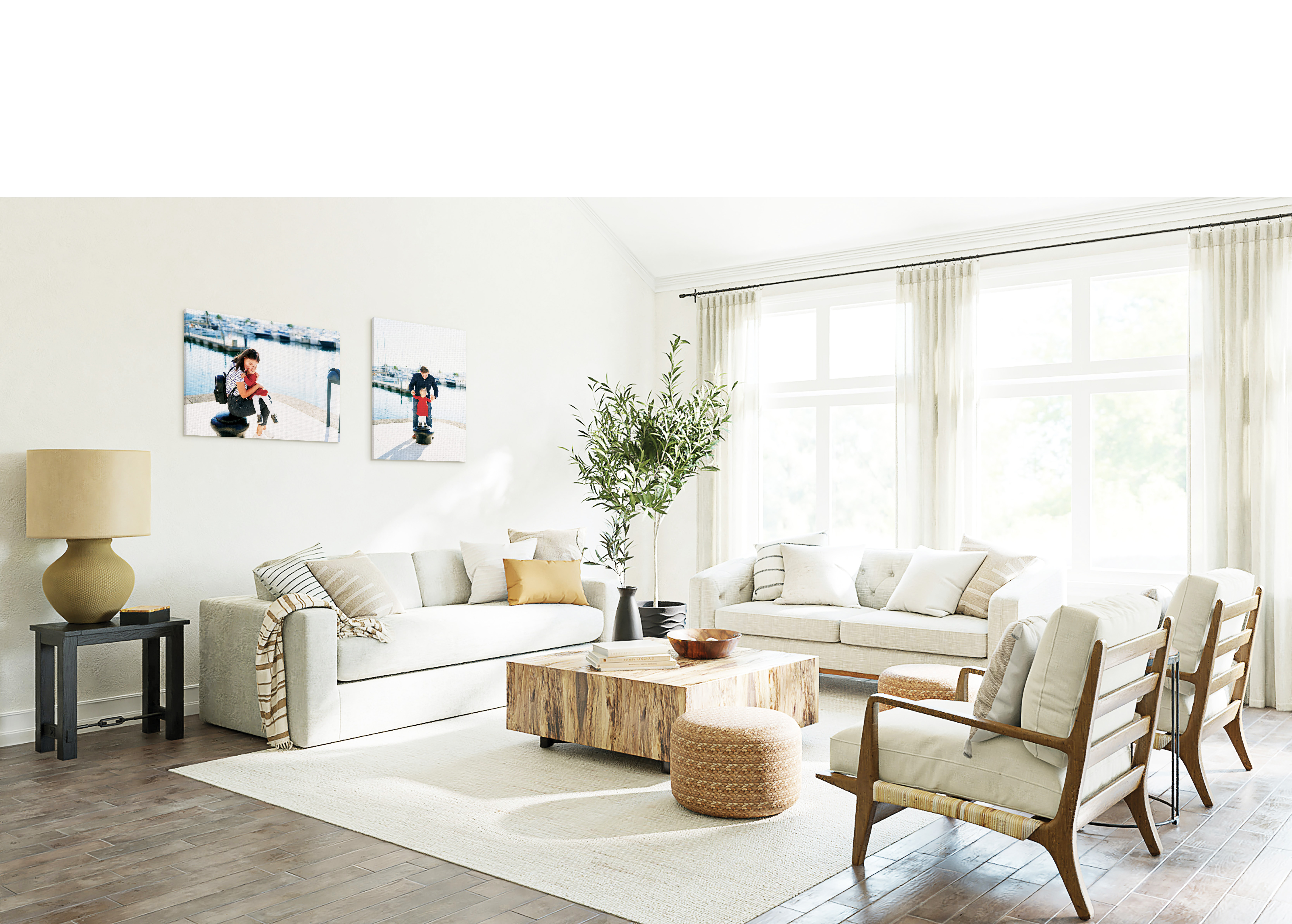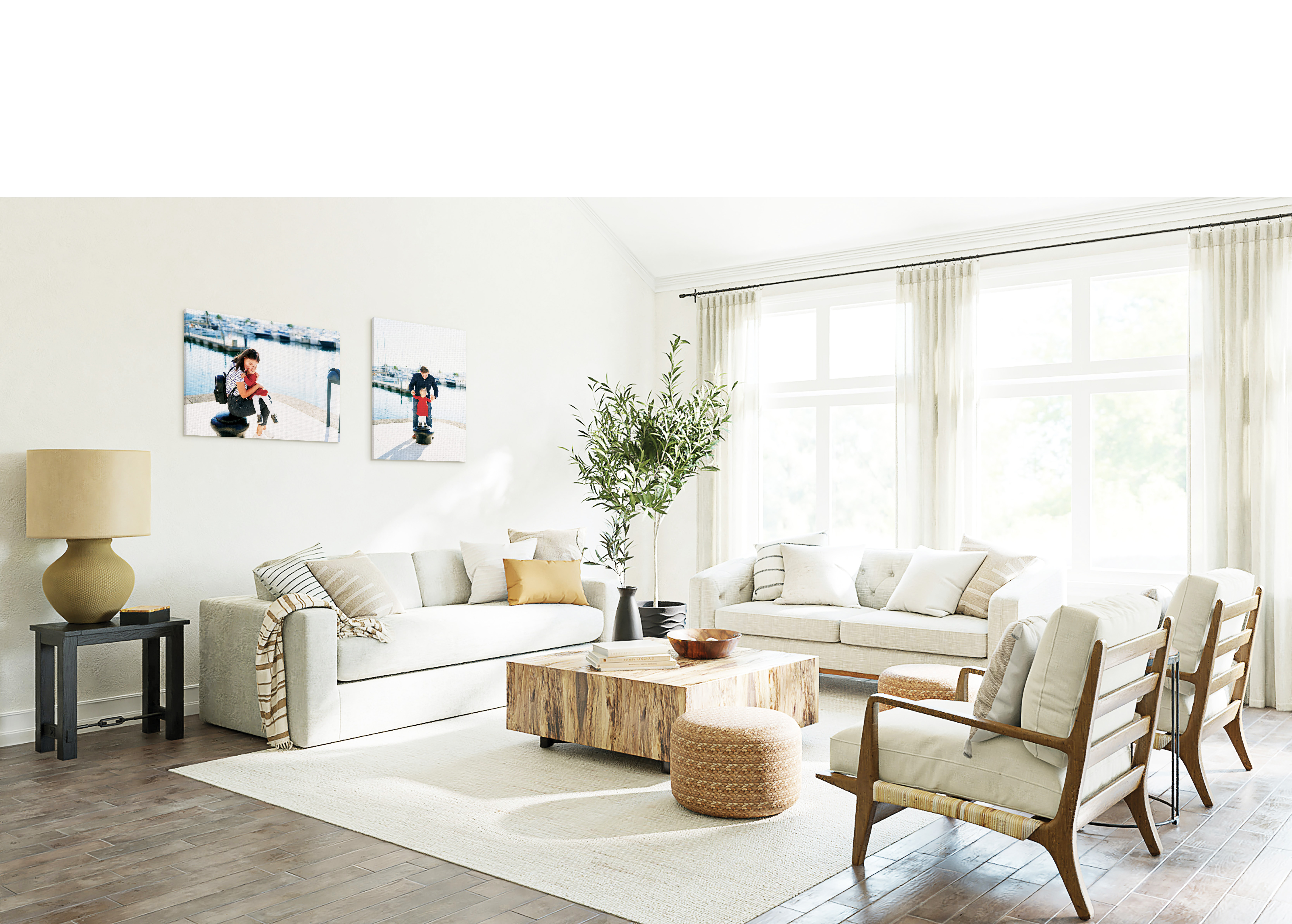 How big should you print?
By Amy Wright | Feb 21, 2023
Have you found the perfect photo for your wall and are unsure of the correct size to print at? You're not alone in this predicament; most people often struggle with choosing the best sizes for their canvas or framed prints. Unfortunately, there isn't a one-shoe-fits-all, absolute answer to this question; it all comes down to your preferences and wall size.
This post highlights all the factors to consider when selecting print sizes. It also discusses common print sizes and when to use them and offers a few pro tips.
Where are you planning to place your print?
Where you plan to hang your prints should be the first consideration when deciding your artwork's print size. Are you planning to display it on a large wall, shelf, or hallway?
You do not want to print a photo that's too small for your space because this may appear lost on an otherwise empty wall. Similarly, you do not want to print a too-large photo, which might make your space imbalanced.
The conventional rule of thumb is that your wall art should take up 50-75% of the available wall space. That means a big piece is ideal for bigger spaces, such as above the couch, bed or fireplace. Otherwise, your artwork will look misplaced.
Another important factor to consider is the art's orientation in relation to where you will display it. For example, a landscape print will likely work well above a large couch. On the other hand, a portrait print will have too much space around it if you hang it in the same location.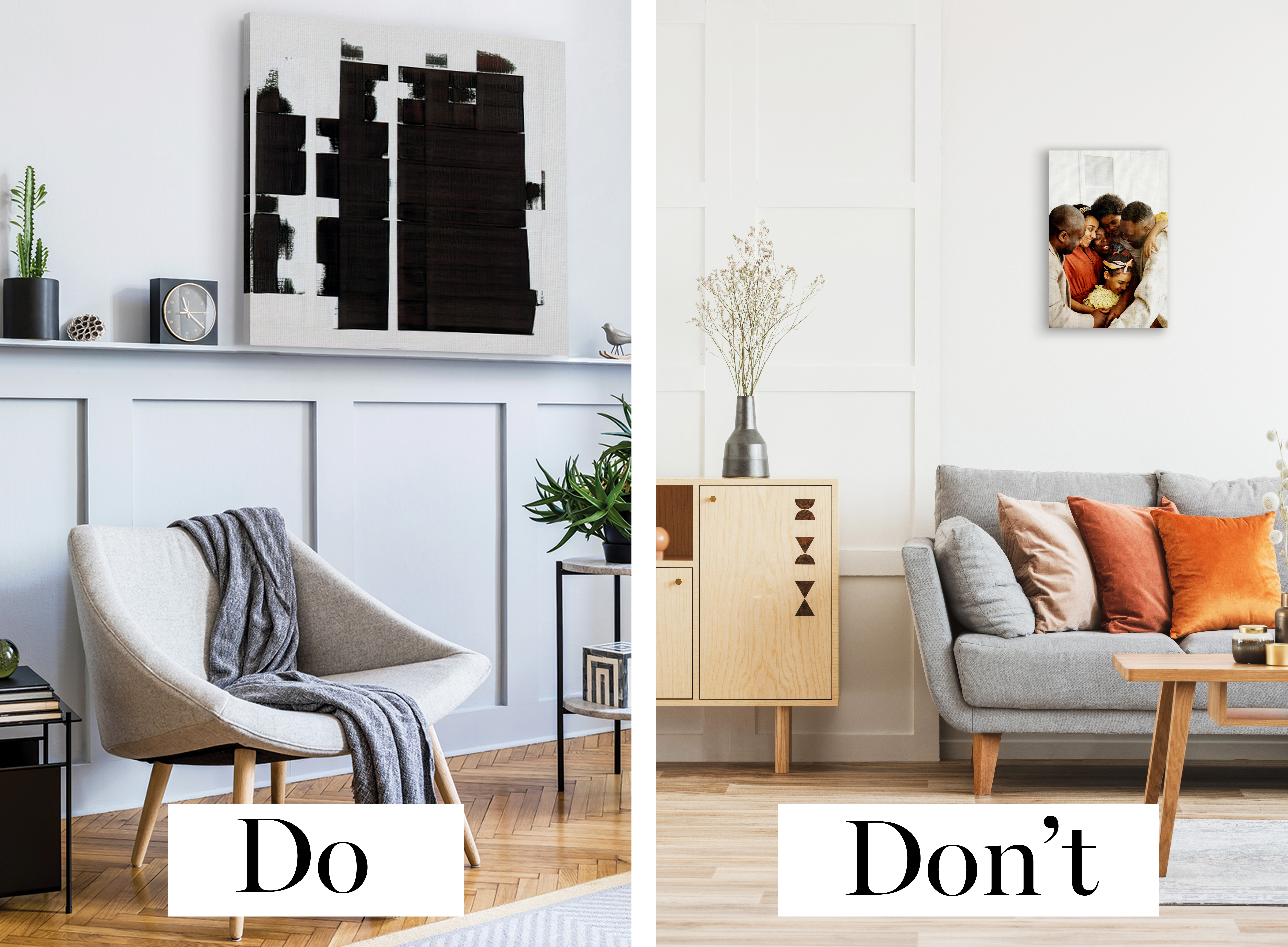 When deciding where you'll place the print, also consider the subject matter. For example, a close-up wedding picture will look good in a large frame if you display it on the wall. If you want to place the same photo on an office desk, a smaller frame will do.
It often helps to confirm whether your artwork will be the right size for the space you've chosen before printing. To be extra sure of your decision, you can do so by cutting out a sample of the print in different sizes using brown Kraft paper and sticking it where you intend to place the final copy. If you plan to display multiple pieces, cut out various templates.
After sticking everything to the wall, take a step back and see how it looks. Does it fit your preference? Do the artwork's sizes complement your space? If you are happy with the sizes, print out your pieces.
The mood
The size of your prints can significantly affect how your space feels and the emotions it evokes from your visitors. Large-sized prints often have a humbling effect on guests. They can also amplify the feeling of spaciousness. On the flip side, smaller prints often have almost no effect on the viewer's mood save for sparking a little curiosity. They can entice guests to concentrate on the picture and appreciate every minor aspect, making them more intimate.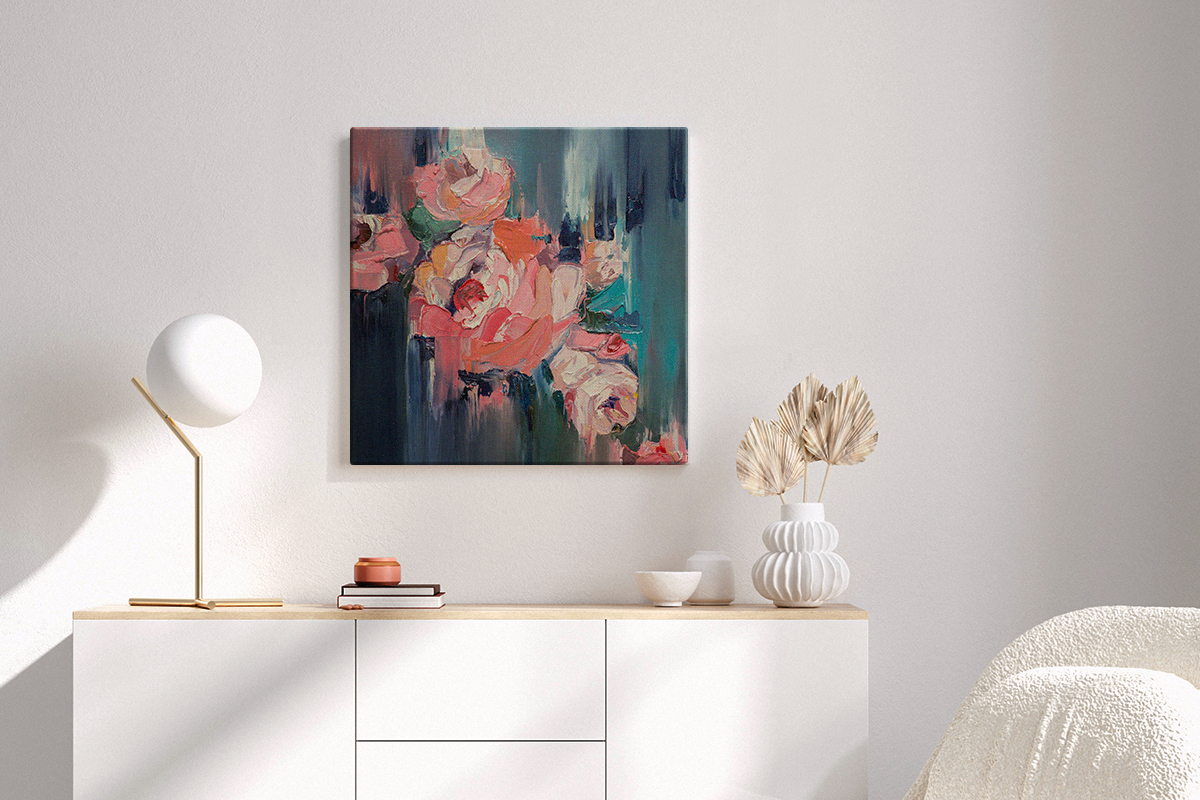 Art layout
If you have other pieces in your room, consider how the additional print's size will affect their prominence. It is easy for a smaller piece to get lost in the clutter of a gallery wall with large prints. To prevent this, use almost the same print size for all your artwork.
If you want to make a piece more prominent, print it in a slightly large size. You can also place it at the center of your gallery wall and arrange the others around it asymmetrically. Ensure that there is a visual balance and neither side of the vertical has too much "weight."
The aspect ratio of the original photo
Before settling on a print size, it's important to consider the original image's aspect ratio. The aspect ratio is the difference between an image's width and height. Choosing the incorrect aspect ratio may necessitate cropping, resulting in losing important details in the final print. But have no fear we print custom canvas and framed print sizes. Reach out to our design team if you have any questions about what size and width will work best for the specific photo you have in mind.
The resolution of the print
The resolution determines your print's quality and aesthetics. The higher the resolution of your final print, the clearer its details will be, making it better looking. Comparatively, the lower the resolution, the less clear its details will be, reducing its quality. Resolution is measured in pixels per inch (PPI). A higher-resolution print will have a resolution of approximately 300ppi. If you only have a low resolution version of a photo our team can help make some adjustments by adding a filter or editing the photo to make it look more crisp when printed.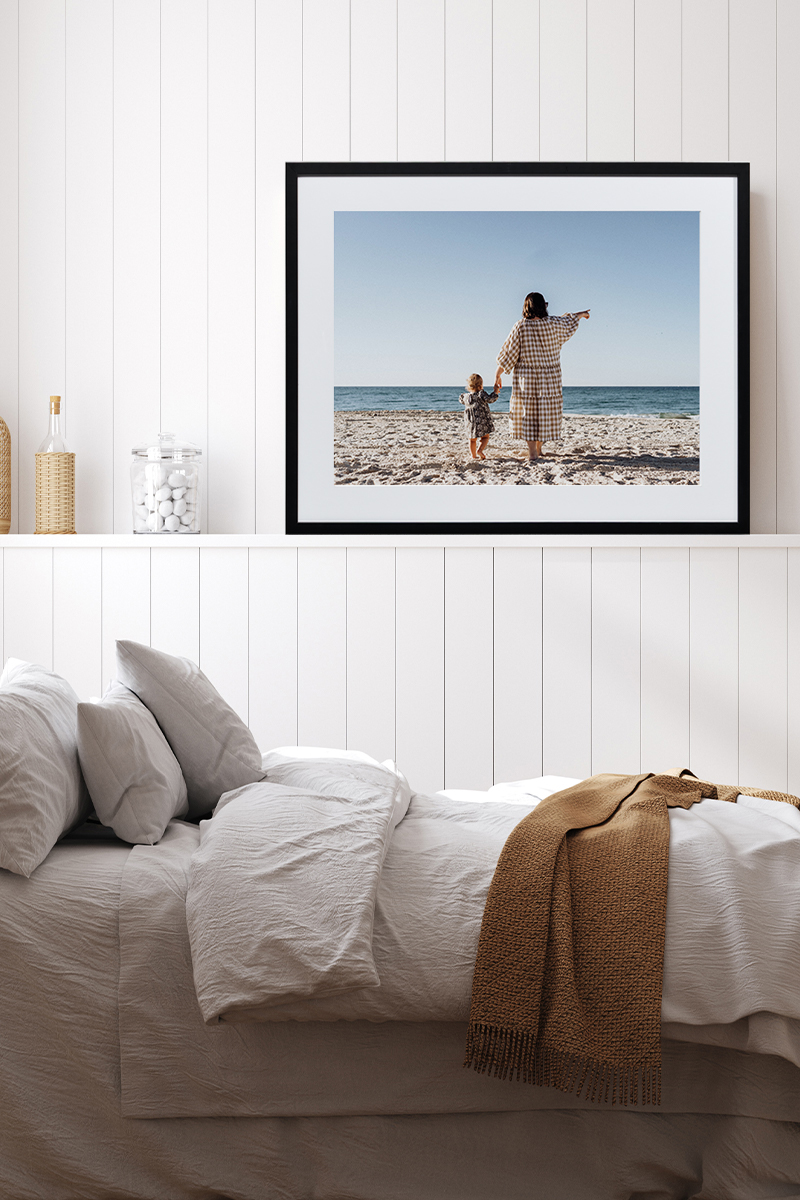 What size should I print my photos?
While the best way to determine the correct print size for your wall art is by manually measuring the wall and trying out different sizes, there are rules that can make this process simpler. However, these rules are not cast in stone — you can always assume them if they're not working for you.
Your piece should fill 50-75% of your available wall space: Is a good rule of thumb when asking what is a good size for my print. If your print is too small, it will look out of place. Similarly, a very large print will make the room feel overcrowded.
If you are displaying the art above furniture, do not print it in a width larger than that of the furniture: Conventionally, the piece should be between 2/3 and ¾ of the width of the furniture. However, if you intend to display it below the furniture's height, ensure it has a smaller width.
Go big or go home: It is very unlikely to go wrong with larger pieces. They create a beautiful focal length in your space. If you are not sure about the correct size, go big.
Be free to experiment
Choosing the right print size can be hard and confusing before you get the hang of it. However, once you understand the basics, it's very easy.
Do not be afraid to experiment. Very few people get it right on the first trial. The more trial-and-errors you have, the better you'll understand sizing principles and common mistakes to avoid.
If you need expert guidance, you should reach out to our customer service and design professionals with considerable experience printing wall art for spaces like yours. Your home is your safe space; you should always ensure it has the right sizes of your favorite artwork.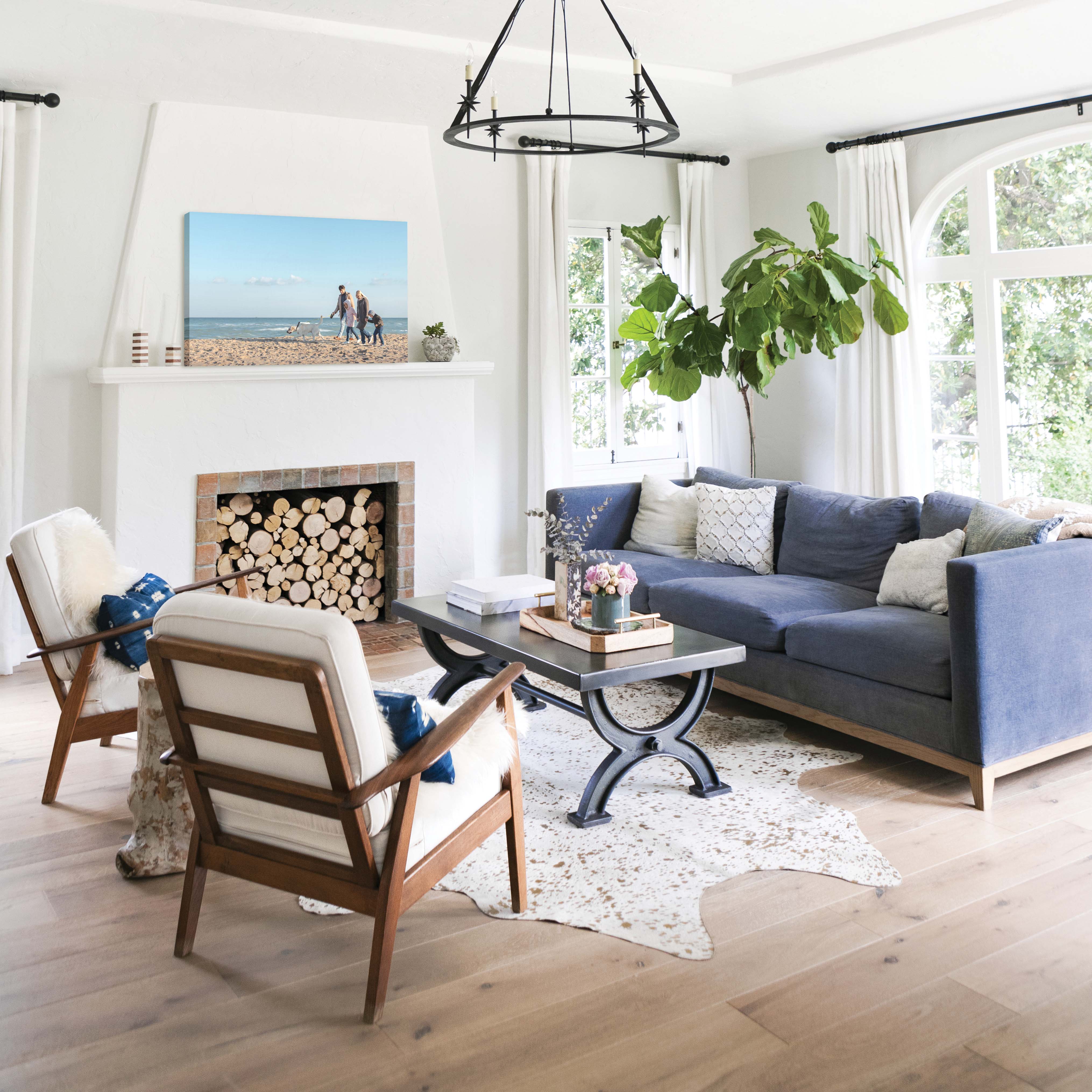 Get help from the experts
Canvaspop prides itself on helping you preserve your memories. Whether you want canvas prints, photo collages, pet portraits, triptych prints, or framed prints, we got you covered. We can also help you create a personalized print one-on one.
We hope this article came in handy and helped you understand what you should look for when making your decision. We're here to help, reach out via chat or call in for a little extra help with selecting the perfect print for your place.