How to optimize your Canvaspop design
By Amy Wright | Jul 25, 2022
Artwork can bring any space to life. From offices to living rooms, custom prints bring warmth and sophistication to your home. You can choose classic or modern artwork or even your own photos. But the best decor you can hang on the walls of your home, are the ones you create yourself.
Once you've uploaded your images to Canvaspop, or chosen your statement art print our team is committed to making sure you're getting world-class custom prints for your home. To help you create artwork that you'll love, we've rounded up some of our 6 favorite ways to use Canvaspop to optimize your designs.
1. Add a filter
You don't need to be a photo editing pro to create a stunning print with Canvaspop. To make things easy for you, we've carefully curated a collection of filters to help elevate your prints and give your images a little extra je-ne-sais-quois.
We're not talking about those social media filters that completely change the way you look. These are filters that will enhance the images you've already taken!
If you're creating a gallery wall, you might love using our Black & White or Sepia filters to create a cohesive look across images. Looking for a fun twist? Choose one of our Pop Art, Digital Paint, or Comic Book filters. These filters are also a great way to take any lower-resolution prints to the next level!
2. Choose the perfect size
One of the most common questions we hear from folks is, "what size should I choose for my design?" Well, that depends on a number of factors!
Are you looking for a statement piece? Or are you building a gallery wall? Or maybe a triptych?
As a rule of thumb, your artwork should take up around 60-75% of your available wall space. This can be in one image or several. Smaller sizes such as 8"x12" canvases are great for mixing and matching, while larger sizes such as 20"x30" are better for statement pieces.
Before you move forward with your print, you'll also want to decide what shape best suits your design: portrait (vertical), landscape (horizontal), or even square!
Don't hesitate to order a custom size to fit your space! These are your eternal memories. We're here to help!
3. Photo-wrap your canvas
When choosing a canvas print, you want your print to look at home on your wall.
With one of our photo-wrap options, your image will extend around the sides of your print. This will help give your artwork a perfectly seamless look. Photo wraps are a perfect option for images or artwork that have a lot of background space to accommodate the extra print space.
For a statement piece, choose a black or white border to help your print pop. Solid wraps are also fantastic solutions for images that have the subjects close to the edges. (Think family portraits or close-up shots!)
From 0.75" or 1.25" depths, there's the perfect canvas wrap edge for you. The depth you choose depends primarily on your own preference and the look you're going for. Just remember that a 1.25" canvas will require more space around the edges for the photo wrap.
4. Frame it
While we love seeing your artwork on classic canvas, there's something extremely classic about a framed print. Frames help separate your design from the surroundings making your new design the star of the show.
Available in 3 gorgeous colors, our Canvaspop frames are guaranteed to help your artwork stand out from your walls. Choose the same frame for all your artwork for a sleek look. Or mix and match to add some dimension to your gallery walls.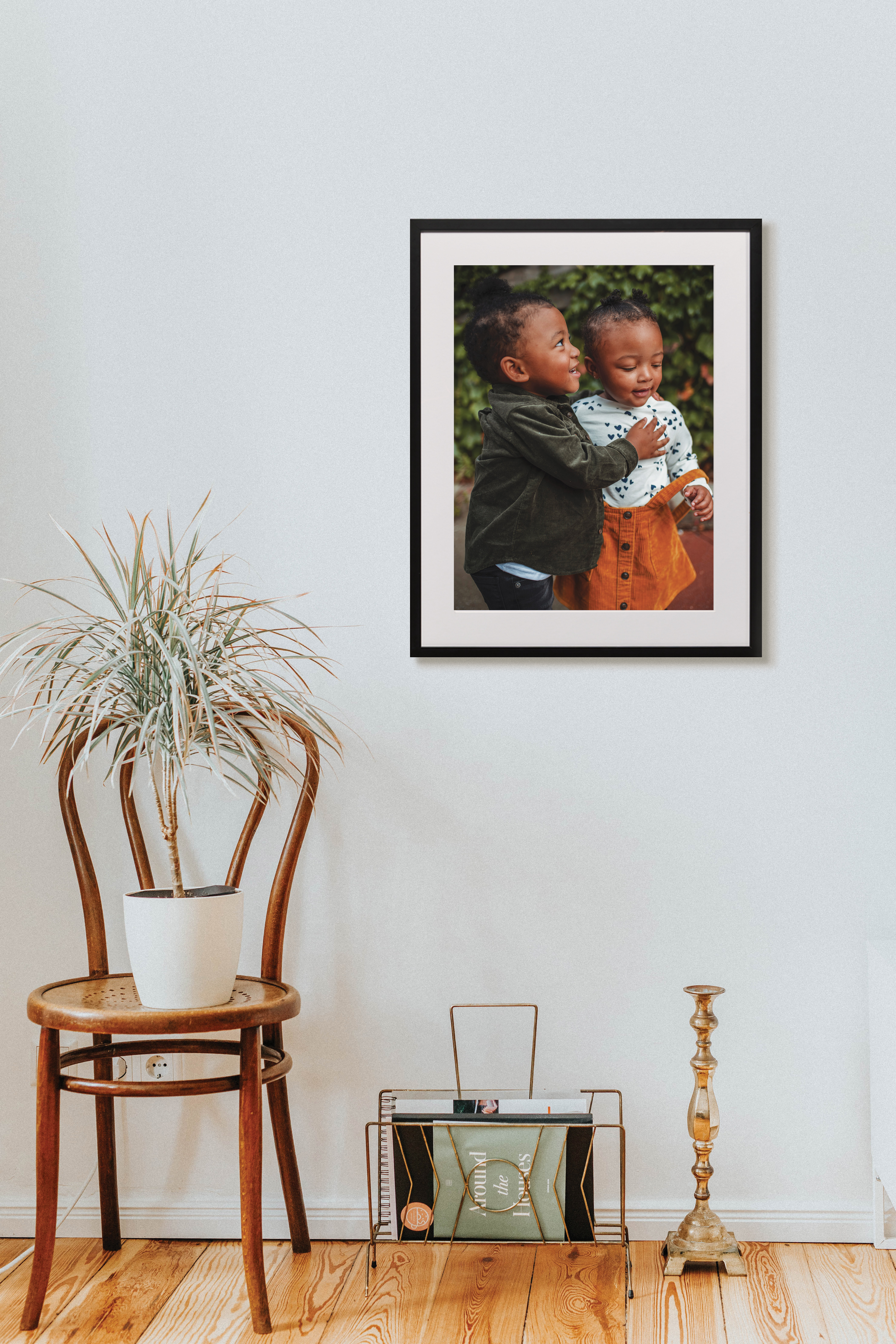 5. Don't be afraid to get extra help
You've already done the hard part – creating memories that will last a lifetime. Let us do the heavy lifting and add the final touches to your Canvaspop design. Our team of design experts can help retouch your image to perfection – no editing on your end needed!
We can help with anything from small edits, like removing blemishes or adding text, to larger projects such as removing backgrounds or adding objects into your images. We can even help you remove those people who happened to walk into the background of your picture-perfect photo!
6. Check it twice
Every Canvaspop order comes with a Free Digital Print Proof. After we've confirmed your order, one of our in-house designers will send your preview over to you for review. Make sure to check this preview twice (or even three times) to make sure you're happy with it! 

Once you love the look of your preview, we'll prep your artwork for print. All that's left for you to do is check the mailbox!
You deserve prints that celebrate the important moments in your life – and that's what you can do through Canvaspop. With the simple steps and tricks we shared, you'll have a stunning (custom) design ready to be hung in no time at all. We're honored to play a small role in helping you preserve your memories and elevate your space.
We're confident you'll love your new print. But sometimes your vision doesn't quite match the final outcome. That's why we also offer a 100% no-hassle guarantee. If you do not love your final design, we're here to help! We'll either make tweaks to make it right or we'll give you your money back.
Ready to create and optimize your own Canvaspop design? Create your perfect print today!