Canvas prints vs. poster prints: why canvas prints are better
By Amy Wright | Jul 5, 2023
Do you want to transform your space into a visual haven that speaks to your unique taste and style? Whether it's a cherished family photo or an inspiring landscape, the type of artwork you choose can make all the difference. In this blog post, we'll explore the fascinating world of wall art and unveil why canvas prints reign supreme as the superior choice for showcasing your favorite images.
At first glance, canvas and posters might seem similar. They both display art or photos on a surface, right? However, the true distinction between these two lies in the materials, printing process, and overall look they offer.
Let's dive in and discover why our hand-stretched canvas art is the perfect addition to any home or office. Backed by Canvaspop's Love it for Life guarantee, our canvas prints will become a conversation starter and the focal point of any wall.
What's the difference?
Poster prints: Poster prints are printed on paper, which makes them thinner than canvas prints. They usually have a glossy finish and may come with borders to mount or frame the image. Though they are much cheaper than canvas prints, poster prints are not as durable and tend to fade faster over time.
Canvas Prints: Canvas prints are printed on canvas, a sturdy and durable material. This makes them heavier than poster prints but more resistant to wear and tear, including scratches, tears, and fading. Furthermore, canvas prints have a unique finish that gives your artwork an authentic look and feel. They also come with a wrap or border around the image so you can hang them without needing a frame.
Beauty unleashed
Imagine walking into a room with eye-catching artwork that immediately draws you in—the vibrant colors and rich details invite you closer. This magical appeal sets canvas prints apart from paper/poster prints. Have a look at some of our canvas prints, and you'll agree that the image is much more vivid and lifelike than poster prints.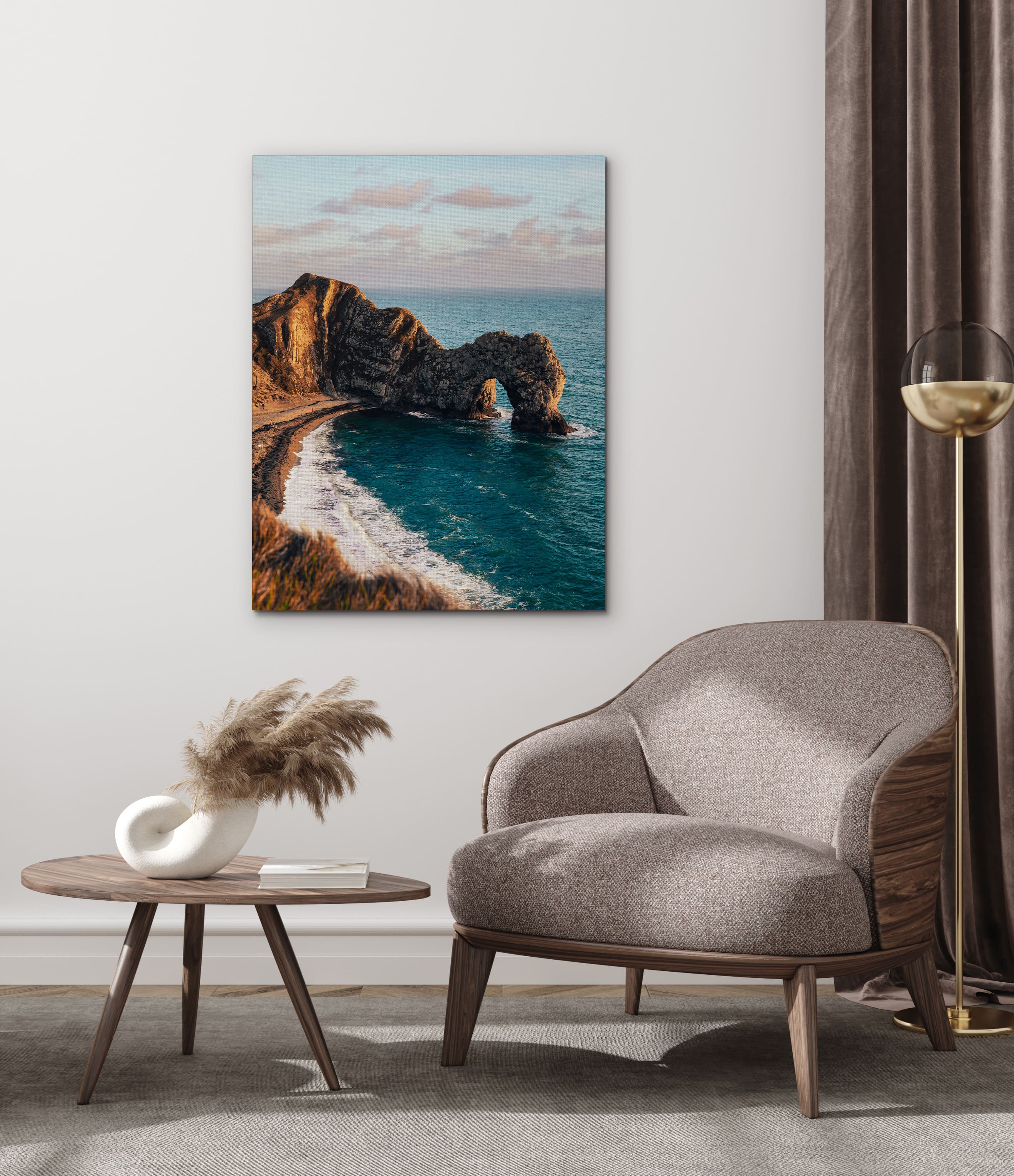 The aesthetic appeal of canvas prints
Canvas print vs. photo paper is hardly a fair matchup. Canvas prints elevate an image to new levels with their vibrant colors, which are accentuated by the texture of the canvas. When an image is printed on a canvas instead of regular paper or poster material, depth is created along with a heightened sense of realism. Everything is bigger and better when it comes to canvas prints!
Thanks to their wrapped edges and frameless display, canvas prints effortlessly convey sophistication. On the other hand, paper/poster prints tend to have less depth due to their flat surface, often requiring framing before they can be displayed.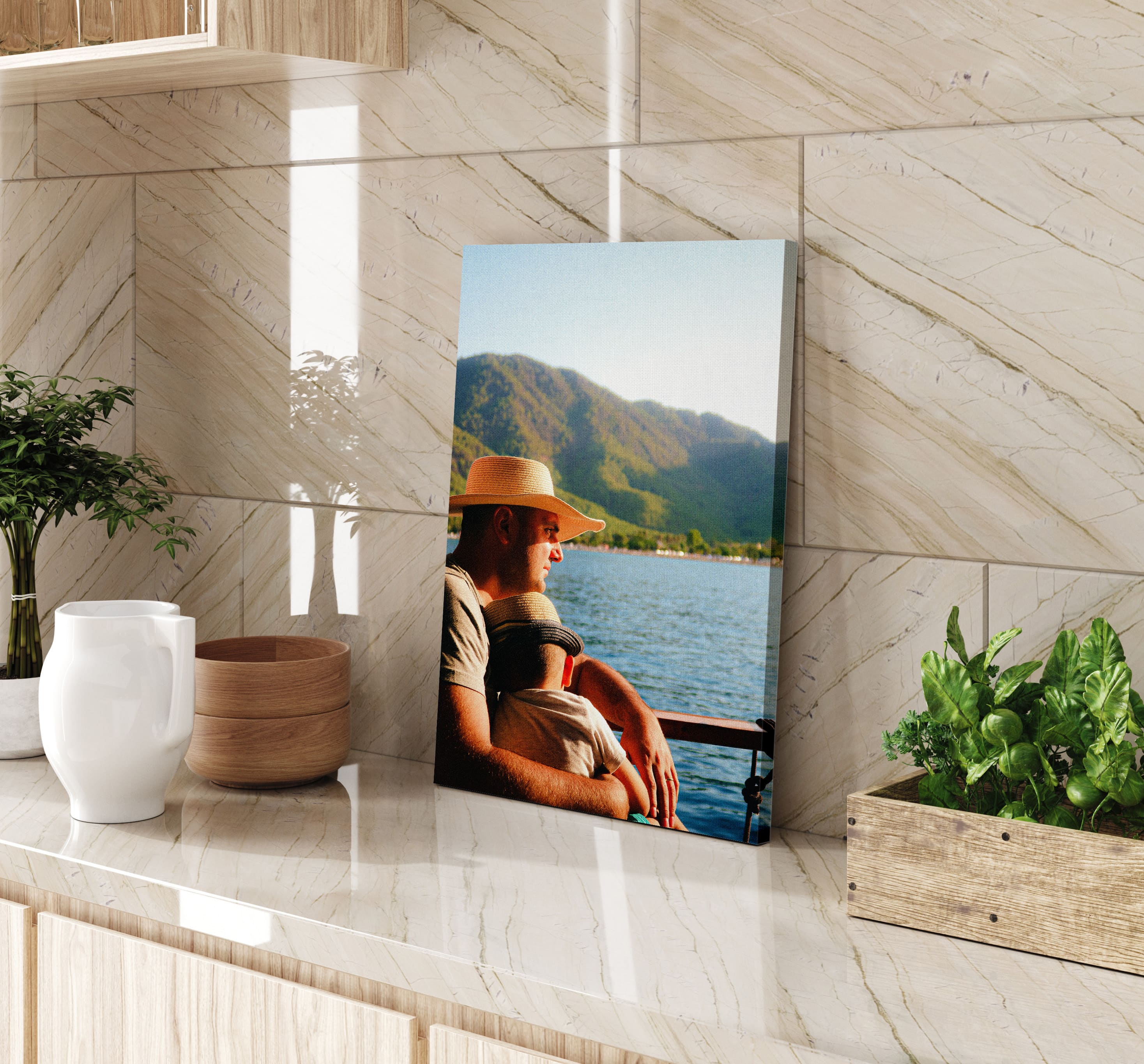 Adaptable elegance for any home decor style
Canvas prints work well in any type of room - modern or classic. They can be big pieces or something small to improve your space. Whether you prefer statement pieces or subtle accents to elevate your cozy nooks, canvas prints never fail to enhance the atmosphere. You can also make a triptych mural from your favorite images. This way, you can take panels of canvas art and hang them in clusters to create a unique visual.
Quality craftsmanship
When choosing between canvas vs paper print, the quality of craftsmanship should never be overlooked. Would you rather have an artwork that looks beautiful in the present but starts to fade and lose its vibrancy over time? Or one that stands the test of time while still looking vibrant years later?
Hand-stretched and hand-wrapped process for perfection
Each Canvaspop canvas print is meticulously crafted through a process where the artisan's hands do the magic. We carefully hand-stretch and wrap every piece with precision over a sturdy wood frame, paying exceptional attention to detail. This results in museum-quality artwork that exudes perfection—an aspect that paper/poster prints simply cannot replicate with their mass-produced printing techniques.
Enhanced durability: the longevity advantage
A lesser-known fact is that canvas prints not only highlight the visual appeal of your photos but also provide superior durability. Canvaspop uses only high-quality materials that resist fading and damage over time, ensuring your cherished images stand proudly for years to come.
Conversely, paper/poster prints are more prone to damage such as sun exposure which causes their colors to fade quickly.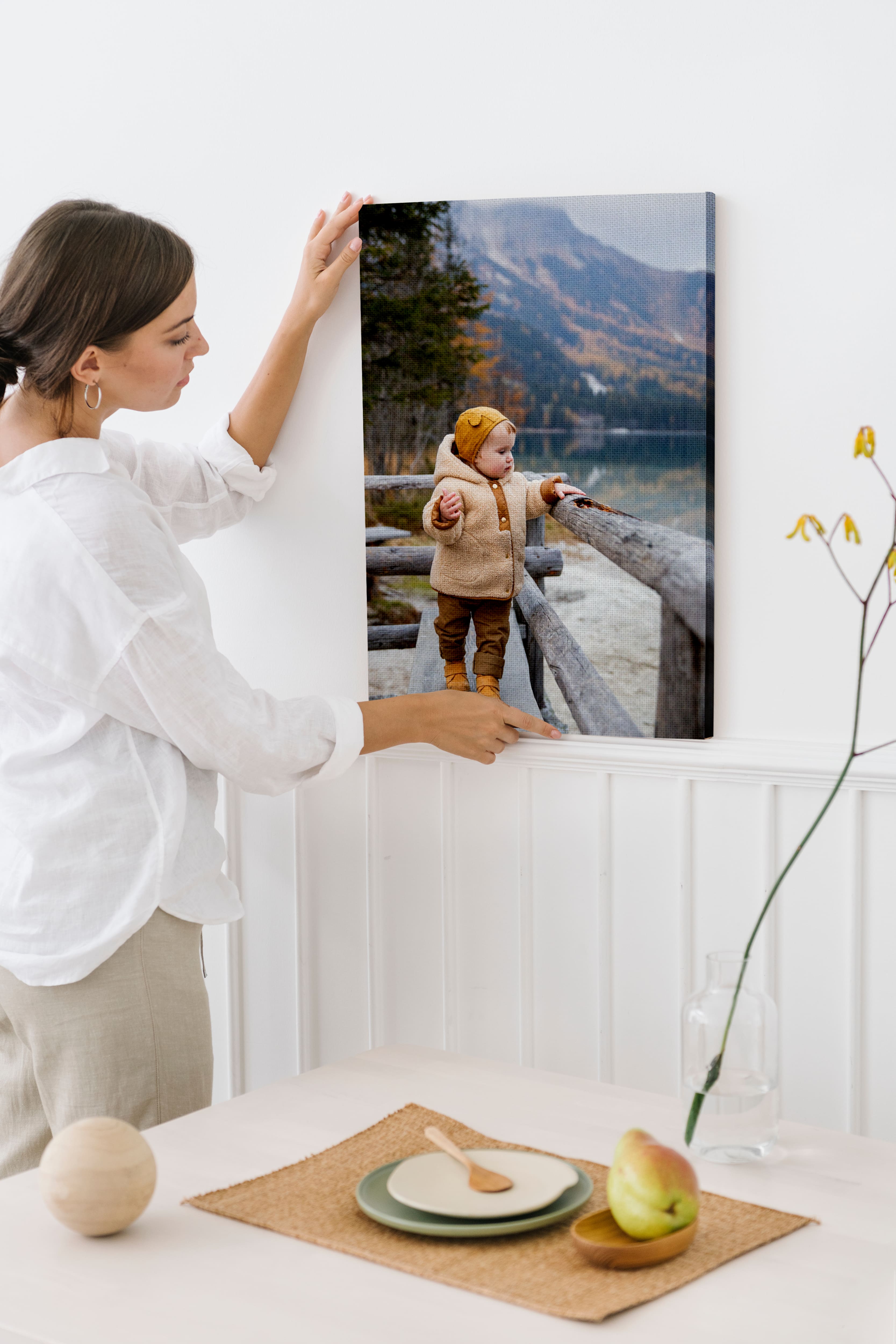 Customization and personalization
Creating tailored wall art isn't just about aesthetics. It's also a deeply personal journey of self-expression and showcasing our treasured memories.
Endless possibilities with Canvaspop's canvas prints
One of the main benefits of a stretched canvas is its flexibility (no pun intended!) From selecting custom size options to distinctive edge designs, canvas prints allow you free reign over customizing each aspect to your taste. Furthermore, artistic effects and filters enable you to create a masterpiece close to your heart.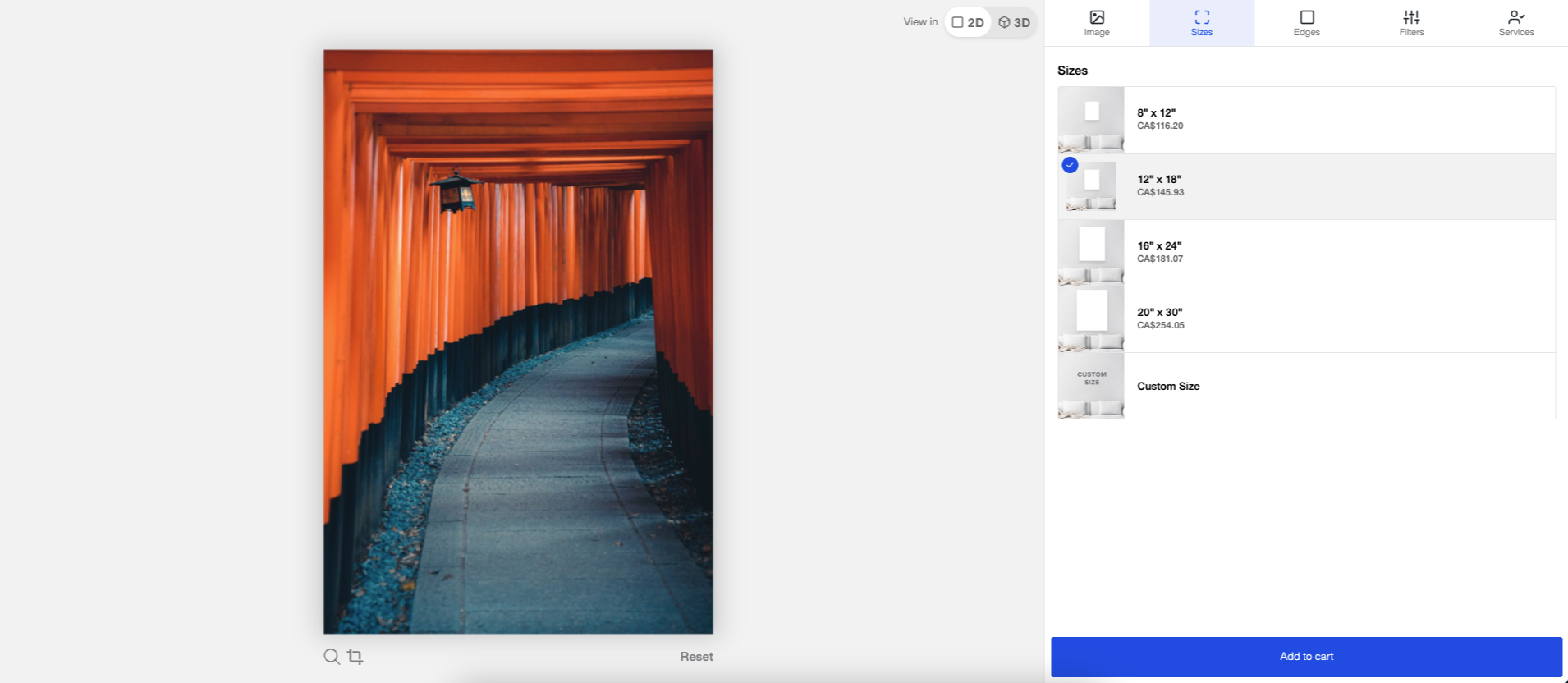 In contrast, paper poster prints have customization options, but they are limited and provide less significant personalization choices.
Creating one-of-a-kind wall art with canvas prints
Your home is your sanctuary—a haven that reflects who you are—and personalized canvas prints make it so much more meaningful! Customized wall art infuses warmth and charm into every corner of your living space, engaging both hearts and minds with delightful storytelling experiences.
You don't want the same bland wall art as your friend, so why settle for mass-produced prints when you can create something unique? With canvas prints, your options are limitless! We can take your favorite memories and turn them into beautiful works of art that showcase the unique aspects of your life.
Comparing poster vs canvas art
There are strengths and weaknesses of each contender, but here to help you decide which is the best way to preserve your favorite memories as wall art. Let's take an in-depth look at the "tale of the tape" and evaluate which contestant comes out on top.
The shortcomings of paper poster prints
Despite their popularity, poster prints have a few major drawbacks that might make you think twice before choosing them. Firstly, their durability is significantly lower than that of canvas prints. They are susceptible to tears, rips, creases, and other damages from handling or environmental factors like humidity.
Not only can these imperfections mark your treasured memory, but fading can also become a prominent issue over time. What was once vibrant and full of life on photo paper may eventually lose some color intensity under normal lighting conditions. On the other hand, canvas prints with high-quality inks don't usually suffer from fading problems as easily.
Regarding visual impact, there's also a significant difference between paper prints and canvas prints. Picture this scenario: after adopting an adorable puppy, you choose one precious shot to display as wall art in your home. When you opt for a poster/print version, the final product may not convey the same "wow factor" as a canvas print. From the shine on its fur and the sparkle in its eyes, a pet portrait on canvas enhances the character of your furry friend more than a poster/print ever could.
Considering the cost factor
Price often plays an essential factor when comparing various printing options. However, it's not as simple as comparing initial investment costs alone (although those definitely matter). You should also take into account quality and durability–which ultimately translates into satisfaction and a worthy keepsake.
On the surface, paper prints may seem more budget-friendly. But ask yourself: is it really a wise investment when considering factors like fading and creasing? What if it gets ripped or damaged? You will need to buy it two times over or more. Canvas prints offer a lifetime display and a higher visual appeal worth paying for.
You can also make a lasting impression by including multiple images on one canvas. Our expert design team can help you develop a collage canvas that are sure to wow. With various sizes and layouts to choose from, you will find something perfect for your space.
The verdict: canvas prints always win
The results are in – canvas prints always win when printing photos, artwork, or any creative project. Not only do they deliver superior visual appeal and longevity, but they also make great investments that won't fade away soon.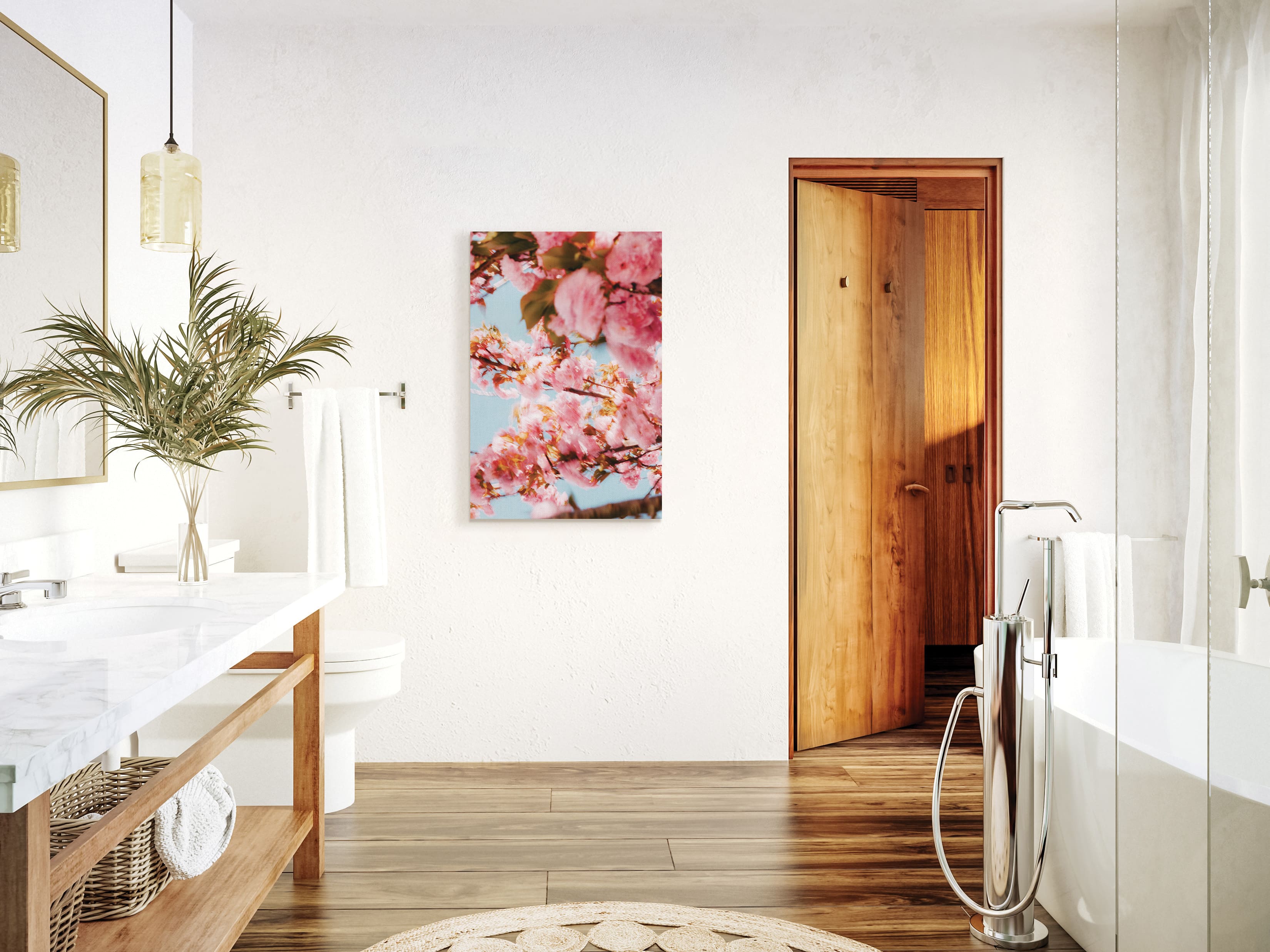 If you want a truly unique piece of wall art that will last for years, then there's really no better option than canvas prints. With Canvaspop, you get the perfect combination of quality and affordability in one neat package.
To end things on an encouraging note - whether you are a first-time buyer or looking for an upgrade from your existing conventional wall art pieces, exploring Canvaspop's diverse range of high-quality canvas print options is definitely something you should consider! Don't forget about our Love it for Life guarantee, which ensures that your satisfaction remains our primary objective no matter how long ago you made your purchase!
In conclusion, don't think of your investment in canvas prints as a cost but rather a gift – an elegant and long-lasting tribute to timeless memories that stay vivid and beautiful forever.