Tips for capturing the best memories
By Amy Wright | Jul 7, 2022
Now that summer is in full swing, it's time to figure out how you're going to enjoy it! Whether you're flying solo, exploring or traveling with a friend, partner or family member, or going on a large group outing or vacation, we've got some great ideas for how you can have fun this summer and capture your best memories in the process.
Check out Canvaspop's Ultimate Summer Checklist: these 9 great ideas all make for a fun and enjoyable summer outing, where you'll have a great time and make memories that last a lifetime. For bonus points, take along a friend or professional to capture photos and use Canvaspop to custom order special framed prints and canvas prints of your incredible summer.
1. Take your pet to the beach
Now this is the stuff pet portraits we're made for! Is there anything cuter than a pup experiencing the ocean and sand, enjoying themselves and splashing in the surf? While this option definitely mostly applies to dogs, we've seen a few adventure cats in our day (and even someone with a pet rabbit on the beach, although we can't say we recommend that! Taking your pet to the beach is a great way for everyone to have a fun summer day, and if you get some amazing pictures, taken by yourself or another beachgoer or even a professional along for the day, you're going to want prints to savor these memories!
2. Ride a rollercoaster
Going to an amusement park can be a fun way for people of any age to have a good time. Going on rides, eating amusement park food, winning prizes, and enjoying the company of friends or family can be an incredible memory. Here's what we recommend: decide ahead of time you're going to buy the roller-coaster photo. You know the one, that's captured at the most inopportune moment where everyone looks ridiculous and caught unaware. We know it's overpriced, but can you really put a price on hanging collage prints over your mantle to troll your sister-in-law every holiday season, I think not!
3. Have an outdoor headshot day
If you're in need of a new professional headshot, gather together a group of coworkers for a lunch in a nearby park. Wear a professional shirt and take solo pictures of each other against different backdrops in great lighting. This trade is a great way to bring some fun to a Summer Friday and get something you need out of it too. Also makes for a much less embarrassing framed print on the family wall!
4. Book a luxury picnic
You've seen the photos, haven't you? They're all over Instagram these days. Beautiful canvas tents with blankets draped over the ground. Piles of pillows next to glasses of champagne and bowls of fruit or charcuterie boards. A luxury picnic is a ton of fun and makes for great photo memories too! You'll definitely want to display this one along with some of your other top summer memories on your gallery wall!
5. Get the whole family together!
Summertime is where family memories are made. With kids out of school and most adults able to take time from work, getting multiple generations and relations together is the perfect opportunity for a photo of everyone together. It will be a great holiday card for everyone to use. Grandparents will especially cherish seeing their grandchildren together and having multi-generational photos to share with friends and display in their homes! Taking a photo like this also means you can check every gift you need off your list for the year. Museum-quality canvas prints for everyone!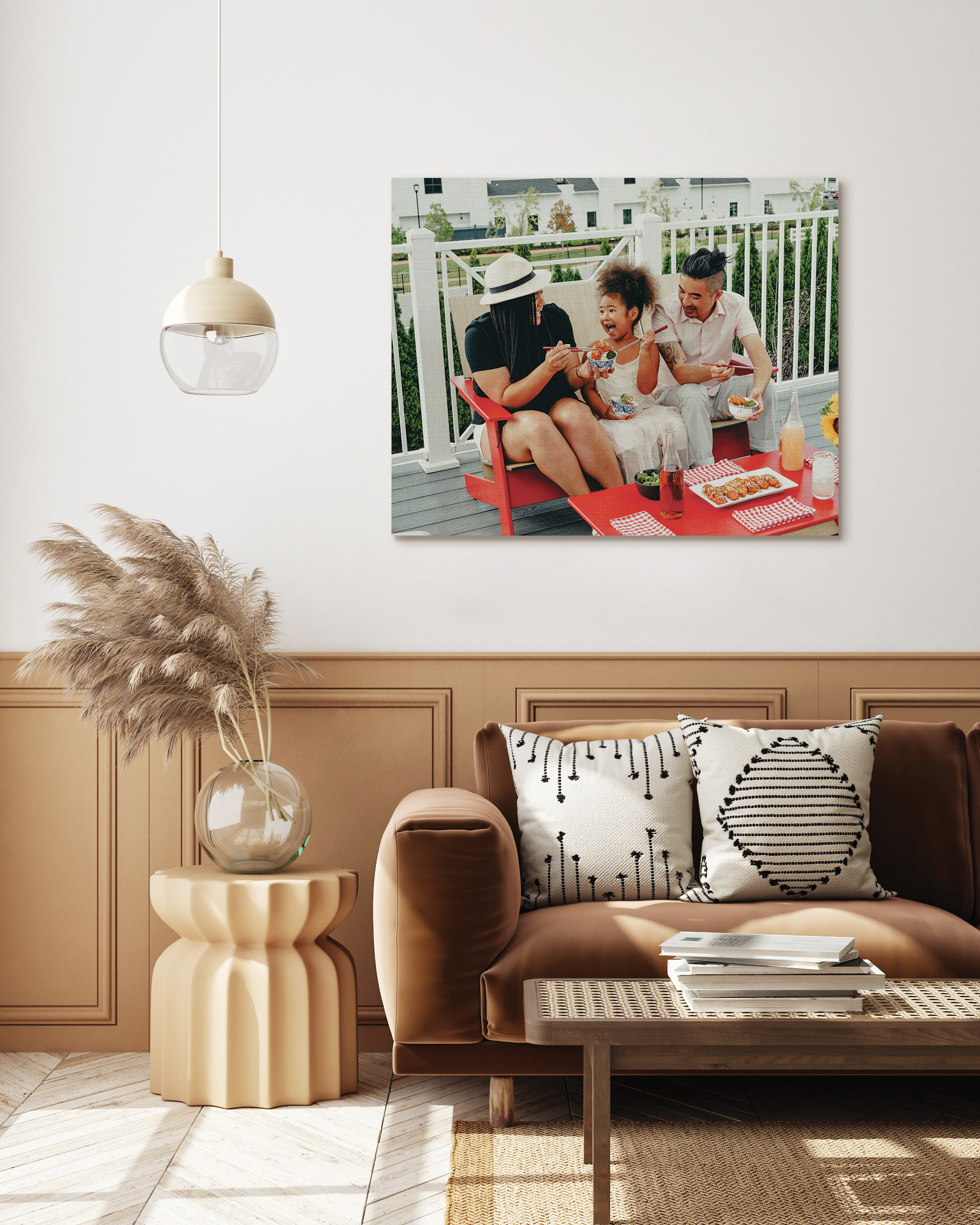 6. Go for a scenic hike
A scenic hike is a summer staple, as a great way to get outdoors and enjoy the fresh air. The twist we're throwing in? Don't just take pictures of the view! Bring along a friend or family member or even a professional photographer to capture some beautiful hiking photos of yourself and your group. You can get some nature photos in there too, but the ones you'll want hanging on your wall will be the candid laughs and "wowed" faces when seeing the light over the mountain for the first time. Now that's wall art you can be proud of!
7. Capture a "first" moment
Have a baby who's never eaten ice cream? A puppy who's never met a kitten? A friend who's never ridden a roller coaster? Taking the time to figure out what "first" moments you have waiting in your life and intentionally capturing them is a sweet way to show you care, and you'll always treasure having those first special moments captured in collage prints or gallery walls!
8. Document a "normal" moment
Does it sound super weird to have a photographer come over and take pictures of your family making a normal dinner together, or hanging out in the backyard? Life in retrospect is often a highlight reel, because the moments when we take the time to have professional photos made aren't the way we live our everyday lives. The memories you have and cherish the most are probably some of the most mundane ones, so consider documenting that for a change!
9. Play tourist at home
We often think of taking photos on vacation because we're somewhere new and different, and it feels like an exciting special occasion. How many albums and wall hangings do you have at the beach, on a road trip, or overseas? But do you have any family memories of tourist attractions in your hometown? What's the one place you always take visitors and never go to when it's just a regular weekend? Go there and capture some vacation-style photos to hang on your walls. We love canvas prints for this!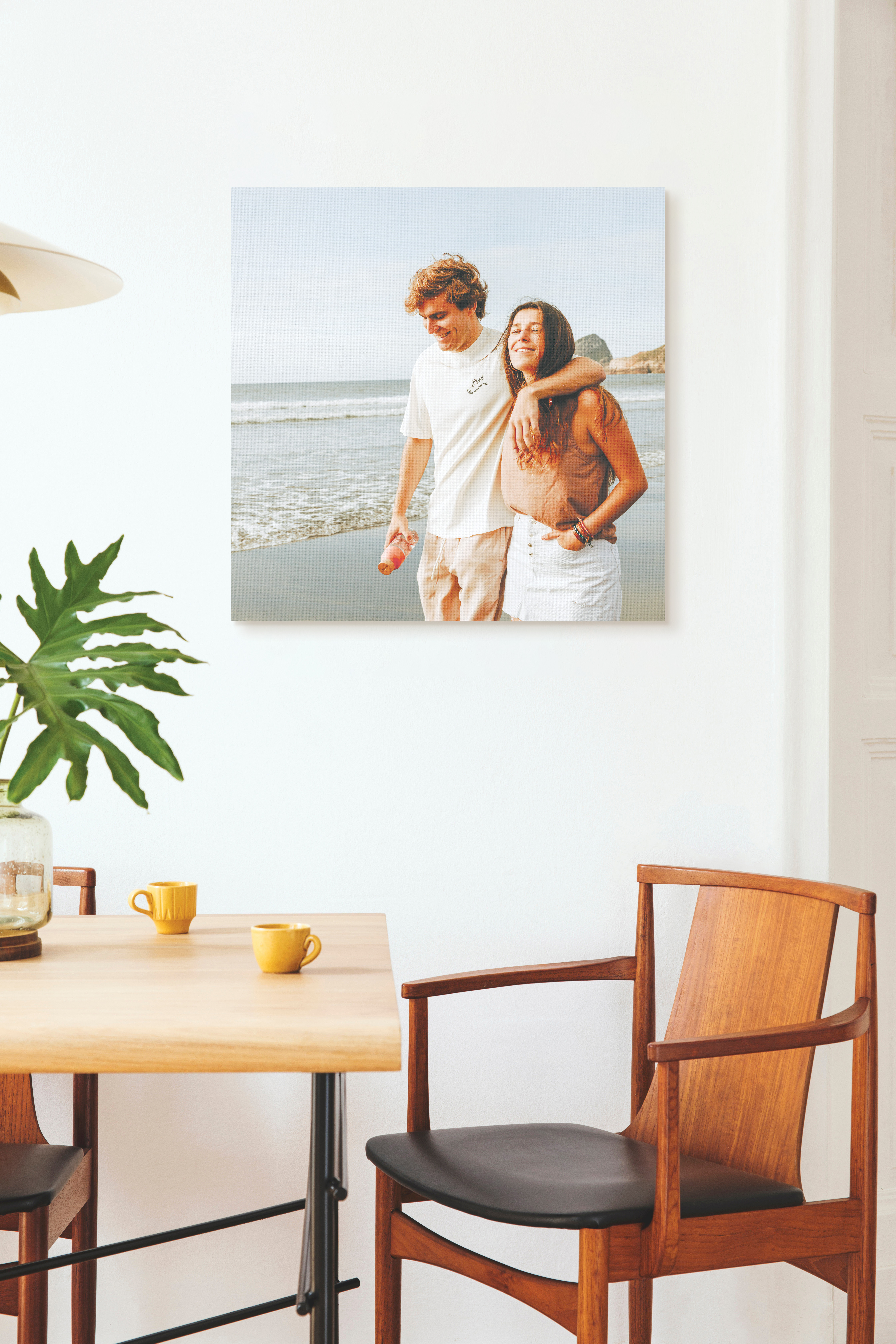 Now you have your ultimate summer bucket list thanks to Canvaspop's Ultimate Summer Checklist so get out there! Take your pictures, have a great summer and we can't wait to help you preserve your memories.