The ultimate wall art moving checklist
By Amy Wright | May 30, 2022
Moving is a huge undertaking for anyone these days. Everything from planning, preparing, and hiring help to actually packing up everything you own safely for transport, getting it to the new location and settling in is a huge amount of labor that requires careful and dedicated preparation. If you have ever moved, you know how much of a project it can be and how quickly things can get out of hand! If you haven't but are planning to, we've got your back with our tips and tricks for moving, and specifically for caring for your wall art during this process.
In a world that is more transient and mobile than ever before, some may find themselves moving more often than people did in the past. It may be by choice thanks to remote work offering the option to be more flexible, for personal reasons like being closer to family, or for less optimal reasons like rising rent costs pushing you out. Regardless of whether you are happy and excited about your move or feeling a bit down and overwhelmed, there is a ton of work that goes into the process.
Whatever the reason for your move, and whatever distance you may be moving, the task remains the same: we all want our belongings to be packed carefully and arrive safely, and we all want the new place to feel like home as quickly as possible! Having a clear plan for your move and doing a little bit of work at a time along the way makes a huge difference in terms of the stress involved in moving. If the cost does not prohibit the option for you, consider hiring professional packers who will ensure your items are safely prepared for transport. However, know that these types of services pack EVERYTHING–even your trash! So do a thorough audit of your belongings and completely clear out anything you do not want to be packed for transport ahead of time.
Let's talk specifics: dishes, clothes, TV's, and large furniture like beds, couches and dressers are probably some of the first things you think of when you start packing and planning for your move. Your wall art and decor may not be the first thing on your mind, but it should be! It can feel overwhelming to remove these items from your walls because it makes it feel barren and the move will become emotionally real. While difficult, this can be an important first step in kick-starting your moving process!
Whether you are a seasoned mover or someone relocating for the first time, here at Canvaspop we have a few suggestions to help you take care of your art during a move and tricks to make settling your art into the new home a complete breeze.
Read on for our best tips on how to move your wall art and get everything up on your new walls in no time!
Pack your art first
Wall art prints, framed prints, and canvas prints should be the first things you start packing at your old house. As we mentioned above, this can be emotional, because taking things off the walls makes it feel empty and you will have to face the reality of your impending move. However, this is important for multiple reasons: one, because facing that reality prepares you emotionally and physically for the move by spurring you to get to packing. Also, this gives you the time you may need to clean and patch the walls prior to moving out and ensuring the return of a security deposit if you had one.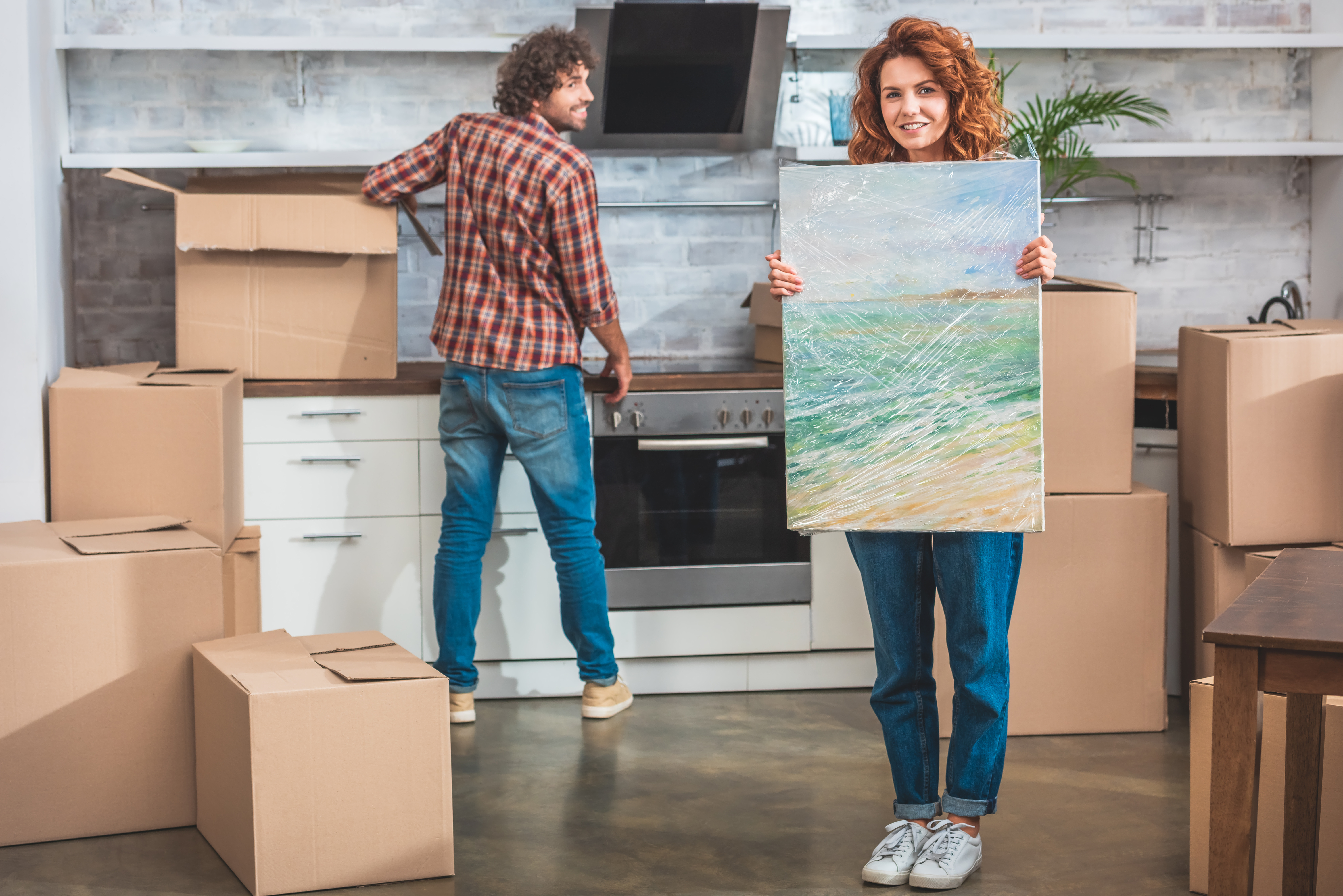 Selling your home? Personal art and family photos should be removed BEFORE listing because it makes it easier for buyers to envision themselves there and protects you from being identified in large-scale open houses.
Use special boxes specifically designed for artwork and mirrors
Any artwork framed in glass, especially large pieces, should be packed with extreme care. You have put a lot of time and money into carefully ordering and curating your beautiful wall art. Don't risk damage in transit by not packing it properly! If you hesitate to spend the money, think about how much it would cost to replace all your art.
Label and color-code your boxes!
Make sure everything you pack gets LARGE writing on the outside that states literally everything in the box. Trust us, you think right now that you will remember what "miscellaneous office art" looks like but you will absolutely lose track along the way and those labels can save you a ton of time and headaches. Label by type (artwork, decor, etc.) or by future room (living room, bedroom) and have a plan with the movers for where certain labels go. You can even hang signs in the new house indicating where things are to be placed!
Load your items correctly
If you're loading things yourself make sure art and fragile items don't get placed on the bottom of stacks with heavy loads on top. That's a sure-fire way to crush and ruin your special pieces. Save all your art and lightweight breakable items for the very end and load them into the truck on top of everything else. Then you can remove them first in the new location and keep them safe until you're ready to unpack.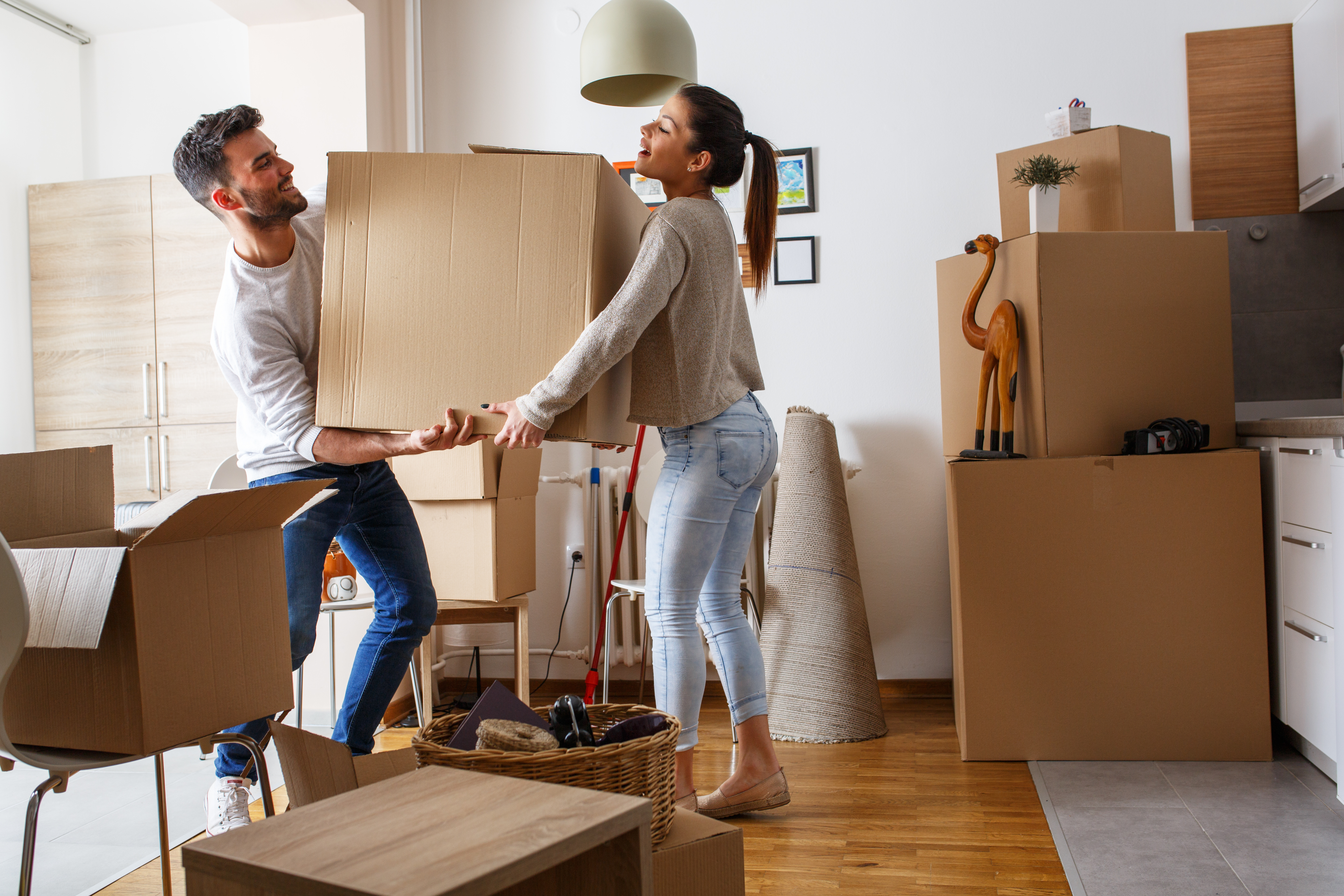 Have a game plan
If you can prepare and measure at the new house ahead of time, make a plan for where your art will go. You can even use painter's tape to mark the spots for your nail holes so that on moving day, your art will be ready to hang! However, it's not always possible to access the new home, so you can make a loose outline of where things will go based on photos, videos, or virtual tours. Make sure you take some photos of your own when touring in case the ones online get pulled down after you take the place off the market!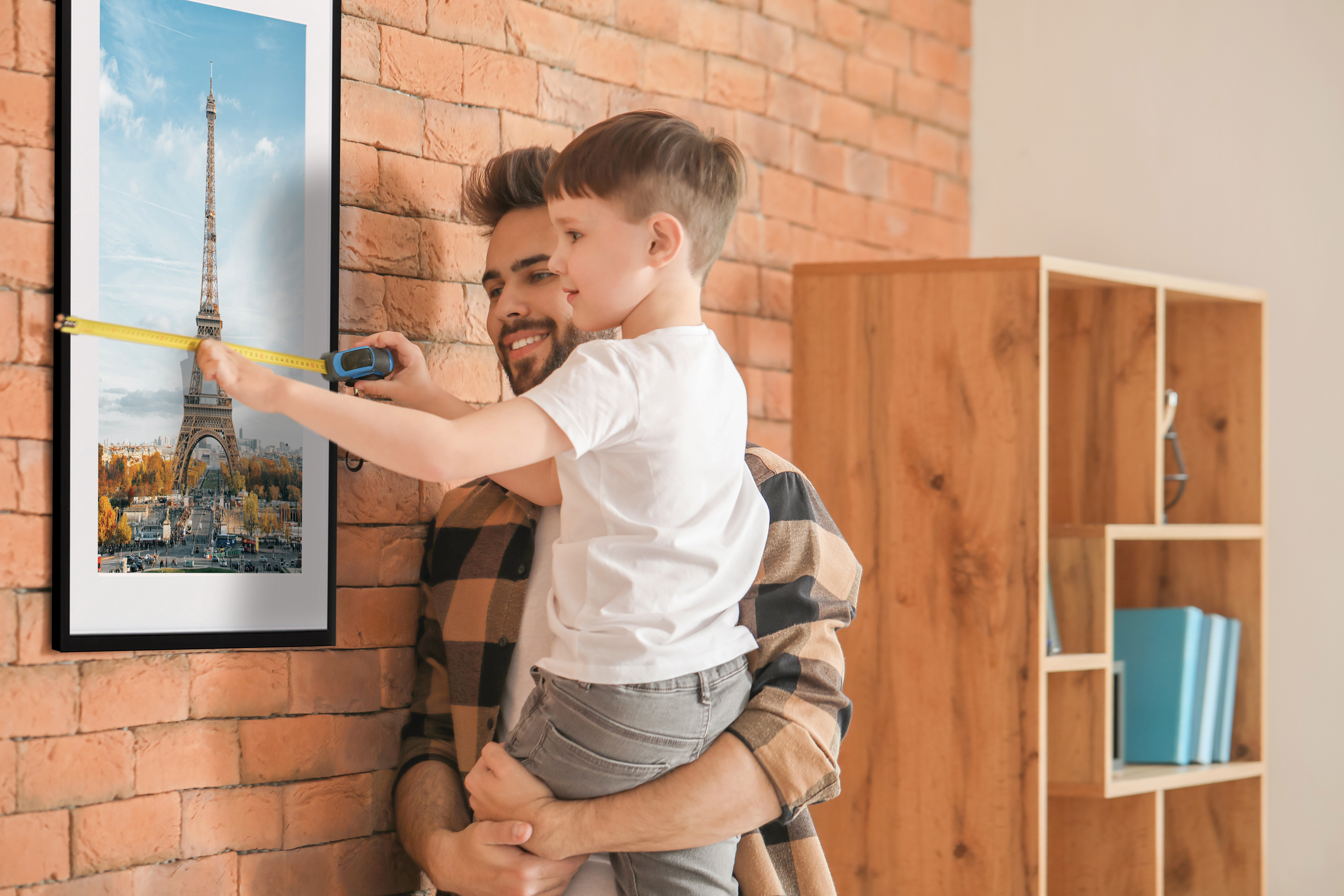 Don't limit yourself to keeping items in the same exact spots
Maybe those prints in your bedroom would look better in the living room at the new house, or you have a little more space to spread things out. Downsizing? Consider making a gallery wall with art that was previously spread out. On the other hand, relocating art to similar spots in the new house can make it easy to plan out and adds a sense of comfort and familiarity instantly in your new space. It all depends on what you need and how much time and energy you have on your hands at the time of your move!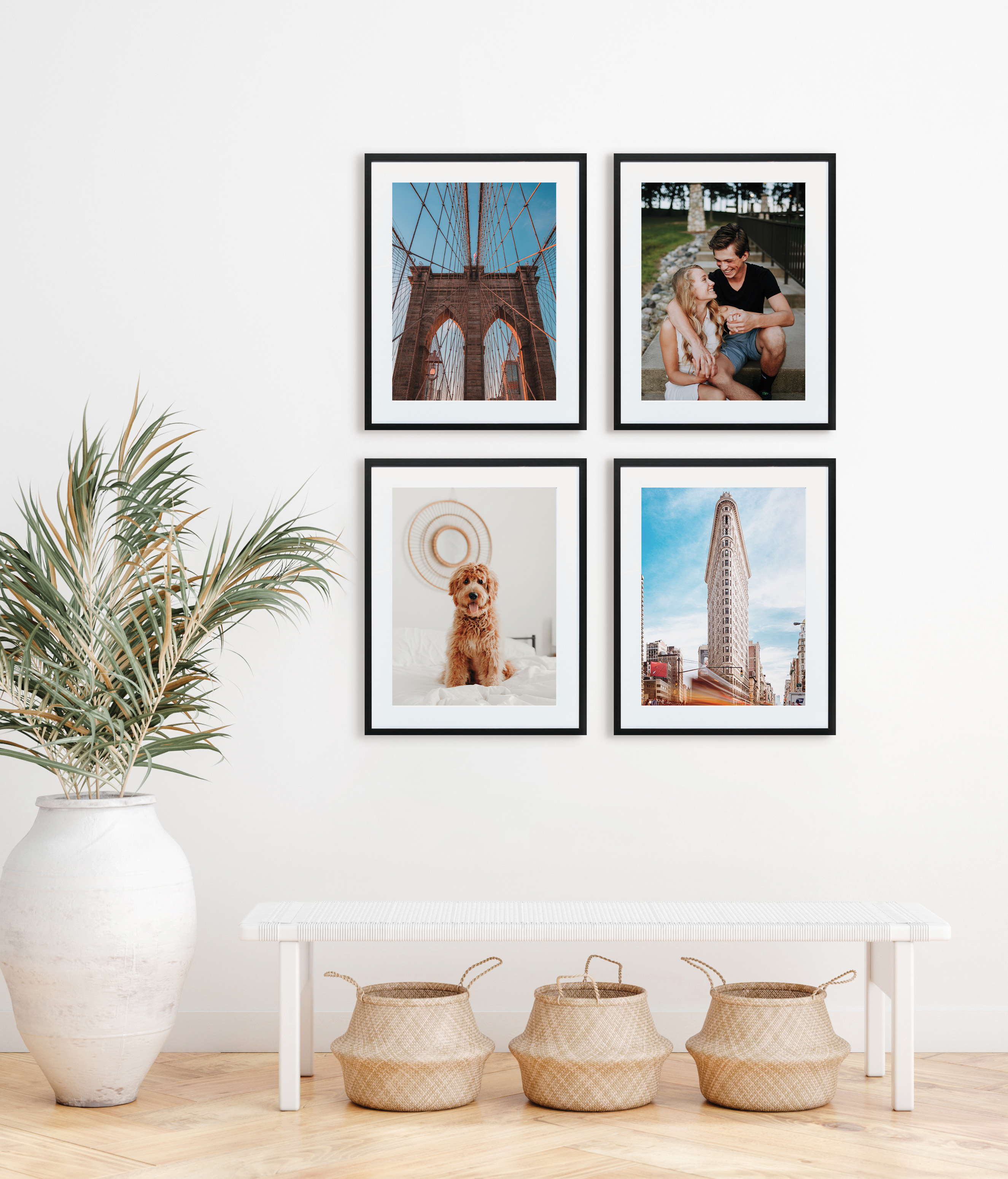 Carefully consider what products you choose to hang artwork
We recommend always using picture hooks with small nails. The reality is that almost all sticky products claiming to be damage-free WILL damage your drywall. Whether you rent or own this damage can be costly and can make it harder to move art around if you change your mind about the location or decide to freshen up the look of your space. A small nail hole is super easy to fill with a cheap drywall repair product and will barely be noticeable on a white wall. On colored walls, it's easy to touch up with a drop of paint or similar nail polish (in a pinch). Massive rips in your drywall from stick-on products on the other hand….not so much.
Save your packaging items for next time
If there's a chance you could be moving again within a couple of years, we recommend saving as much of your packing material as possible, space permitting. You went to all this trouble to carefully label your boxes, wrap your artwork, and purchase special boxes that fit your art exactly! Why throw that in the trash (or hopefully in the recycling!) and have to start all over? Stash these items in basements, attics, the back of a closet or under a spare bed.
So in the end, when it comes to moving your wall art it pays to be prepared and to not overlook these important tips. You will feel happier and more settled in your new space if you get your art up quickly. If you ever have to move again, you will have taken care of your walls, saved your boxes, and bookmarked this article to remind yourself of how to make your move, art included, as simple and worry-free as possible.