The perfect home decor for the holidays
By Amy Wright | Oct 20, 2022
If you're in the middle of the back-to-school shuffle, the holidays might seem light years away. However, they'll be here before you know it and it's never too early to start planning your decor. By getting everything in order now, you can ease gently into the season, making precious memories with your loved ones instead of stressing over your tablescape.
We're here to make the process both easy and enjoyable. At Canvaspop, you can find plenty of products to help you usher in the holiday season, whether your style is bold and eclectic, classic and traditional, or anywhere in between.
Today, we're sharing five beautiful ways to deck the halls in style!
1. Add word art above the mantle
The mantle is the perfect place to start when you're ready to decorate for the holidays. From mini trees and golden bells to oversized wreaths and tobacco baskets, there are lots of ways to make yours stand out.
For an unexpected twist, you can also add one of our word art prints! This Happy Holidays sign is beautifully minimalistic, allowing the rest of your red and green decor to pop.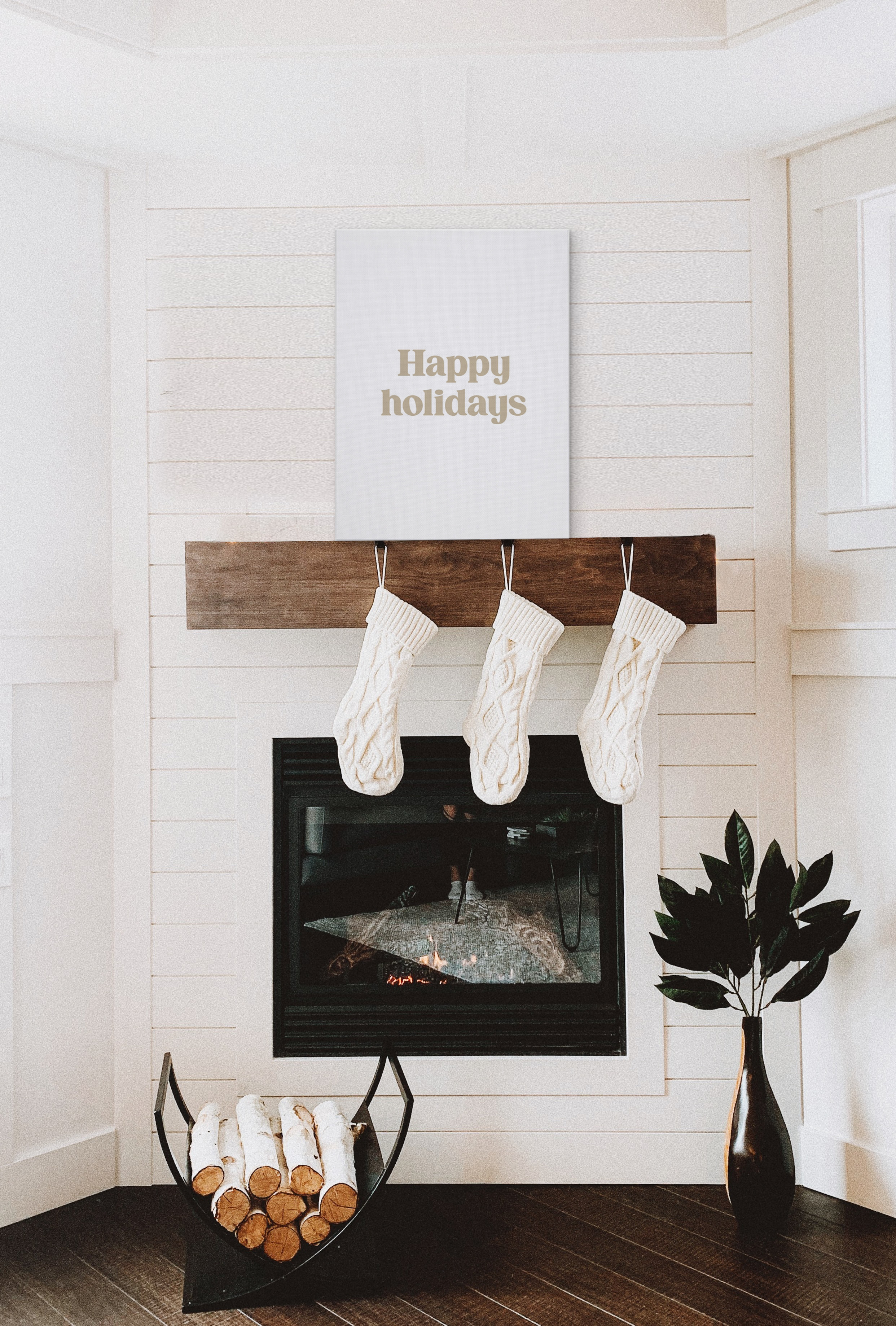 You can also use this space to showcase a special holiday-related sentiment. For example, this print reminds us to "believe in the magic of Christmas" while everyone hoping to emulate Bing Crosby will love our Let it Snow print!
You can easily search our word art collection to find the perfect layout or color scheme. Look for one that blends with the rest of your accents, size it appropriately for your mantle, and it's sure to become part of your regular rotation for years.
2. Showcase a canvas art collection in the entryway
Your entryway is the first space that people see when they enter your home. Whether you're planning a big holiday party or simply a meal at home with those you love, you can make a grand impression with just a few changes.
Start by changing out your floor runner for a festive one in holiday hues. If you have enough space for a console table, this is a great place to display any collectibles you've been stashing in the attic, such as miniature ceramic houses or metal reindeer.
Above the table or along the wall, continue the look by adding a few pieces of holiday-themed canvas art!
You can choose a few prints to stand on their own, or group them together into a gallery wall. Our canvas wall art is versatile, featuring well-known images as well as prints from esteemed new designers.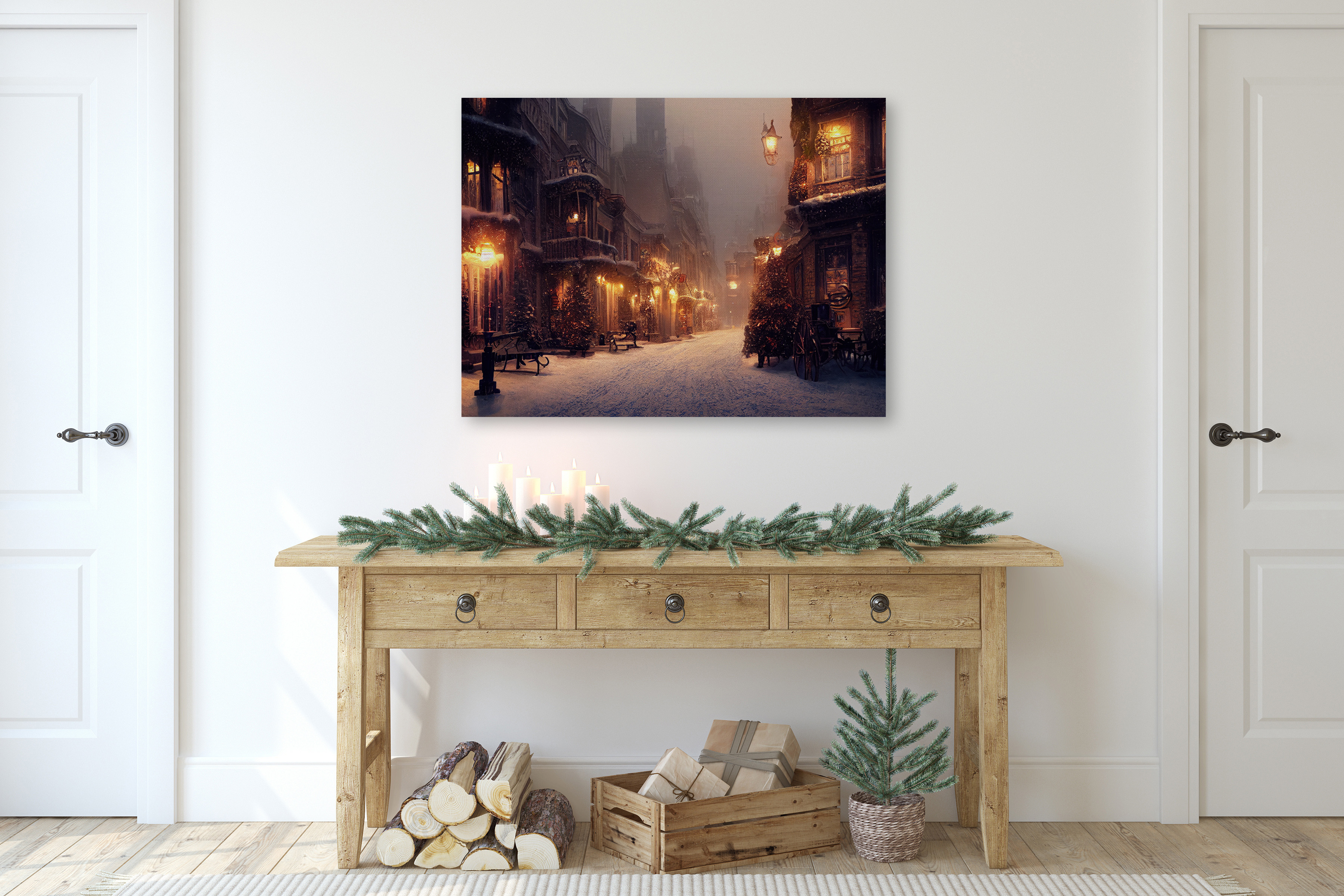 3. Hang a framed family Christmas photo
You worked hard for those family photos. You did everyone's hair, chose coordinating outfits, and bribed the little ones with lollipops.
Now, it's time to show them off! Don't leave those holiday-themed Christmas pictures on your phone or in your inbox. Print and frame them with us, and you'll have an heirloom portrait that you'll display forever.
We offer framed prints in a variety of different dimensions, including custom sizes. You can also choose your own mat and frame option to bring everything together. When it arrives at your doorstep, the only thing left to do is hang it on your wall!
Christmas photos look beautiful displayed on your mantle or a living room wall. They're also a great way to decorate a hallway for the holidays. When it's time to update the images for next year's portraits, you'll already know what to do and where to go.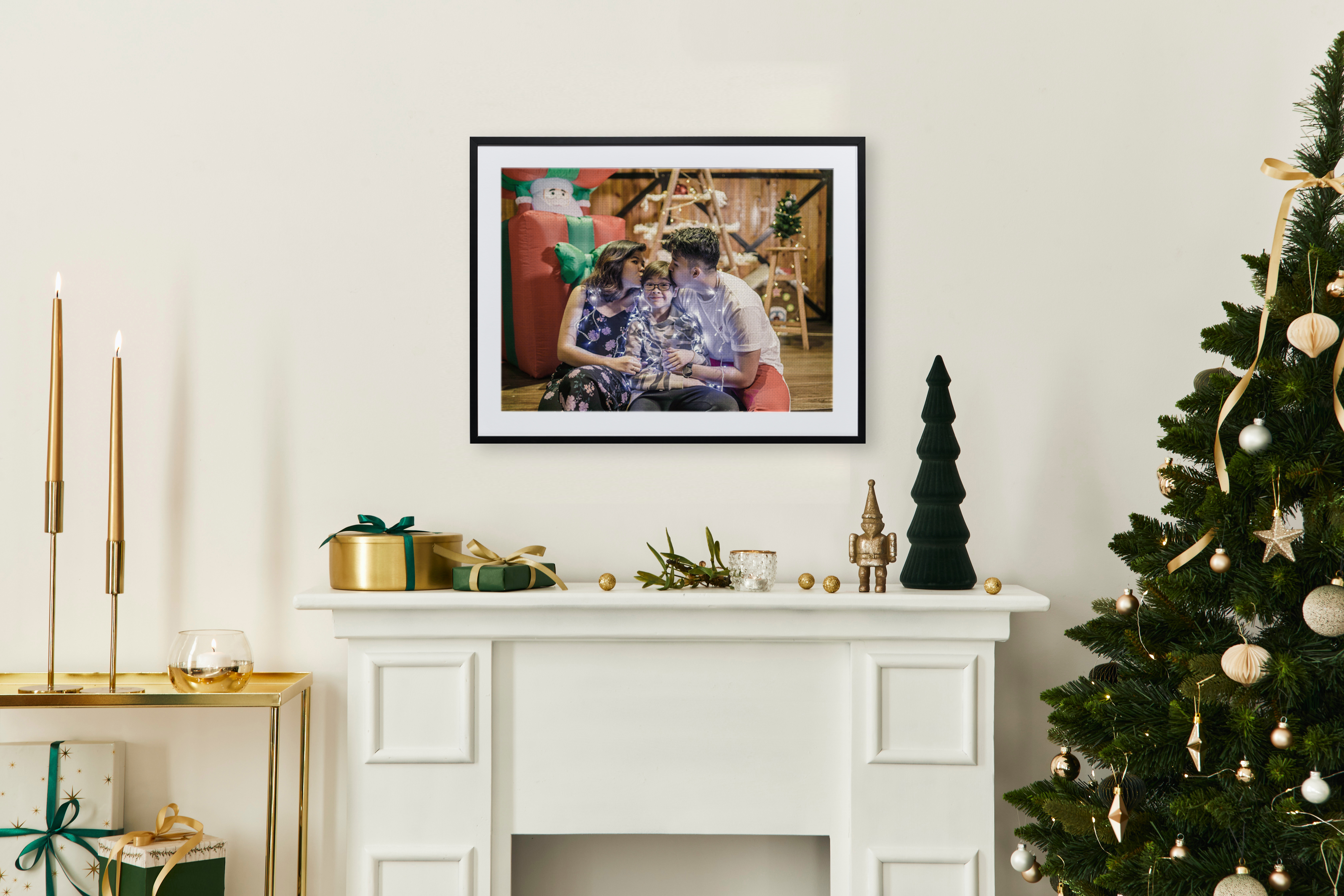 4. Frame your children's holiday artwork
Right before the holidays, your little one will inevitably start coming home from school with pictures they've drawn and colored for the occasion.
Instead of dating them and stashing them in an office drawer, go ahead and frame those original beauties! By doing so, you not only have instant, free art for your home, but you also give your children a hearty dose of confidence. When they see their hard work held in such esteem, they can't help but feel proud.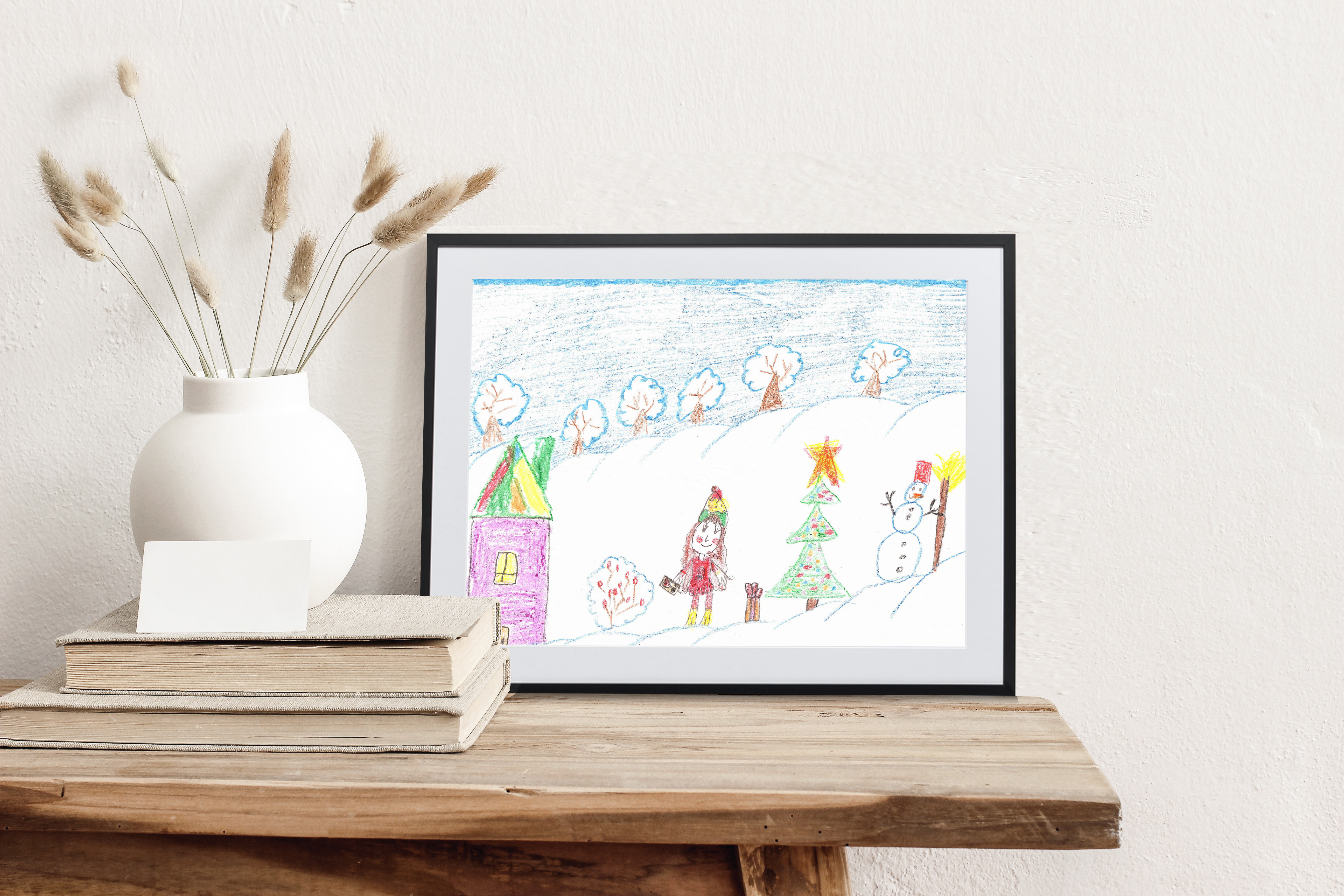 5. Turn a winter scene into a triptych canvas
Did you capture a beautiful image of your home all lit up for the holidays? What about a special pose of your kids making a snowman in the front yard?
Your special moments look great matted and framed, or turned into a canvas. For an unexpected twist, you can also break the image apart into three sections, creating what's known as a triptych print.
With this look, your image is divided into three equal panels. When displayed side-by-side on the same plane, these panels blend seamlessly together to create one, cohesive view.
This is an especially stunning way to display panoramic shots, which are easy to create during this season of natural beauty. From stringing the lights to sledding, create the memories you want them to have, we'll help you capture them forever.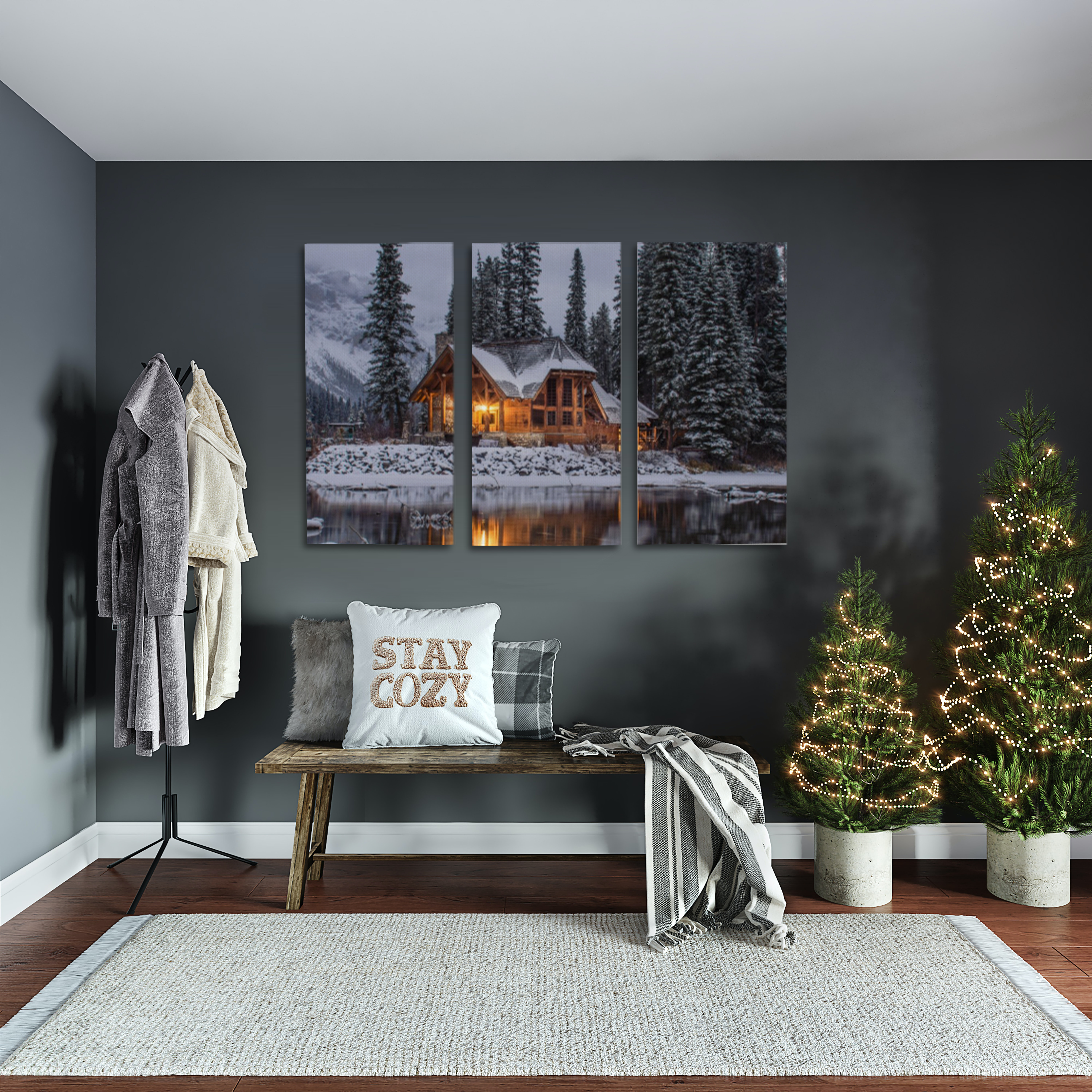 Bring the holidays home this year
As we inch closer to the holidays, it's time to start thinking about how you'll make the inside of your home feel as bright and joyful as the winter wonderland all around you.
With our prints and canvases, you're only a few clicks away from memorializing your special moments. Once you have your pieces in place, you can stay present all season, celebrating long into the new year and beyond.
At Canvaspop, we know that all of your memories are special, and we're here to help you hold onto them. Shop our products and collections online today and contact us with any questions.