Take the stress out of taking photos
By Amy Wright | Nov 4, 2022
The seasons are changing and you know what that means: time for taking amazing, print worthy pictures of friends and family and pets out in the beautiful outdoors. It's the perfect time to coordinate a photoshoot, and we've got the tips and tricks you'll need to make sure your pictures turn out great and make the process stress-free.
Getting started
First and foremost, you'll need a camera. Don't feel up to the task of using a professional camera? Have no fear, we can even print your favorite moments straight from your phone! All you need to do is upload and customize! Learn all the ways you can here.
Match those colors
The first consideration when planning your content for a family photo is, of course, the family themselves. What will they wear? How will they be arranged? One of the most popular tips for making your family photos pop is to ensure that everyone in the photo is wearing a matching color scheme.
This doesn't necessarily mean matching outfits but picking similar styles or using colors in the same palette can help your pictures look more professional. When there's coordinated fashion in photos, it draws the viewer's attention back to the most important part of the picture: the people wearing those clothes.
You want your viewers to notice faces, smiles, and joy. A matching clothing palette takes the focus off clothing because you'll all blend in together from the neck down. Your clothing aesthetic can take any form that suits your family's vibe—farmhouse? Sure. Formal? You bet. Sports-themed? Ok! Whatever makes you and your family feel good. Remember: you want this to be stress-free and fun. So you should do things that feel good for you!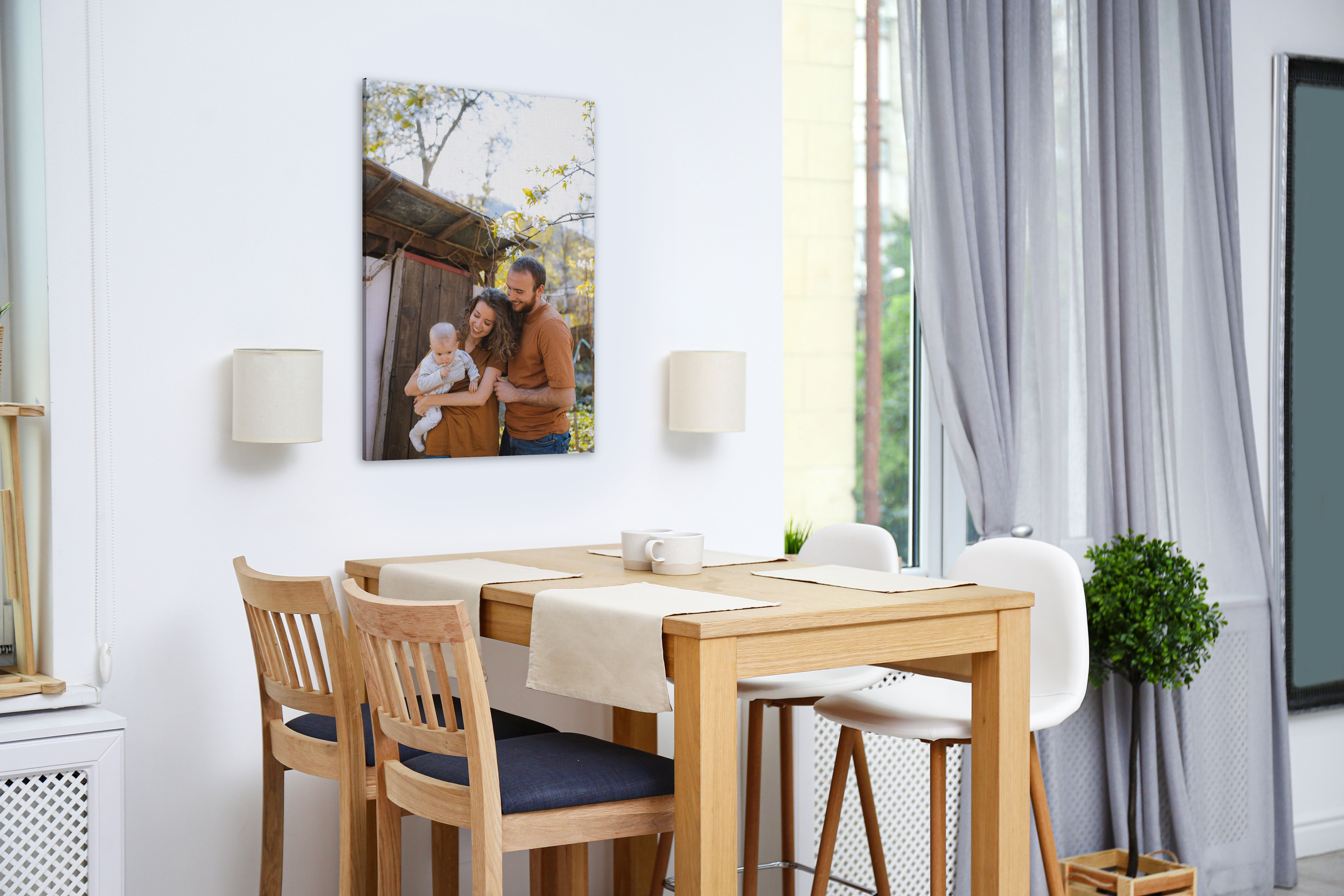 Pick a location that enhances the photo aesthetics
Once you've got your outfits settled, you'll want to think about locations. Is there somewhere that speaks to you or brings your family to life?
Some people prefer to do a photoshoot in their homes; other folks prefer to head to a park or an orchard to get the perfect pics. If you've already settled on an aesthetic for your photoshoot, the location should be somewhere that will match your look. If the whole family is in flannel, it might be cute to head to a park.
If you're all wearing your "Sunday best," an indoor picture would be appropriate. Try to choose a location that suits the energy of your family; if everyone's in a place they feel comfortable, that will show in the photo. The lower the stress, the better the result.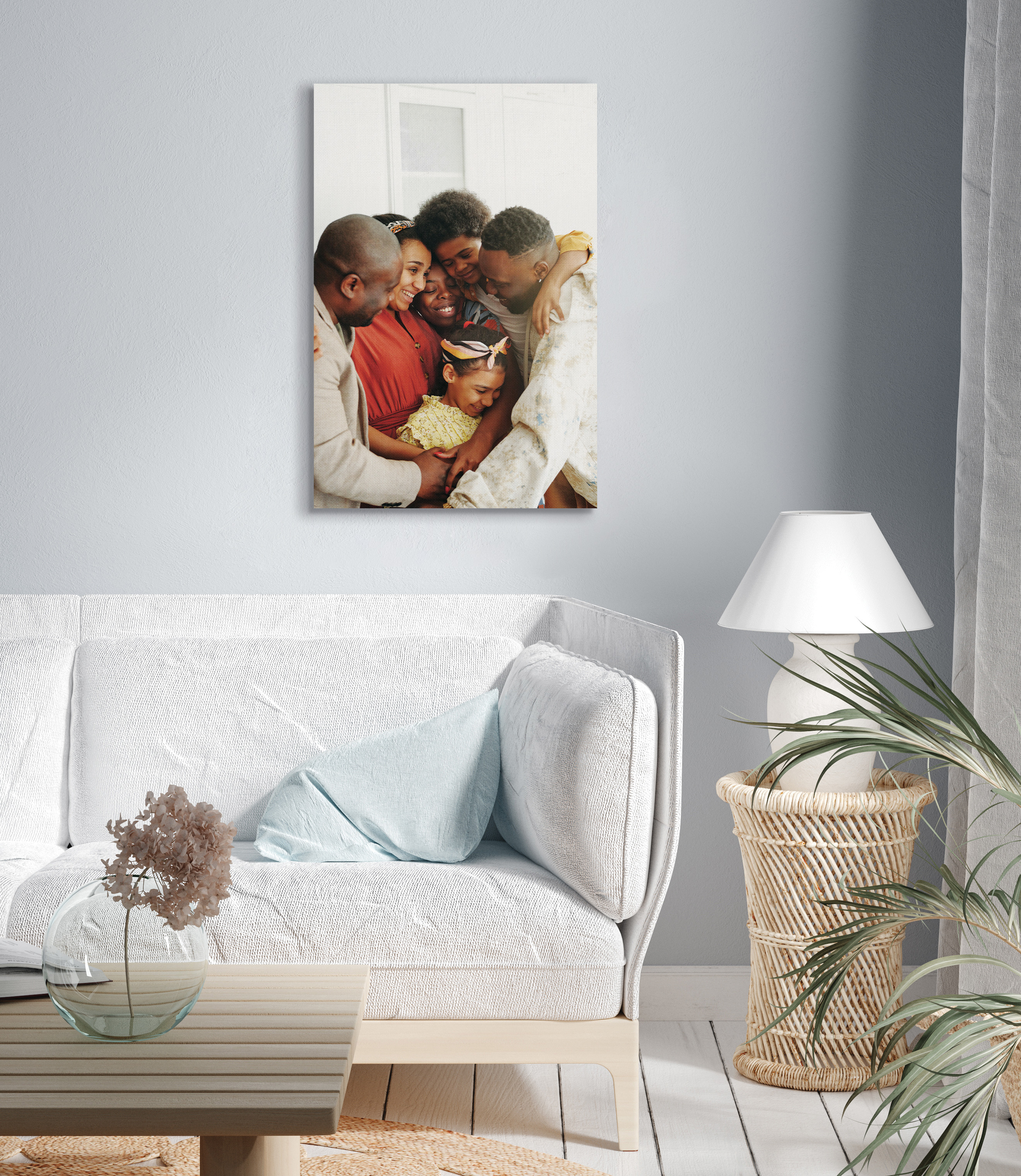 Use a good-quality tripod
And the last secret sauce to snagging a perfect printable shot is using a good-quality tripod. A good quality tripod that doesn't wobble gives a stable shot every time.
The tripod is also very useful when shooting in low light. When there is not enough light, the camera can take a long exposure, which will make the viewer's eyes uncomfortable. The tripod will help you hold your camera steadily and avoid shaky pictures caused by unsteady hands. Once you've got your people and your place, it's time to get your picture!
Making it happen
The most important part of the photo is, of course, taking the photo. We have some tips and suggestions here that will help you make that process as stress-free as possible!
Expect the unexpected
You never know if you might need to make a makeshift tripod out of a stack of books or a prop; you never know if a kid will spill something on their shirt last minute and require you to rearrange the poses; you never know if it might rain on your perfectly planned park photo shoot. Be flexible and have fun—don't stay so stuck on your plan that you can't see when a new opportunity presents itself.
Include pets in your pictures
One way to add some levity and sweetness to your photos is to consider bringing along your beloved family pets. They don't call them "family" pets for nothing—they should be part of the fun too, and their antics can make for some funny antics that will help ease tensions as you try to get just the right shot.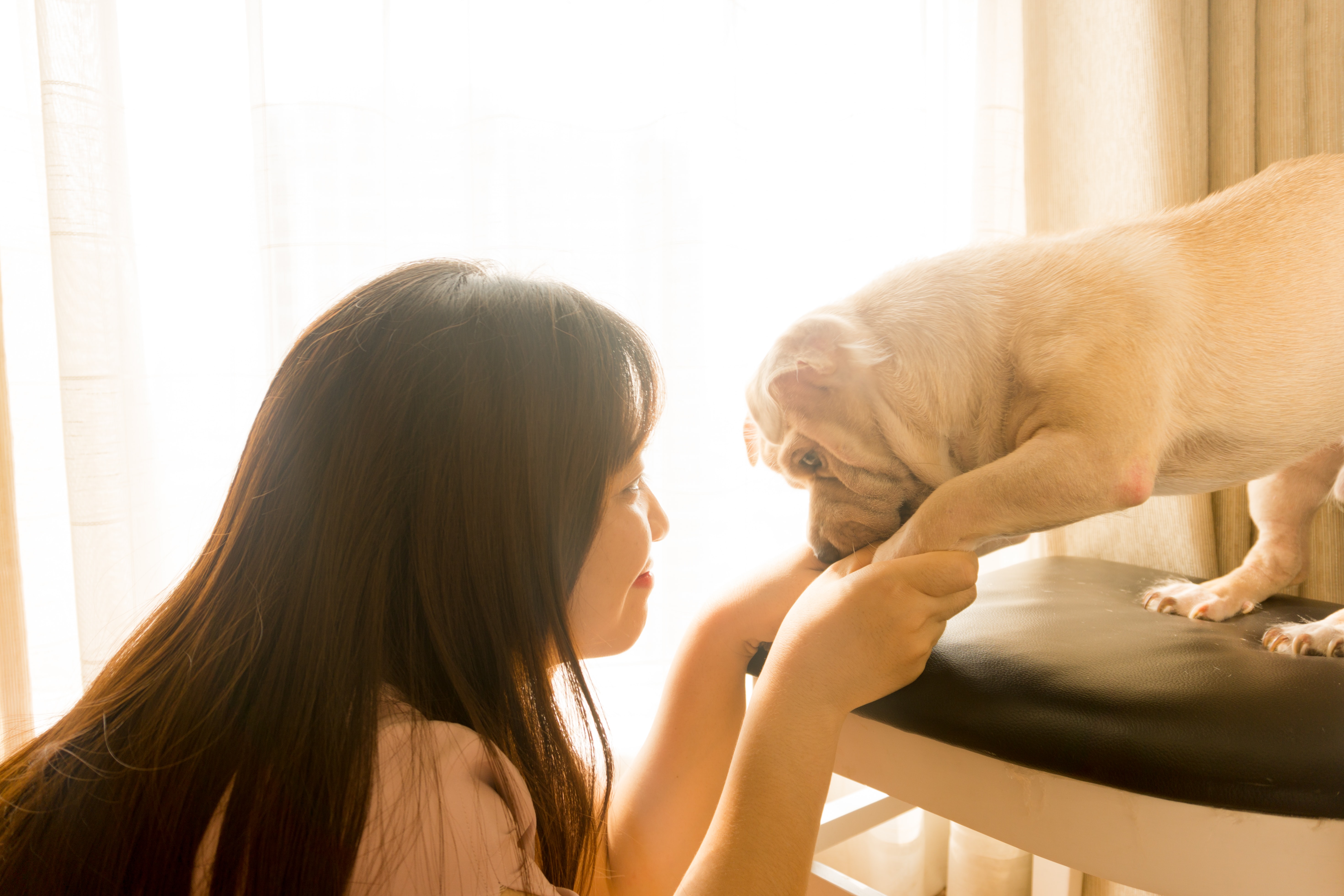 Try for organic, relaxed pictures
Take some candid shots of your kids laughing together, of your partner rustling your dog's fur, or of the whole family cutting it up when they think no one's watching. Not only are candid pictures stress-free, but they also capture you as you really are and make for some great print-worthy shots
Lighting tips
The one thing you won't want to leave to chance or to nature is your photo's lighting. Lighting can make or break a photo, and you'll want to think carefully about what will work best for the picture you're hoping to get. Here are some tips on getting the perfect lighting for your photo:
Use those phone features! If you're using a phone camera, don't forget to try out autofocus features, which can adjust the lighting of the picture for you. Stress-free adjustment!

If outdoors, aim for "open shade." Don't take outdoor pictures in bright sunlight; your photo will be washed out. Aim for shady spots where the sun shines behind you!

Consider golden hour. If you're taking pictures outside, don't forget that afternoon "golden hour" has some of the best lighting of the day.

When indoors, aim for natural light. See if you can get everyone together near a window or skylight where natural daylight can be your light source.
Print it!
Now that you've read this article, you're ready to attempt this year's family photo. Your family is already beautiful; a stunning framed print, canvas print or gallery wall from Canvaspop makes for the perfect display of their beauty. Already have your family photo taken? Get started printing now!