Nine ways to incorporate wedding photography into your home décor
By Amy Wright | Sep 28, 2022
Wedding photography is one of the best investments couples can make on their special day. Capturing your most precious moments helps you relive the magic of your wedding day for decades to come. And there's no better way to commemorate such a beautiful occasion than by incorporating wedding photos into your home décor!
Here are nine tasteful ways to showcase your wedding photos in your home.
1. A classic framed print
Nothing says sophisticated elegance quite like gallery-framed photography. This classic style best at highlights the raw beauty of your wedding photos without any distraction. As stand-alone or a framed series, these versatile portraits look stunning in virtually any space.
With Canvaspop's premium gallery framed prints, you can see your most cherished memories brought to life in vibrant archival inks against an ultra-thick mat. We offer a variety of print sizes to best fit your space and each custom print is complete with a quality frame.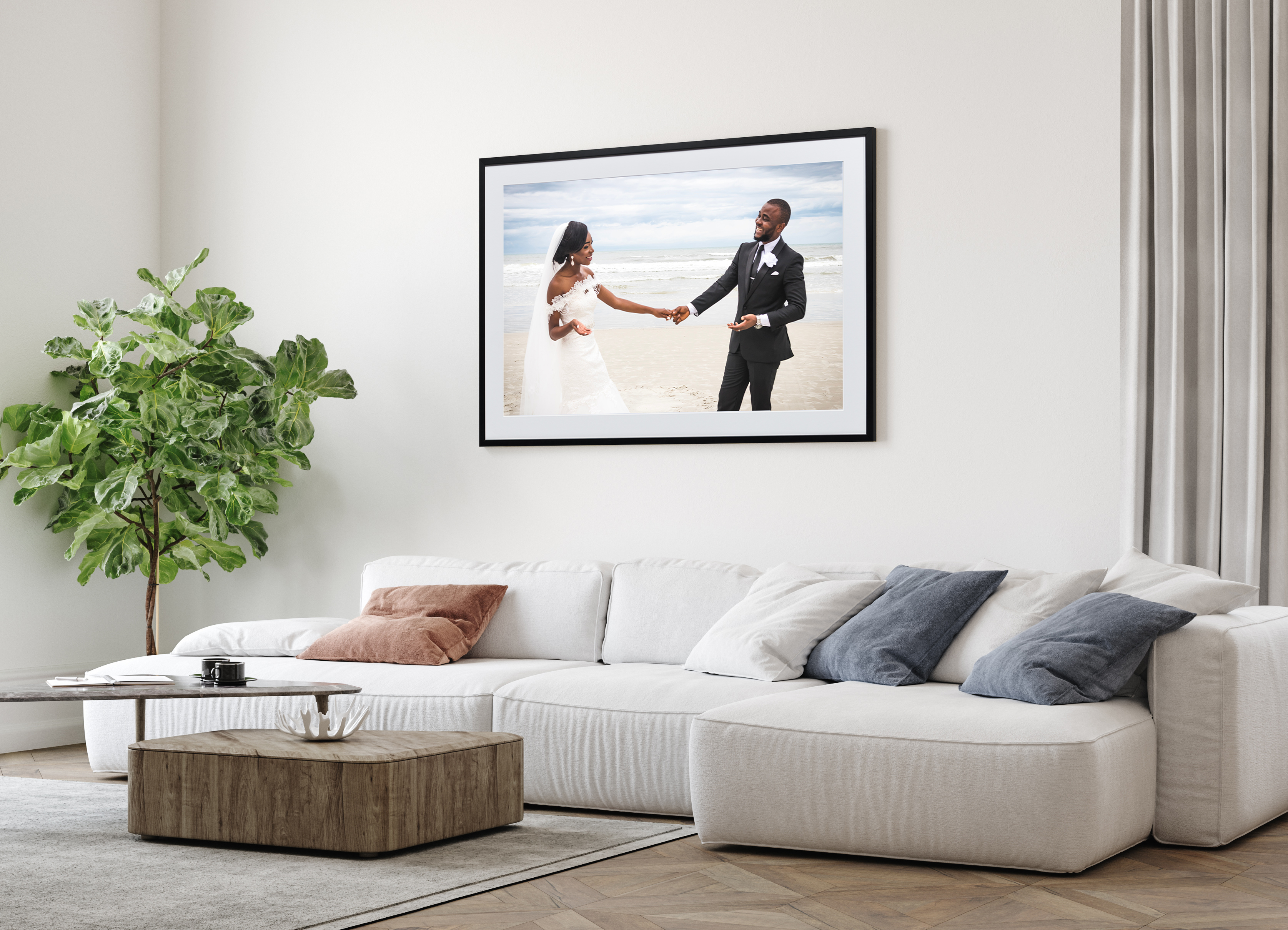 2. A photo collage
Photo collages are a timeless way to display a curated collection of your favorite wedding photos. Plus, looking through images with your hubby and creating a unique layout is a fun and creative way to reminisce about the big day.
To start creating a professional and fully customizable wedding collage, upload the selected images to a collage template on Canvaspop and select the layout that best displays your photos. You can choose from a variety of different sizes, borders, and depths to fit your aesthetic. Plus, you have the option to print your collage on a museum-quality canvas.
3. A gallery wall
Gallery walls are a great way to integrate your favorite mementos from your wedding into one dynamic display. Because gallery walls look best with a variety of shapes and sizes, it's the perfect opportunity to display the little details from your special day alongside larger prints. This also allows you to balance out the more intimate moments with artistic shots that showcase to venue and atmosphere of the day.
Frame invitations, vows, cocktail napkins, and other wedding-related memorabilia to hang alongside larger wedding portraits to create dimension and add character. Not only will you have a beautiful display, but you'll make the most of all the little personal touches that made your wedding unique.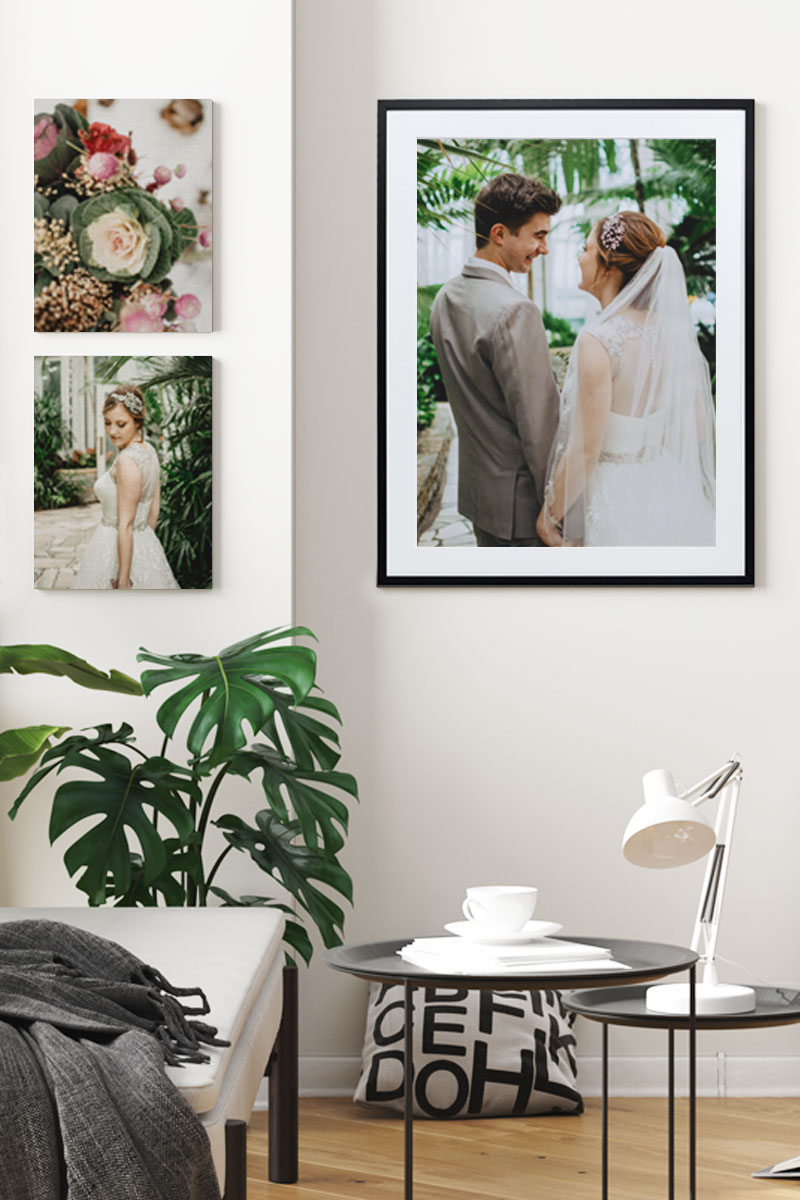 `
4. Commission a custom illustration
The newest trend in wedding-inspired home decor is to turn your most memorable moments into one-of-a-kind custom illustrations. Spice up your wall hangings with a commissioned piece of custom art inspired by your wedding day. Portrait artists can take any photo from your wedding and transform it into a stylish watercolor print or hand-drawn illustration. This is a great way to bring overlooked photos of your wedding venue to life.
5. A photo garland
Why not lean into the Pinterest aesthetic with an artful photo garland? Photo garlands are a fun way to integrate wedding photography into your home décor. Plus, they give you and your hubby a chance to get creative.
Simply print out a few of your favorite wedding photos and adhere each of them to a separate piece of card stock. Then, fasten each photo to some twine—and voila! You have a totally unique wall hanging to commemorate your special day.
Photo garlands can also be customized to match the vibe of your wedding. For instance, you can use mini clothespins to fasten photos for a rustic country look or adorn your garland with dried flowers to give it a whimsical feel.
6. A calendar
The seasons may change, but your love stays the same. Customizable calendars are a great way to keep the magic alive year-round. You'll love being reminded of a great photo from your wedding with the passing of each month. Plus, calendars are useful for penciling in important dates, anniversaries, and milestones for your family.
7. A coffee table book
Coffee table books are an integral part of living room décor, not to mention fun for guests to flip through. Why not give your guests something sentimental to look at with a professionally printed and bound book containing all your favorite memories from the wedding?
8. Photo magnets
Liven up a lackluster fridge with an array of custom photo magnets from the big day. You can print photos directly on a magnetic sheet or order custom wooden or glass magnets that encapsulate your favorite details from the wedding. Not only are they useful for keeping your to-do lists handy, but they serve as a special reminder whenever you walk into the kitchen.
9. A statement canvas print
Put your love on full display with a larger-than-life canvas print. Some special occasions deserve to take up more space on your walls, and your wedding day is definitely one of them! Why not turn a vibrant photo from your wedding into a focal point in your home with a custom canvas print? Canvaspop offers a variety of frames, edges, and sizes of custom canvas prints to make your favorite moment truly stand out.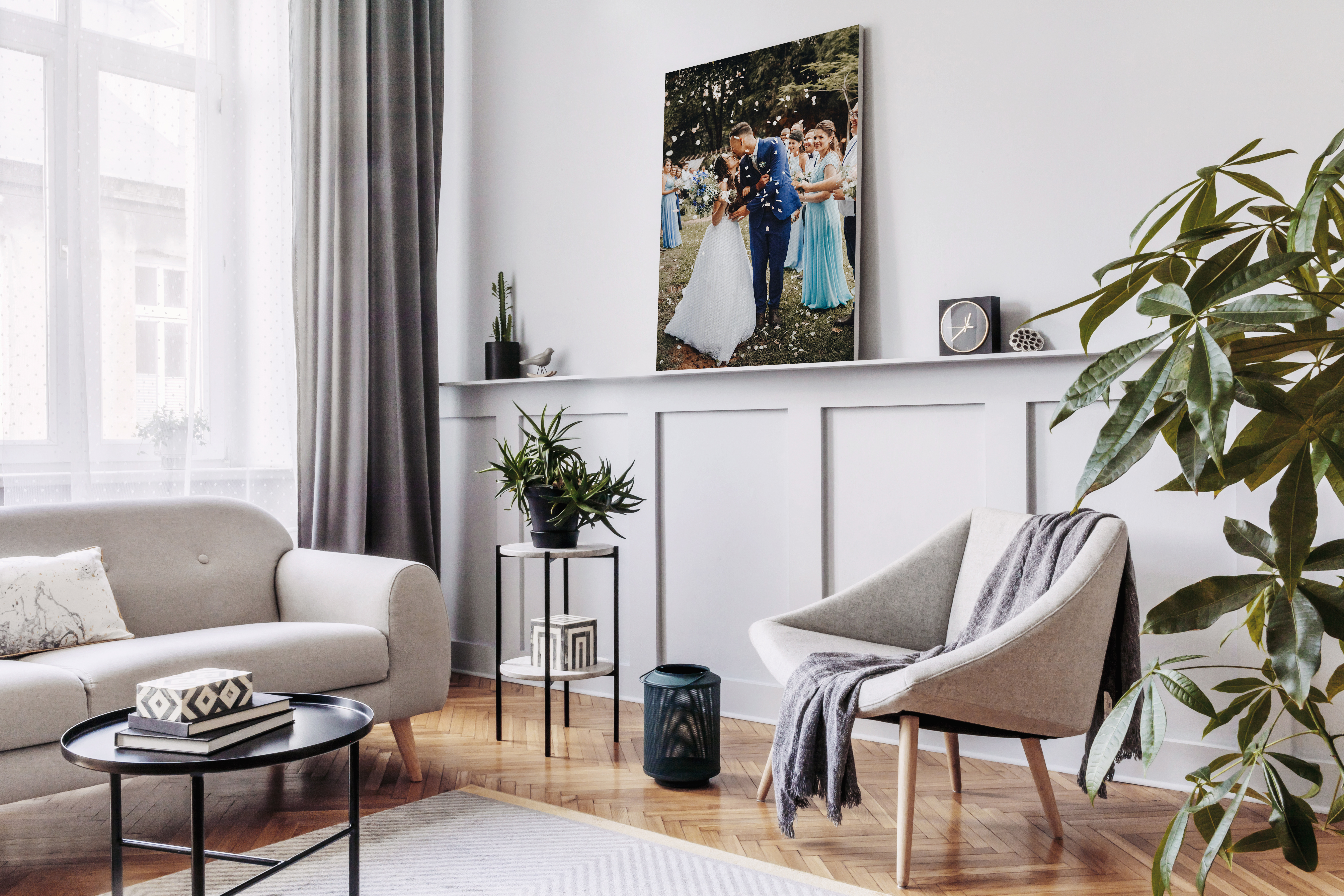 Ultimately, each of these ideas is a tasteful way to integrate wedding photography into your home decor. With Canvaspop's easy custom printing and framing, you can transform your wedding photography into beautiful, heartfelt displays throughout your home. To us, there's nothing better than helping couples commemorate one of the most important days of their lives.
When it comes to showcasing your love, Canvaspop has a variety of options that will get you feeling inspired. If you've got a creative vision, we're here to help you bring it to life. From our custom photo collages to our framed prints, there's something for every style. Start printing today and relive those magical moments all over again.