Fall home decor trends for 2022
By Amy Wright | Sep 28, 2022
Mother Nature is changing out her soft green summery gown for the bold colors of fall. There is a chill in the air and suddenly you're thinking about apple spice and tasty treats made with pumpkin.
You might be wondering how to keep your home up with the changing seasons. The decor you had on display during summer doesn't quite seem to fit with the fall vibe that is growing outside your door. Let's look at a few fantastic fall home decor trends for 2022 here to get your creative juices flowing!
Incorporate warm, cozy colors
As temperatures fall outdoors, you're probably reaching for the heater to chase off the chill. But heating isn't the only way you can make your home feel cozier. Visual cues in warm colors help a space seem warmer and cozier without cranking the heat up to extremes.
You can do this in a simple way by changing out the couch pillows, floor rugs, or other colorful wall art. Choose rich colors like warm browns, deep ruby reds, or bold crimson tones. Green is a big color trend this year. Though it is often thought of as a summer color, you can choose a deep forest green matched with rich browns to portray that muted sense of coziness.
Fall flowers
Flowers are a gorgeous addition to any decorating scheme. While the bright blooms of summer will feel out of place, the rich tones of fall flowers are a perfect touch. For longer-lasting enjoyment, dried stems are the perfect choice. Dried eucalyptus brings beautiful texture and color to any display. And the more muted color palette of dried flowers fits better with your fall color scheme. Plus, the arrangement will last for weeks instead of days! You can also incorporate fresh blooms in fall hues like deep reds, burnt oranges, and muted yellows.
Fall produce
Fall provides a number of fall produce that look fabulous as home decor and will last a while. Stop by your local farmer's market and you're sure to find gourds, ears of corn, and pumpkins in a variety of greens, yellows, and oranges.There is a huge variety of squash with different colors and patterns that make beautiful displays for either indoors or out.
A fun idea for a country theme is to buy a hay bale and place it on a corner of your porch. Arrange purple and red ears of corn, green and yellow gourds, and a couple of orange pumpkins and you have an inexpensive, yet brilliantly colorful fall display for your front entrance!
Landscapes or art canvases to hang on the wall
Fall is a wonderful time for photographers and artists. Inspiration is everywhere! The changing leaves and bright colors of fall produce provide a brilliant display for them to capture with their cameras or paint brushes.
Browse our collection of autumn-themed photographs for some amazing home decor! From majestic animals to brilliant landscapes, to the colors of fall on the kitchen table, there are hundreds of images to choose from. Grace your walls with the brilliance of autumn and you can enjoy the lovely scenes while staying snug and warm indoors.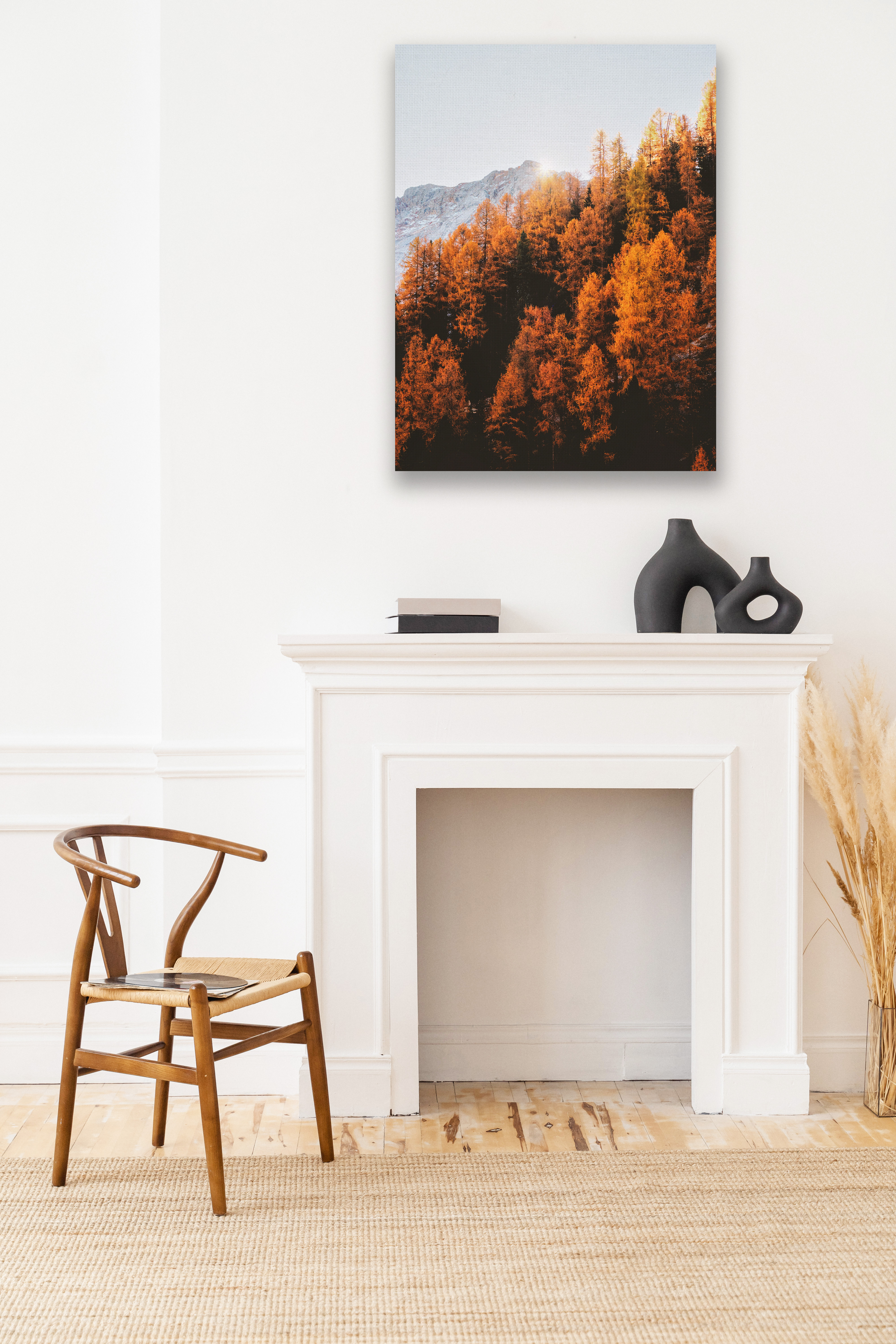 Decorate with wood
Natural elements like wood are always fabulous for fall decorating. The burnished tans and browns of most wooden elements are perfect for adding touches of warmth to your display. You can use wood in many ways for decorating your home. Go big with new wooden furniture or add a set of wooden shelves to an empty space on the wall. The shelves are great for displaying family photos or fall arrangements of flowers, produce, or any of the other decorating ideas we've already mentioned.
Another idea is to add an impressive wooden coffee table to bring elegance to your living room. If you don't want to change out the whole table, you could place a decorative wooden bowl on your current table and fill it will fall produce or potpourri.
Woven decorations
Woven items are another fantastic element for interior decorating. Simple woven baskets are great as a place to store the random items that always seem to end up on the living room floor. Plus, the texture and colors are perfect for adding fall vibes to the decor. Imagine how gorgeous a set of tan woven baskets would look alongside the couch with a couple of those deep red pillows we suggested earlier!
Other ideas include woven chairs at the breakfast nook or an elegant woven ottoman. Woven pendant lights are also quite popular and are another great way to add a touch of warmth to the space.
Display fall family memories
Fall is a fantastic time to take family photos outdoors. The colorful trees turn even an ordinary park into a lovely backdrop that brings brilliance to your images. Autumn-colored neutrals are easy to coordinate so that the whole family's outfits fit together well. Plus, the weather, though it can be chilly in the mornings, is often pleasant for being outdoors in the afternoon. Pleasant weather means you have that much better chance of getting happy photos of your family!
Once you've got those beautiful memories, don't just hide them away on your phone or in a photo album. Print those inspiring moments big and beautiful on a canvas or have the print framed. These images make the best fall decorations for your home. Not only do you get to enjoy the vibrant colors of autumn but also the smiling faces of those most dear to you!
Let us help!
Curious about autumn-themed photographs or painted art? What about printing canvases of your beautiful family in vibrant color? Here at Canvaspop, we can help you do all of it! We have a huge variety of fall-themed art and photographs to choose from. Plus, our custom options allow you to print your own family photographs in bold color.
Our beautiful, vibrant prints are sure to get you in the fall spirit. Reach out today to learn more!