Dynamic split canvas prints - Are they right for your space?
By Amy Wright | Jun 26, 2023
Are you looking for a unique and captivating way to elevate your interior decor? Dynamic split canvas prints might be the perfect solution. These prints not only offer a creative outlet for designing stunning wall art but also add depth, contrast, and variety to any space. In this article, we'll explore what dynamic split canvas prints are, what looks best when printed on them, and what to consider when hanging them.
What is a dynamic split canvas print?
A dynamic split canvas print is an innovative approach that elevates a traditional canvas print. Instead of featuring a single image on a flat surface, this technique divides the image into multiple panels, resulting in a captivating visual effect that adds depth and dimension to your wall art. Whether you're embellishing your home or office, split canvas prints offer a unique and artistic way to showcase your photos, making a powerful and distinct statement.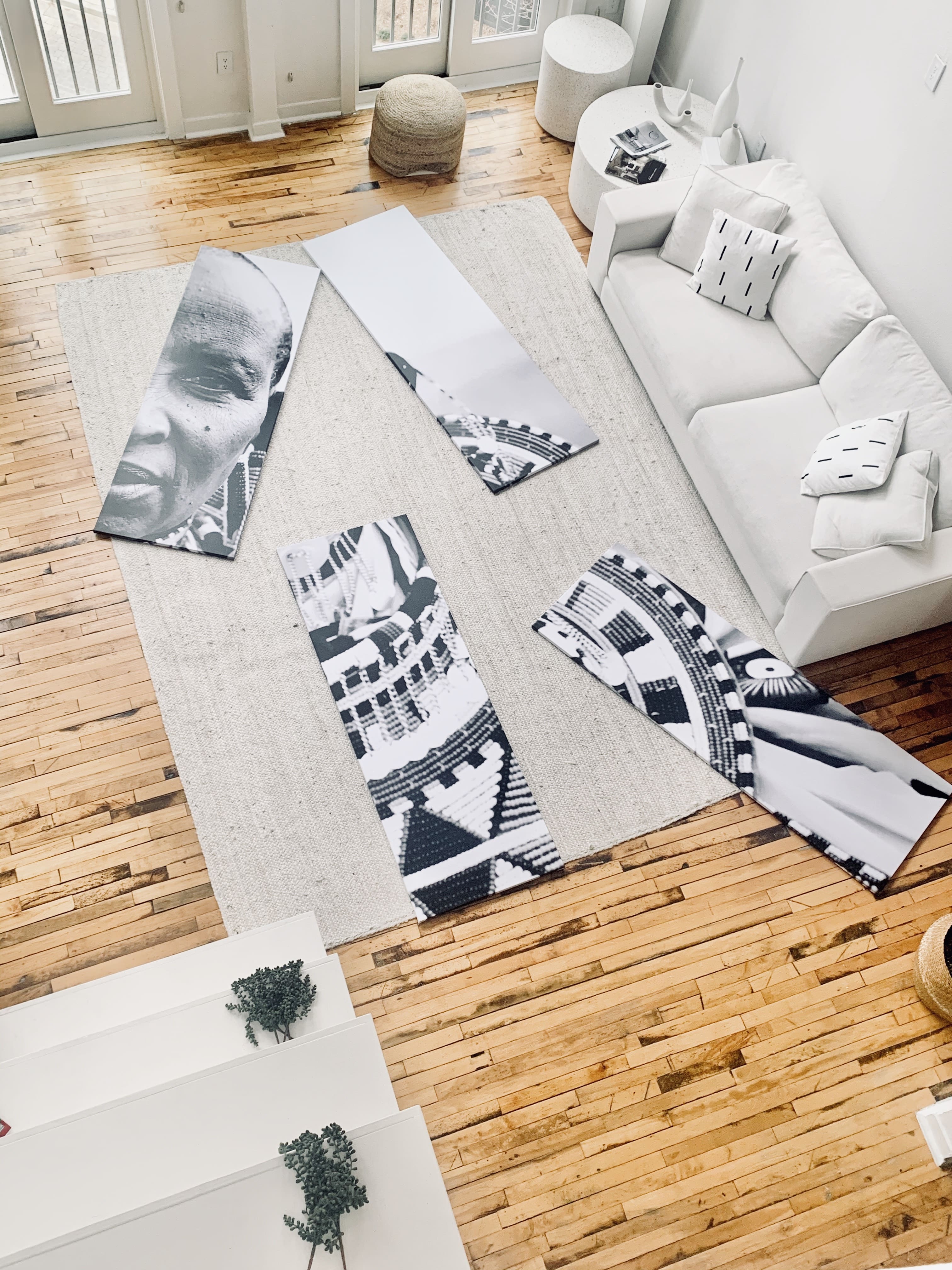 How can you create one?
When creating a dynamic split canvas print It's important to select images that lend themselves well to being divided. Pictures with interesting compositions, panoramic views, or subject matter that can be visually connected across panels tend to work particularly well. Additionally, when hanging split canvas prints, it's essential to consider the spacing between panels to ensure a harmonious arrangement. Our highly trained customer support team is available to assist in creating dynamic split canvases, including configurations of 4, 6, 9, or even 20 panels, available in square or even rectangular shapes. Checkout this stunning piece created by a creative customer.
What's the difference between a triptych print and dynamic split canvas?
Did you know a dynamic split canvases offers endless design possibilities to match any room in your home or office? At Canvaspop, we specialise in a specific type of dynamic split print called Triptych prints, which consist of three-panel split canvas prints. These prints are designed to be displayed together, with a gap between each panel, creating a unique and visually appealing look. Our triptych prints add character and interest to any room, making a statement with larger-than-life visuals on high-quality materials. So what's the difference? Well that's for you to decide, will you go for a three-panel split canvas or something as big as twenty split canvas?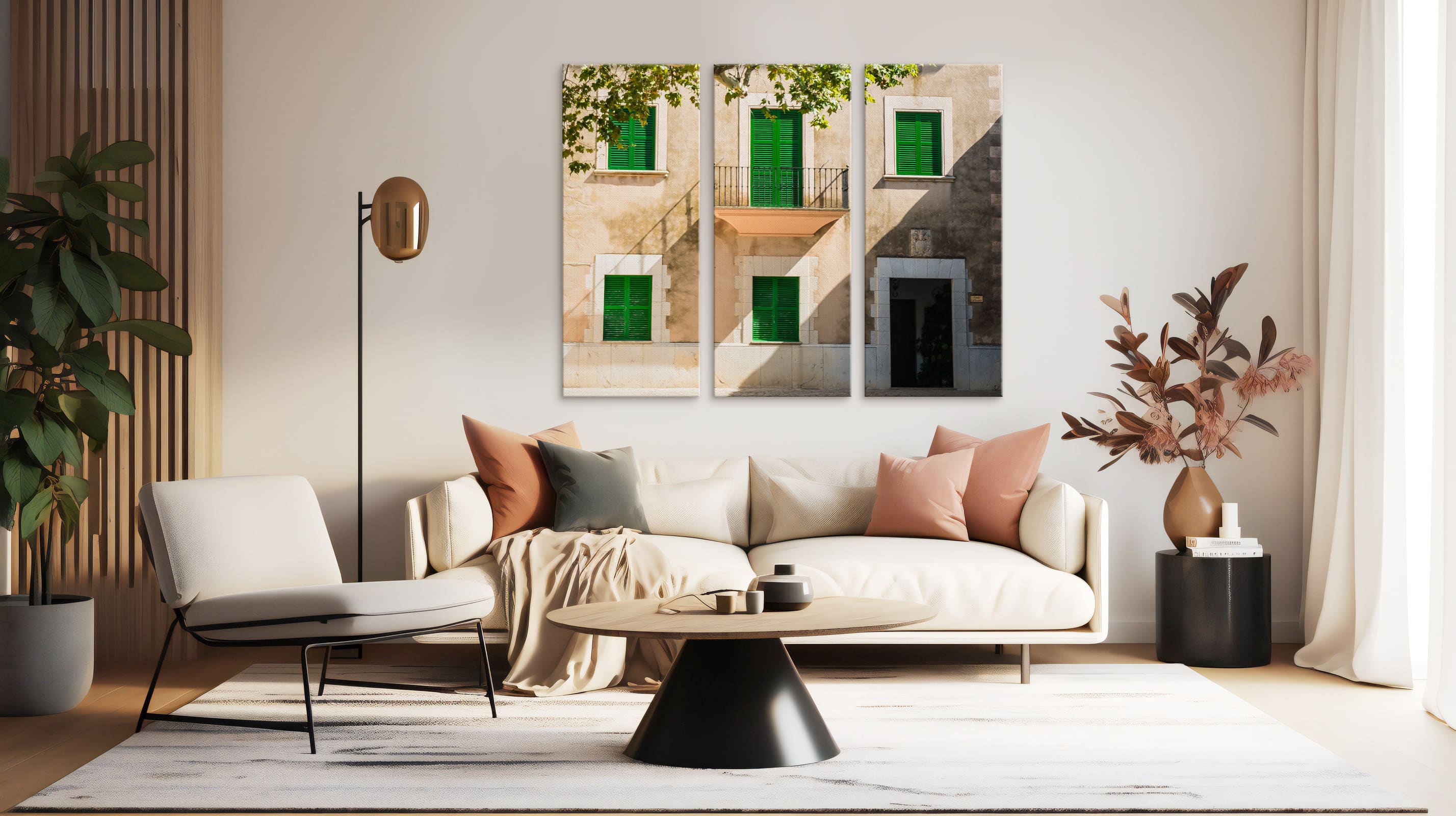 Choosing the right photo or print
When choosing wall art for your space, it's essential to consider the overall ambiance you want to create. Here are a few popular options to consider:
Landscapes: Triptych canvas prints are ideal for displaying breathtaking landscape photography. Choose images featuring stunning natural views, such as tropical beaches, snow-capped mountains, majestic waterfalls, or serene countryside scenes. These prints provide a panoramic view of the landscape, creating a captivating focal point for any room.
Abstract Art: Vibrant abstract prints that combine colours and graphic elements can make excellent triptych canvas displays. Experiment with different arrangements and spacing methods to achieve dynamic visual impact with your split canvas print display.
Urban Photography: Urban photography offers captivating opportunities for triptych canvas prints. City skylines, street art, architectural details, or bustling intersections can create dynamic compositions. Consider black-and-white or sepia tones to soften urban scenes and enhance their beauty.
Events: Commemorate significant life events, such as weddings, graduations, or sports events, with triptych canvas prints. Vibrant colours and dynamic elements make these prints eye-catching additions to your living room or foyer.
Enhancing your home decor with split canvas prints
Whether you're adding a split canvas print to your home decor you can use these prints to serve as stand-out focal points in any room, capturing attention and sparking conversations. The addition of depth and dimension creates a visually stunning impression that leaves a lasting impact on your guests. Moreover, split canvas prints allow you to display memories, landscapes, or artwork that reflect your individuality and personal style.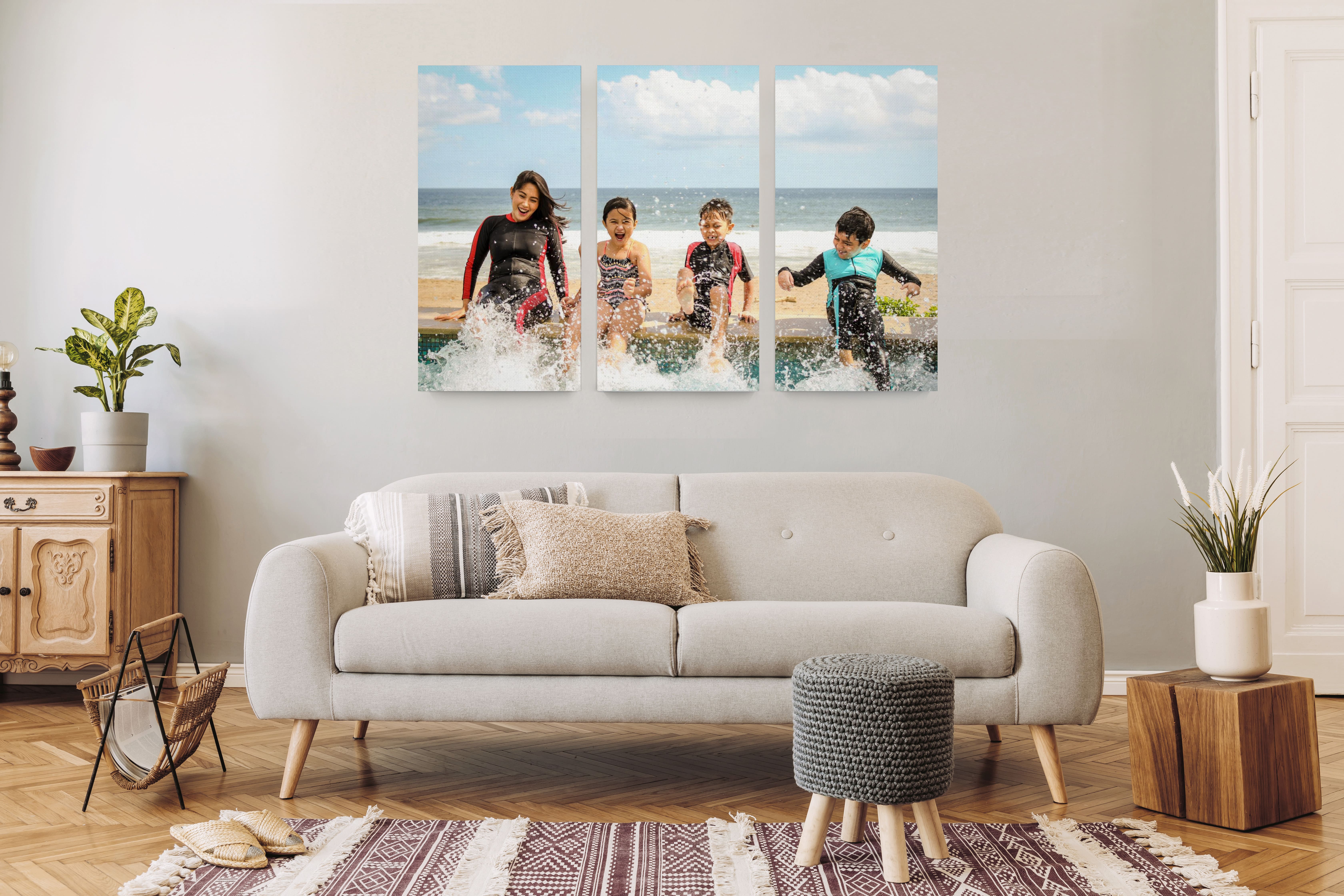 By integrating dynamic split canvas prints into your home decor, you can:
Create an impressive focal point that draws attention

Infuse vibrant hues into your room's colour palette

Bring life and vibrancy to any space, making it feel more dynamic
Whether you prefer bold and eye-catching designs or more subtle and subdued ones, splitting up one image into multiple canvas prints allows you to add flair and character to your space.
Once you've chosen how you want to arrange your photo into multiple canvas prints, it's important to hang and display them properly to ensure they look their best. Here are some tips to help you:
Selecting an appropriate location:
Choose a wall space that allows the artwork to shine. Consider lighting conditions to ensure colours appear true and vibrant when reflecting off the canvas. Opt for an empty wall with minimal furniture to create a focused environment for the art. Also, pay attention to the wall material, as it can affect how light reflects off the artwork.

Measure and mark your wall space:
Before hanging the prints, measure the wall space and mark the positions where the nails or screws will go. Aim for eye-level viewing, known as museum hanging, for the optimal viewing experience. When hanging multiple panels, make sure to space them evenly, around 2-3 inches apart, for a cohesive and unbroken flow.

Hang your canvas prints:
Carefully place each canvas print on the wall, starting from the top and sliding it onto the pre measured and installed screws or nails. Make sure each panel is securely fastened in its position. Step back and admire your new canvas art display.
In conclusion, if you're looking to add a touch of artistic dimension and visual intrigue to your space, dynamic split canvas prints are an excellent choice. By selecting the right designs, considering the hanging process, and exploring various styles, you can create a captivating display that reflects your individuality and adds character to your home or office. Let your creativity soar and make a statement with custom dynamic split canvas prints from Canvaspop today!