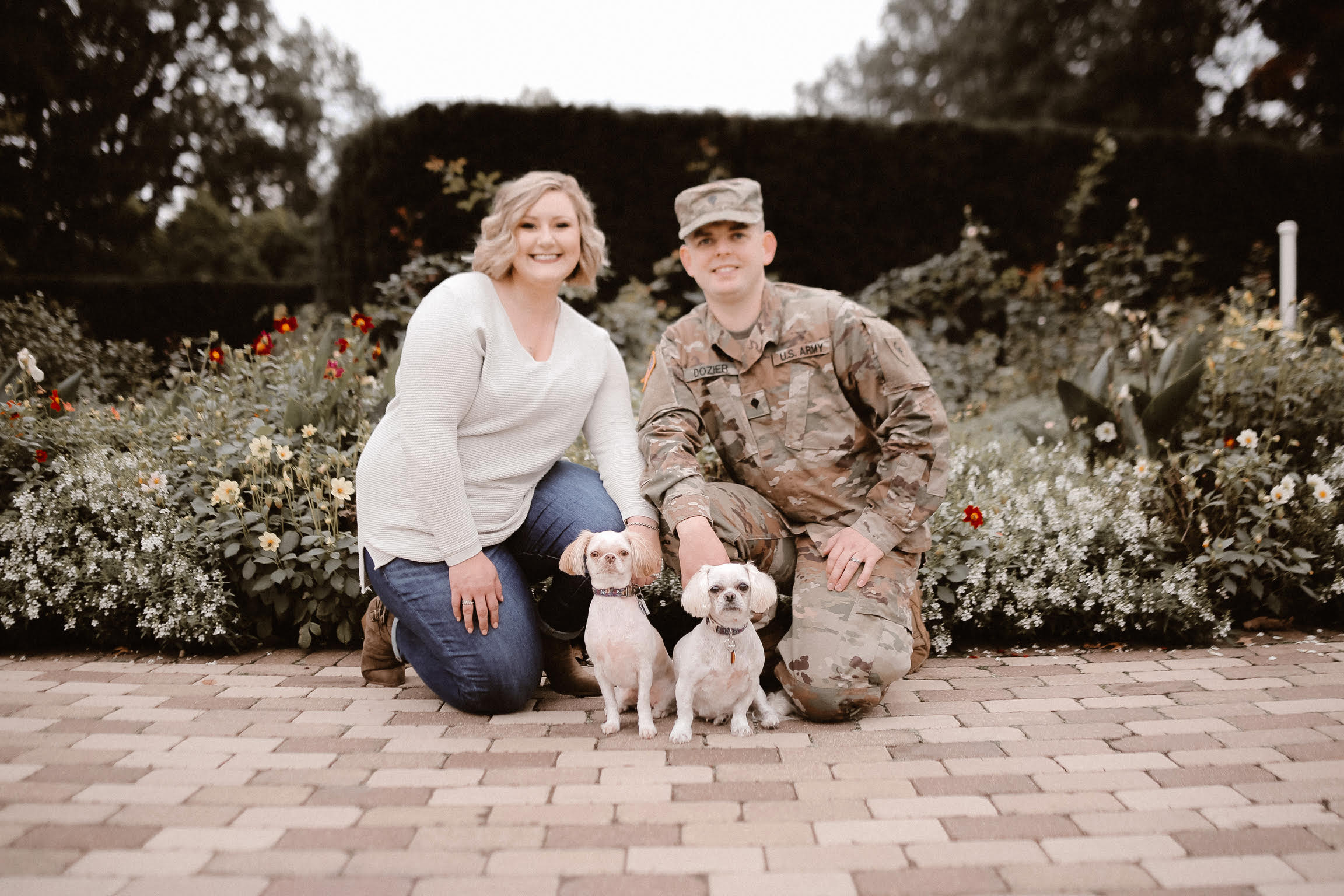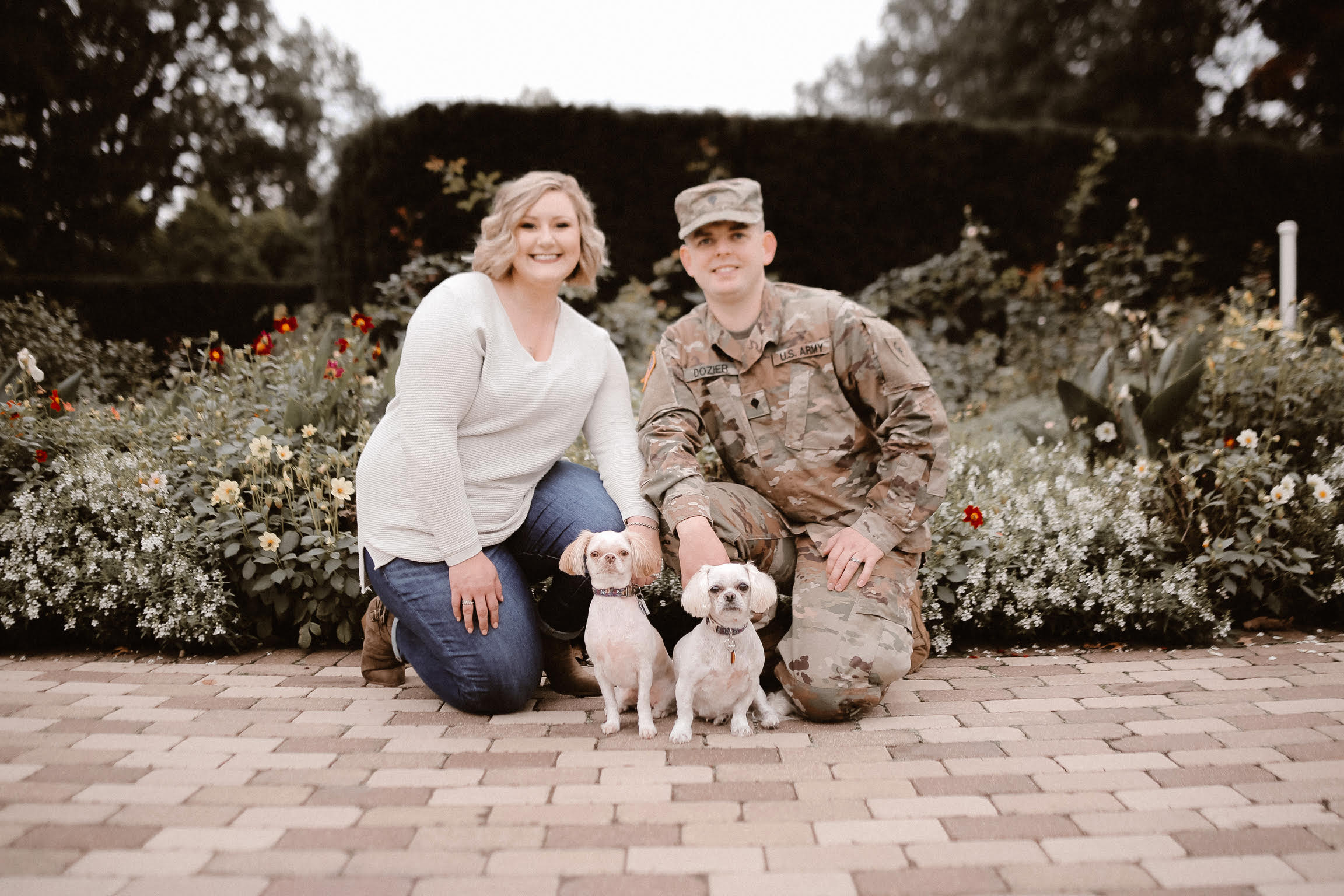 Military Surprise - A Grand Gesture of Love
By | Mar 19, 2020
This is the story of how nine canvas prints helped a military couple make their way through deployment together by solving a surprise puzzle month by month.
About a year ago, a hopeful man reached out to CanvasPop's customer service team with a request we had never received before. The request was a heartwarming gesture to the love of his life.
After ironing out some logistics, we were immediately on board to help make his vision a reality.
A story as lovely as this just had to be shared so we asked the happy couple, Jeff and Tara Dozier, to help us share it!
Jeff (the mastermind behind the military surprise):
The history of over-satisfied customers, the Doziers, starts with a pre-deployment engagement photoshoot. Due to not knowing when the news of my deployment was going to come but knowing that it would, we chose to get married sooner than our originally planned wedding date. It was something small in our living room but was nonetheless memorable.
The plan came about when I was really trying to be creative. I knew getting married early wasn't what either of us had intended and I wanted to do my best to give my utmost appreciation to my wife.
When we did the photoshoot, I was able to secretly ask one of the photographers if I could see the pictures before my wife. I gave him the rundown of my general idea. I wanted to surprise her each month with a photo from our engagement shoot.
After seeing the pictures, I knew exactly what I wanted to do. But at that point, I wasn't sure if CanvasPop could split one photo into nine canvas prints and surprise her with a new piece for our gallery wall each month of my deployment.
Then it was time to get to work on trying to figure out how I was going to do it. My first and only stop was CanvasPop. I sent an email to get more information and to see if they could make my idea possible.
Steve, the head of customer service at CanvasPop, got back to me very promptly. We had a few phone calls along with some email communication. The catch was that I could only work on my wall art project when my wife wasn't around to keep it a surprise for her.
When Steve said that he had never heard of anything like this before I started to feel a little bummed that it might not be possible. But within the next few days, my frown turned upside down in a huge way.
Not only was Steve trying extremely hard to set it up but he also was very dependable, trustworthy, friendly, and professional. I sent him the picture and the layout I wanted and within just hours he replied telling me it was completely possible.
CanvasPop was not only able to complete my custom project for an extremely reasonable price but were able to ship each piece separately on the dates I wanted them mailed.
Steve was such a personable guy and so dependable that I had no doubt in my mind this was going to happen without a hitch. I cannot thank this company nor its people enough for handling such a request and making the quality top-notch! I can't wait to use them again and would recommend them 12 out of 10!
I will never forget the first canvas that was shipped. My wife called me and asked if I only ordered one canvas print. I played dumb as best as I could and she was seriously confused since it was a print of just the top left corner, a picture of grass.
I will let my wife tell you her side of the story but I will say, I couldn't wait until the following month to get a FaceTime call when she opened the next one. During my deployment, it was something we both looked forward to and gave us some mini-goals along the way.
Tara (the recipient of the military surprise):
I knew when we got our engagement photos done that Jeff was up to something. Especially when he told me that he was ordering something and I wasn't allowed to look at our bank account for a few days.
When I received the first canvas, Jeff had just left home for our first deployment the day before. I was genuinely confused when I saw the package on the porch.
I noticed that the return address was CanvasPop and that it was addressed to me. But knowing that I didn't order any canvases, I figured it must have had something to do with this mystery photo. I immediately FaceTimed Jeff and asked about the package.
When I opened the first one, I actually thought it was a joke because it was just grass and weeds. Once I saw the background bits, I immediately knew the location where the photo was taken and what outfit we were in, but still didn't know what pose we were in.
We would go on to open the canvases that arrived at our door on FaceTime together every month for the following nine months so that we could experience it together.
The first few months of receiving the canvases was a bit frustrating because I got the four corners first and had no idea what the final picture was going to be. Once I started getting more and could finally piece it together, I couldn't believe the time and effort he put into this monthly surprise for me.
Throughout the nine months in which I got the canvases, I started setting them out on the floor in a spare room so that I could watch it come together. The last canvas that I got was the middle, which had our faces on it.
I was so touched that Jeff put this all together so that I had something to look forward to for the majority of his deployment. I couldn't believe how well CanvasPop executed such a personal and custom project. Everything went so smoothly!
When we were finally reunited, it honestly felt like Jeff never left. We were able to pick up right where we left off. Deployment definitely made us stronger as individuals and as a couple.
Seeing the look on Jeff's face when he finally saw the canvases hung on the wall made the wait each month totally worth it. We will definitely be using CanvasPop again in the future for other wall art projects!