Unleashing the power of AI art: A guide for creating and printing stunning masterpieces
By Amy Wright | Sep 11, 2023
Artificial intelligence (AI) is everywhere these days, with professionals using it for everything from customer service to data analysis. AI isn't just for businesses, though. You can also hop on the AI trend and use it to create incredible and personalized wall art for your home!
AI is quickly revolutionizing the way individuals create artwork and making stunning prints more accessible and enjoyable for everyone. So how does AI-generated art work? How can you create high-quality canvas prints with AI technology? Find answers to these and other important questions below.
Understanding AI art
Let's start by answering the question, "How does AI art work?" How is it possible to generate personalized wall art and canvas prints with AI algorithms? To understand how AI art works, we need to back up and explain the tools used to make this type of art: AI art generators.
What is an AI art generator?
AI art is created with the help of AI art generators. These AI art tools are programs that use text-to-image prompts to produce a new, one-of-a-kind piece of art. Text-to-image prompts are a series of short phrases chained together to define how the finished art will look. Using machine learning, a subset of artificial intelligence, AI art generators are "trained" by existing art pieces, which help them "learn" to distinguish between different art styles and techniques. These tools then use what they've learned to create brand-new images, which can be transferred to canvas prints, framed prints, or other media.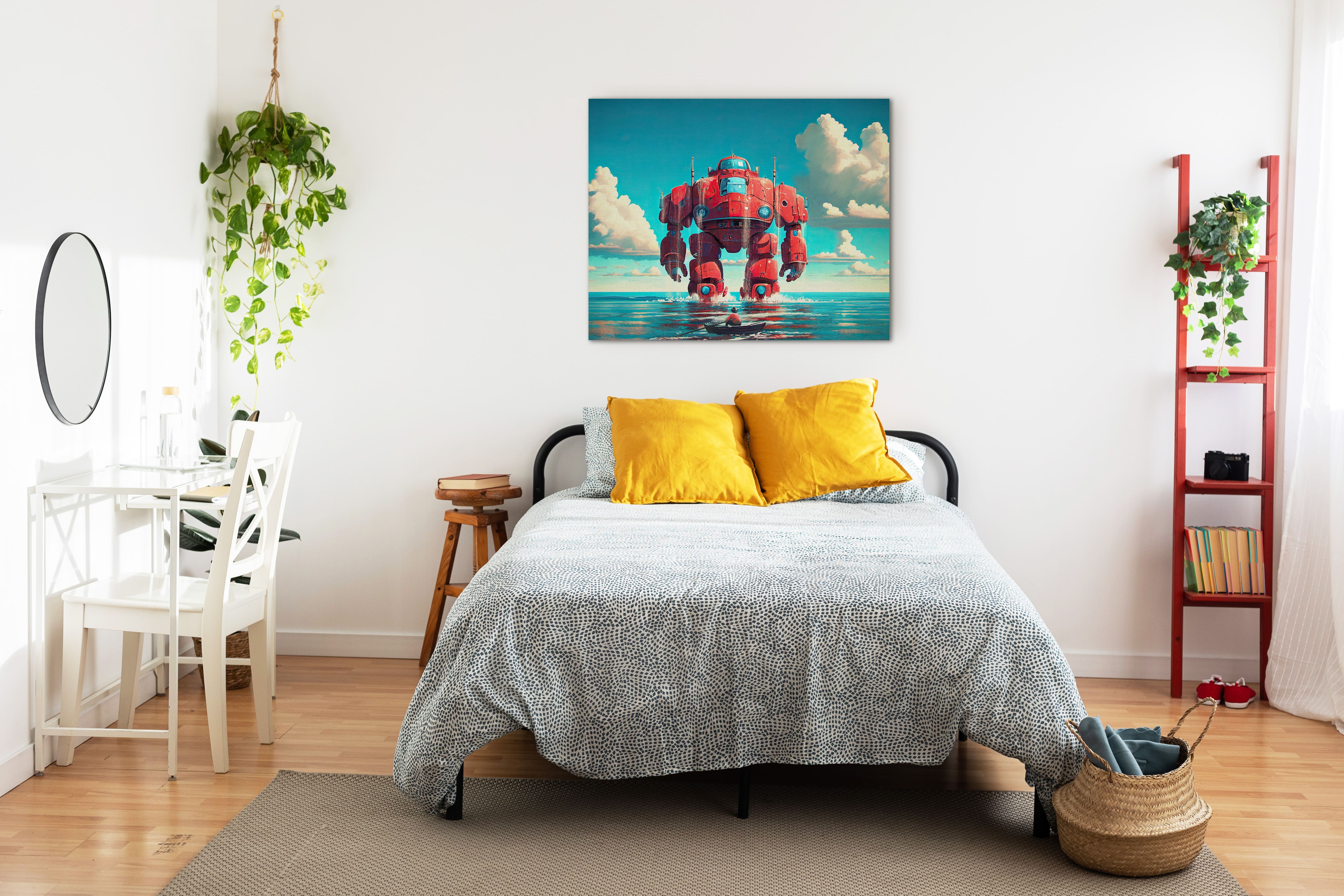 Popular AI art tools
Several AI art tools can help you begin the process of turning digital art into physical art. The following are some of the most popular solutions you can use to begin your AI art process (many of these also integrate with Canvaspop for easy printing!):
Midjourney: An art generator that takes text prompts and uses a Discord bot to create high-quality graphics. Plans start at $10 per month.

Canva AI: A free AI art generator (paid plans cost $12.99 per month) that generates four images for every text prompt you input.

DALL-E 2: An AI art generator from OpenAI (the same platform that brought us ChatGPT) creates four images per prompt. It can also expand images beyond their original canvas (this is known as Outpainting). This tool works on a credit basis, and 115 credits cost $15.

Many tools that help you produce AI-generated artwork offer free trials, which gives you a chance to experiment and decide if you like the platform before paying to create art through it.
From digital to physical: Printing AI art with Canvaspop
What do you do after creating AI art? How do you share your masterpiece with the world and display it for all to see? This is where Canvaspop comes in. Canvaspop offers upload and print services to help you display your AI creativity in wall art with high-quality canvas and framed prints. The whole process takes just a few steps:
Upload your image: Canvaspop accepts a variety of formats, including JPG, PNG, WEBP, TIFF, HEIC or HEIF.

Choose a size: You can customize the size or pick from 8"x10", 12"x16", 18"x24", or 30"x40"

Choose edges, wraps, and frames: Select from a variety of options, styles, and colors

Apply a filter: Pick from black and white, sepia, oil painting, comic book, and more

Choose optional services: Need a touch-up? We've got you covered.

Place your order!
In addition to an efficient and simple ordering process, Canvaspop printing offers many other benefits that other printing platforms don't. For example, we only use the highest-quality materials for our canvas prints and framed art prints.
We also offer a variety of customization options and are experts in preserving the originality of AI-generated art (so your creation won't be compromised during the printing or framing process) and guarantee your satisfaction for life!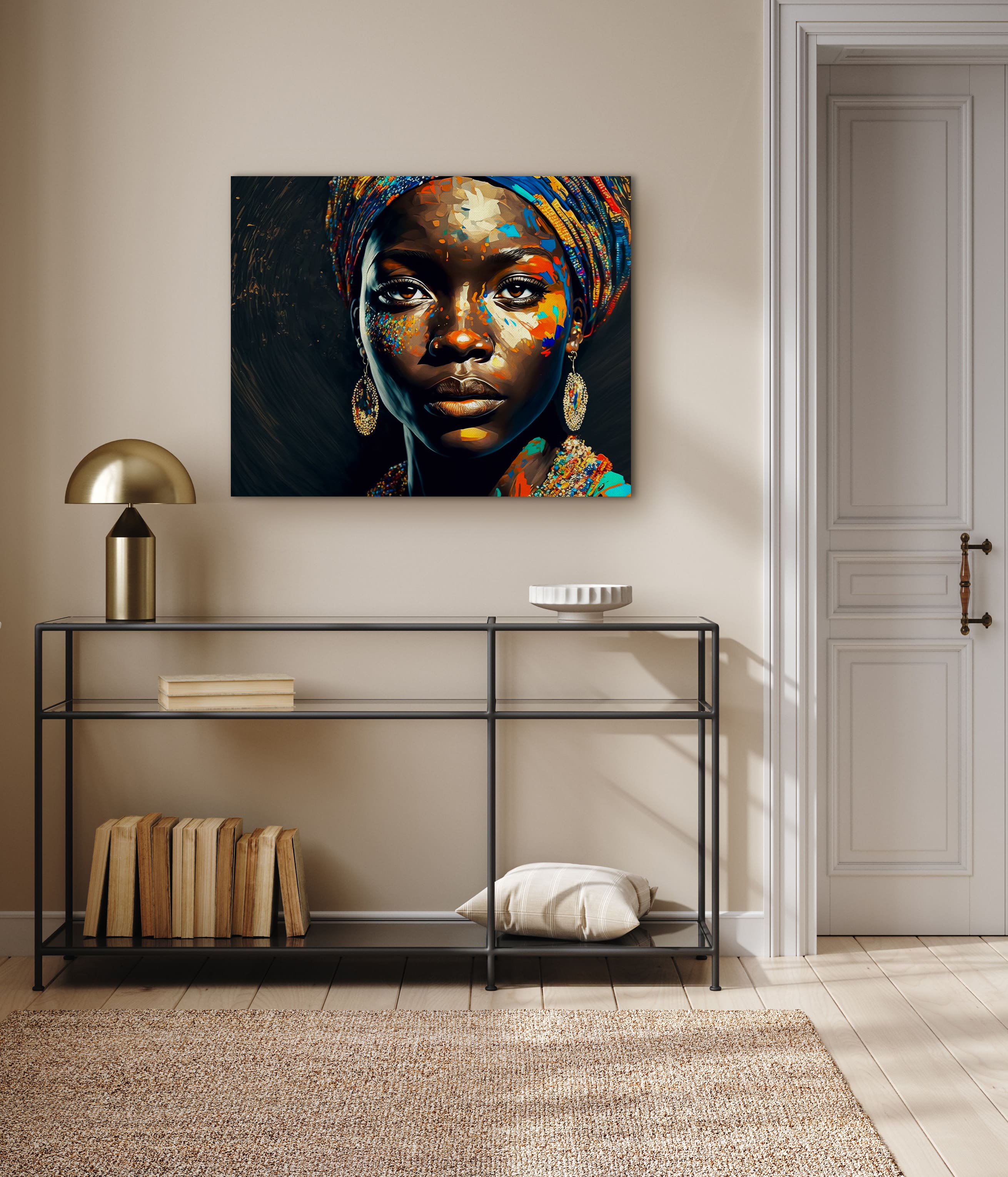 Embrace the possibilities
Don't let a fear of the unknown stop you from generating something beautiful.Once you experience the visual impact of AI art for yourself, you'll want to preserve your one-of-a-kind creation for years to come. AI offers a canvas of infinite creativity where you can experiment, innovate, and bring your imagination to life. Start expressing creativity with AI today!
Conclusion
There's nothing like unique AI-generated wall art or AI-inspired home decor to personalize your space and create an incredible visual impact in your home or office. If you've been on the fence about making customized AI art prints, this is your sign to give it a try. Don't forget that Canvaspop is also here to assist with your digital art transformation and turn your creation into a timeless masterpiece. Once you've made your first piece of AI artwork, use Canvaspop's AI art printing services to turn it into a tangible decoration that will brighten up any room.