Preserving memories: Turning your summer adventures into timeless prints
By Amy Wright | Sep 18, 2023
Whether you road-tripped across the country or kept things low-key in your own backyard, this summer was one for the books. The summer might be winding down, but that doesn't mean you have to let your memories of this magical season fade. You also don't have to let all the pictures you've taken over the last three months sit on your phone untouched and unseen.
Why not display your photos for all to see with a custom photo canvas or wall art printing?
Turning your summer adventure memories into a collection of timeless prints is an amazing way to showcase your experiences and reflect on them throughout the year. Find tips for preserving summer memories and turning memories into wall art below.
The magic of summer adventures
When we were kids, summer meant total freedom and endless possibilities. As adults, even though we have responsibilities that we can't pause, there's still something magical about the summer season. From the long, hot days lounging by the pool to the warm, peaceful nights sitting around a fire, summer brings new energy and opportunities to create fun memories that will carry us through the chilly fall and winter seasons. By preserving your summer memories on canvas or in framed photo prints, you can remember your fun summer experiences at any time.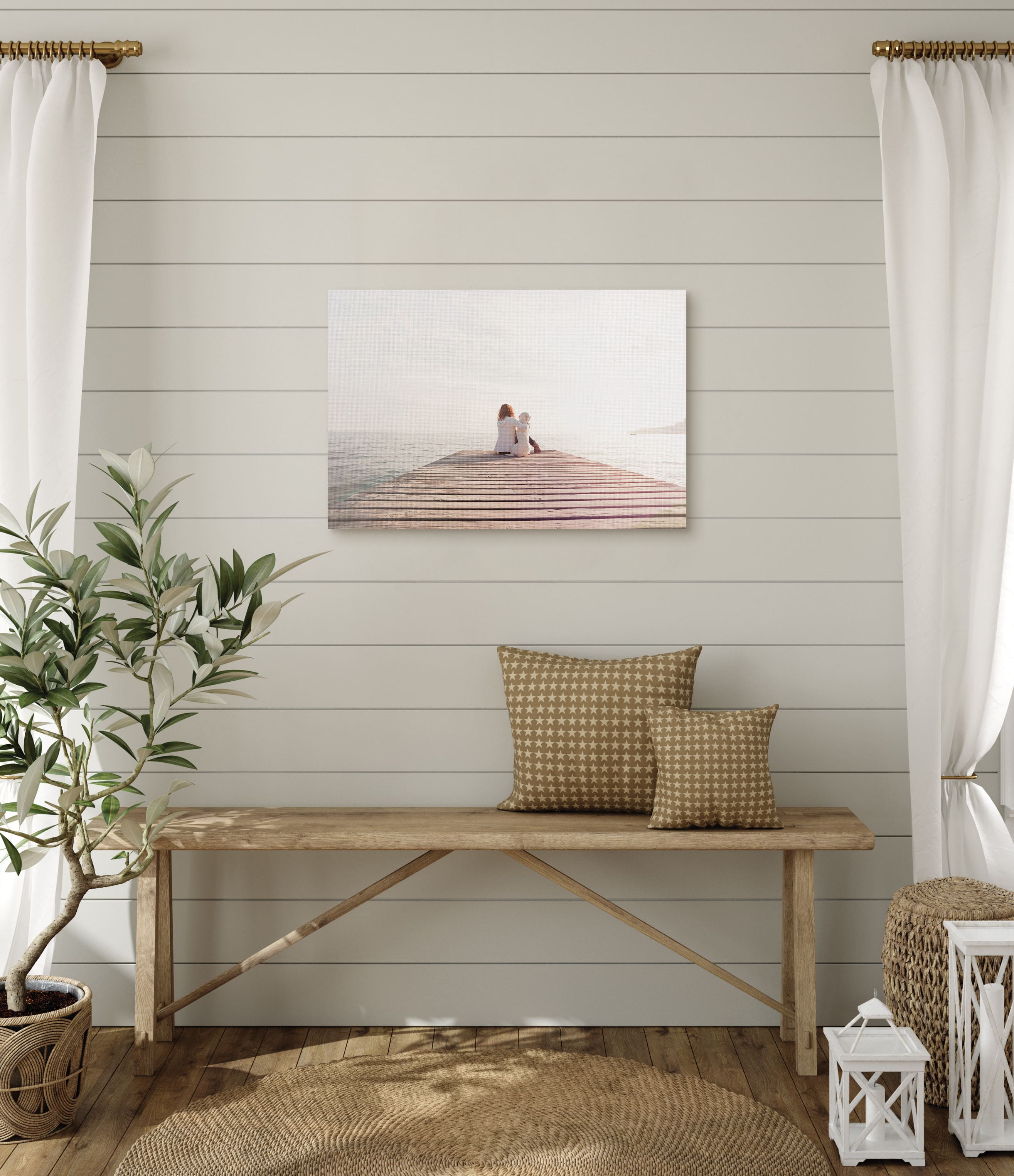 Capturing the moments
These days, it's easier than ever to capture important moments. After all, we have cameras built into our phones, which are permanently glued to our person.
Even though the season is beginning to wind down, it's not too late to preserve your summer escapades. Here are some summer photography tips to help you capture cute candid shots, breathtaking landscapes, and the essence of summer:
Wait for the golden hours: Early in the morning and late in the afternoon are generally considered the best times to capture outdoor pictures without worrying about the sun's glare interfering.

Capture sunset silhouettes: Missed the evening golden hour? No problem? Take advantage of those stunning summer sunsets and capture silhouettes of trees, buildings, your loved ones, and more.

Get in on the action: It might be tempting to film videos exclusively when you're watching a volleyball game or see someone diving into the water. Don't forget that action shots are fun, too, and help you catch the energy and go-go-go vibe of the summer.

Wait for cloudy days to photograph water: It can be tricky to get good pictures of lakes or rivers when the sun reflects off the water. Wait for cloudy days to get great water photos.

Focus on the flowers: Stop to smell the flowers -- and snap a picture of them while you're at it. You might even get lucky and have a butterfly flit into the frame!
At the end of the day, remember that the most important thing is to have fun. If you take your summer photography too seriously, you might lose some of the magic of the season.
The art of personalization
You have a folder full of photos, and you're ready to start bringing the outdoors inside by framing and showcasing your summer memories.
Canvaspop makes it easy for you to personalize canvas prints for summer memories and create high-quality framed prints in minutes. We offer a variety of customization options, from filters and touch-ups to photo editing to remove unwanted items from the background.
All homes are different, and all wall art should be, too. Don't be afraid to choose personalized wall art from our collection that works with your unique style and the types of photos you want to display.
Transforming memories into art
If you're like most of us, you might go a little nuts with your summer photography. How are you supposed to pick the best pictures from the dozens (or possibly hundreds) stored on your phone or your camera's memory card? Before you jump into the printing process, enjoy spending time deciding what kind of wall art you want to feature in your home.
For example, are you interested in personalized summer art prints that highlight your favorite summer hikes and trips to the lake? Do you prefer nostalgic wall art that features your family's visit to a beloved theme park?
Make sure you have a sense of balance in the photos you select. For example, pick the same number of pictures of each kid so nobody feels left out. You can also pick one photo from each major outing and create a collage print so you don't forget any important events.
Finally, decide what kinds of prints you want to display in your home. Canvaspop allows you to choose from custom canvas prints, framed art for summer adventures, personalized gifts for the home, and much more.
Bringing the outdoors in
When deciding which digital photos to feature as new custom wall art, remember that not every photo has to feature you or a member of your family. Nature-inspired wall art featuring flowers, trees, lakes, and streams is a great way to bring a sense of tranquility to your home.
These framed photos or canvas prints can also create a sense of balance and help the images of your friends and family to stand out.
Reliving the moments
Never underestimate the power of capturing emotions in wall art. One of the best things about customized wall decor is that it creates endless opportunities for reliving memories through art.
Whenever you're missing the warm summer weather, you can turn to your new custom home decor and remember all the fun you and your loved ones had, whether you were hanging in the backyard or hiking a nearby mountain.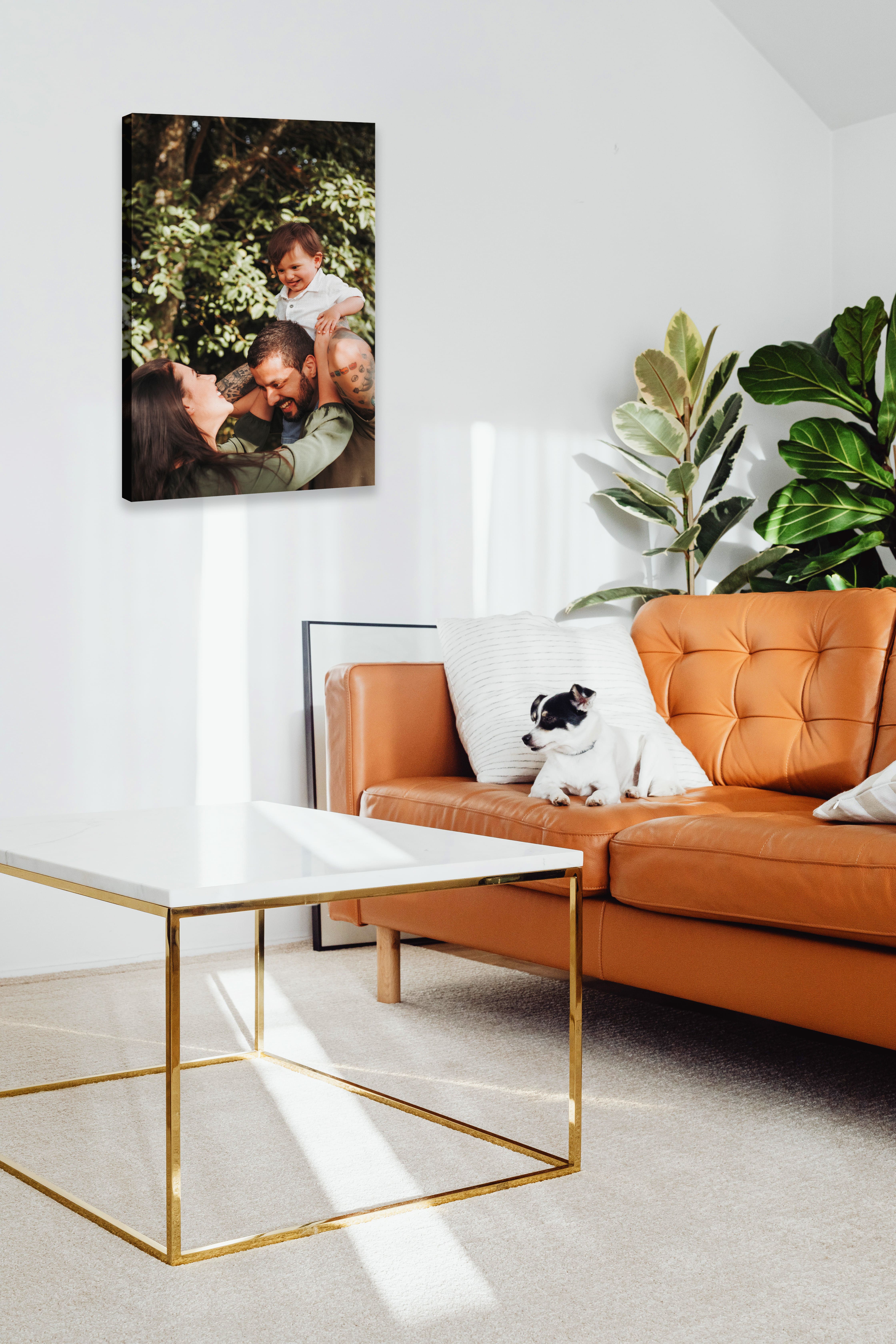 Preserving summer escapades in wall decor is the perfect way to remember summer fun and personalize your home. Who says you can't showcase summer-themed home decor year-round?
Are you ready to start creating timeless wall art and sharing your cherished summer photographs for all to see? Transform your summer memories into art on canvas or framed fine art printing with Canvaspop. Our upload and print service makes it easier than ever to create artistic wall prints, personalized photo gifts, and more. Get started today by printing your photos and turning them into timeless canvas prints. Even the simplest of summer adventures deserve to be transformed into high-quality wall art.