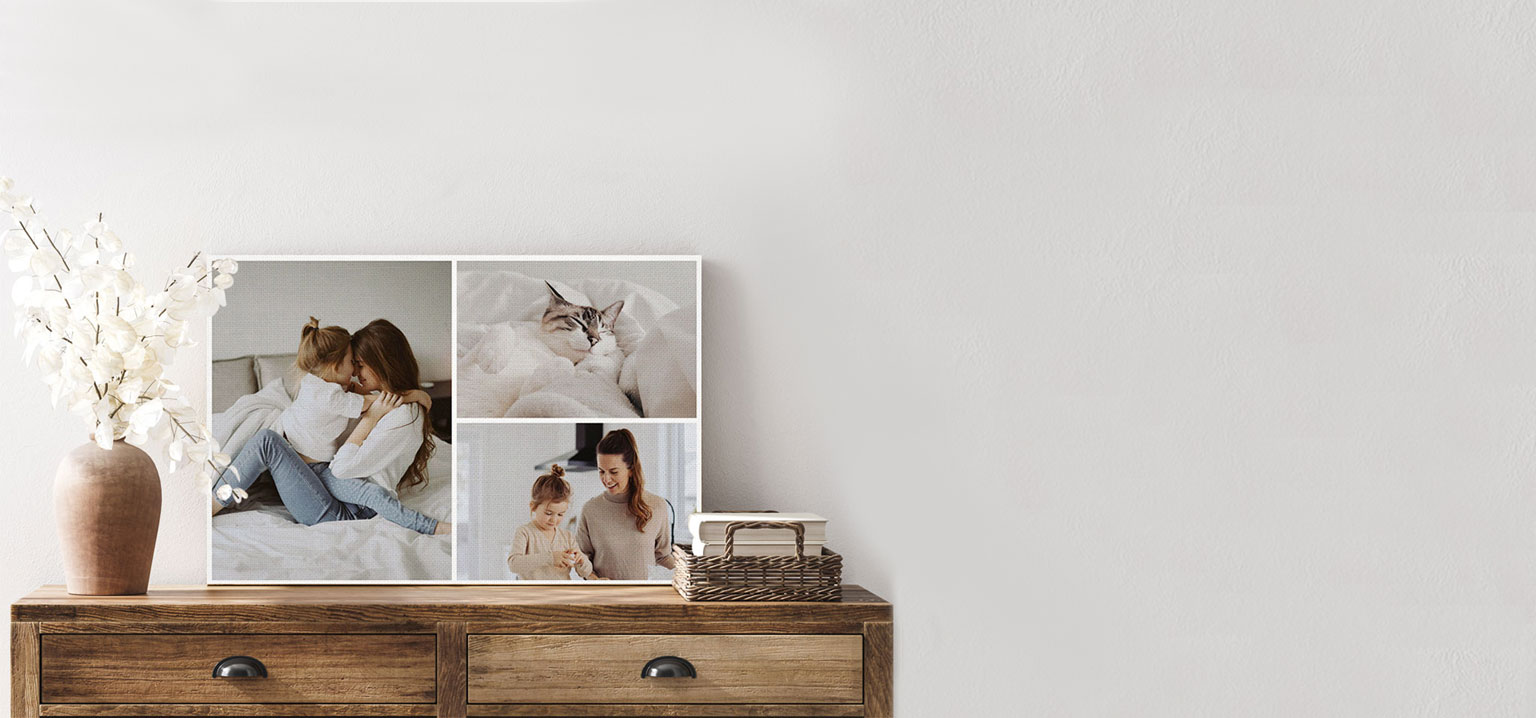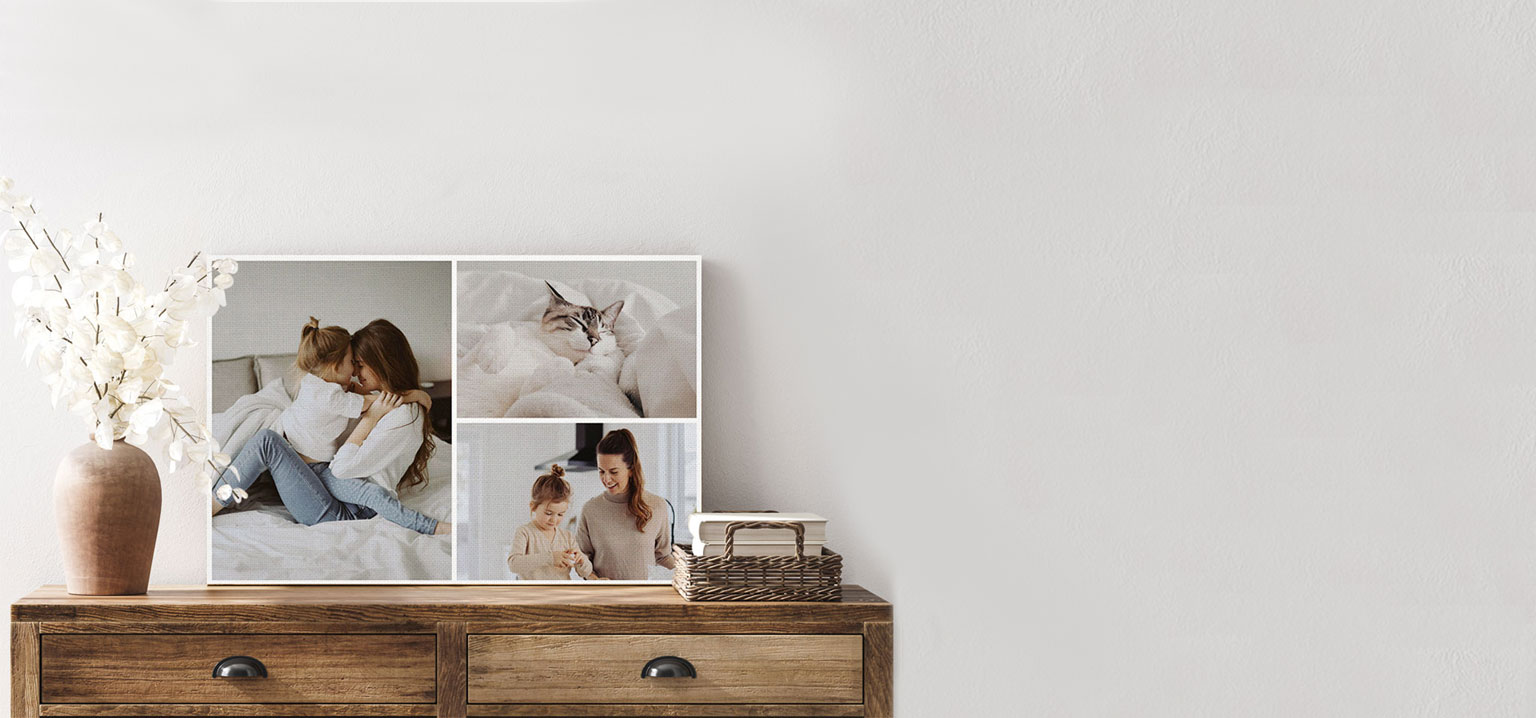 5 picture-perfect photo collage layouts
By Amy Wright | Nov 16, 2021
Everyone suffers from the problem of having too many photos, which makes it a lot harder to select just one to have printed and framed. If you're looking for a creative, visually appealing way to display your favorite memories, collage prints can be the perfect canvas.
Not only can you arrange photos as you please, you can bring collages to life as custom framed prints and custom canvas prints that will be awesome wall art for your living space. Here are five picture-perfect collage layouts that we love and how you can best use them to bring your memories to life.
The classic trio collage
This landscape-style photo collage arrangement is perfect for featuring classic memories from memorable moments in your life. Choose three of your favorite photos from one event or experience — weddings, birthdays, trips — to place into this layout. It's also perfect for displaying portraits of family and friends.
With multiple different sizes available, the classic trio can fit nicely into the overall decor of a room in the small and medium sizes or can be a beautiful photographic centerpiece in a larger 36" x 24" format.
While seemingly simple, there's a reason the classic trio has been the go-to for highlighting photo memories. The left-hand vertical photo space is the ideal space to use for a feature photo from your set to lead the viewer into the story of your photos. On the right, you have two stacked horizontal spaces that allow you to add more depth and detail to the story of the collage print.
Three-stack with feature collage
Want to highlight a feature photo from an event or photoshoot? If there's one photo that you really love, but others that you'd love to show off too, then this three-stack photo collage is a fabulous choice.
This collage of photos is ideal for family photosets. Whether it's your annual family photoshoot, a photoshoot celebrating a birth or a special event, or a holiday family photo set, with the three-stack collage you can highlight your best photograph while sharing some of the other fun, cute photos that came out of the shoot alongside it.
As opposed to just having a framed print of the feature photo, the additional three-stack brings more of a story out of the photo memories that may not be there with a single photograph. That's why this layout is also great for remembering special occasions like weddings, birthdays, festive dinners, parties, and holidays. When you want to capture the feeling of love, family, and friends with a few great photos, the three-stack is a fantastic option.
The classic four collage
The best collage prints are great visual storytellers, and the classic four layout is one of the best at providing a canvas for visual storytelling. A large vertical photo on the left draws you in and leads the eye to the right to a secondary feature photo, with two side-by-side photo spaces under it to round out the collage.
We love this layout for events and occasions with groups of people. Because the collage is made up of three different photo sizes and orientations, it's ideal for including various group pictures and different stages of an event. Photos from birthday parties, weddings, and family gatherings are all great in this layout.
The classic four is also popular for displaying friendships and family memories. It's a great format to use for graduations and when kids go off to college. Through four pictures, you can capture special memories of a close friendship to keep as wall art or on a desk. The same goes for highlighting family photo memories and pictures of a beloved pet.
Three square collage
This square collage layout includes a vertical feature photo on the left and two equally sized square image spots stacked next to it on the right. It's a very unique layout in that each photo commands focus, creating less of a visual hierarchy than the other layouts.
Because of that, the three square layout is an especially cool option for getting a little creative. We love using it to create themed collages, which can mean a lot of different things (that's where your creativity comes in). Choose something that you want your collage to represent — family, friendship, a milestone in your life — and build it out with three iconic images that really capture that feeling for you.
An easy example of this would be three photos of yourself with a different family or friend. This layout allows you to be free with the photos you choose in that they don't have to be from the same time or event. You can feature photos of holiday gatherings through the years, big life milestones, and the like. Let your creativity shine to create something meaningful to you.
The memory grid collage
If you really want to take a trip down memory lane, then this grid format collage will take you on that journey. With 36 photo spots, you can easily put together a fantastic photo journey of the previous year for a fabulous New Year's photo collage. It's also a fantastic format for featuring all of the memorable moments from friendships or within a certain time period or experience.
There's so much you can do with this format. It's a popular option for capturing some of the best moments through the years of high school for graduates heading to college. Parents can feature photo memories of kids growing up. We love the grid as an alternative to a travel photo book that usually sits under the coffee table collecting dust. Why not feature those photos as wall art and get joy from them regularly?