Make your home a harmonious, balanced space with Canvaspop
By Amy Wright | May 19, 2022

"Balance is a feeling derived from being whole and complete; it's a sense of harmony. It is essential to maintaining quality in life and work." — Joshua Osenga

Your home is your haven. It's the place where you relax, make memories, and get inspired. A harmonious home environment is similar to a balanced work environment. It requires skill, focus, discipline, and self-control. However, design balance is often an afterthought when decorating a home. You might not even realize your home isn't harmonious unless someone points it out to you or you notice something isn't quite right. We all know how upsetting it can be when things are in a cluttered home, or things don't seem to work well together.
To create a cohesive space, it is crucial to consider the balance between design and placement. A well-balanced design gives the impression of comfort, balance, and well-being. A harmonious space can be created by merging the magic of three factors — a less is more philosophy for furniture and decor, understanding the proportions of a large and small home, and defining the style for every room and the overall theme. Good design is not the only aspect of balance in a room. It also has an emotional element attached to it. Unbalanced, mismatched rooms can often invoke a sense of unease and anxiety.
An important part of a home's design is using art or wall decor to enhance the overall look and make it truly your home. It's the last part of creating a well-balanced home but the most engaging and fun part. To keep walls visually balanced, custom wall decor and carefully curated prints are sometimes necessary. You can create a cohesive look by selecting wall decor that complements the proportions of your space, and defines your taste, and your existing furniture. We're sharing some tried-and-true tips for creating a harmonious living space with Canvaspop wall art and canvas prints.
Choose a focal point
A focal point in a room has great power. It can bring the whole house together, so choose a main area or piece of furniture to focus on. Sometimes a focal point can appear naturally, such as a prominent window or a built-in fireplace mantel, or you can create them yourself, with a TV stand or a vintage art print. Decide what your focal point will be and stick with it. You can personalize your space by adding a much-loved canvas print. Use our canvas prints to create visual interest and arrange your furniture and decor around it. If you like to experiment with art, check out these 2021 Wall art trends to get inspired.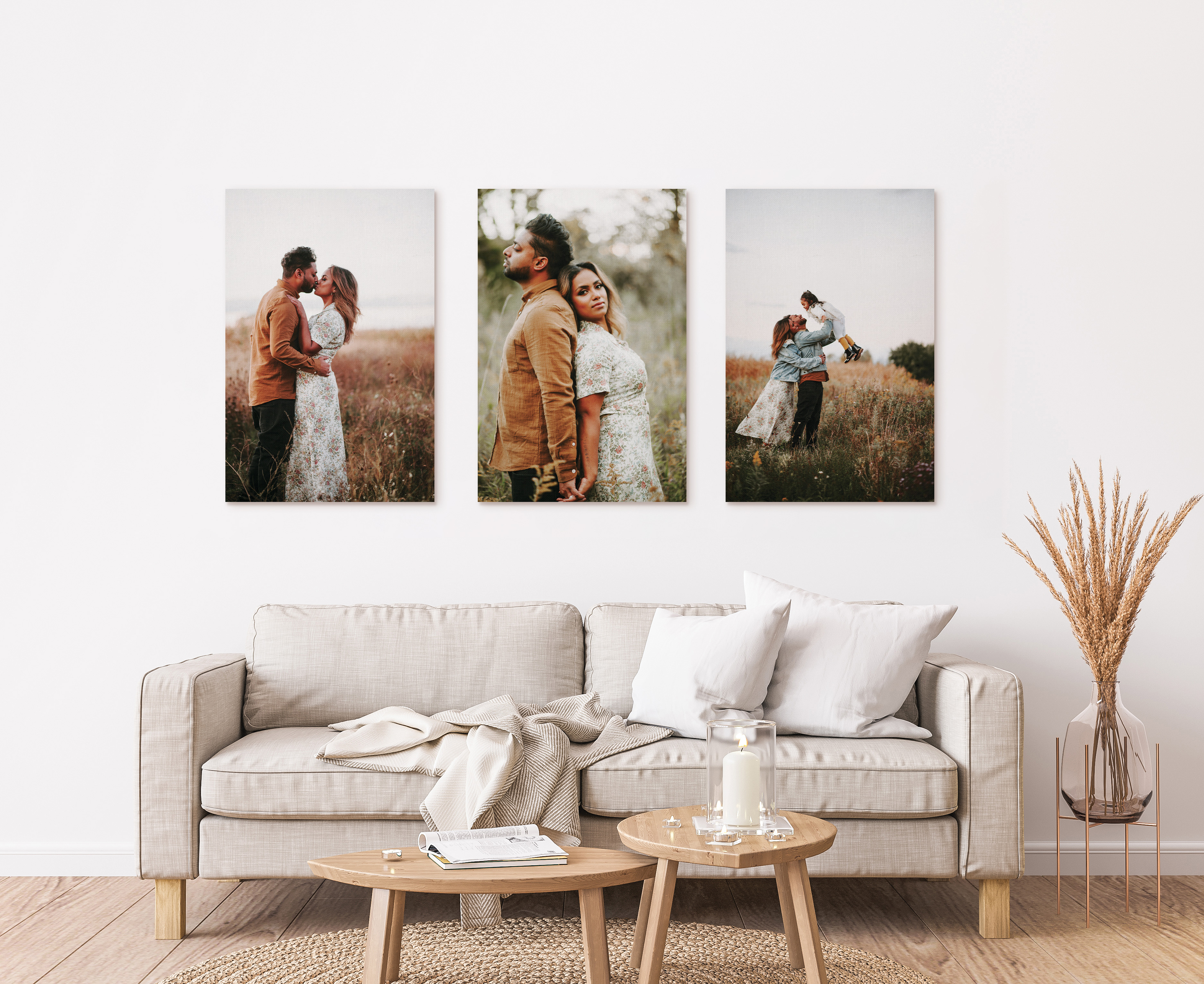 Color me pretty
A room where everything is very matchy-matchy lacks character and looks incredibly basic. Instead, create a vibe with the colors you choose. To achieve this is to balance a bold color moment or a large pattern that blends seamlessly with the furniture or decor. For example, balance a bold illustration wall art with a neutral furniture piece that blends but doesn't match exactly, or pair a classic framed print with a stylish word art print. Alternatively, select colors that are similar in hue but differ in intensity and distribute them in an even pattern around your room. Make it come alive by using a variety of objects, decor, and wall art.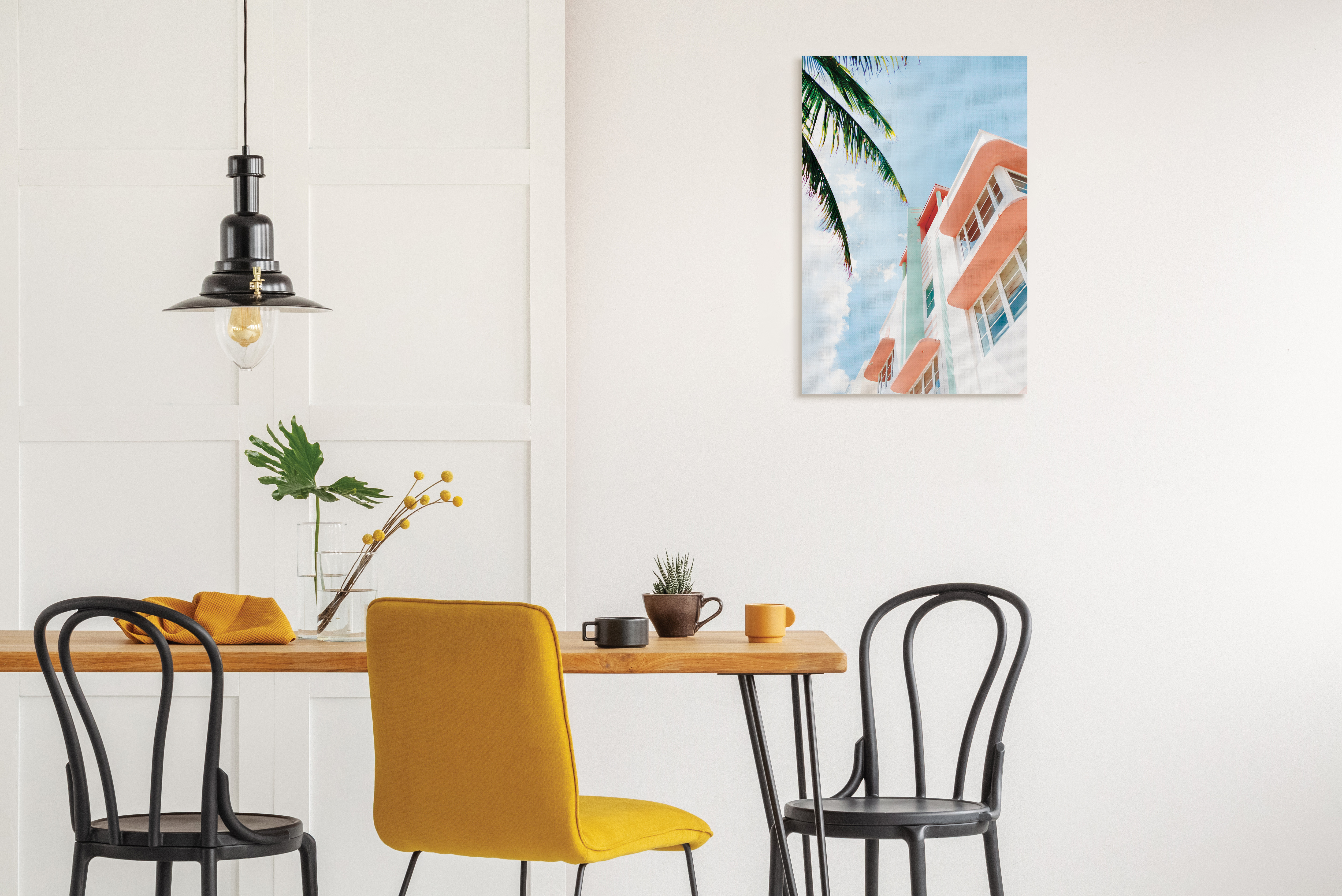 Highs and lows
Be sure to take into account the scale or proportions of your home, or the room you're decorating. To add interest to a large room, you can vary the heights of your canvas prints. Having a photo collage is also a classic way to showcase a variety of memories on a pristine gallery wall. But putting everything on the same level is boring. You can create an attractive arrangement by grouping together three or four framed prints of varying sizes and heights on one side of a mantel or shelf and a more oversized décor item on the other side.
If you want to give your framed prints some oomph, consider adding a tall vase or plant stand next to them. This rule can be applied to all your custom wall decor, as well. The 3:1 ratio is perfect for framed prints and photo collages. When you're arranging your wall art, place tall pieces next to short ones, or offset long canvas prints with square sizes. Experiment until you find a harmonious arrangement.
Balance the bold
By mixing new and old, smooth and rough, shiny and matte, you can achieve a sense of well-crafted design. The main idea is to make everything look polished as if it belongs together. Keep your delicate framed prints and the bold word prints in the balance. Here at Canvaspop, we have all the sizes you need to make it happen. Having heavy furnishing or décor on one side will make your room feel off balance. Simply put, if you have a tall armoire and lots of wall decor on one wall, make sure you balance this with something bold or a textured fine art print on the opposite wall. If you have a larger-than-life canvas print against one wall, contrast it with a small-sized photo collage or pet portrait. ​For those with a bit more crafty flair, you can mix a word art print with a photo collage to keep things interesting.
The bare minimal
You want to create a space that is minimal, yet fresh. Don't overcrowd your home with unnecessary furniture and decor. Be mindful of what you pick, and have a plan for each room. Too many pieces of custom wall art or decor piled on top of your furnishings will make it look crowded. Instead, plan your space. Give the room plenty of breathing room. Many amateurs make the mistake of decorating with too much small-scale décor. If you love the minimal boho-chic style, we've got you covered with our museum-quality archival canvas prints. The moodiness of large canvas prints tends to stand out in a nostalgic neutral or duotone home. Transform your kitchen space with a new twist on photography prints, or revamp your bedroom with modern art. If you're inspired by the classic cottage style or the grand millennial look, you cannot go wrong with landscape wall art. Trending colors include lemon hues, pure white, sage green, black texture, hunter green, and shades of blue that look fresh and timeless.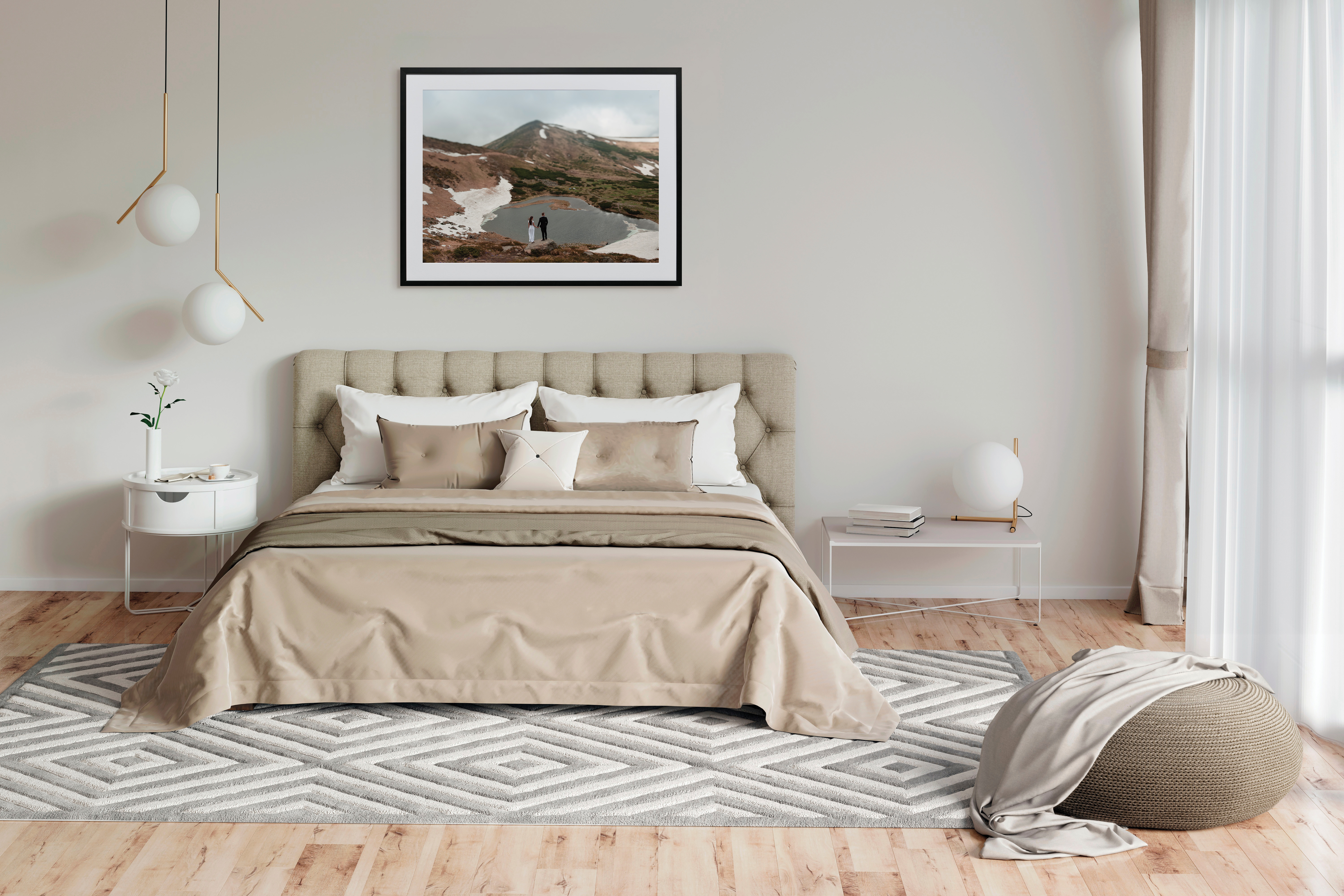 Create negative space
Balance also starts with the art of distribution and negative space. Avoid placing too much furniture or wall art on one side. Make sure to space out your three to four canvas prints, so nothing ends up crowding one side. Arrange the components in your room so that they are well distributed. Make sure the canvas prints you place are balanced with other textured decor items to make your point stronger. By doing so, the eye will move throughout the room and things will remain interesting. Many times, decorating mistakes are made by accumulating too much wall art. Consider picking one canvas print or piece of wall art as the focal point, and then work backward from there. Wall art needs negative space to breathe just like furniture.
Moment with words
Let's talk about the power of words. Despite knowing you need some kind of wall art, you sometimes might not know where to start. The use of word art canvas prints might be a great idea to showcase your unique personality or bring a corner to life. Turn any dull wall into a fun gallery with Canvaspop word art canvas prints. It's the perfect way to jazz up your game room, build your man cave, or spice up your sunroom. You can make them out of your favorite quotes, phrases, or words. Our museum-quality canvas prints offer unsurpassed quality and an unbeatable appeal. If you have an eclectic taste, focus on two or three concepts or styles that can live harmoniously together. 
Pop Tip - When you have an excess of ideas, don't get confused. Step back and take the time to edit them. That's why Canvaspop offers free digital print proof, so you can work with us until you find the perfect print.
Ready to create a space that reflects your personality? Why not use custom wall art to make your space feel balanced and harmonious? Canvaspop makes ordering very simple. Simply choose a template or upload your image. Select the size from the recommended sizes. Once you approve the print that our designers send you, we will handle everything else. Handcrafted by hand, your canvas print or framed print will be delivered to you in a matter of days! Begin by clicking below.