Introducing Custom Metal Prints
By Amy Wright | Apr 18, 2023
Canvaspop is delighted to announce that we now offer custom metal prints. This exciting new product makes for stunning wall art thanks to a sleek and sophisticated high-definition look that is perfect for any home or industrial space.
Printed on metal with a high-gloss sheen finish and 1/8" rounded edges, our premium aluminum prints come in a variety of sizes and are designed to fit any space or style. Printing your photos on metal prints is an excellent option when you need a vivid, durable, waterproof, UV-resistant premium print that will stand the test of time.
Custom metal prints are a great addition to our existing line of products. So, let's take a deep dive into metal print wall art and find out why this modern print is taking over the wall art space and found in homes, offices, and art galleries across the country.
What are metal prints?
Metal art wall prints are decorative artwork printed on aluminum metal sheets. Designed to be hung on the walls of your home or in commercial spaces, they offer the perfect marriage of style and practicality.
The hallmarks of metal prints are their clean, modern, high-definition style. This desirable look is achieved by printing on aluminum with a white base coat. This production technique results in high definition and vivid colors that will elevate any space.
The best metal prints are vibrant and radiant. They offer something unique and eye-catching that stands out from other wall art options. Additionally, because they don't require frames, they are ideal for ultra-modern decor styles but flexible enough to work in any environment.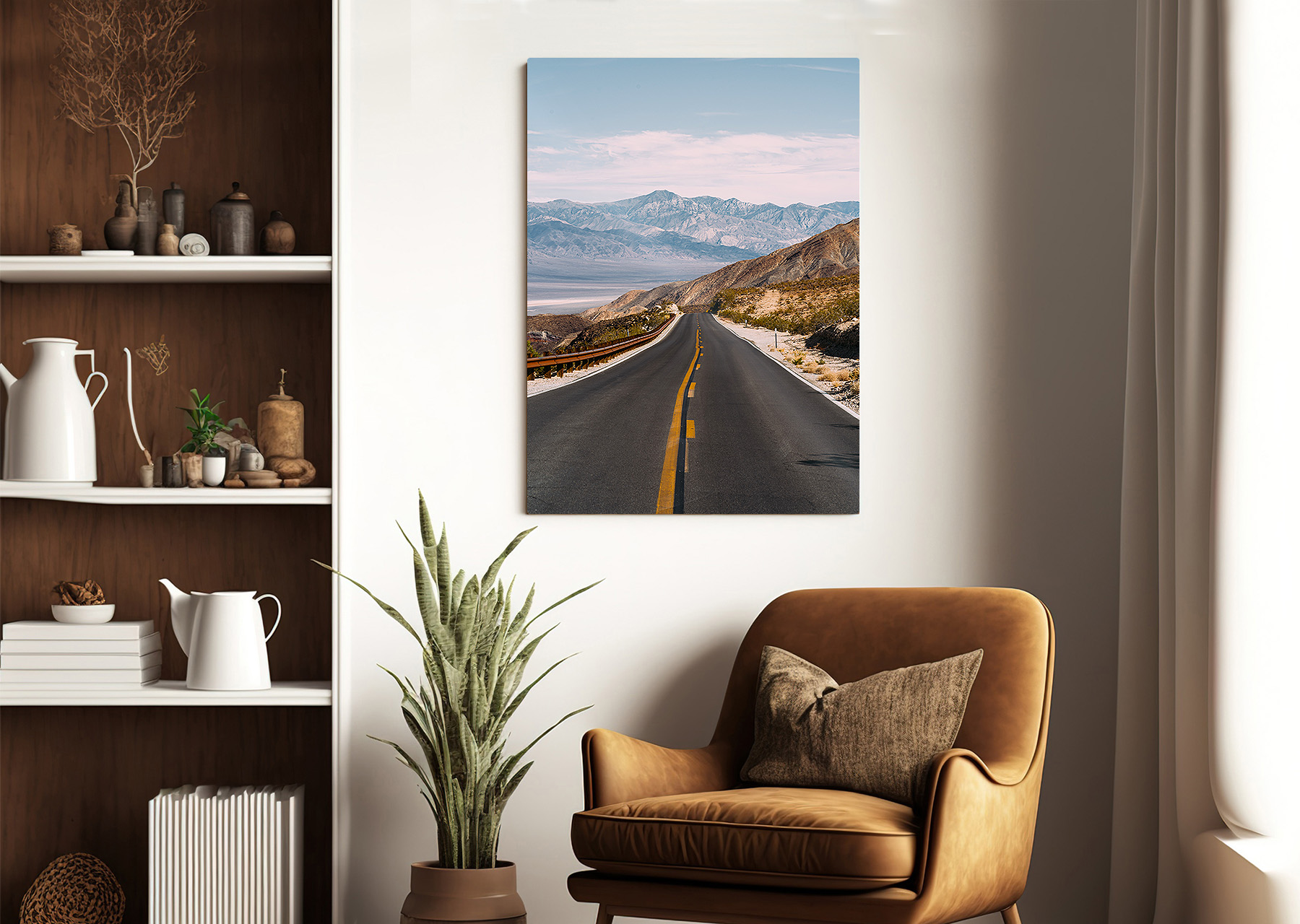 What is the best environment for metal prints?
Metal prints are perfect for any environment. They look great in:
Homes: While traditional prints can brighten up any home, a metal print offers a contemporary burst of color to elevate any room. Metal prints look fantastic in living areas, kitchens, and bedrooms. Additionally, their moisture-resistant qualities make them suitable for bathrooms and basements too.
Industrial spaces: Art or photos on metal prints are an outstanding addition to any commercial space. They're scratch-resistant and easy to clean, meaning they can withstand even the busiest of environments.
Galleries: High gloss metal prints offer the vibrancy and rich deep color you need to show off your work in the best light. They're also durable and light, making them ideal for transporting to your next big show.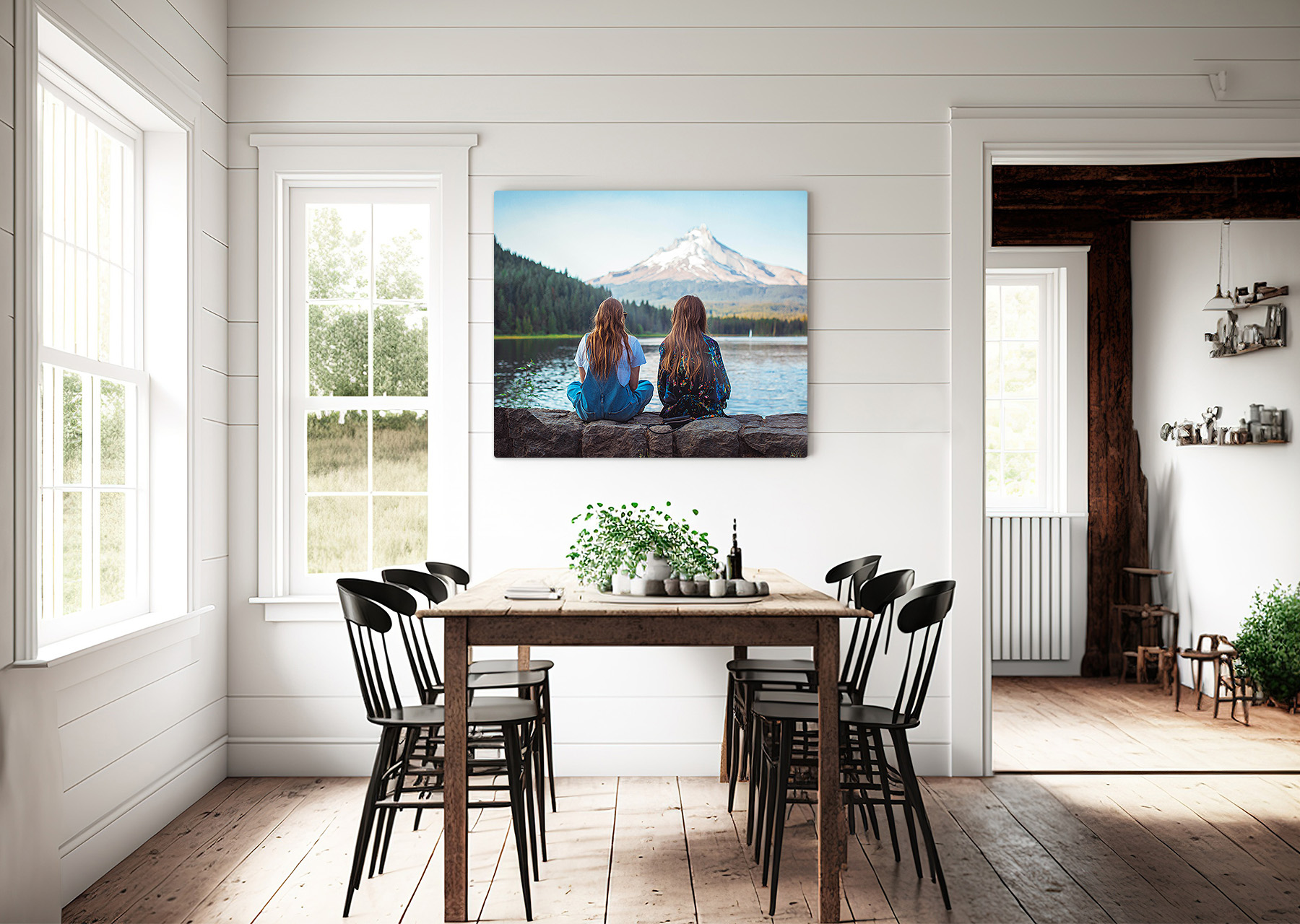 Benefits of metal prints
Metal print wall art is a superb option for breathing life into any space. However, there are several reasons for choosing these prints beyond their stylish, impactful appearance. (Although that's certainly a compelling reason!)
Let's explore some of the reasons why you need custom metal prints in your life.
Durability
Metal prints are highly durable and long-lasting. These qualities make them ideal for high-traffic areas or outdoor spaces. They are resistant to fading, moisture, and UV light.
Modern look
Using metal as a printing medium can add a modern and industrial feel to a space, which is popular in contemporary interior design. Metal prints are slimline and frameless. Combined with their exposed black and silver edge, they make an elegant addition to any space.
While their brilliant color and definition might be eye-catching, the end product itself is subtle enough to work with various design styles.
Vibrant colors
Metal prints can have a high color saturation, which makes the colors pop and appears more vibrant and dynamic than other printing mediums. This visual brilliance makes them the ideal choice for your statement pieces. They work particularly well for presenting abstract art, landscapes, animal prints, or any image that can benefit from rich, deep color.
Scratch-resistant
Metal prints are resistant to scratches and dings, which means they can handle wear and tear better than traditional prints. Their hard-wearing characteristics make metal prints an excellent choice for busy commercial environments or busy homes.
When you find an image or memory that really speaks to you, you want it to endure. Metal prints will stay pristine no matter what life throws at them.
Easy to clean
High gloss metal prints are easy to clean and maintain. All you need is a damp, lint-free cloth to wipe them down to remove handprints or dust. You can also use rubbing alcohol (isopropyl) or non-ammonia glass cleaner.
Overall, printing on metal can be a fantastic way to create unique and durable artwork that adds a stylish and vibrant touch to any space.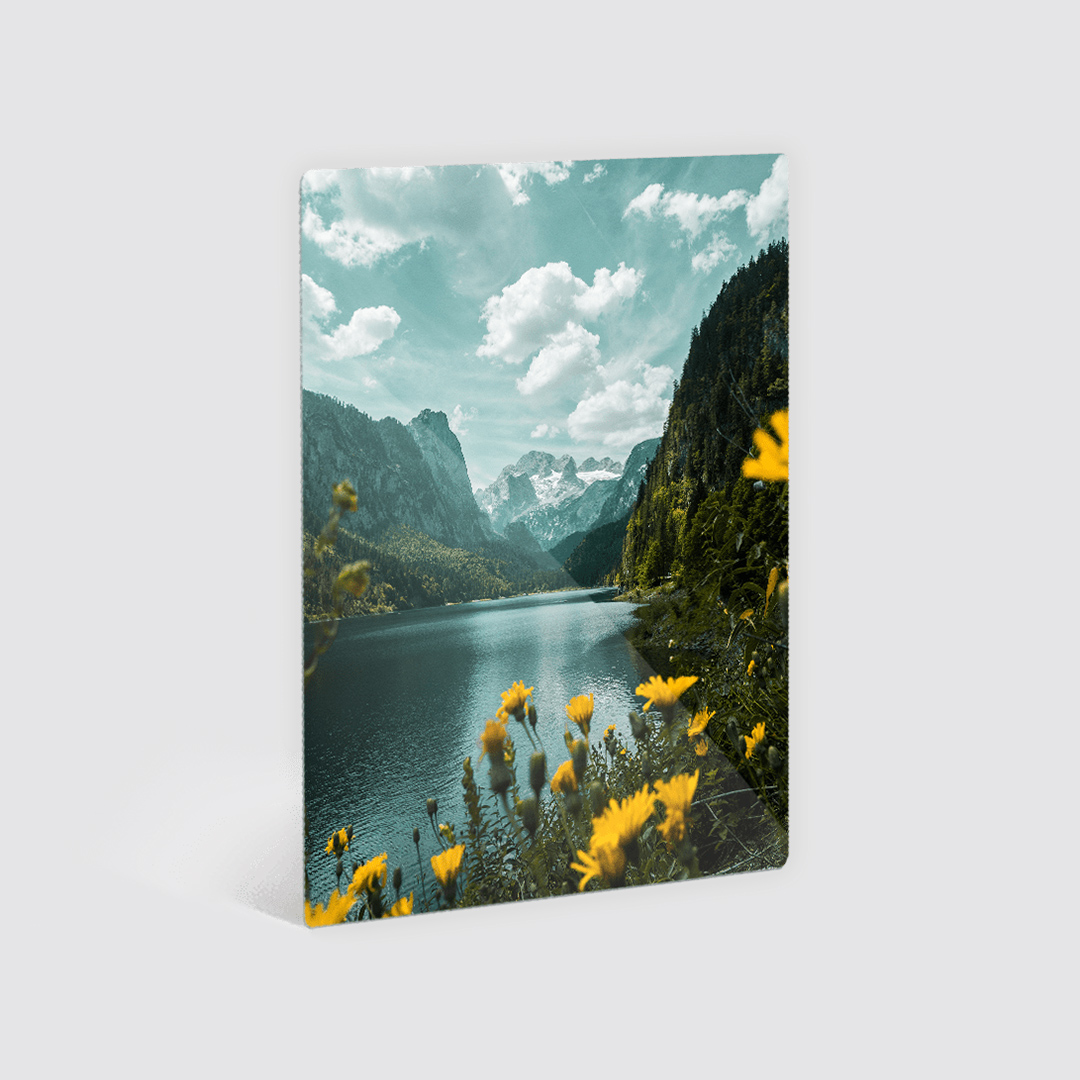 What sizes do metal prints come in?
Our metal prints come in a variety of sizes and are designed to fit any space or style. We make it easy to choose from a selection of our most popular standard sizes but can print panoramic landscape shorts as well as oversized pieces. While you can opt for smaller sizes, our large metal prints best represent this unique and breathtaking style. From a perfectly sized 8"x10", you can print your photo on metal up to 5 feet wide.
How to hang metal prints
Metal prints can be a little heavier than other prints depending on their size because they are made from sturdy, long-lasting materials like aluminum.
There are a few things you need to consider when hanging metal wall art prints, such as: - The weight of the print - The wall you want to hang the print on.
When hanging metal wall art prints, it's important to consider the weight of the print and the type of wall it will be hung on. There is a hidden fixture on the reverse side of each print that floats the metal print off the wall. Larger prints come equipped with a special 3/4" inset frame and mounting hardware to ensure they are securely attached to the wall. The best option is to hang your large metal print on a wall stud rather than fixing it to drywall or plaster. Where as smaller traditional sized prints come with 1/2" inset bracket making it easy to hang on a hook or nail. Styles and selection vary based on the size of the print you order.
Still wondering if metal is the right medium?
Metal prints have growing in popularity in homes and commercial spaces for several reasons. These visually stunning prints are the perfect choice for modern, eye-catching statement pieces because their crystal clear definition and high saturation colors really makes a statement. However, metal print's durability and low maintenance are other important factors for photo enthusiasts and professionals alike. When you invest in a piece of wall art, you want it to last. Metal prints are scratch and moisture-resistant, and UV-proof. They won't fade or suffer from wear and tear.
When you display your favorite photos on metal print, you can rest assured that they will last and endure, so you and your family can enjoy them for generations.
If you want to order the best metal prints online, Canvaspop is your #1 choice. Our high-quality, American-made products are backed up by our Love it For Life guarantee, which means you always get the product you deserve.