The Power of Art: How to elevate your bedroom with Wall Art
By Amy Wright | Jul 26, 2023
Have you ever thought about how important your bedroom design is? Our bedrooms are more than just a place to rest our eyes - they're our personal escape from the outside world. That's why injecting your personality, style, and taste into the space you sleep in each night should be top of mind. And guess what? An excellent way to do that is by surrounding yourself with beautiful wall art that speaks to you.
In this post, we will talk about how the right wall art can make a huge impact on your bedroom makeover. We'll touch on everything from selecting personalized artwork that reflects your unique style all the way to creative ways like mixing and matching prints! So buckle up for some bedroom transformation action as we dive headfirst into the world of wall art.
Setting the stage: The impact of wall art on bedroom design
You know how when you walk into different rooms, they give off completely different vibes? That's because each space has its own mood, ambiance, and aesthetics - all thanks in part to the kind of wall art found there! The key to creating a soothing and stylish bedroom lies in the strategic use of wall art.
Just like how an art curator carefully positions artwork to create an experience for gallery visitors, you, too, can set the stage for an unforgettable bedroom design through clever wall art choices. Your choice of artwork communicates your personal preferences, adds visual interest to your space, and enhances your room's ambiance.
Now, let's explore just some of the ways wall art impacts your bedroom design.
Creating a pleasing visual balance: Wall art can create harmony within a room. It balances out different elements in your bedroom design, such as texture, pattern, and color. As you select wall art that complements existing elements or introduces new ones (like bold colors or interesting textures), you'll begin to see how these additions contribute to an overall harmonious atmosphere.

Setting the tone and mood: Are you looking for a tranquil environment to unwind after a long day? Or perhaps something more upbeat and invigorating that captures your vibrant personality? Either way, wall art plays an essential role in expressing this bedroom ambiance. Consider using color psychology principles. Think calming blues versus energizing reds. Select themes that evoke specific feelings, and you'll achieve the vibe you're going for.

Showcasing your personal style: Wall art offers endless opportunities to express who you are. Prints featuring travel destinations demonstrate one's wanderlust spirit. And minimalist pieces reflect a love for simplicity. Bedrooms truly come alive once they're infused with personal touches!

Elevating your room's aesthetics: Finally – but definitely not least important – is how wall art can amp up any space's aesthetic value. A well-chosen print placed strategically atop the headboard or nestled between two windows adds depth, character, and sophistication. Even room corner nooks untouched by typical bedroom décor can benefit enormously through the simple addition of some exquisite wall art.
Remember: it's not just about what you hang on your walls but how you arrange them. Consider elements such as scale, positioning, and coordination among different pieces for a complete visual transformation.
But don't worry if your current bedroom hasn't hit the peak "wow" factor just yet. There's always time for a cost effective upgrade! With just a few well-chosen pieces of artwork adorning your bedroom walls, even the blandest spaces can transition into stylish havens that showcase who you are.
Personalization and expression: Choosing the right wall art
Now comes choosing which artwork suits both your style and whimsy personality best. There are a lot of choices out there to satisfy any taste or theme, but it can feel daunting trying to find those perfect prints without getting lost in the shuffle. Once you've found the perfect imagery for your room, think about the vessel where you'll showcase your art.
A canvas print is a perfect choice if you're looking for something that has easy installation, lasts for years, and looks amazing. Framed canvas prints exude a certain elegance and timelessness that other wall décor simply cannot capture.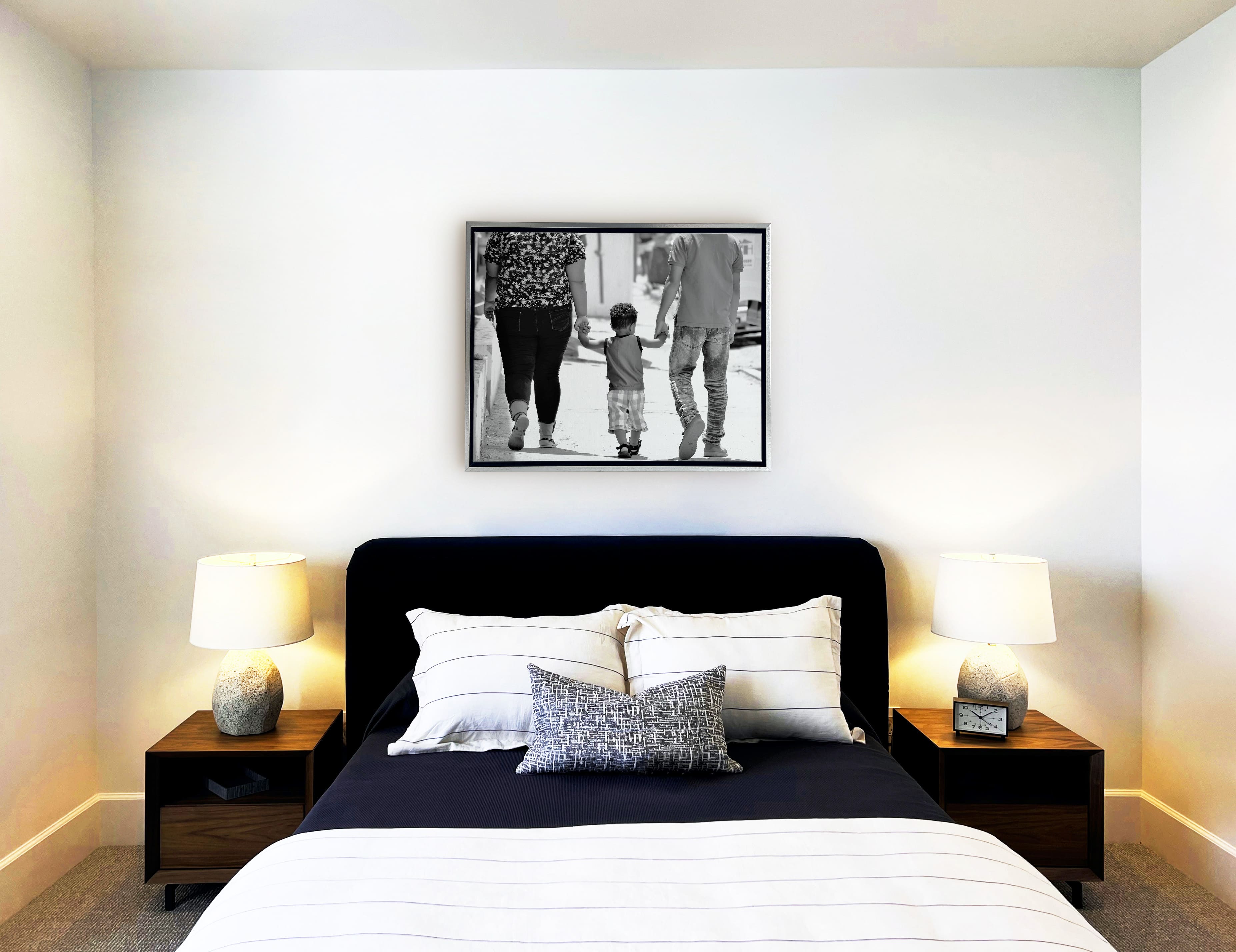 If you have multiple canvas prints, opt for a collage arrangement instead. Not only does a collage look fantastic, but it also creates interesting visual harmony between the main photos you want to showcase and comes together to make something greater than their individual parts.
Family photos Photos representing your family are a fantastic way to make your bedroom reflect who you are and those whom you love the most. For instance, a kid's bedroom can be filled with custom artwork or photos of family members they cherish.
Pet parents can also opt for pet portraits! The vivid colors of canvas prints make these pet portraits perfect for any room. The fur will look fluffier, and the eyes will appear brighter, so you can have your pet's cuteness on full display.
Elevating your bedroom design with canvas prints
With a better understanding of your personal tastes at hand, let's talk about why canvas prints are such an excellent choice for bedroom décor. Their rich texture, vibrant colors, and high-quality finish give any room a splashy look that instantly elevates its style factor. When you opt for canvas print instead of regular wall décor, you get to enjoy the following:
Durability: Canvas prints are longer lasting than paper prints that can fade over time.

Versatility: With canvas print, you have the variety and flexibility to choose a wide range of sizes and colors. This way, no matter what type of room design or color palette you have planned out, you can find the perfect canvas print to match.

Quality: When selecting your canvas prints, look for ones made with archival-grade materials and inks. This ensures the colors stay true over time and won't fade or discolor when exposed to light or humidity.
We're so confident in our wall art's quality that you can enjoy Canvaspop's Love it for Life guarantee. Our prints are meant to last a lifetime, and we stand behind our products 100%.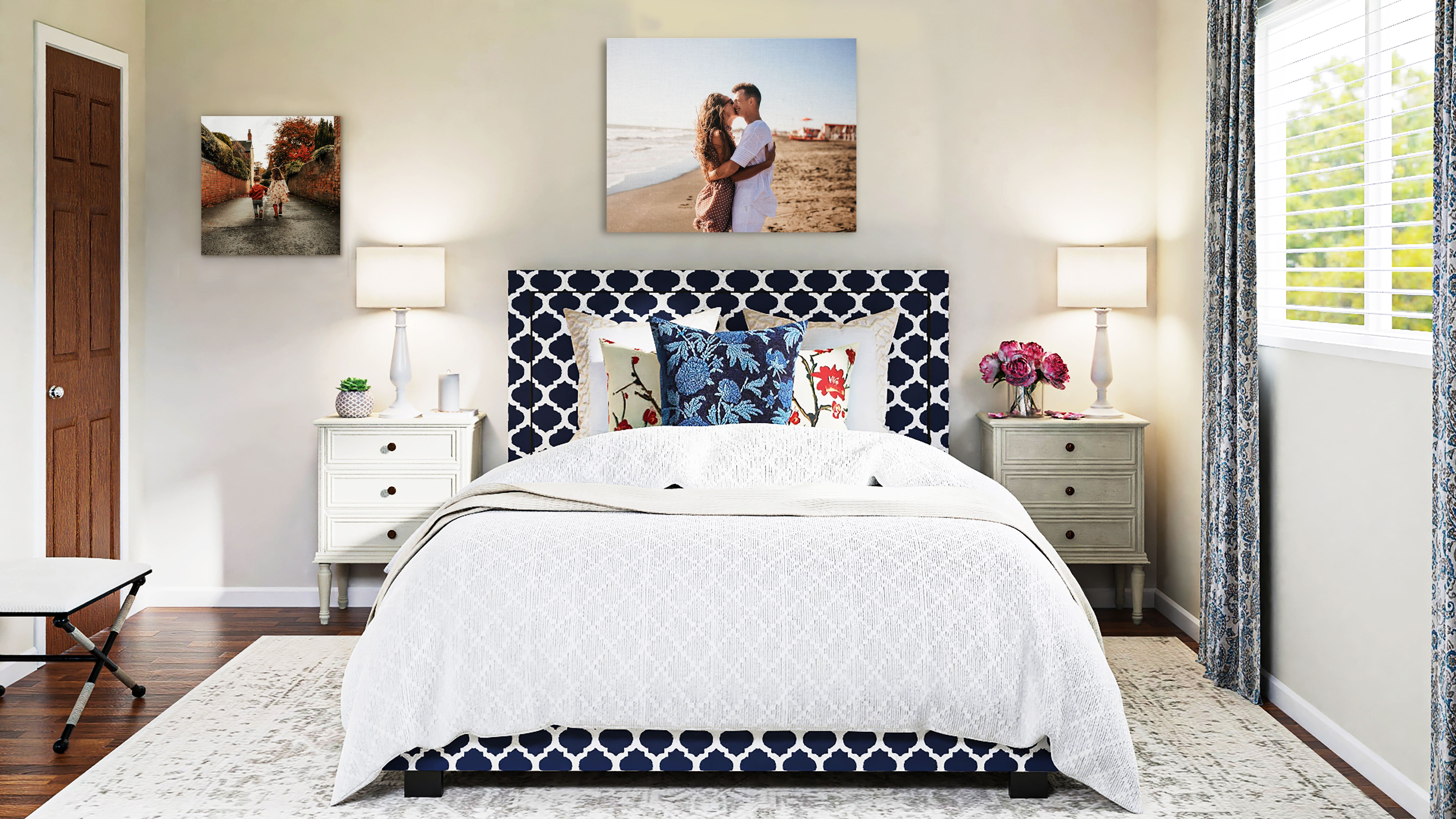 Using wall art to enhance your bedroom
Now that we've discussed the impact of wall art on bedroom design, it's time to dive into some bedroom decor ideas for incorporating your artwork selection into your space. Keep reading for imaginative concepts that inspire you to create a distinctive bedroom style.
Create a gallery wall A gallery wall can be a stunning focal point in any room but works especially well in bedrooms. Combining various sizes, themes, and styles of prints and framing them harmoniously creates an eye-catching visual tapestry that reflects the essence of your personality. Showcase your love for traveling by creating a gallery wall with prints of photos from the various destinations you've visited.
This engaging wall art arrangement can be set in chronological order to relive your adventures systematically or presented as an eclectic mix filled with cherished memories. Add small captions noting dates and locations underneath each piece to make it even more personal.
Embrace bold statement pieces Don't be afraid to go big when choosing wall art! An oversized frame or canvas print can serve as the centerpiece of a bedroom design—drawing the viewer's eye toward it as soon as they enter the space. Considering striking colors or large-scale patterns will add drama and excitement without overpowering the rest of your bedroom décor.
For example, a generative art painting with bright colors would be the perfect centerpiece if you're lucky enough to have a large wall in your bedroom. Alternatively, if you want to add an element of whimsy and romance, choose a stunning floral print that captures the beauty of nature.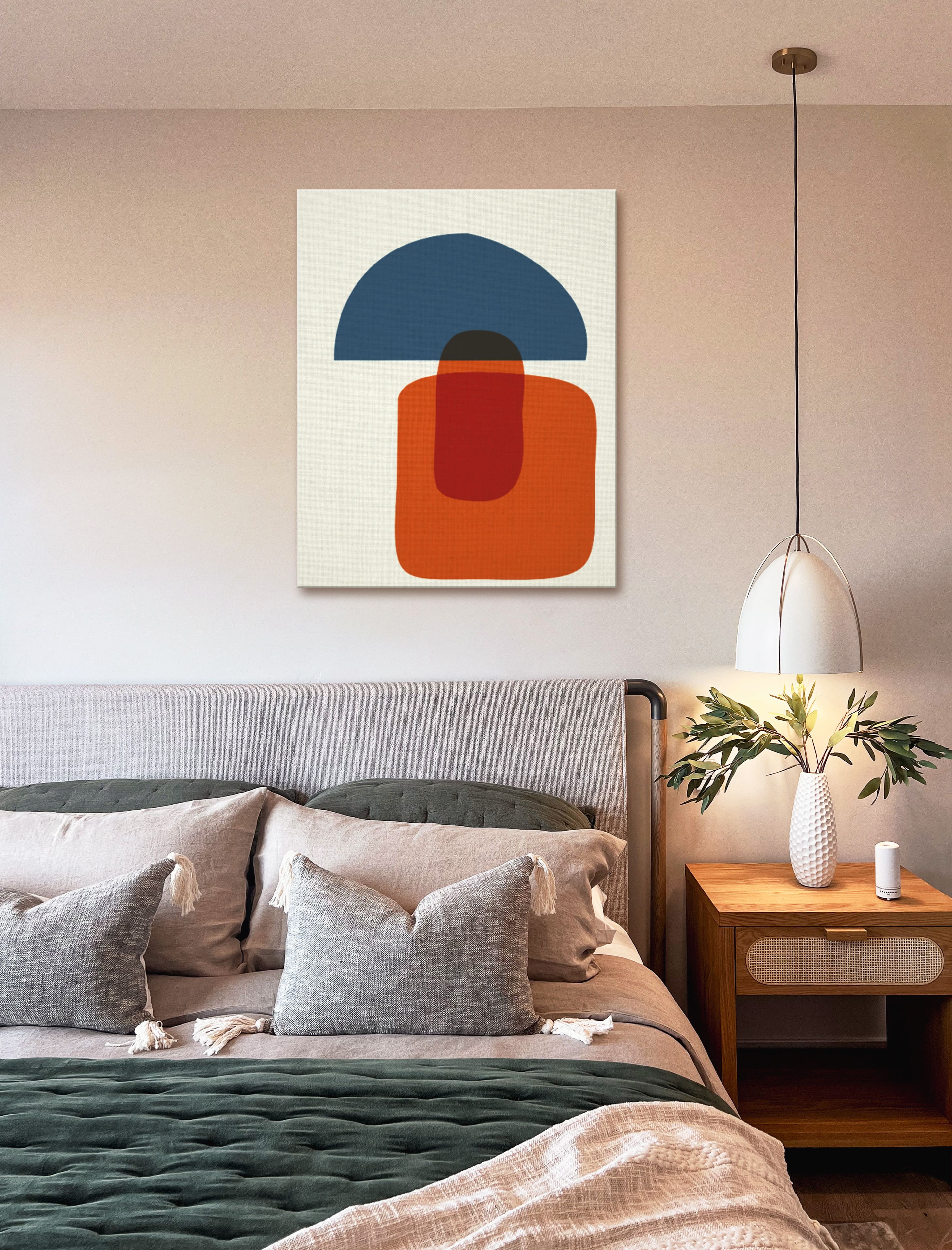 Establish a theme Personalize and elevate your sleep sanctuary by designing around an overarching (or even subtle) theme. You may pay tribute to your hometown by dedicating a bedroom wall entirely to local artists' works. Research emerging painters, photographers, or illustrators from the area and purchase pieces that resonate with you.
Play with symmetry Use symmetry when arranging wall art in your bedroom for extra flair! This contribution towards balance within interior spaces brings visual appeal and psychological benefits—namely, feelings of relaxation and calmness thanks solely to its innate sense of orderliness.
Mix up mediums Why stick with just one type of artwork? Feel free to mix and match different mediums – think canvas prints, framed prints, or even metal wall art - for an eclectic design that feels intriguing and personalized. Mixing it up showcases your wide-ranging art appreciation while providing tantalizing visual variety.
Incorporate a dose of bedroom inspiration Design a bedroom wall filled with thought-provoking quotes, song lyrics, or motivational images that inspire you daily. From favorite book excerpts to powerful mantras or declarations, words can uplift your spirits and constantly remind you what drives you. Check out Canvaspop's word art for wall art inspiration!
As you explore these creative ideas for using wall art in your bedroom design, remember that there's no right or wrong choice—only what makes you happy and comfortable in your bedroom retreat.
Personal touch: Customizing wall art for a unique bedroom experience
Finally, we wanted to encourage you to think outside the box and create something completely unique. Get creative and customize a canvas print of your artwork or favorite photos for an unexpectedly delightful look. With Canvaspop's state-of-the-art printing technology, you can turn any digital image into beautiful wall art!
For example, our triptych prints enable you to split one single image into three or more custom parts, displayed separately on a wall. Wall art customization could mean anything from the size to the dimensions, orientation, or surface, so you can create something one-of-a-kind for your bedroom.
It's time to get started
So there you have it: the secret is how wall art can make all the difference when trying to personalize and stylize your bedroom aesthetics. All it takes is a bit of thoughtfulness (and maybe some help from Canvaspop) to choose what captures your essence best.
Don't hesitate to use these wall art tips today. Start transforming your bedroom into an artistic dreamscape by exploring Canvaspop's range of canvas print offerings tailored just for you!