How to decorate your home for summer with canvas.
By Amy Wright | Jul 17, 2023
Summer has finally arrived, and it's time to give your home a revitalizing makeover! Some people choose to invest in expensive renovations or buy various new plants to add some greenery. But, what if we told you that you could get the same effect with just a few new summer art prints?
Using Canvaspop's incredible range of summer-inspired wall art, you can effortlessly transform your living space into a refreshing oasis that matches the season's excitement.
Let's explore how embracing beach themes, bright colors, and nature-inspired decor can infuse your home with summer's vibrant energy.
Why new wall art?
Before discussing how to incorporate seasonal accents with canvas prints, it's essential to understand why they're an ideal choice for home decor.
Canvas prints are a stunning way to showcase your favorite images, designs, or artwork on a premium gallery-style material. They feature a unique texture that adds depth and character to any image, making it stand out and enhancing the overall visual appeal of your living space.
The process involves printing high-resolution images onto quality canvas using specially formulated UV-resistant inks. Once the canvas is printed, it's stretched over wooden frames to create a durable piece of wall art that maintains its shape for years without losing color vibrancy.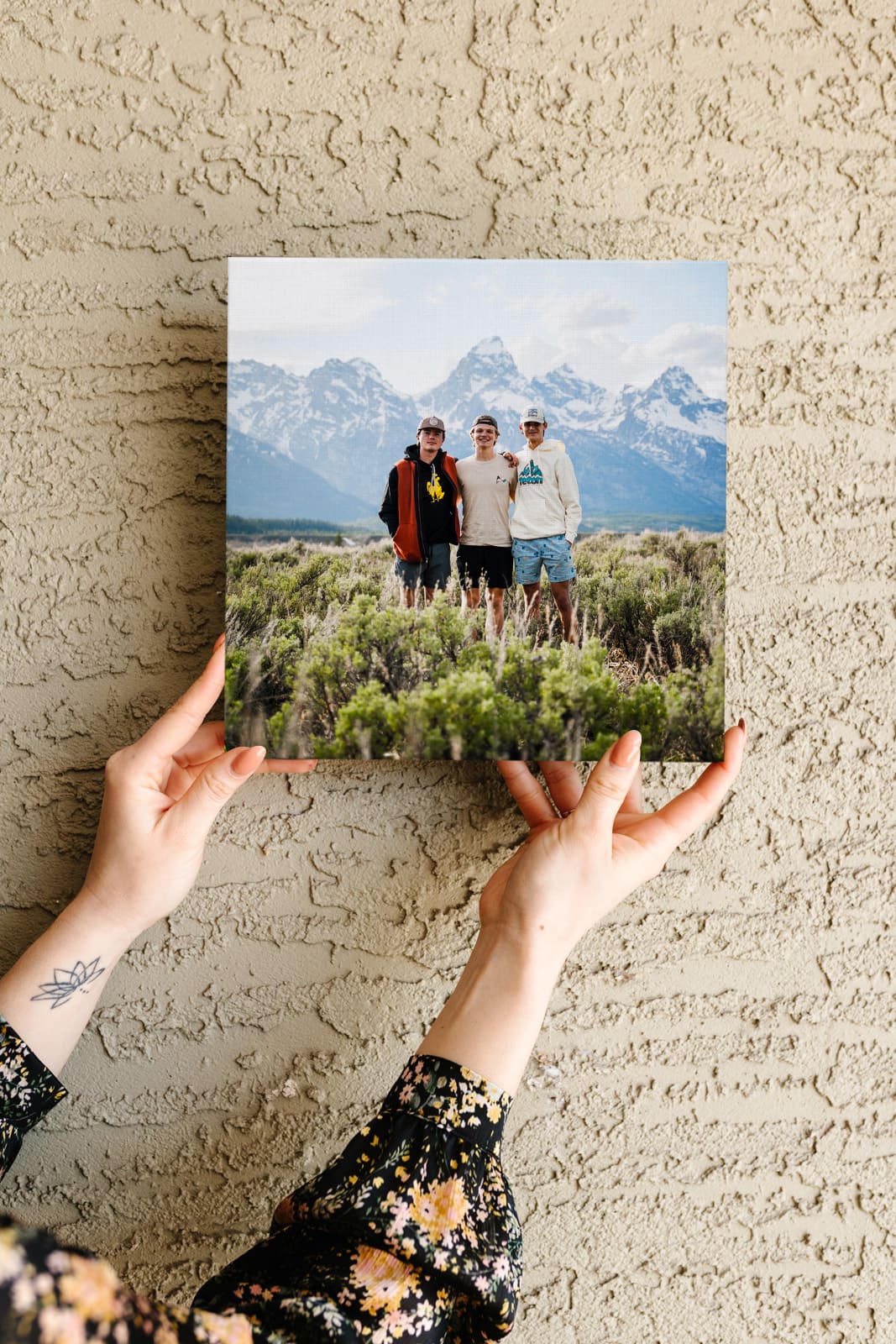 Why choose canvas prints for your summer home decor?
There are several reasons to choose canvas prints as the perfect way to bring life and color into your home décor:
The canvas texture adds depth and detail to the image that standard photo papers can't achieve, giving your wall art a more immersive experience.

Canvas prints often have better color reproduction than other print methods due to their ability to retain pigment.

Canvas prints are more durable than posters since they're mounted on sturdy wooden frames designed for longevity and ease of hanging.

There's no need for glass or plastic in front of the artwork when displaying canvas prints; this means fewer chances of glare or reflections distorting your view while admiring an image from various angles.

Customization options allow you to personalize size, style, and design. It also adds artists' touches, such as custom frame options or different wrap styles.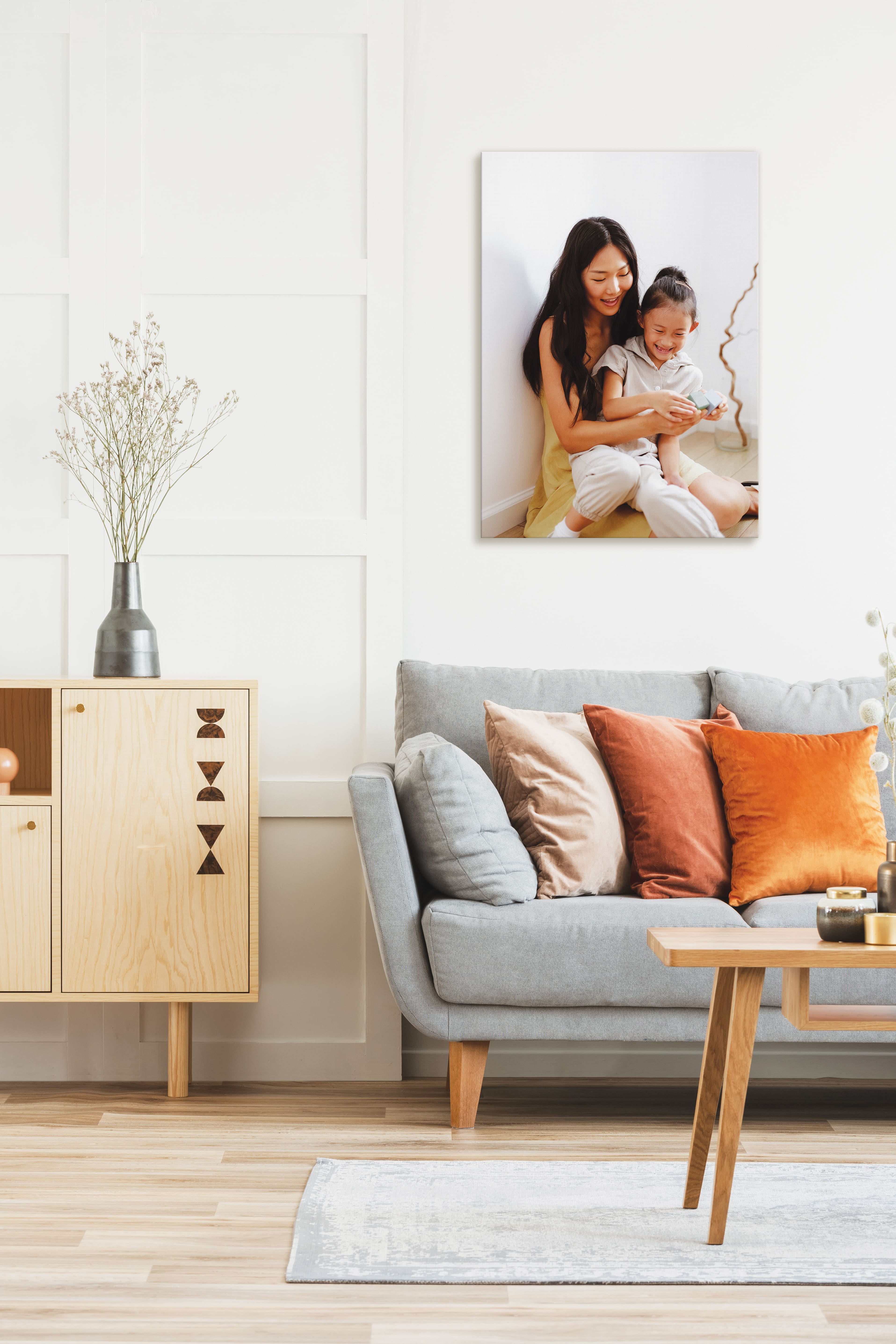 Embrace seasonal vibes with vibrant wall art
When capturing the essence of summer in your home decor, creating a refreshing atmosphere is just as important as keeping your home cool. Explore our wide variety of summer-inspired ideas to achieve this look. You'll find everything from bright colors to beach themes and nature-inspired prints.
Since canvas prints capture colors so well, they're the perfect choice for embracing these seasonal vibes.
Adding life with bright colors
Have you ever noticed how certain colors can make you feel happy? It's not just in your head; there is actual psychology behind the effect of different colors on our emotions. With the right colors, you can create an energetic and uplifting atmosphere perfect for summer days at home or hosting sun-soaked get-togethers.
Opt for artwork incorporating bold yellows, invigorating greens, and ocean blues. Canvaspop offers an incredible selection of art collections with various pallets to ensure you find the perfect piece. The difference with framed prints is that the surrounding border can provide a contrast that brings the artwork to life.
Tropical themes to create a summer oasis
Nothing says "summer" more than relaxing on a beautiful sandy beach or taking in breathtaking ocean views. While many people plan their vacations around these very experiences—why not bring those memories right into your home? Luckily for you, Canvaspop offers gorgeous beach-inspired prints designed to bring seaside retreats to your living room.
With a mix of serene ocean scenes, sandy beaches, and coastal decor, you'll find it's almost as if every time you walk into your room, you're taking a mini-vacation. These seascapes collection landscape images will create an inviting and relaxing ambiance perfect for summertime enjoyment.
Celebrate nature with floral wall art
Summer brings life back to nature. The flowers are in full bloom, and the critters are out and about. Show your appreciation for Mother Nature by displaying floral wall art in your home. Whether it's a close-up of a fresh bloom or an image of vibrant meadows, these bright pieces will bring the beauty of the outdoors inside.
Filling your home with stunning floral wall art captures the season's beauty. Canvaspop offers various options for those with green thumbs — from vibrant, colorful accents to delicate botanical illustrations.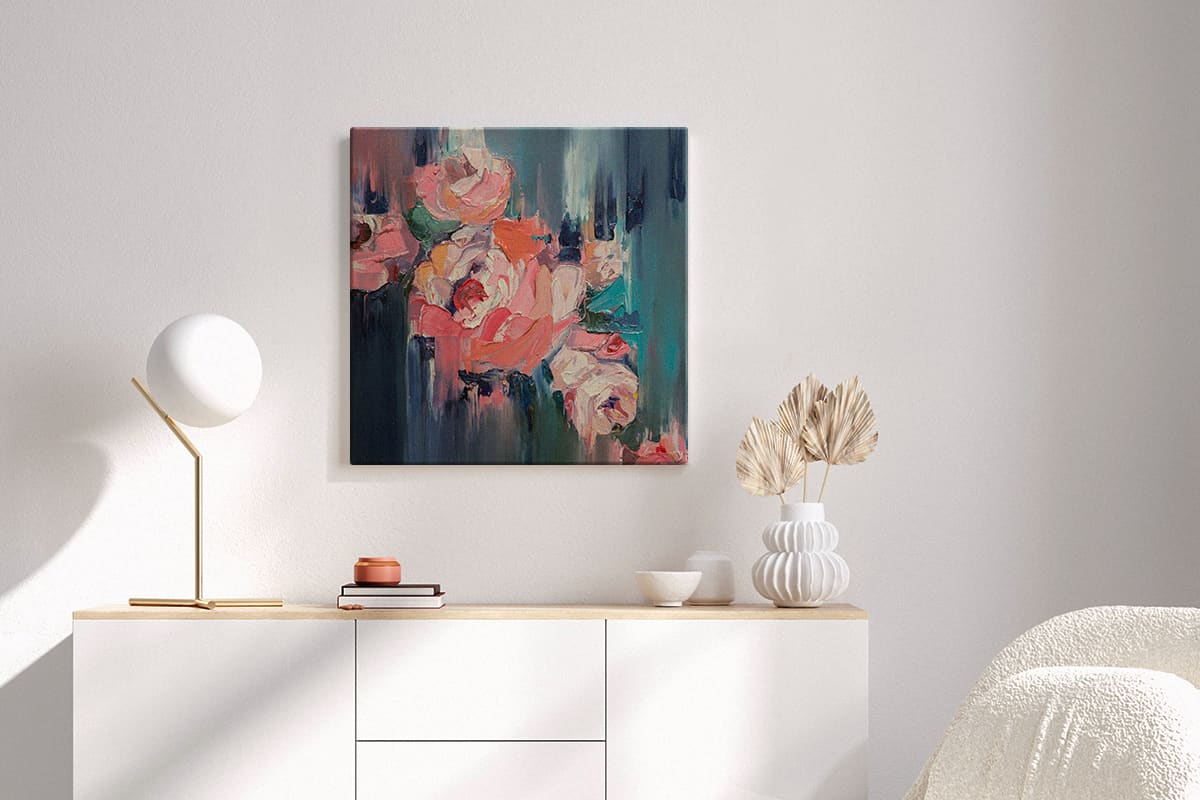 Canvaspop has gorgeous floral artwork that brings all of the freshness of a blossoming flower onto your walls.
Floral wall art is an excellent way to freshen up any room without having to deal with caring for real flowers or replacing them as they die off. You'll instantly brighten up any space with a few wisely chosen pieces from Canvaspop. It brings a sense of calmness synonymous with blooming gardens during summer afternoons.
Seasonal Color Palette
Choosing the appropriate color palette is integral to any home's summer decor. As mentioned above, try using colors representing the season's vibrancy. However, keep it simple, as too many colors can be overwhelming and detract from the beauty of your photo or artwork. You can use a triptych to create a cohesive look and add harmony to your overall summer decor. Triptychs are especially effective if you're trying to fill a large wall space. They are essentially three prints designed to work together as a single unit.
In this section, we'll dive deeper into each of these colors to help you understand their significance in your summer-inspired wall art.
Lively greens
Green is the quintessential symbol of life, growth, and renewal. Its presence automatically evokes images of lush landscapes filled with flourishing foliage. As the grass grows greener and leaves fill out trees during the warmer months, green hues in your wall art enhance that vibrant summer-y essence.
Green shades range from bold emerald greens to subtle sage tones — all worthy choices for different rooms or personal styles. A wilderness landscape featuring tall green trees can create a sense of escape within your home, transporting you directly into nature's embrace. Alternatively, more abstract or generative art using lime green shades make for an eye-catching pop.
Bright yellows
Yellow is synonymous with sunshine — it exudes happiness and positivity like no other color can. By infusing bright yellows into your home decor, you invite warmth inside for everyone to enjoy.
You can choose artwork featuring fields filled with golden sunflowers or whimsical illustrations incorporating fun yellow patterns. Regardless, this hue guarantees to awaken joyous feelings associated with warm weather outdoor living shared by family and friends.
Sky blues
Nothing beats looking up at the endless blue sky during hot summer days. It instantly calms our senses as we allow ourselves to be enveloped by relaxation under its expansive umbrella. This same feeling can be invited indoors by decorating with sky blue shades within your wall art selections.
Both the sky and the sea, with their deep blue depths, are inspiring visual elements to incorporate into refreshing interiors. You can go for soothing artwork of a distant horizon or an up-close view of rippling waves.
Pastel colors
These soft shades, like lavender, mint green, and powdery pink, create a romantic ambiance that is light and airy — perfect for summertime decorating.
These delicate hues bring a sense of freshness to any room while blending in effortlessly with current design elements. Whether it's dreamy geometric art or delicate floral prints, these tones will surely bring a gentle energy that radiates summertime vibes.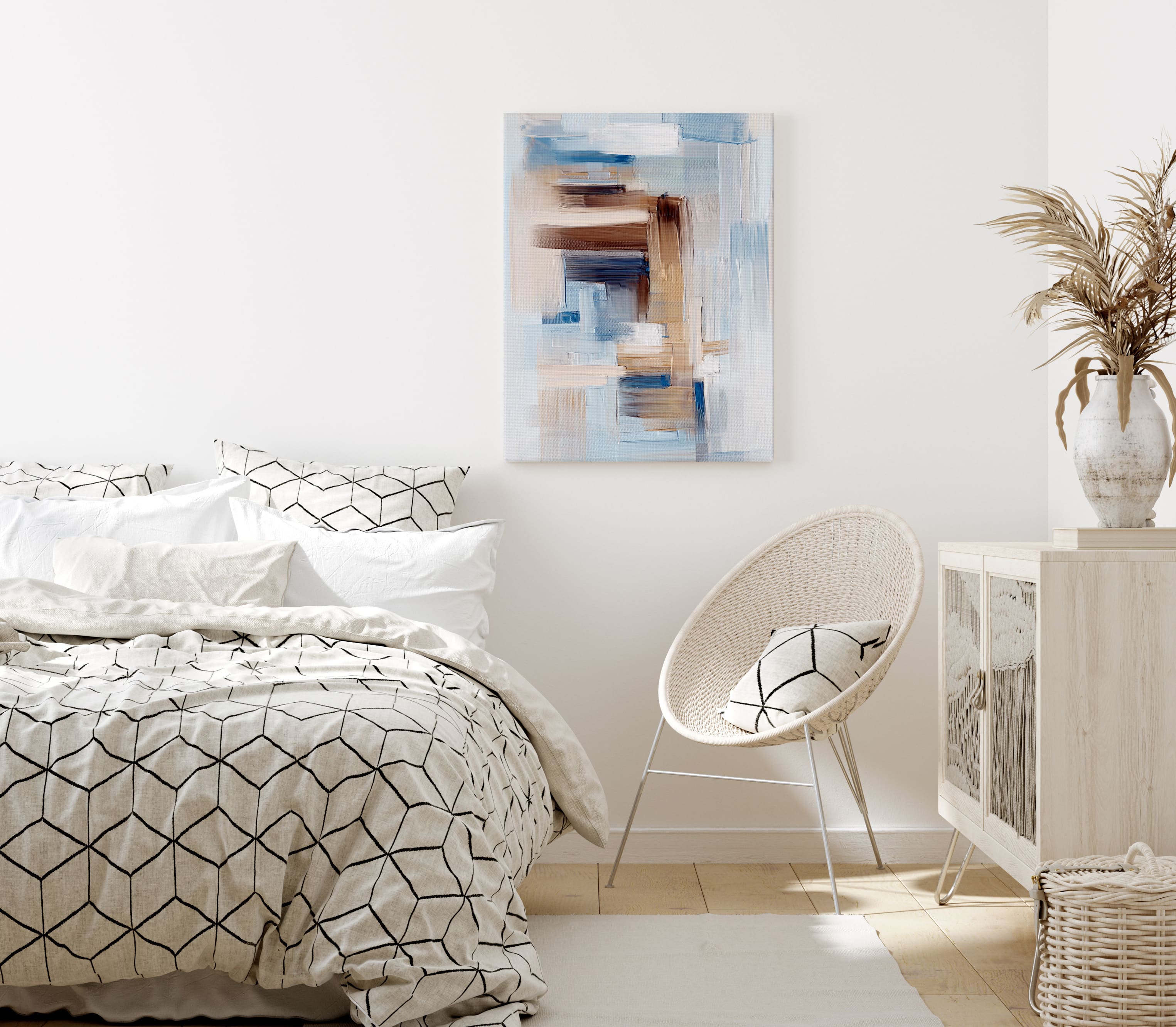 Outdoor-inspired themes
While colors are essential in representing summer elements, selecting themes that showcase popular outdoor activities is equally valid. Channel these seasonal pastimes through wall art pieces such as picnics, camping trips, or lush garden scenes. Doing so can ultimately captivate viewers by inviting them to relive joyous summer memories time and time again.
Invigorating picnics
Picnics are all about gathering friends or family members out on freshly cut lawns to share delicious meals paired with animated laughter. We recommend choosing a picture of your actual picnic group that will serve as a constant reminder of your golden days together.
Adventurous camping trips
Nothing quite ignites the spirit of adventure like planning a spontaneous camping trip with loved ones during sweltering summer nights, bonding as the day turns to an evening under star-filled skies. If you have a dream destination, have it immortalized in a canvas print to serve as your daily escape.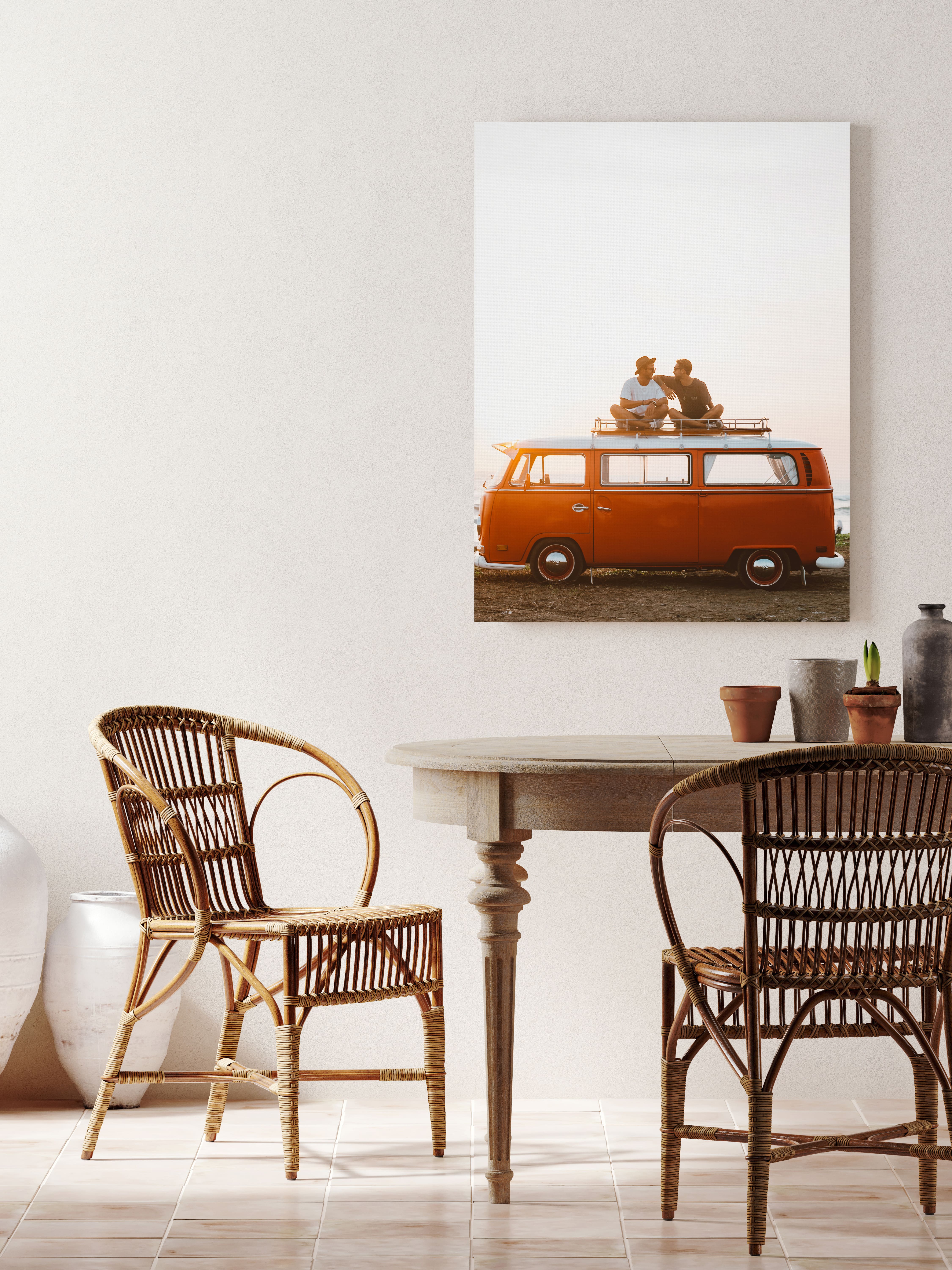 Vibrant garden scenes
Similar to celebrating nature, opting for a garden-inspired backdrop will bring your home to life with vivid shades of the season. Whether featuring flowers in bloom, lush grasses swaying gracefully, or fruit trees ripe for the picking, these cheerful wall art pieces add a touch of color and life to any space.
Browse for inspiration
Our impressive selection wall art that will perfectly turn your summertime dreams into reality. From beach getaways and majestic mountain panoramas to lively floral scenes, our personalized wall decor will suit any taste. You can also customize your personal space by creating a unique masterpiece that's all your own – simply upload your favorite photo or pattern, and we'll take care of the rest!
Our superior-quality canvas prints are both affordable and long-lasting, allowing you to bring the joys of summer into your home for years to come. Enjoy our Love it for Life guarantee and know we take pride in delivering the best quality wall art.
Create the perfect art piece for your summer home makeover today!