How to clean and maintain your canvas art
By Amy Wright | Aug 23, 2023
Keep your treasured prints looking fresh and vibrant
Calling all photo print enthusiasts! If you love the charm of canvas art, you're in for a treat. It's not just a cost-effective option, but also low maintenance, making it the perfect choice for showcasing your cherished photos. Each canvas print boasts unique textures, adding a touch of artistry to your home or office decor.
Canvas art is a true gem, sturdy and durable, ensuring your memories stay protected. Plus, the customization options are endless, allowing you to create the perfect personalized print that reflects your unique style. But, like any beloved possession, canvas art can accumulate dust over time.
Fear not! Cleaning and maintaining these precious art pieces without any damage is absolutely achievable. We've got some fantastic tips to help you keep your canvas art prints looking fresh and long-lasting, just like the day you first hung them up. Learn the art of proper cleaning and maintenance, and your canvas prints will radiate beauty for years to come. Let's dive in and unleash the magic of a well-maintained canvas art collection!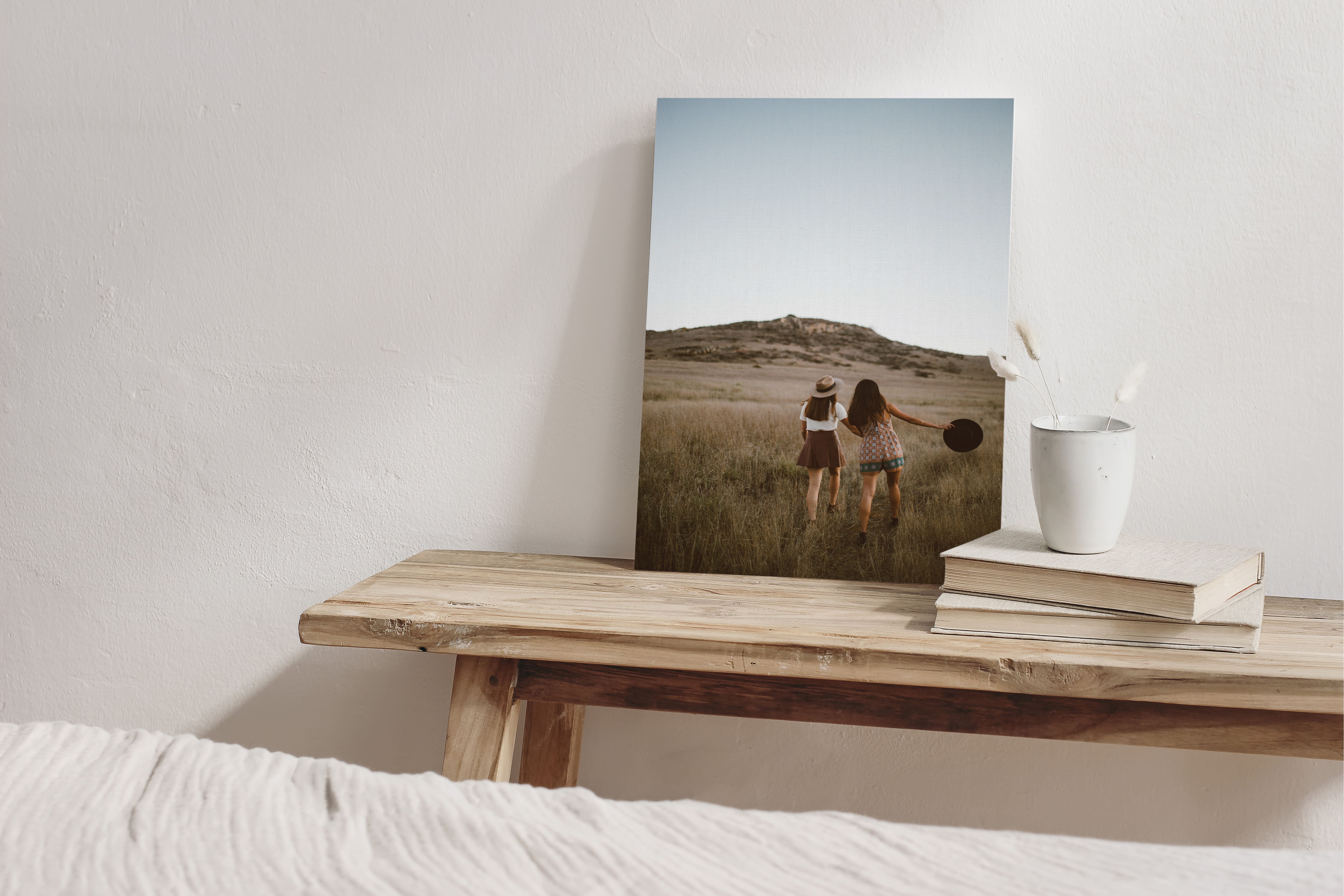 Keeping your canvas art sparkling: basic cleaning techniques
Canvas art adds a touch of sophistication and elevates the aesthetics of any room. The best part? With proper care, canvas prints can last for decades. However, over time, dust and dirt can accumulate, causing your artwork to lose its visual impact. That's why it's essential to give it regular cleaning love, preserving its vibrancy and lifespan.
Is your canvas looking a bit dusty? No worries! Grab a feather duster or a soft cloth to gently remove the dust. For delicate canvases, microfiber and linen cloths work like magic, effectively cleaning without scratching.
Using a microfiber cloth ensures a residue-free clean. On the flip side, avoid using scrubbing brushes, as they could scratch your canvas and diminish its appeal. When dusting, start from the top and work your way down, but remember to go easy on the pressure.
If your canvas has accumulated stubborn dust, you can take things up a notch by dampening the cloth. However, make sure it's just slightly wet and not dripping, so you can deep clean without the need for vigorous rubbing.
By following these friendly cleaning tips, your canvas art will continue to shine bright and bring joy to your space for years to come.
Easy tips for tackling spills and stains
Accidents happen, and sometimes spills or tough stains find their way onto your beloved canvas art. Don't worry; cleaning them up doesn't have to be daunting or time-consuming. With a little know-how, your wall art will look as good as new!
First and foremost, it's crucial to be gentle with your canvas to preserve its beauty for generations to come. Harsh cleaning solutions and excessive soap can harm the canvas and the ink, so it's best to avoid those. Instead, opt for a more delicate approach that still gets the job done.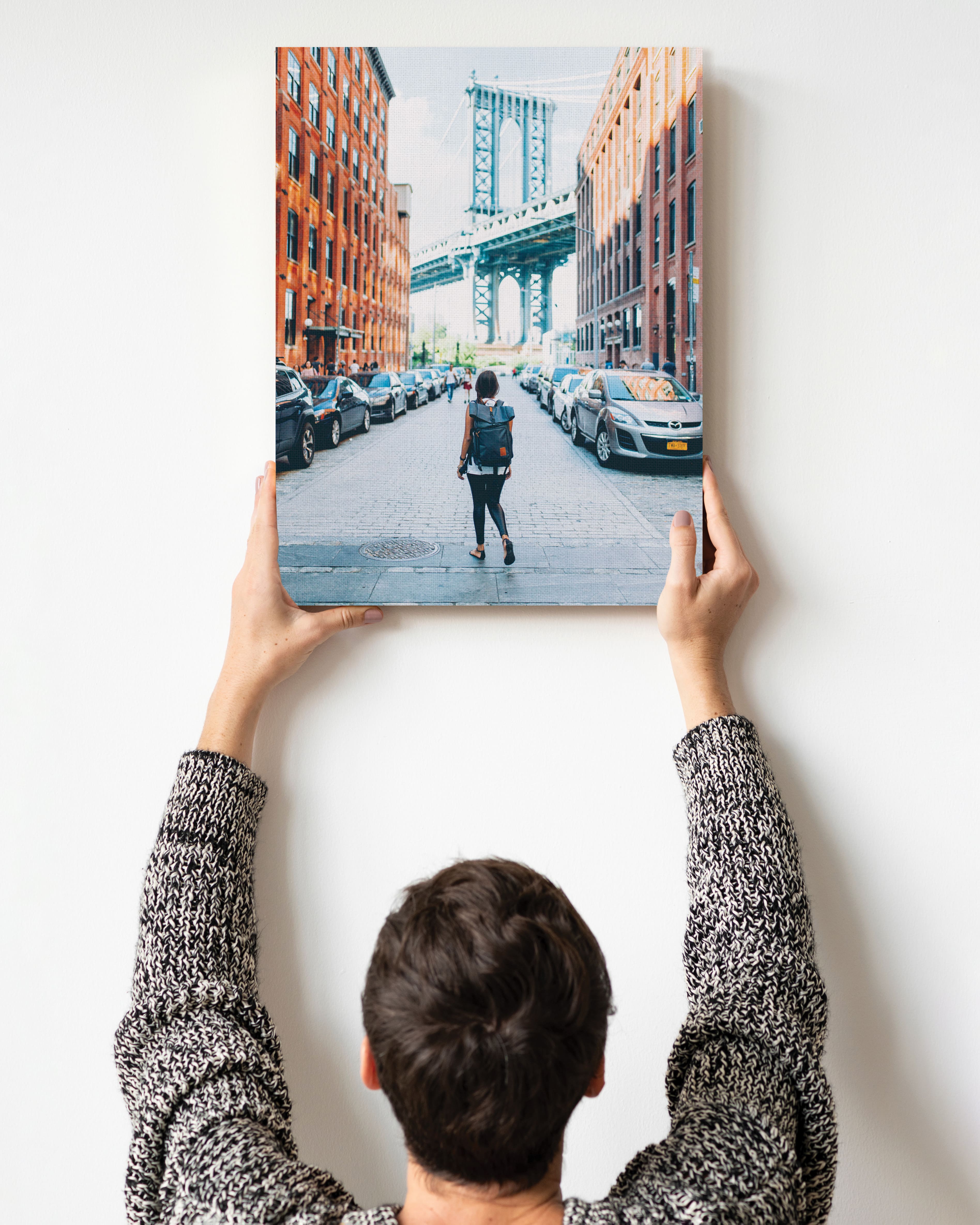 For stubborn stains and grease, consider using a mild dishwashing liquid or an olive oil-based soap. Just be sure not to use too much soap, as that can leave a residue on your canvas. Before you start cleaning, it's a good idea to test the soapy solution on a small, inconspicuous part of the canvas. Gently dab it and check for any adverse effects or discoloration. If everything looks good, you can proceed with confidence.
When spot-cleaning specific areas on the canvas, use a damp cloth and pat dry with a clean towel afterward. For greasy or tough stains, take a soft cloth with soapy water, making sure to wring out any excess liquid. Clean in a gentle circular motion, avoiding applying too much pressure. Being too forceful can damage the canvas texture or even introduce more water into the art, which we definitely want to avoid!
Once you've finished cleaning, it's essential to let the canvas dry completely away from direct sunlight. This ensures that no mold or mildew have a chance to ruin your masterpiece. Taking these precautions will keep your canvas looking vibrant and beautiful.
If you find that the stains persist or need more guidance on how to clean a canvas painting, feel free to reach out to the friendly Canvaspop support team. They'll be more than happy to assist you and provide helpful tips.
Remember, taking care of your canvas art is easy and rewarding. With these simple steps, you can keep your treasured artwork looking fantastic for years to come!
Preserving your canvas art: shielding prints from environmental hazards
Welcome to the world of caring for your beautiful canvas art! Once you've mastered the art of cleaning your canvases, the next crucial step is safeguarding them from potential damage. By doing this, you'll not only preserve their stunning appearance but also keep them looking fresh for years to come.
There are a couple of things to watch out for that can harm your canvas art. Firstly, sudden temperature changes and excessive moisture can be troublemakers, potentially compromising the durability of your artwork. To avoid any issues, it's best to steer clear of hanging your canvas in direct sunlight. The sun's intense UV rays can cause prints to fade over time and even weaken the fabric, leading to cracks and flakes that can't be fixed.
Humidity is another concern for canvas art. Extended exposure to high humidity can result in unpleasant mold and mildew stains, and it may even affect the layers of the canvas, leading to shrinking and cracking.
To keep your cherished prints in top-notch condition, try to keep them away from rooms with high moisture levels, like sinks, bathrooms, patios, and kitchens. Also, it's a good idea to avoid hanging them in high-traffic areas where accidental stains, tears, or scratches from frequent contact could occur.
When it comes to little ones, guests, and pets, they all bring joy to our lives, but they can also pose a risk to your artwork. So, be sure to hang your treasured art away from places where they frequently roam, such as hallways, railings, or bathrooms.
By being mindful of these environmental factors and taking proactive steps to protect your canvas art, you'll ensure that its beauty remains a delightful centerpiece in your home for years to come. Happy decorating!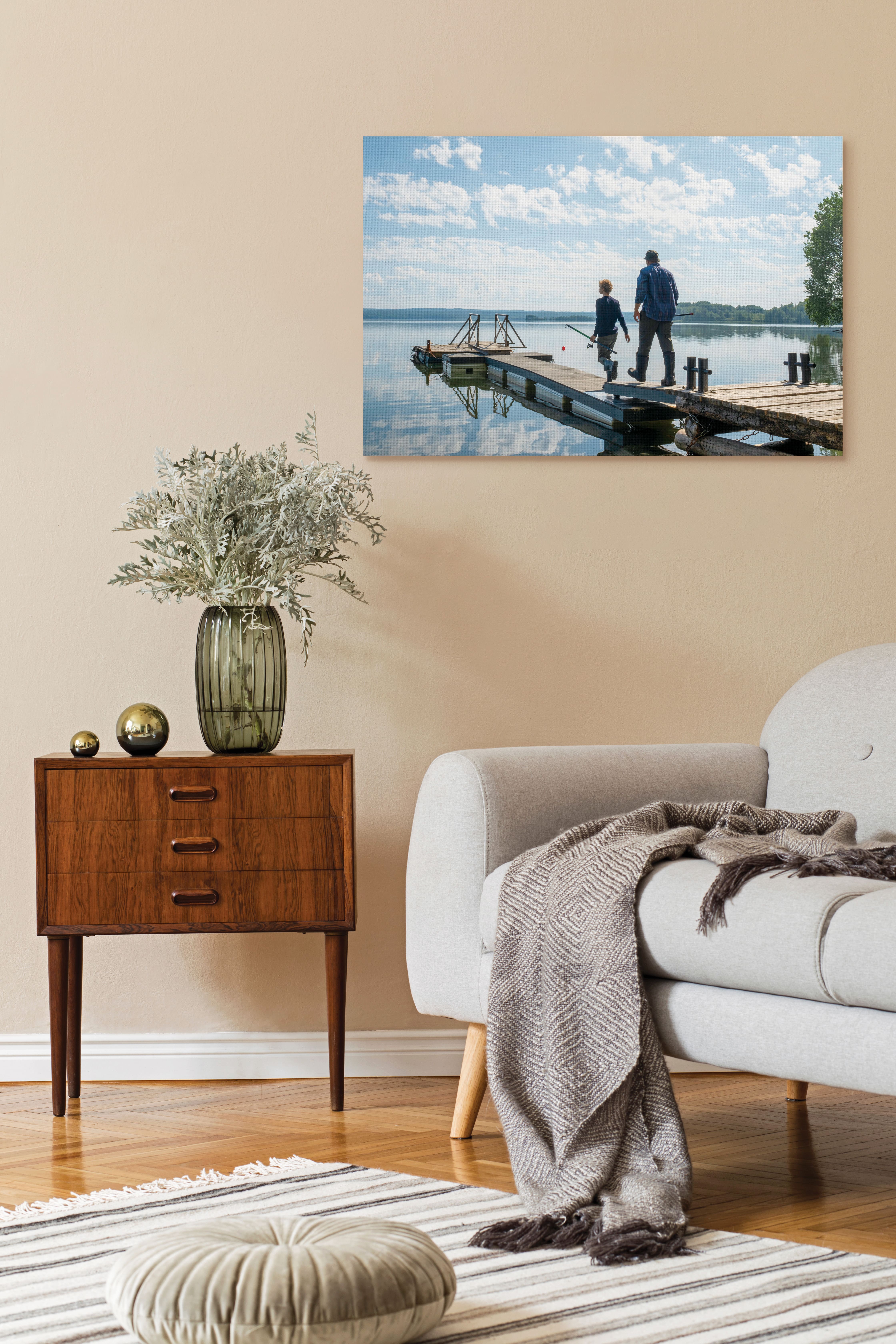 Unlock the secrets to preserving your canvas art: storage and display tips!
Your precious canvas art deserves the best care to ensure it lasts a lifetime. Whether you're moving to a new place or simply redecorating, handling and displaying your art correctly is crucial to its well-being.
To start, safeguard your canvas art during transportation by handling it with care and avoiding contact with the painted surface to prevent scratching.
When it comes to storage, opt for a stable environment away from extreme temperatures and humidity. Climate-controlled rooms, like offices or bedrooms, are ideal to protect your art from potential damage.
Displaying your canvas art is equally vital. Securely attach it using appropriate mounting hardware and sturdy wall hooks designed to handle the weight of the canvas. Evenly distribute the weight with extra wires and hooks to ensure stability. Properly secured art won't sway or tilt, providing peace of mind during a party or event.
Remember, keeping your canvas art clean and well-maintained has countless benefits. Properly cared-for art can last for generations. Plus, it's a cost-effective and low-maintenance investment that can appreciate over time and be passed down as a cherished asset.
If your canvas art has gathered dirt or stains, fret not! You don't need to part with it. Use the techniques mentioned earlier, employing gentle soap and minimal water to avoid excess moisture. Avoid aggressive scrubbing to prevent scratches and keep your art looking its best.
Are you looking to add a touch of trendy canvas art decor to your space? Look no further! Get started today and explore our wide range of top-quality wall art, including canvas prints, framed prints, pet portraits, and photo collages. We're your one-stop shop for all things art and photography, and we care deeply about your wall art's longevity and beauty. Let's elevate your space with stunning canvas art together!