Heartwarming ideas for personalized wall art presents
By Amy Wright | Nov 9, 2023
The Holidays are here. Are you stuck on what to give a family member, friend, or anyone else on your gift list? If so, why not give them custom wall art presents this year?
From Christmas canvas prints to sentimental home decor for any occasion, custom wall art designed to each recipient's personality and tastes is a great way to show that you care.
Learn more about the benefits of this gifting photos and find some unique gift inspiration below.
Make a lasting impression
Art of any kind can have an incredible emotional impact on the viewer. When you go the extra mile and personalize the art, though, you can foster stronger emotional connections and show a loved one that you not only wanted to gift them a gift but wanted to give them something genuinely meaningful.
Custom canvas prints or framed artwork designed with a specific recipient in mind are sure to make your gift stand out from others under the tree. There's something special about knowing that someone cared enough to create something just for you.
Every time your friend or family member looks at that piece of art, they'll think of you and remember that you took the time to create something tailored to their distinct style and preferences.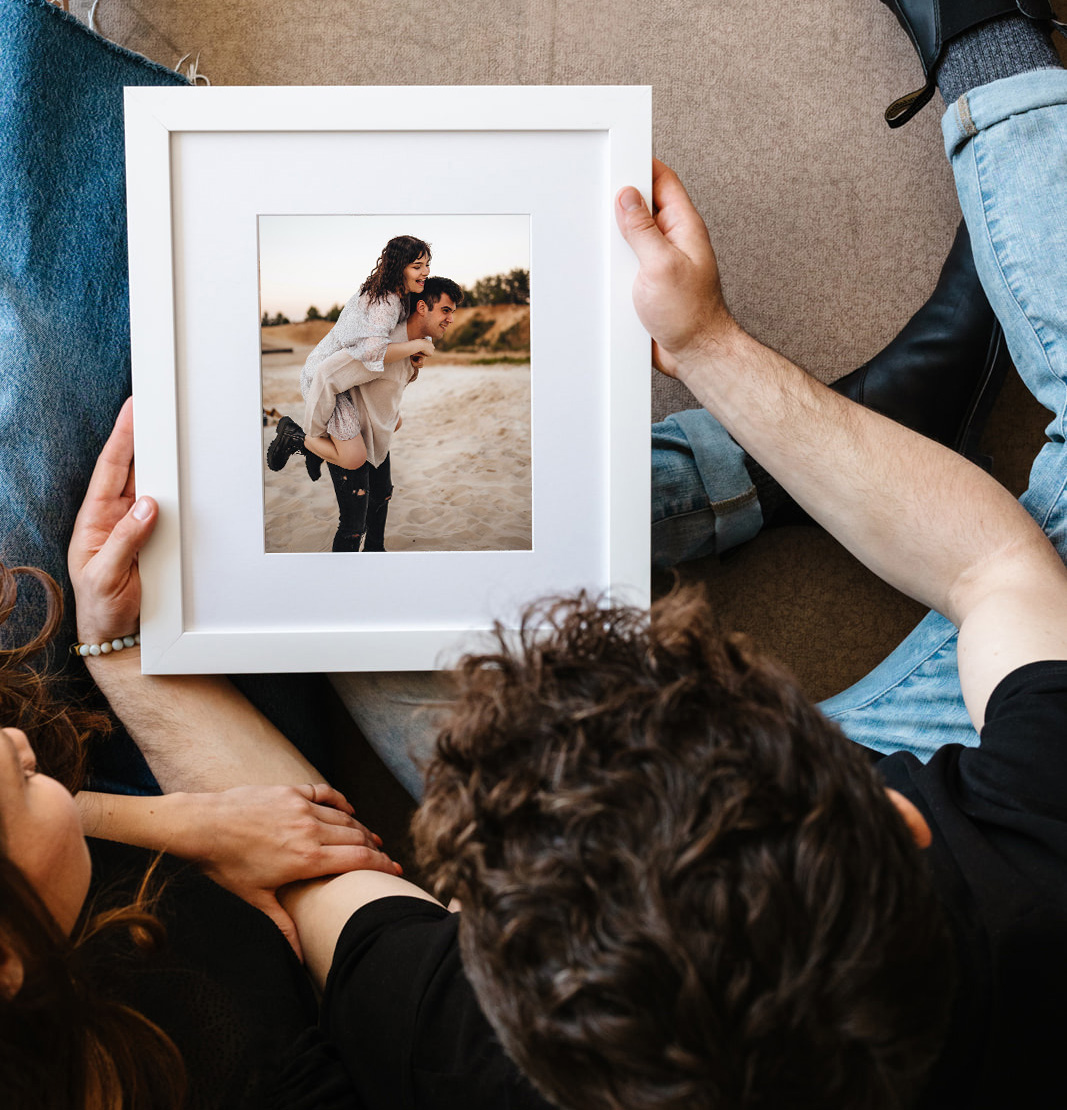 Wall art for every occasion
Of course, if you need creative gift ideas for Christmas, custom art is an excellent option. You can give custom framed prints, photo collage wall art, and other types of art for all occasions, though.
Here are some other examples of times when a personalized piece of wall art makes a great gift:
Birthdays
Anniversaries
Weddings
Engagement parties
Hannukkah
Bar and bat mitzvahs
Mother's Day
Father's Day
Graduation
Housewarming parties
Retirement parties
Baby showers
Bridal showers
Christenings Baptisms
Quinceaneras
Valentine's Day
Personalized art also makes a great host or hostess gift. If you don't want to show up empty-handed to a friend's dinner party or gathering, bring some custom art that matches their decor style.
Personalized wall art gift ideas
You understand the benefits of giving customized art for special occasions. How do you go about personalizing a piece of wall art, though?
Here are some tips and ideas to inspire you and help you get started:
Go through your favorites
One of the easiest ways to tailor your wall art is to use a favorite photo (or photos). Maybe it's a picture of you and your parents at your college graduation or a photo from a beach getaway with your girlfriends. After scrolling through you're camera roll you'll find the options are limitless.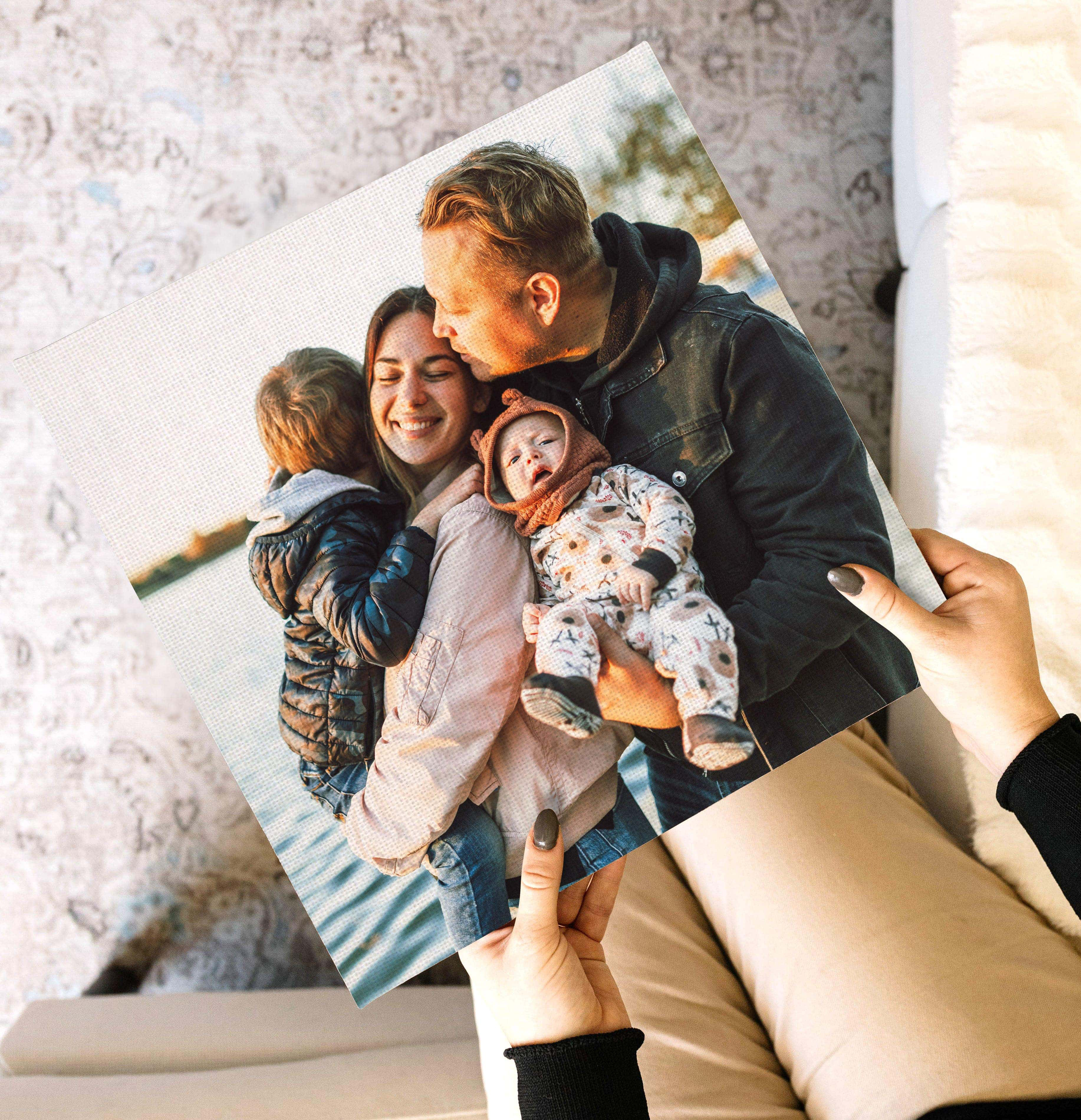 Edit and style your photo
Printing a photo on a canvas or framing it is a great option for a personalized gift. You don't have to stop there, though. You can also change the coloring or style of the photo to make it more unique or make it align with the recipient's existing home decor. For example, if they prefer black-and-white images, you can add a black-and-white filter to the photo before printing.
Elevate your print in seconds
A unique, high-quality frame can make all the difference when it comes to creating a one-of-a-kind gift. Once you've chosen a photo, pick a frame that suits the gift recipient's style and personal taste. They'll love that you took the time to select something just for them.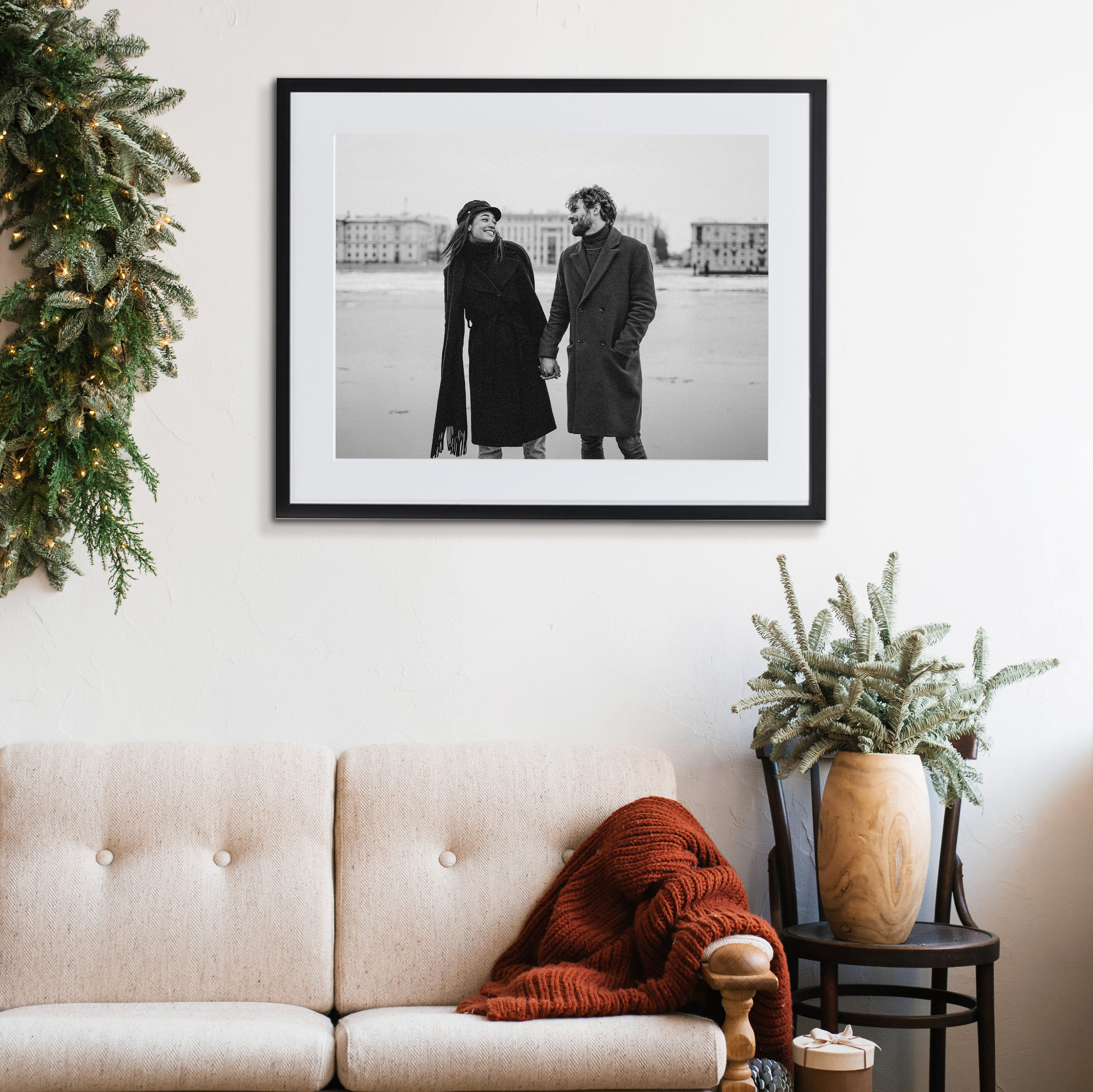 Put their pet on display
If your friend or family member is an animal lover, why not give them a portrait of their beloved pet? Their furry (or scaly) friend is a member of the family, and they deserve a spot on the wall as well.
Use song lyrics or poetry
You don't have to stop at pictures when designing custom artwork for a loved one. You can also incorporate lyrics from their favorite song or a stanza from a favorite poem. Pick some meaningful media that is sure to put a smile on their face (and maybe bring a tear to their eye).
Showcase a special location
Has someone on your gift list recently moved to a new home or relocated to a different city or state? Is there a specific destination they love to visit? If so, consider using an image of a special location so they can remember it whenever they look up at it hanging on the wall.
Include an important date
You can also add a meaningful date to a piece of artwork to customize it further and make it memorable. For example, you could add a birth date, graduation date, or wedding anniversary.
Tips for thoughtful gift giving
No matter how you decide to personalize a piece of artwork, it's important to take the recipient's style into account. The following are some bonus tips to help you give meaningful presents that your loved ones want to display in their homes:
Consider existing decor
Start by thinking about the person's existing home decor. Do they have a particular style they're drawn to? Do they love modern art, bright colors, or funky frames? Keep these details in mind to show that you care and give a gift that can actually be used.
Choose the right size
Consider the size of the recipient's home as well. Do they have lots of wall space for a large canvas, or do they need something smaller and more versatile?
Consider the color palette
Keep colors in mind when customizing wall art, too. If your loved one already has a series of photos with black frames on their walls, you won't want to disrupt the flow with a brown one, right?
When in doubt, go neutral
If it's been a while since you've seen someone's home, or if you aren't 100 percent sure what kind of style they prefer, go for neutral colors that will work with any style. You can still make your gift meaningful without making it too flashy or potentially distracting.
Create heartwarming gifts with the help of Canvaspop
If you're ready to create a piece of customized Christmas wall decor or a personalized birthday gift, Canvaspop is here to help.
We're committed to helping you preserve precious memories and give custom gifts that show your loved ones how much you care about and appreciate them. We also make it easier than ever to design and purchase personalized artwork. Just follow these simple steps:
Choose your art type: Pick from canvas prints, framed prints, photo collages, triptych prints, metal prints, and more.
Upload your image: Upload a photo (or photos if you're making a collage or print bundle) directly from your computer.
Choose your size: We offer standard sizes (8x10, 12x18, etc.), as well as endless custom sizing options.
Add a filter: Choose from black and white, sepia, pop art, vintage, comic book, oil painting, and more.
Choose additional services: If you want touch-ups, adjustments (such as removing something from the background), or help removing imperfections, just let us know.
We are committed to quality and stand by our products with a 100% Love-it guarantee. We also offer free digital proofs, so you get the final say on any project before it's printed.
Don't wait to create a one-of-a-kind-gift
Whether you want to give custom wall art to a friend or family member or need some new Christmas wall decor ideas for your own home, use the ideas shared in this guide as inspiration.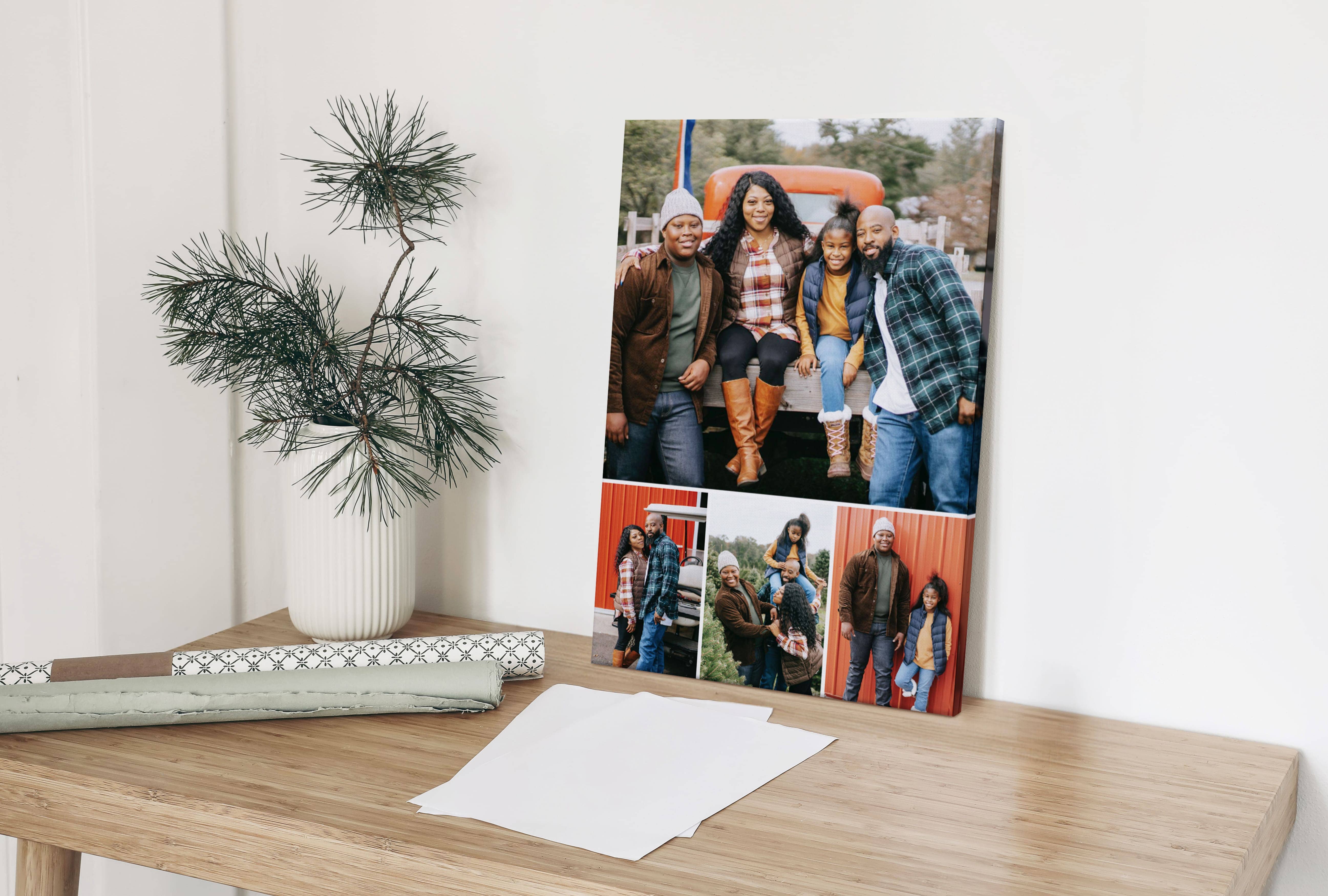 No matter what holiday you're celebrating or who's left on your gift list, Canvaspop can help you create the perfect piece of art.
If you're ready to order personalized artwork, check out our one-of-a-kind gifts today!