Happiness on Display: How Wall Art Can Boost Your Mood
By Amy Wright | Oct 27, 2023
Research shows that art can have a powerful impact on a person's mood and sense of well-being.
For example, some studies reveal art can trigger the release of dopamine, a neurotransmitter that improves mood and promotes feelings of happiness. It may also help to reduce stress and encourage relaxation.
Looking at art can influence a person's physical state as well. It can also lower blood pressure, heart rate, and cortisol (a stress hormone) levels.
Do you want your home to be an uplifting place where people want to spend time? If so, the right wall art can make all the difference, and we at Canvaspop are committed to providing personalized artwork that triggers positive emotions and makes your house feel uniquely yours.
In this blog, we discuss the power of art and how it influences mood. We also offer suggestions for how you can level up your home decor to have a more positive influence on yourself, your family, and your guests.
The Science Behind Art and Mood
Let's start with a deep dive into the link between art and mental health. Here are some more specific examples of how art prints and photo prints could make your home more inviting and mood-boosting:
How Color Influences Emotions
Your home's wall art has one of the greatest impacts on your (and anyone who visits your home's) mood.
For example, bright, warm colors like red, orange, or yellow have been shown to stimulate energy and feelings of happiness. Meanwhile, cool and subdued colors like blues, green, or purple can have a soothing effect.
The following are some more specific examples of colors that can significantly affect how you feel:
Red: Love, passion
Orange: Excitement
Yellow: Joy, happiness
Green: Balance, serenity, joy
Blue: Calmness, peace
Purple: Relaxation, imagination
Brown: Comfort, security
Gray: Comfort, calmness
White: Calmness, hope, comfort
Pink: Love, tenderness
When choosing wall art color schemes, remember these colors and their meanings to ensure you achieve the desired effect.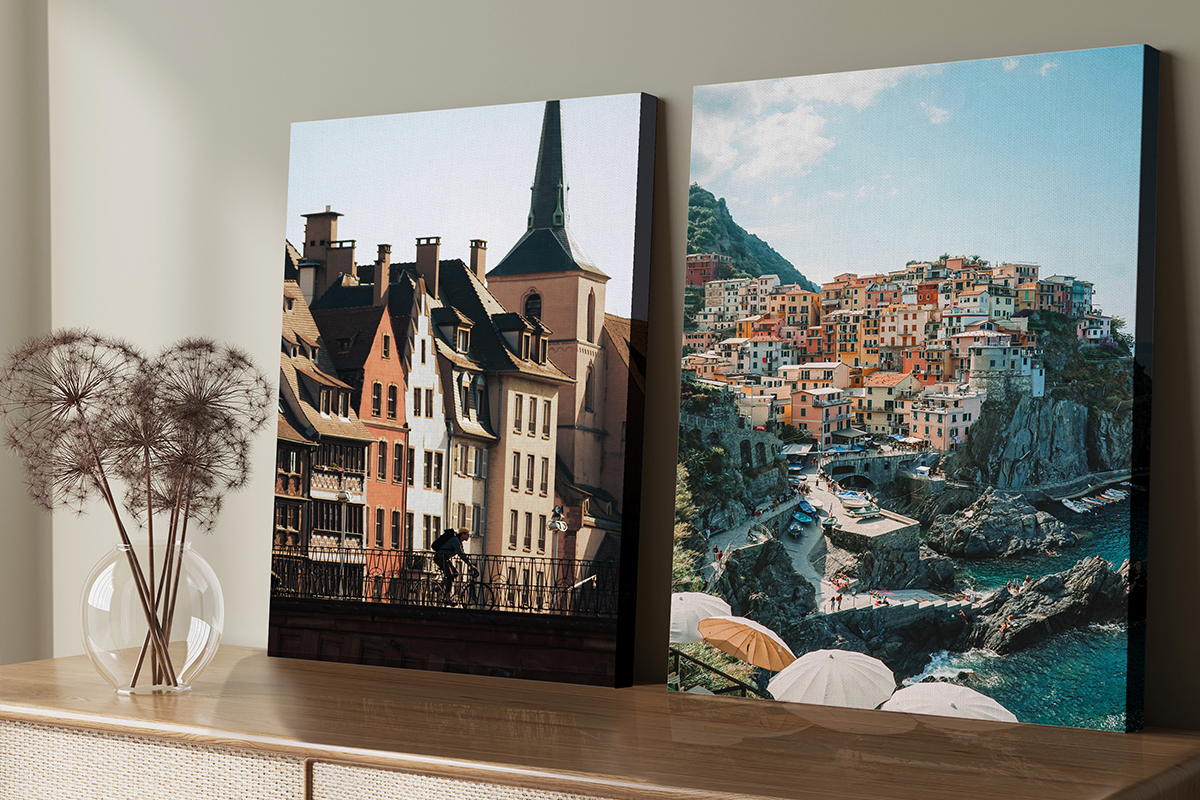 Art and Oxytocin
Personalized wall art colors and art that features images we appreciate and recognize -- such as family photos or a painting of a beloved animal -- can also trigger the release of oxytocin.
Oxytocin is associated with feelings of love, connection, and relaxation. When you hang art in your home and view it regularly -- especially if the subject of that art is something that brings you joy -- you can experience an oxytocin boost even if you're all by yourself!
Abstract Art Triggers Emotions, Too
Art doesn't have to have a clearly defined subject to have a positive impact, either. For example, an abstract painting painting featuring sentimental wall colors could also trigger feelings of happiness, calmness, comfort, etc.
Mood Lighting
The in your home, specifically the lighting surrounding a particular piece of artwork, can further enhance the mood and help you customize your space.
For example, you can use warm or yellow-toned lighting to create an intimate, cozy feeling and encourage thoughtful conversations. On the other hand, cool and blue-toned lights can establish a more relaxed vibe that also promotes concentration.
Personalized Art: A Window to Cherished Memories
You don't need famous oil paintings or abstract pieces to breathe more life into your home and foster positive emotions. Personalized canvas prints, including photos of family, friends, or your favorite places, can also have a significant impact on the atmosphere in your home and how it affects others.
For example, say you have a favorite family photo from a beach vacation you took when your kids were young. Turning that photo into high-quality personalized wall art, such as a custom canvas or framed print, is a fantastic way to commemorate that event and remember it for years to come.
Every time you look at that photo, you'll think of that day at the beach and how much fun you had -- the same goes for your spouse and kids as well.
You'll also draw guests' eyes to that picture if you display it in a common area. Doing so creates an intriguing focal point that gets people talking and gives you even more opportunities to relive your special beach trip.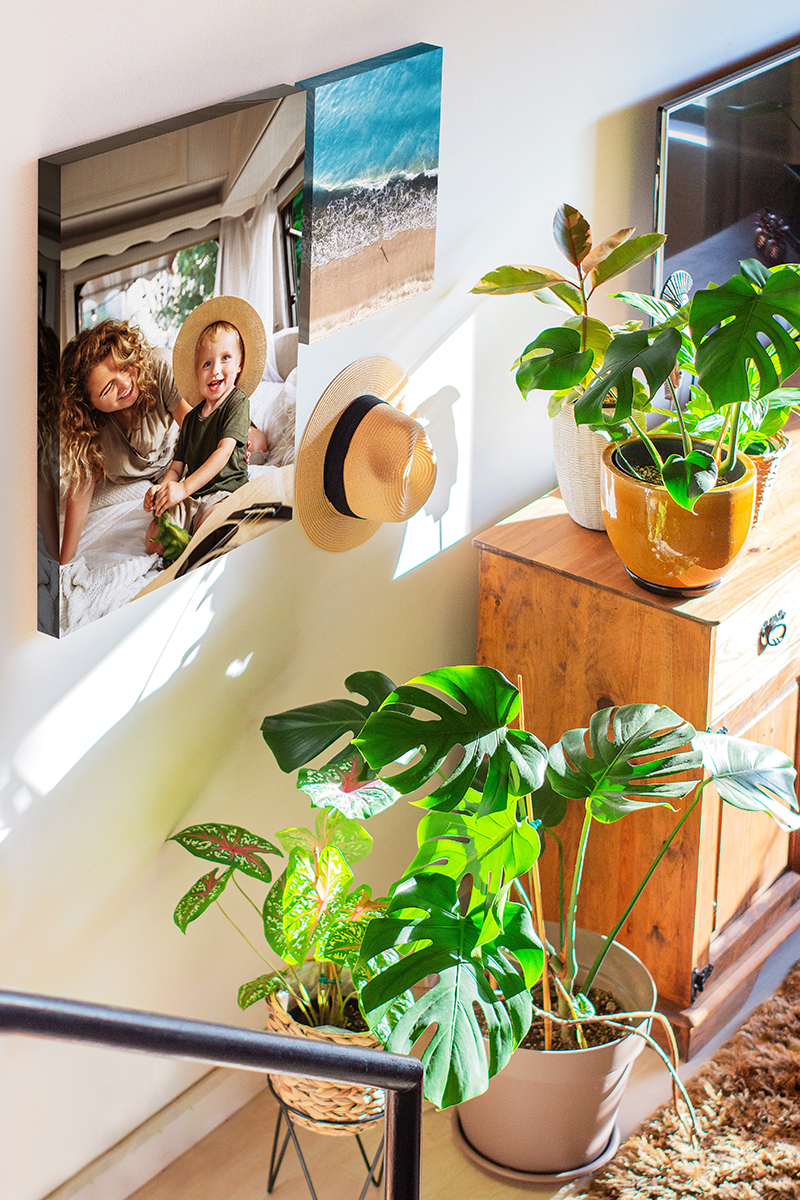 The Role of Wall Art in Mindful Decor & Gifting
Once you know the emotional impact and therapeutic benefits of art, why would you want to keep them all to yourself? Why not spread the wealth and share the positive effects of mood-lifting wall decor with your friends and family?
If you're stuck trying to figure out the right gift for a loved one, don't forget about the powerful influence of intentional wall art and how it can brighten people's days.
Consider gifting canvas prints or framed prints featuring yourself or your family with the recipient. This is an excellent way to help them remember a fun experience and enjoy the memories of that day whenever they need a boost.
You could also offer another piece of art in your friend or family member's favorite style.
For example, if you know that they like landscapes or modern art, why not present them with a new piece for their collection? You can incorporate their favorite colors or colors that create a desired emotional effect, too, for an even greater personal touch.
Why Choose Canvaspop?
It doesn't matter if you're choosing home decor for your own house or a friend or family member's. Regardless of where the art will be displayed, Canvaspop is the perfect solution.
Our mission is to help you preserve your most precious memories.
We're experts in creating high-quality, personalized wall art. We understand the power of a good wall art mood boost and work hard to ensure you get the best pieces to showcase in your home or a loved one's.
We also offer a wide range of artistic mood boosters, from canvas and framed prints of your favorite family photos to generative art and canvases showcasing numerous art styles.
Curious about what Canvaspop can do for you? Check out these testimonials from past customers who have experienced an emotional art connection for themselves:

"I ordered a canvas print to memorialize my dog for the second time and was so pleased once again. Canvaspop has a great site that helps you bring your ideas to life. Pricing is reasonable and time to delivery is great. I will use again and again, including for happier occasions. Love Canvaspop." -- Talea M.

"Thank you ! everything was A+ Will recommend & definitely be using again on future projects Thank you sooooooooooooo much" -- Jeff W.

"The process was very simple. Communication was great, the canvas arrived well packaged with no damage. The quality of the print is excellent. I would definitely buy again." -- Jeanna G.
To say art is influential would be an understatement. It literally alters your brain chemistry and can help you feel happier, more relaxed, less stressed, and more.
Whether you want to showcase your own personalized memory canvas featuring a favorite photo or enjoy some visual-emotional therapy with a soothing abstract piece, we've got something for you.
Check out our extensive collection and experience an incredible wall art emotional impact today. Let Canvaspop help you bring daily happiness to your home or office!