The power of minimalism: Decorating with small wall art pieces
By Amy Wright | Sep 20, 2023
So, if you're planning to give your home a little makeover and want to create a more minimalistic vibe, think about adding some small wall art. It's a way to inject some character without going overboard (we've all seen those houses that just scream "too much," right?).
Believe it or not, those tiny art pieces can really enhance a room and make the space uniquely yours, all in a refreshingly simple yet impactful way. These framed prints and canvases are like chameleons – they fit into any home style with ease.
Feeling a bit lost on where to start with decorating using small sized prints? Well, don't worry, because this guide will help you. Check out some super handy tips and tricks below that'll get you on your way to becoming a small art aficionado!
The beauty of simplicity
When it comes to interior design and home decor, minimalism focuses on clean lines, neutral colors, and limited ornamentation. In other words, you don't have to hang a massive custom print or oversized piece of wall art to make a big impression. Sometimes, less is more.
Minimalist home decor, like 8x10 framed photo prints and handheld canvases, allow you to create a streamlined and clutter-free environment that is still strikingly beautiful. Another benefit of small sized wall art is that they draw your eyes to one key piece. This style allows you to highlight the pictures that matter most instead of distracting visitors with too many elements to look at.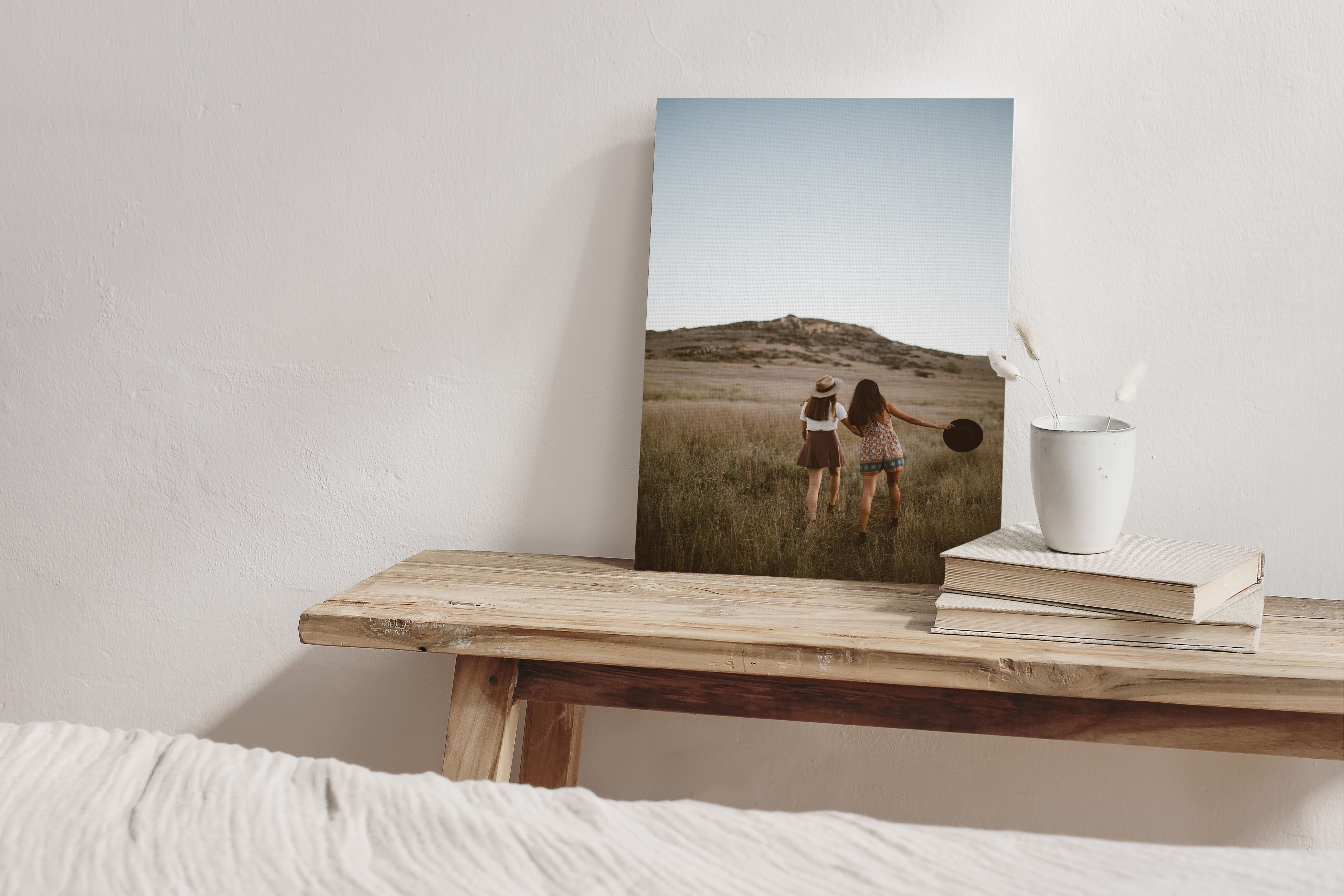 Small prints, big impact
Never underestimate the power of personalized small wall art. Compact prints can be attention-grabbing focal points. They add personality and character to walls and also complement larger decor elements.
Need some small wall art ideas? Canvaspop offers many options, including 5x7 tabletop prints, 8x10 framed prints,10x10 photo-to-canvas pieces, framed canvases that sit perfectly atop your furniture. It doesn't matter if you want to display one small image or experiment with mixing small prints alongside larger ones. We have print solutions that will work for you.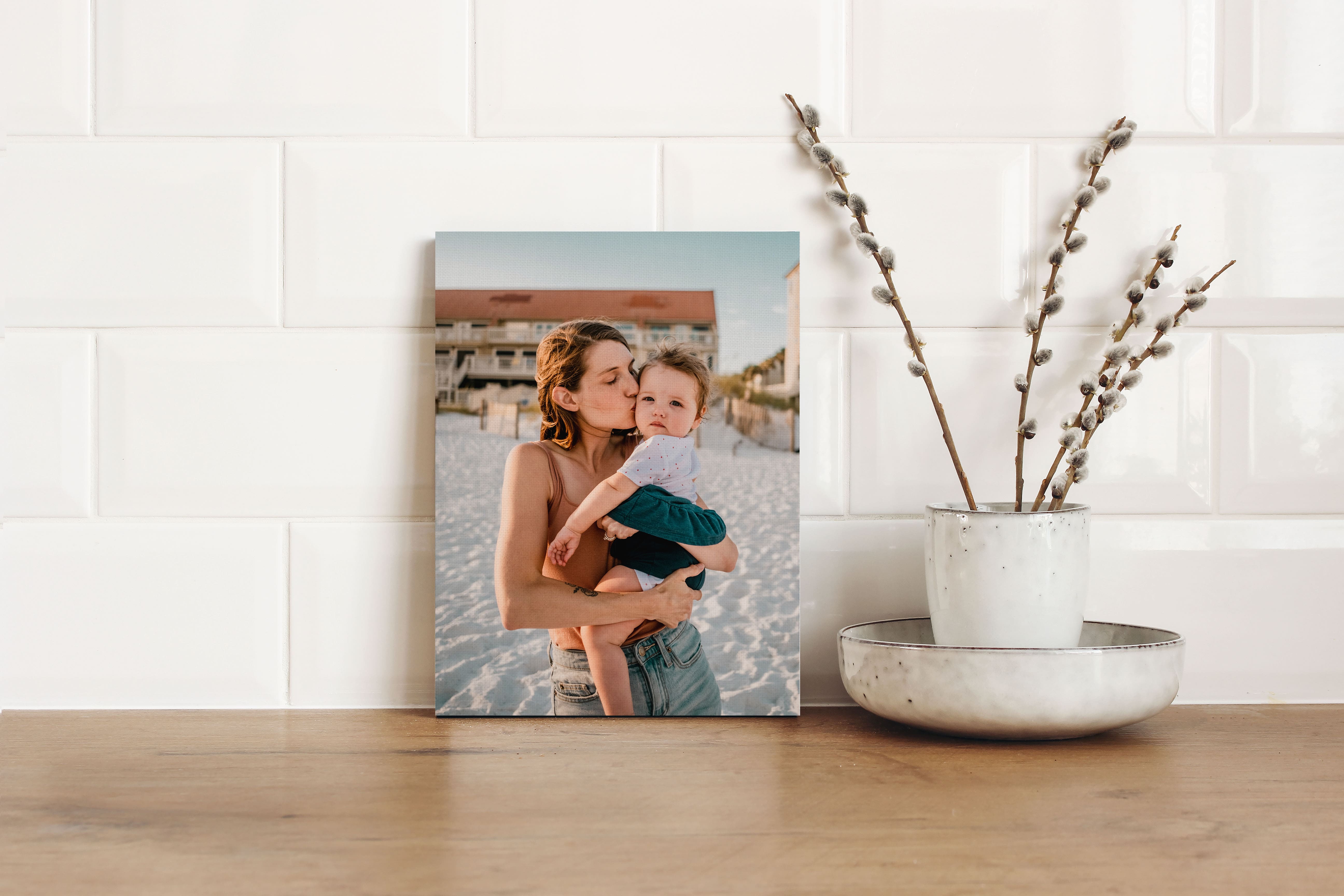 Creating intimate spaces
Intimate wall decor and versatile small prints are excellent options that can help you add more personality to cozy (doesn't that sound much better than small?) areas in your home. A big piece of art might overwhelm a small room. However, that doesn't mean you have to settle for blank walls. Instead, you can enhance and personalize tight spaces with smaller art prints. Thoughtfully placing small art arrangements and minimalistic wall decor gives you a chance to elevate the atmosphere in your home's smaller areas like hallways and nooks without going overboard or making your walls look too busy.
Personalization and storytelling
While you can hang any type of stylish small wall decor you want and experience the benefits mentioned above, there's something especially significant about displaying personalized prints. Compact wall art pieces that feature you, your family, your friends, and your pets can help you tell meaningful stories and preserve cherished memories and experiences.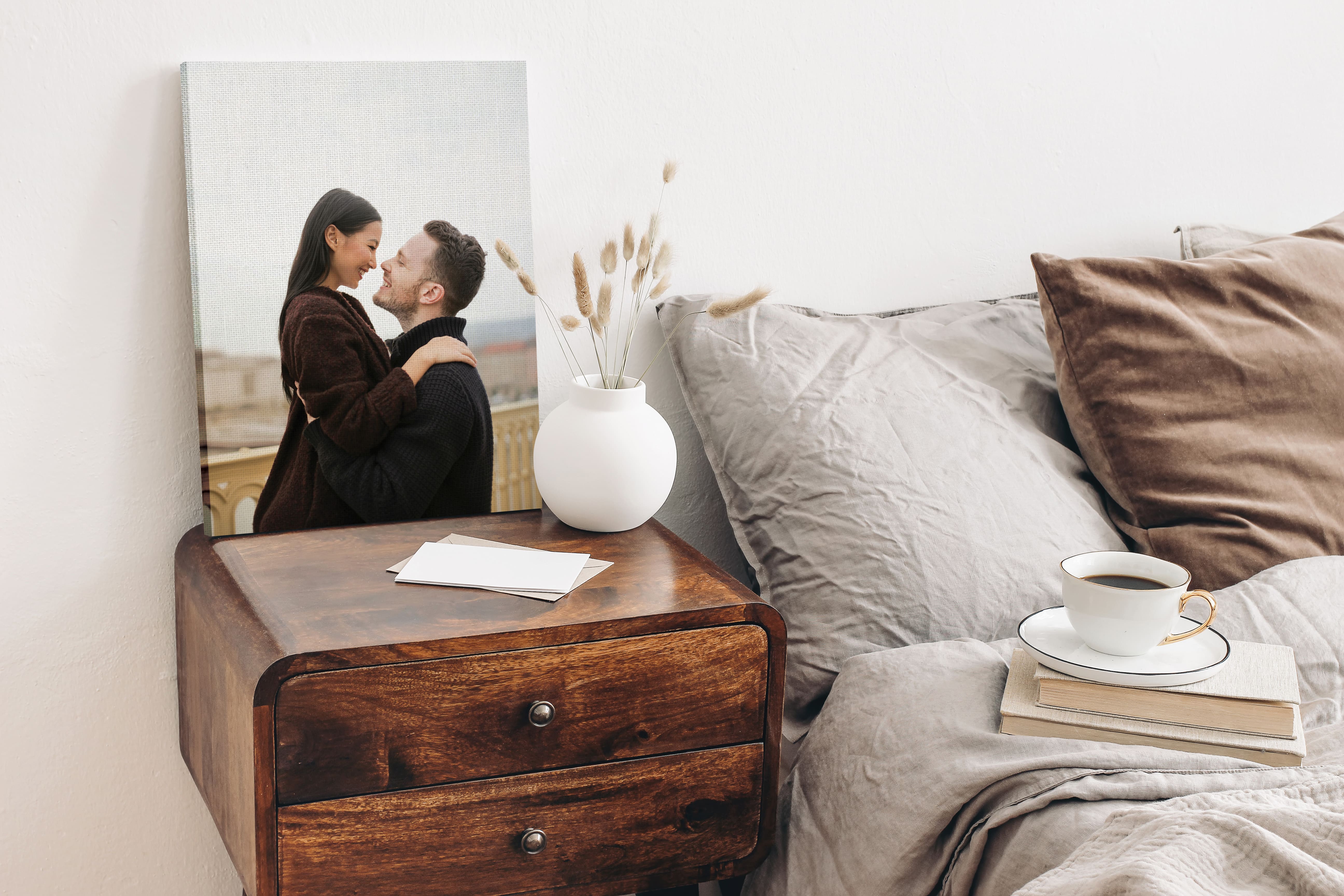 Mixing and matching
If you like the idea of putting together a creative small wall display but aren't sure how to get started, try these tips for combining small wall art pieces. They can help you achieve a cohesive and visually appealing arrangement:
Choose a beautiful frame: A canvas print in a unique, eye-catching classic wood frame adds a sense of elegance and style to any room.

Combine small and large pieces: If you have a bigger wall you want to decorate, consider enhancing it with small art and using a few smaller images as accents surrounding a larger piece of custom wall art.

Consider a small canvas: Canvas prints are good alternatives to framed prints wall prints. They still look polished and present a clean, minimalist look without a frame.

Stack two small photos: If you're decorating a small space and want to create the illusion of more height, consider hanging two prints vertically. This approach will draw the eye upward and make the room's ceiling seem taller.
Don't be afraid to experiment with your small customized wall decor or table decor. If you don't like how a photo looks in a specific place, that's not a sign to give up. You can always take it down and try hanging it somewhere else!
Versatility in display
We can't overestimate the versatility of small art pieces. As we explained in the last section, there are plenty of ways to arrange them on your walls to decorate your home with minimalist flair. However, you can also skip hanging pictures altogether.
Remember that you don't always have to hang photos on the wall. You can also set a framed art print on a table or lean it against another item.
These methods are especially useful if you rent your home and don't want to make a bunch of holes in the wall by hanging things up. The same goes for those who already like what's on their walls but want to add a little something extra to their space.
Conclusion
It's time to unleash the power of minimalism with your custom home decor! You don't have to have a "go big or go home" mindset when revamping your home. Don't hesitate to print your photos in smaller sizes and use the tips and tricks shared above to create high-quality, personalized gifts for the home.
If you don't have time to send your images to a brick-and-mortar photo printing service, or if you just want to trust that you're working with experienced professionals, use Canvaspop instead.
Canvaspop is an upload and print service that offers a wide range of small canvas prints, small yet high-quality framed prints, personalized handheld photo gifts, and more. Simply upload the images you want to print, choose your frames and customizations, and place your order. We'll do the rest.
Check our services out today and infuse your homes with the elegance and beauty of minimalism in no time.