Decorating your home for the upcoming Holiday Season
By Amy Wright | Nov 10, 2022
The holiday season is right around the corner, but there's no better time to plan for the best one yet. We love fun, festive, and cheerful decorations. We love them most when they bring us together with old memories that inspire us to make new ones.
Need ideas for decorating your home this upcoming holiday season? We have a few you'll love. Mix and match to find the style that fits your home, budget, and theme. Use them to create a visual story to share with everyone who walks through the door.
After all, Christmas is a time for family. What better way to show that than with art that reflects the special bonds that make a house a home?
1. Gift wrap your Canvaspop wall art
It wouldn't be Christmas without presents, but who says you can only keep them under the tree? Gift wrapping your wall art is a fun way to get festive with the decor you already have. If you're treating your guests to personalized wall art from Canvaspop, hanging up the gift-wrapped pieces will add a unique twist they'll love and something you can open and enjoy together.
It's a simple DIY trick to give the walls a festive look, turning your hallway into a gallery of Christmas gifts. Best of all: you don't have to worry about taking them down after the party. Just watch the smiles pop us when it's time for everyone to take their gifts off the wall!
You can even make a game of it to get the kids involved! Try hanging the wall art in different rooms for a Christmas treasure hunt – the grown-ups are sure to love it too!
2. Design your own festive prints
Christmas is a time for giving, but who says you can't treat yourself while taking your decorations to the next level? Canvaspop offers custom high-quality canvas prints that let you weave your personality into any space.
Get in touch with your creative side and design your own prints. We give you full creative control, from the frame and size to visuals and design. Our team of designers works with you to turn those special memories into unique prints, stunning art, and the perfect seasonal decor.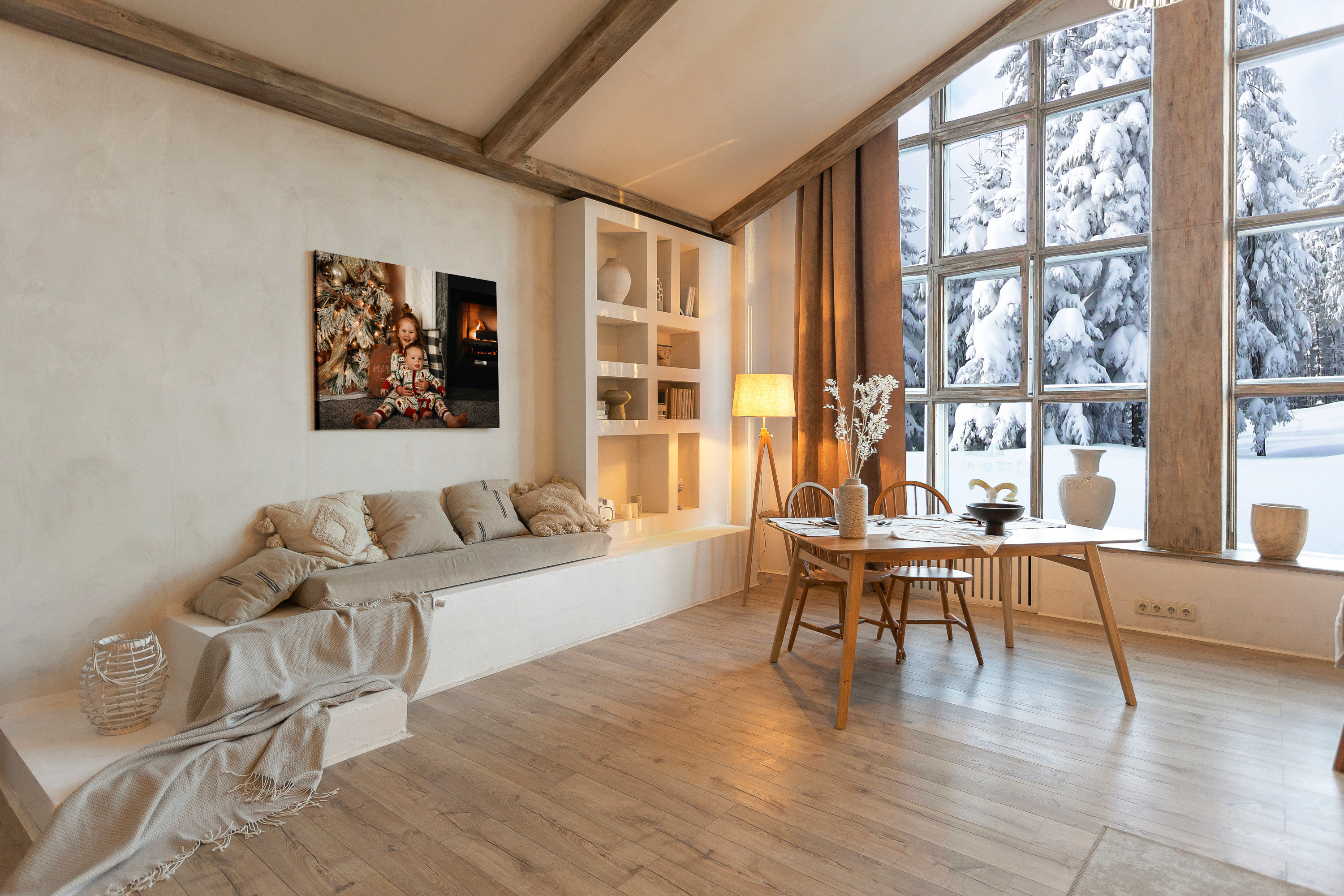 3. Commemorative collages
If a picture is worth a thousand words, then why stop at one? A collage is so much more than a set of photos, it's a rich personal story told in a series of moments. With our easy-to-use collage builder, you can tell that story with a canvas or framed print that captures the magic behind it.
Celebrate your fondest moments by creating an elegant photo collage with up to 36 images. Thanks to our water and fade-resistant canvas, you get a museum-quality print worthy of those timeless memories. The result: a one-of-a-kind display to share with loved ones this holiday season and for years to come.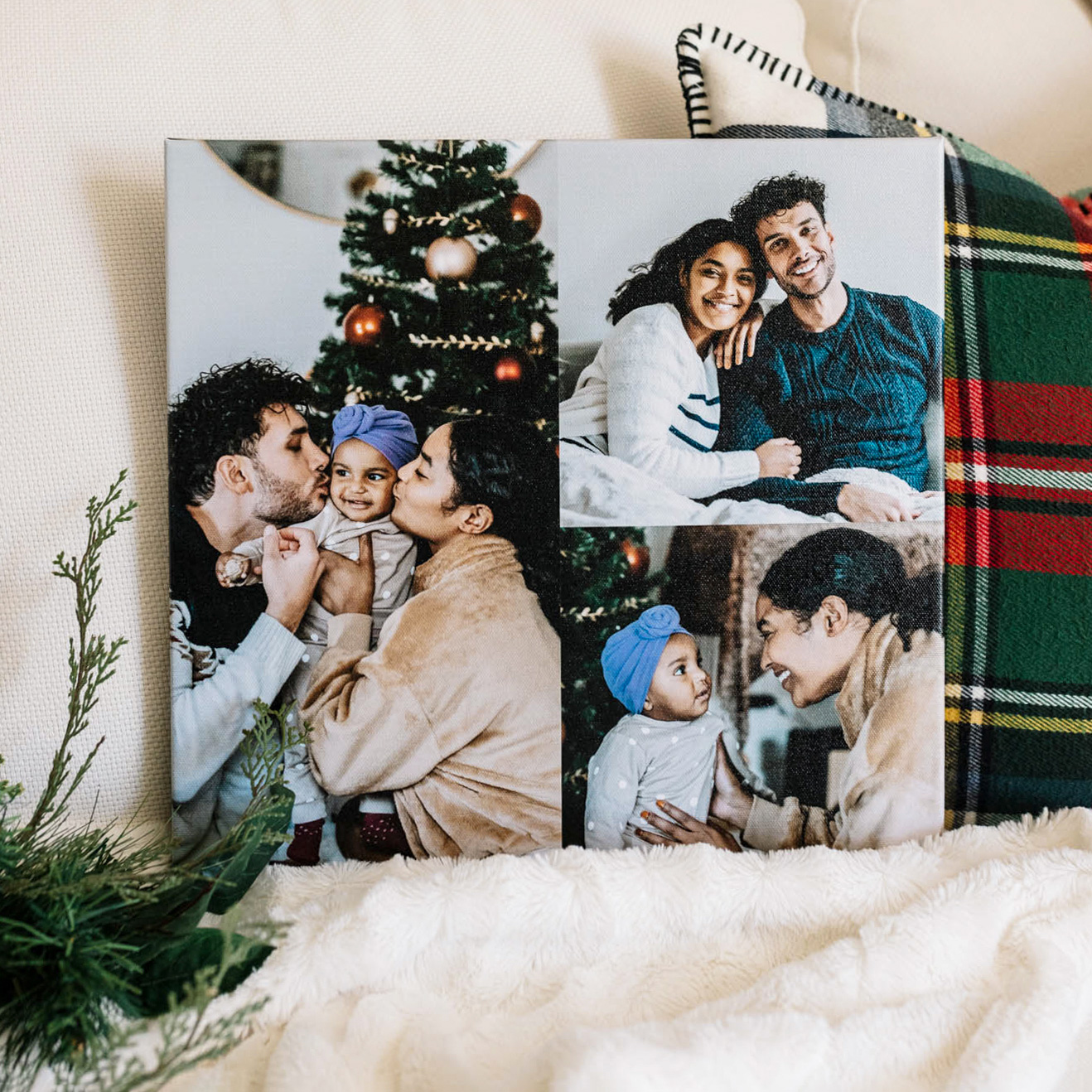 4. Rearrange your favorite memories
If you'd like to update your holiday decorations while keeping the photos you love, we've got you! Rearranging some of your favorite pictures throughout the house, giving a chance for your favorite family memories to take center stage.
Use those same photos to turn any hallway into an elegant modern gallery with Canvaspop framed prints. Each print uses museum quality materials to preserve your memories in vibrant archival inks.
As your home's art director, you'll have your pick of handmade wood frames. Curate your festive gallery with black, white, espresso, or crystal clear vinyl finishes. Add a pop of color with bold ribbons to accent the frames or use them to accent the walls with a contemporary touch.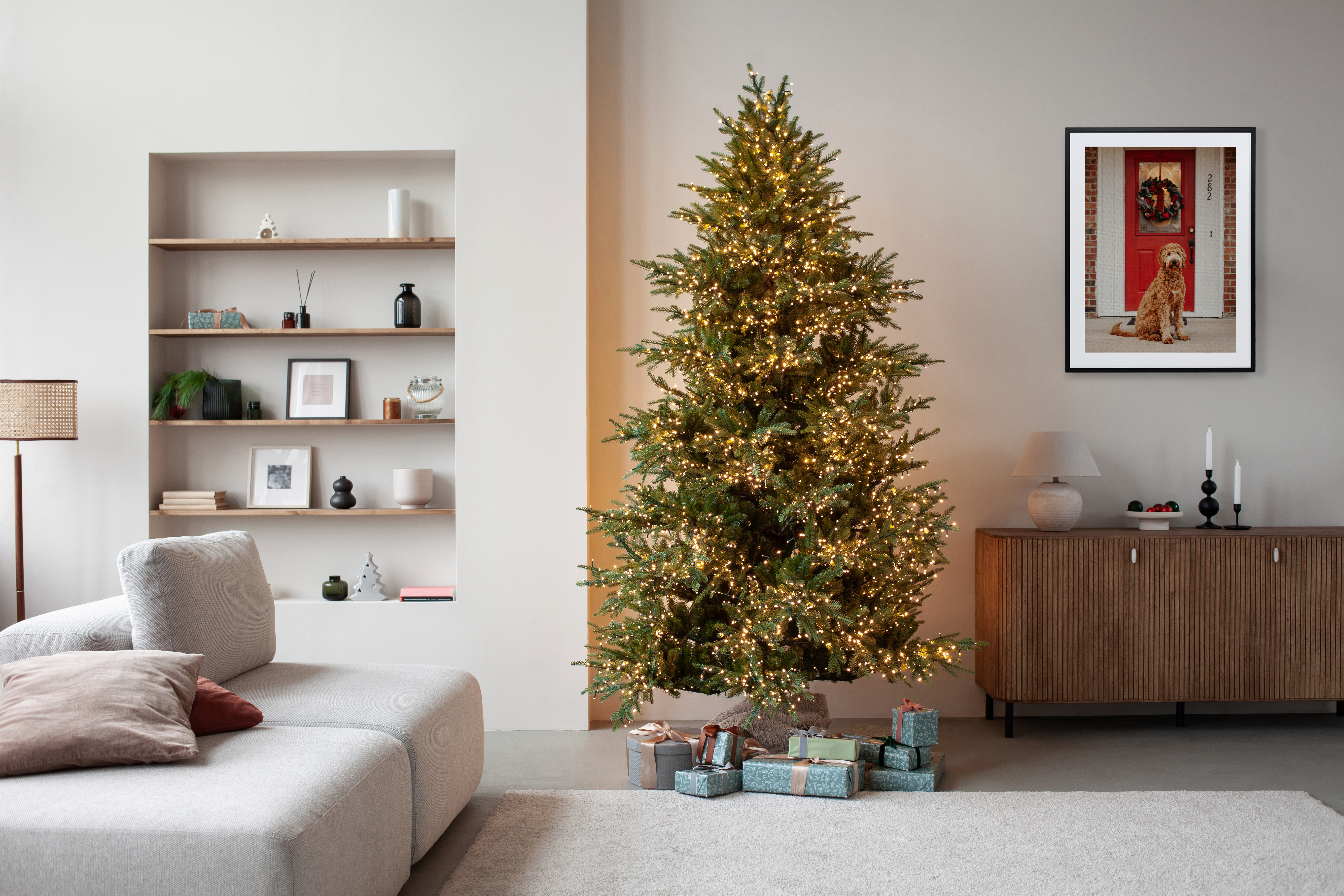 5. Add dynamic visuals with a triptych art piece
The only thing better than one premium print is three! If you're looking for ideas for one of the main walls, a Canvaspop triptych print is an installation that makes any space feel larger than life.
A triptych is a three-panel print that uses multiple frames to create a dramatic art piece. Visually arresting and dynamic, it's an eye-catching feature that creates a strong focal point as soon as someone walks in.
Whether it's at the end of the hallway, above the mantle, or behind the place of honor, a triptych is a statement piece to build around this holiday season.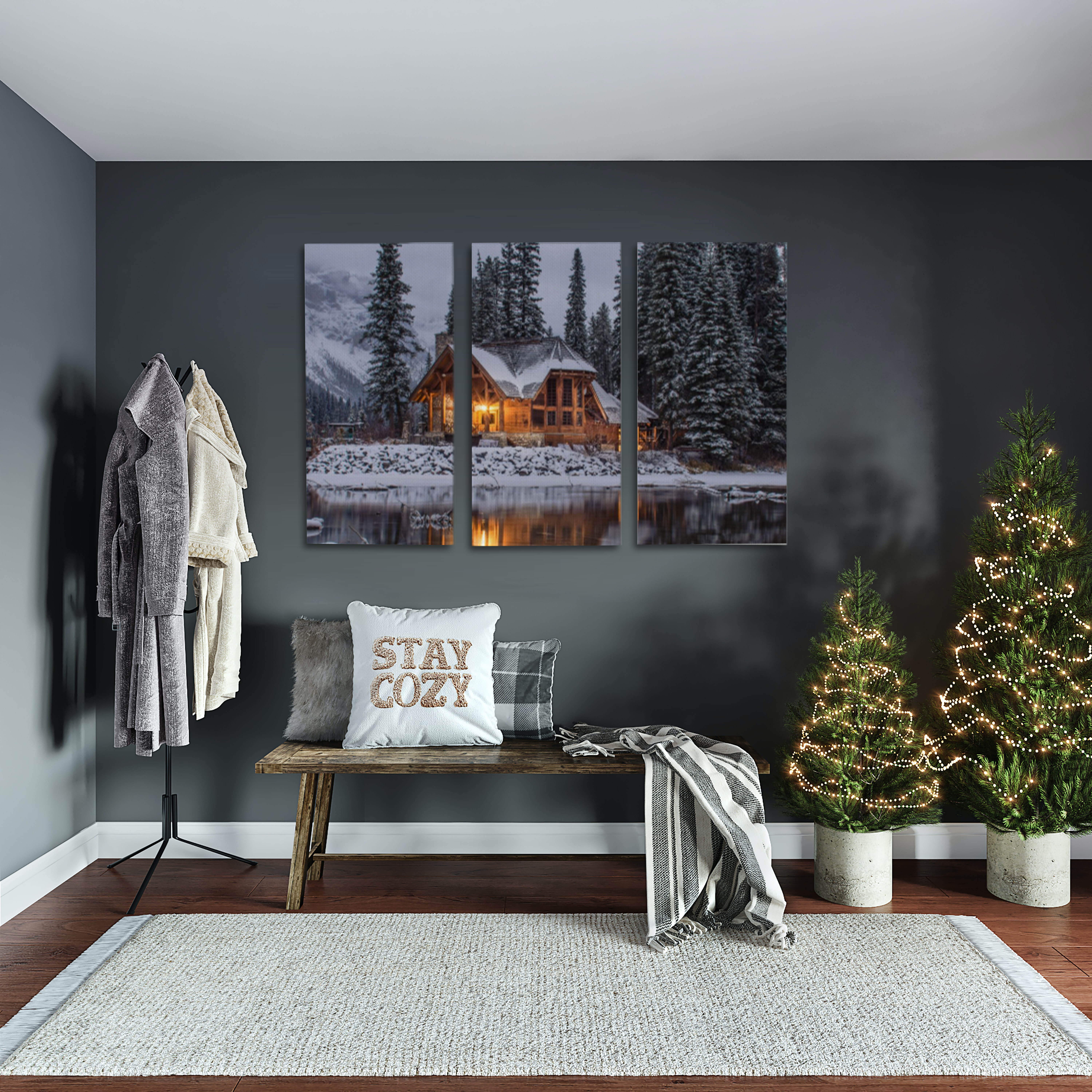 6. Let the kids deck out the mantle
Christmas brings everyone around – old friends and new family, neighbors near and fear, grandparents and grandkids. Our kids' art prints help you create a special space for the young ones over the holidays.
Use our kid-inspired templates to start your design, or get them involved in creating custom pieces just for them. Let the little ones add their own flair to the decorations with word art and wall art that looks amazing in their rooms or on the mantle, with many designs to choose from.
7. Give the guest of honor the gift of creating
Decorations are what make planning for the holidays fun, but who says they all need to be up before your guests arrive? Christmas is when everyone gets to add something, whether it's a side dish, presents, or a hand in the cleaning up. If you'd like to make a guest feel extra special, one way is to offer them a Canvaspop gift card.
This one's great for welcoming someone new into the family, especially if you're not sure what to get them. They can use the card to create a custom print to add a personal piece to their first Christmas. You can make it a gift to help them decorate their home too!
Whichever you choose, it's the perfect way to include anyone in the family this holiday.
There's no right way to decorate your home for Christmas. Finding a style that's warm and inviting is a personal journey, which is why we put the creative power in your hands. These ideas are here to help bring out your vision in a way that connects the people you care for most. Try them out this holiday season, and watch the magic as new memories form.