The best wall art for Halloween
By Amy Wright | Oct 23, 2023
Halloween wall art is a fun way to customize your home and ring in the fall season. It's also easy to display and doesn't require tangling yourself up in messy fake cobwebs or scattering plastic spiders around your house!
Are you ready to create a festive ambiance with custom Halloween art? If so, Canvaspop offers a variety of high-quality and customizable options that will fit perfectly into your home and help you celebrate Halloween in style.
Not sure how to choose the best Halloween wall art? We've got you covered. Learn everything you need to know in this complete guide.
The best Halloween wall art ideas
It doesn't matter if you prefer Halloween canvas wall art, are more drawn to sleek Halloween metal wall art, or have an affinity for anything in between. You can find customizable options that suit your unique style.
If you've never decorated for Halloween before, or if you just want to level up your decoration style, here are some ideas to help you get started:
Framed prints
Framed prints featuring traditional Halloween images -- think broomsticks, pumpkins, black cats, and cauldrons -- are a classy and subtle way to show your spooky spirit. Pick frames that match the rest of your decor, or go for a contrasting color or style that stands out.
Pops of color
Even if you're a bigger fan of neutral colors, consider inviting the Halloween season in with some fun pops of color. Shades of orange, red, and yellow are perfect for welcoming autumn (and you'll be able to stretch your decorations through November, saving you time before you have to set up for Christmas).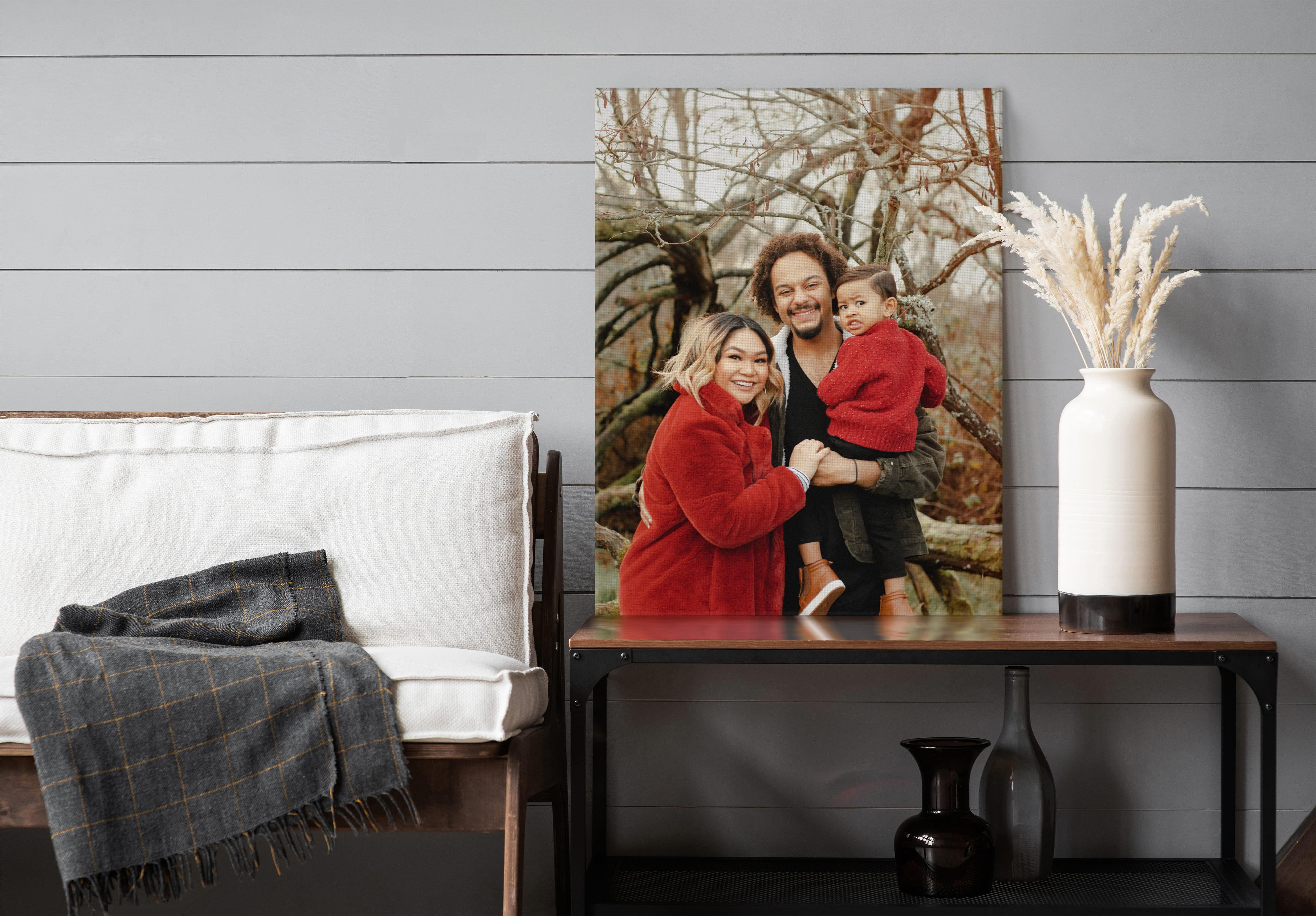 Cute and catchy sayings
Halloween-themed canvas prints, metal prints, or wood signs featuring fun phrases, quotes, or song lyrics are great attention grabbers that will show everyone who comes to your door how much you and your family love the holiday. You can even print out Halloween shots of your kids or pets from the previous years to decorate around your home.
Add a spooky element
You can create custom Halloween art without buying dedicated seasonal decor. For example, use existing photo frames or canvas prints and add a spooky element, like a paper bat or a cobweb in the corner, to the frame to subtly celebrate the holiday.
Featured products
Do you need some more specific ideas for Halloween home décor? If so, Canvaspop is here to help. Here's a glimpse into the Canvaspop Halloween collection to help you narrow down your options and pick the perfect prints:
Abstract art
Abstract art is an elegant and understated way to welcome Halloween or autumn in general. Prints like this abstract oil painting, that feature vibrant shades of red, orange, and yellow, will make a statement without being too cutesy if that's not your style.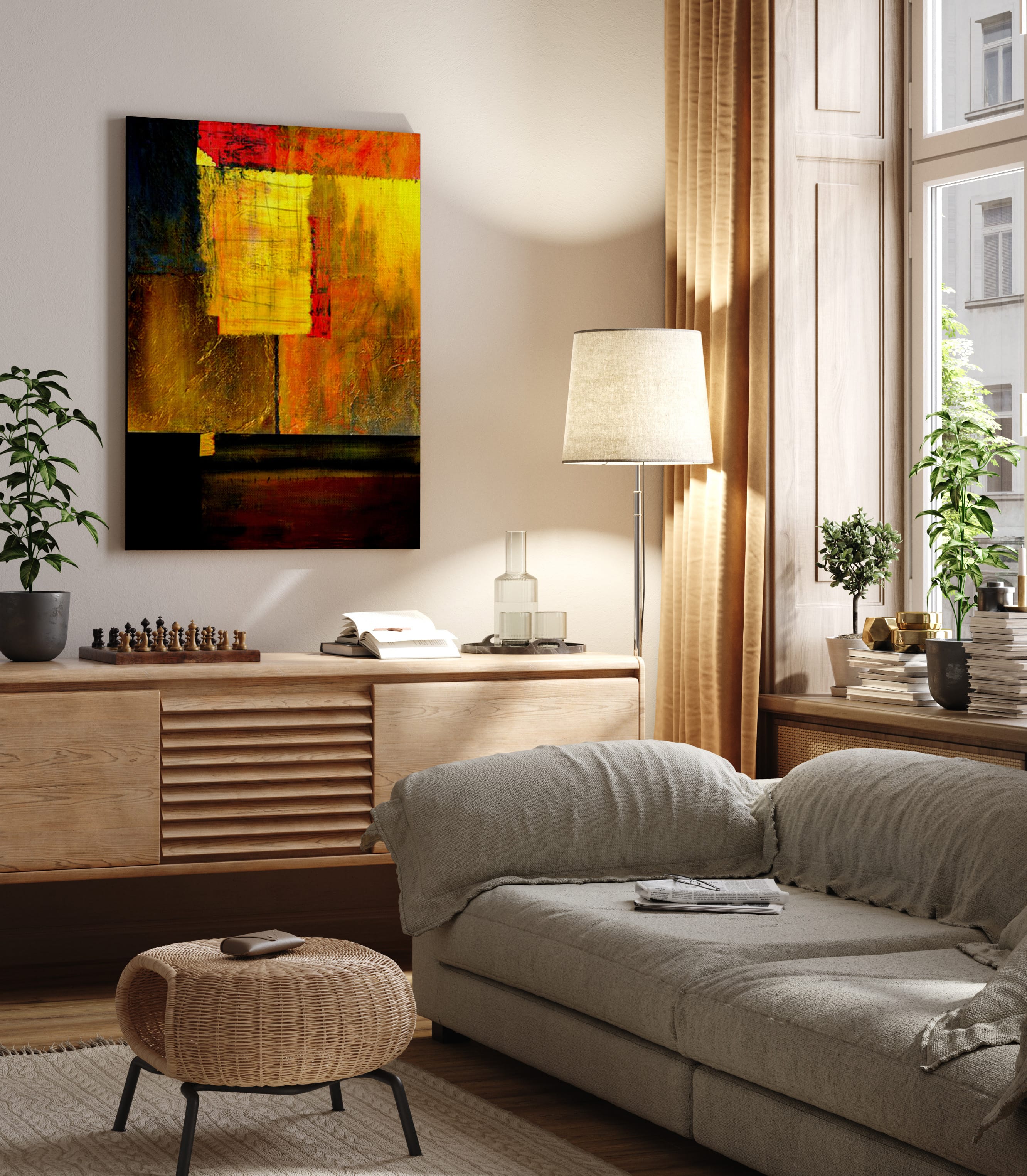 Modern art
Modern art leaves a lot of room for interpretation, which makes it the perfect addition to your Halloween interior design plans. This picture, featuring a floating hand and a collection of eyes, is a great example of how you can incorporate classy, interesting, and season-appropriate art into your home.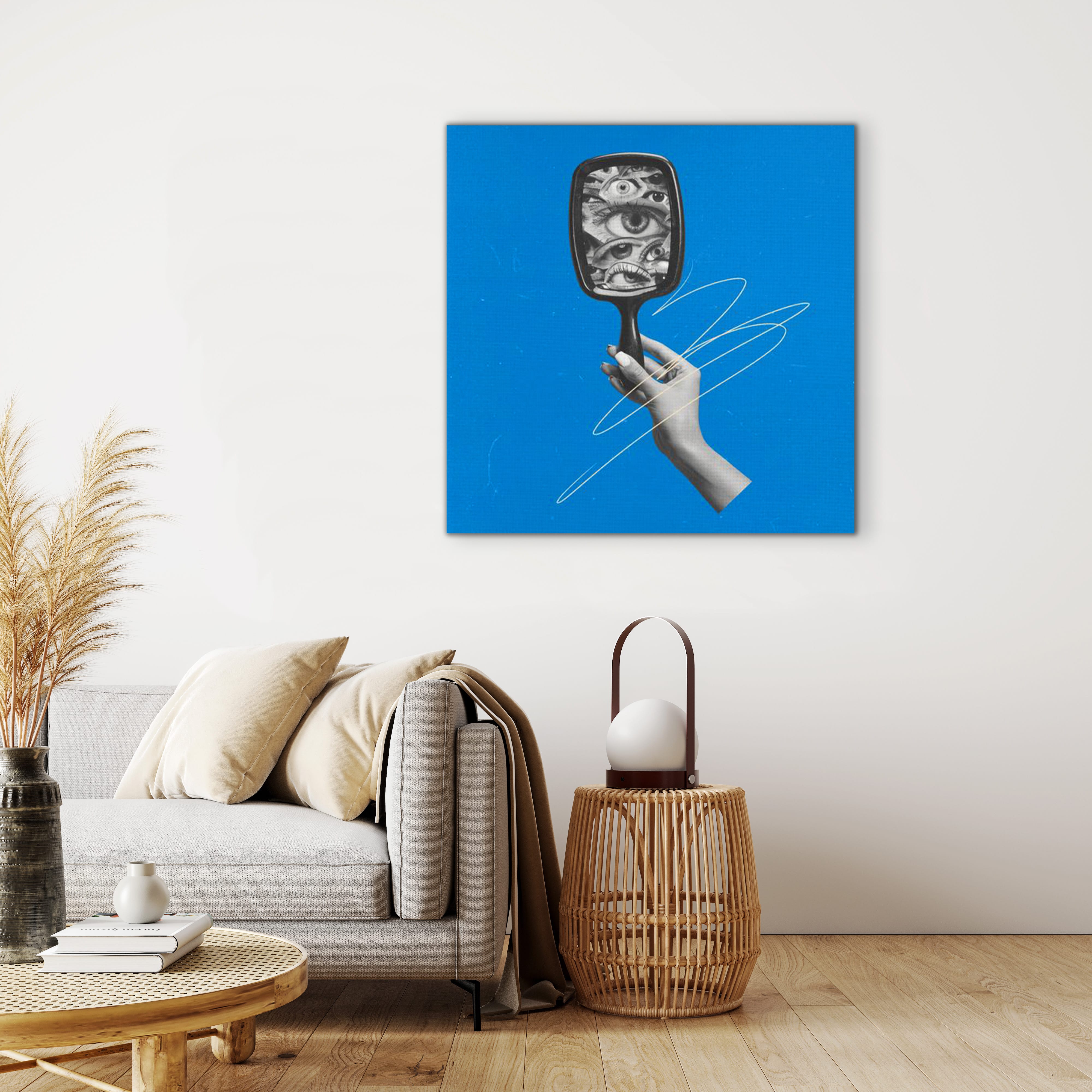 Geometric prints
Like abstract and modern art, geometric art is another fun option that you can include in your Halloween decor. Options like this patterned print are eye-catching but can also act as a base for other, more colorful decorations.
Illustrations
Illustrations add a whimsical touch and work well for every holiday and season. For example, this "Halloween" illustration art would make a cute addition to any home and the perfect piece to welcome the festive Halloween season. If you want to go for more subtle Halloween or fall wall art, try this illustration featuring pumpkins, pinecones, and leaves instead!
Botanicals
Flowers aren't just for the spring and summer months. You can find plenty of plant-themed art that you can add to your Halloween and fall decor. This sunflower print is an excellent example, as is this collection of leaves.
How to order custom prints
Whether you prefer geometric or modern art or something more realistic, it's easy to order Canvaspop quality prints. You can also create personalized Halloween decorations to match your unique needs and preferences, from adding filters to adjusting sizes. Ready to order a custom print? Simply follow these steps:
Choose your print from our extensive collection (or upload your own photos)
Pick between a framed or canvas print
Customize to suit your needs by picking the size, edge type, and filter of your print
Click "Add to cart"
Complete your order as you would any other online purchase!
It's that easy! As soon as you've placed your order, we'll get to work creating your custom Halloween print and ship it to your door as soon as possible.
How to use Halloween art
You don't have to be a professional decorator to add unique Halloween wall art to your home. If you need some extra guidance, though, check out these Halloween decorating ideas and tips:
Makeover your mantle
If you have a fireplace in your home, use it as a display area for your Halloween canvas art or framed Halloween art prints. Showcasing art here is a great way to create a focal point in your living room (or wherever your fireplace is located) and draw attention to your great decorative tastes. In most houses, it's also an easy area to reach and clean, making the decorative process much more manageable.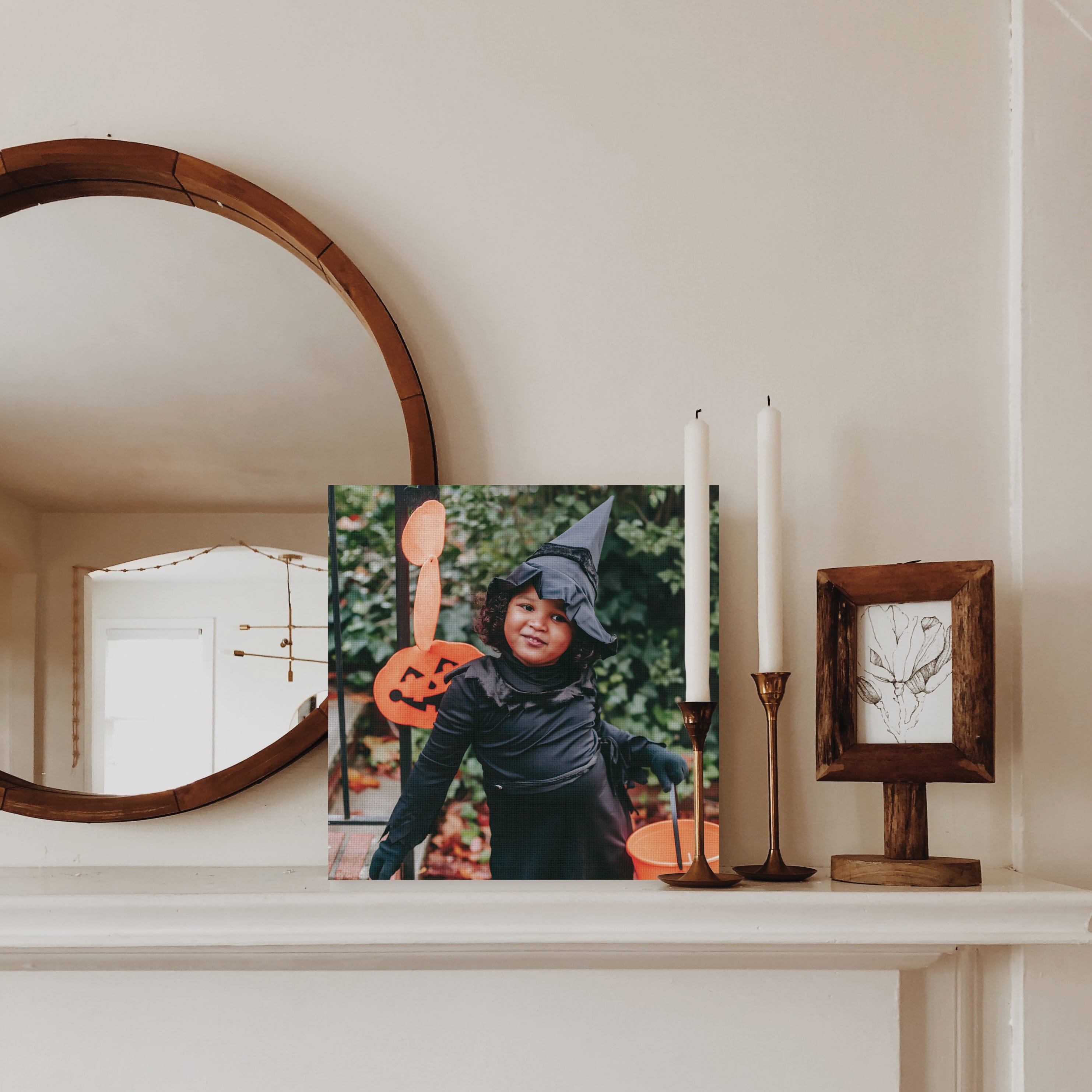 Add some floating shelves
No mantle? No problem. Hang some floating shelves instead. Floating shelves are minimalist options that provide a place for you to display smaller prints and other petite decorations throughout the home. As a bonus, you don't have to worry about making holes in the wall to hang prints that will only be around for a few months. You can simply clear the shelves and switch the decorations depending on the seasons.
Clear the coffee table
The coffee table is another excellent place to create a festive Halloween ambiance. There are lots of ways to make it stand out. For example, you can display a tabletop canvas print for guests to comment on when they stop by and surround it with some other decorations like pumpkins, fall leaves, or a witch's cauldron. Because these items are lower to the ground, you can easily move them for cleaning and don't have to worry about dust building up throughout the month.
Create a Halloween-themed gallery wall
Who says you have to pick just one piece of Halloween art? Take your Halloween interior design to the next level by creating a gallery wall with several small canvases or framed prints. You can also alternate between professionally produced images from Canvaspop and your kids' Halloween DIY projects to display two kinds of one-of-a-kind art.
Why choose Canvaspop?
Speaking of Canvaspop, you might be wondering what makes us the number one option for people interested in creative Halloween decorating (or decorating for any other holiday). If you're still on the fence about giving our framed and canvas prints a try, consider these reasons why our customers pick us:
Experienced professionals
Our team understands how important your memories are, and we take pride in helping you preserve them with high-quality framed and canvas prints. We have years of experience creating wall art and transforming homes, and we're excited to share our skills with you.
Variety of options
We also offer a wide selection of other wall art items to spruce up your home, make it fit the season, and simplify the decorating process.
Satisfaction guaranteed
Need more reasons to give us a try? Don't forget that we have a 100% Love it for Life Guarantee and offer free proofs for you to approve before we print.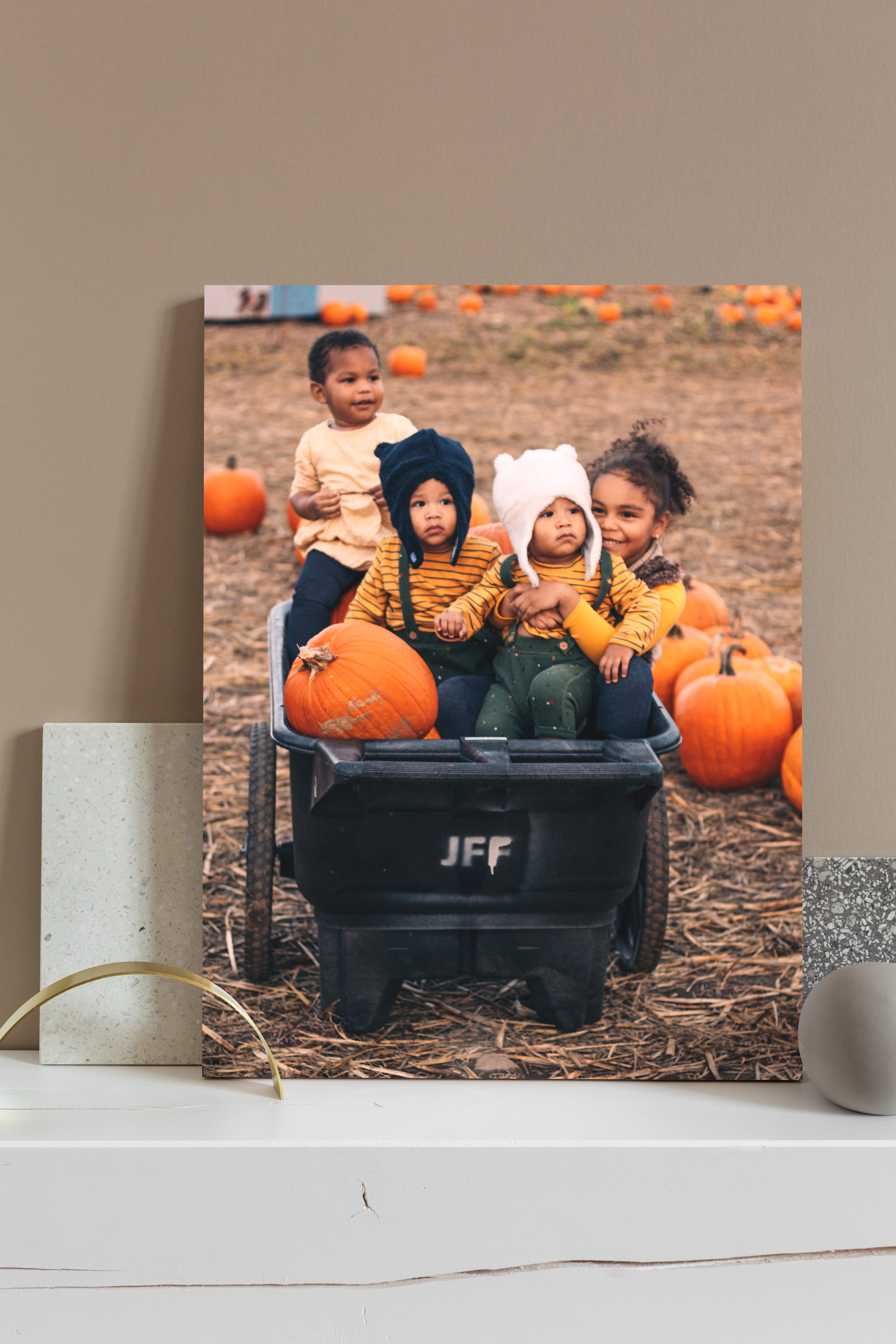 Conclusion
Transforming spaces for Halloween doesn't have to be overwhelming or challenging. Even if you're not an interior design expert, you can still celebrate the season and make your home the perfect spot for upcoming Halloween parties. With Canvaspop's Halloween wall art options, you can find the perfect piece for your home, whether you want something more minimalistic or an eye-catching, brightly colored canvas. Thanks to our 100% love-it guarantee, you've got nothing to lose. Elevate your Halloween decor with Canvaspop today!