Adding a personal touch to your nursery
By Amy Wright | Aug 17, 2022
There are few seasons as sweet as the anticipation of new motherhood. Whether you're expecting your first baby or you're an experienced pro by now, you know that this is a beautiful time in your family's life, and one that you'll always cherish.
While you prepare for your little one's arrival, there's nothing like spending time in their nursery. No matter the size or style of their future bedroom, you want to create a warm, happy space that they'll love calling their own. Hopefully, the décor you choose will also inspire plenty of long, uninterrupted nights of sleep!
As you dive deeply into this blissful nesting period, there are plenty of ways to personalize the nursery and give it a unique flair. Today, we're sharing a few of the ways you can bring custom charm into the most special room of the house.
1. Add a Personalized Canvas print or Framed print
It may be a little while before your baby starts saying their name, but you can gently remind them of it by hanging art that incorporates it beautifully.
Our Kids Art Prints are available in a range of different, kid-friendly designs and can be customized with any text you choose! In addition to a name, you can also add a quote or your favorite text.
From jungle animals and dinosaurs to robots and cars, our graphics and illustrations are richly colorful and sure to delight even the youngest members of the family. Provided on water-resistant, fade-resistant, museum-quality canvas, they're also durable and designed to last.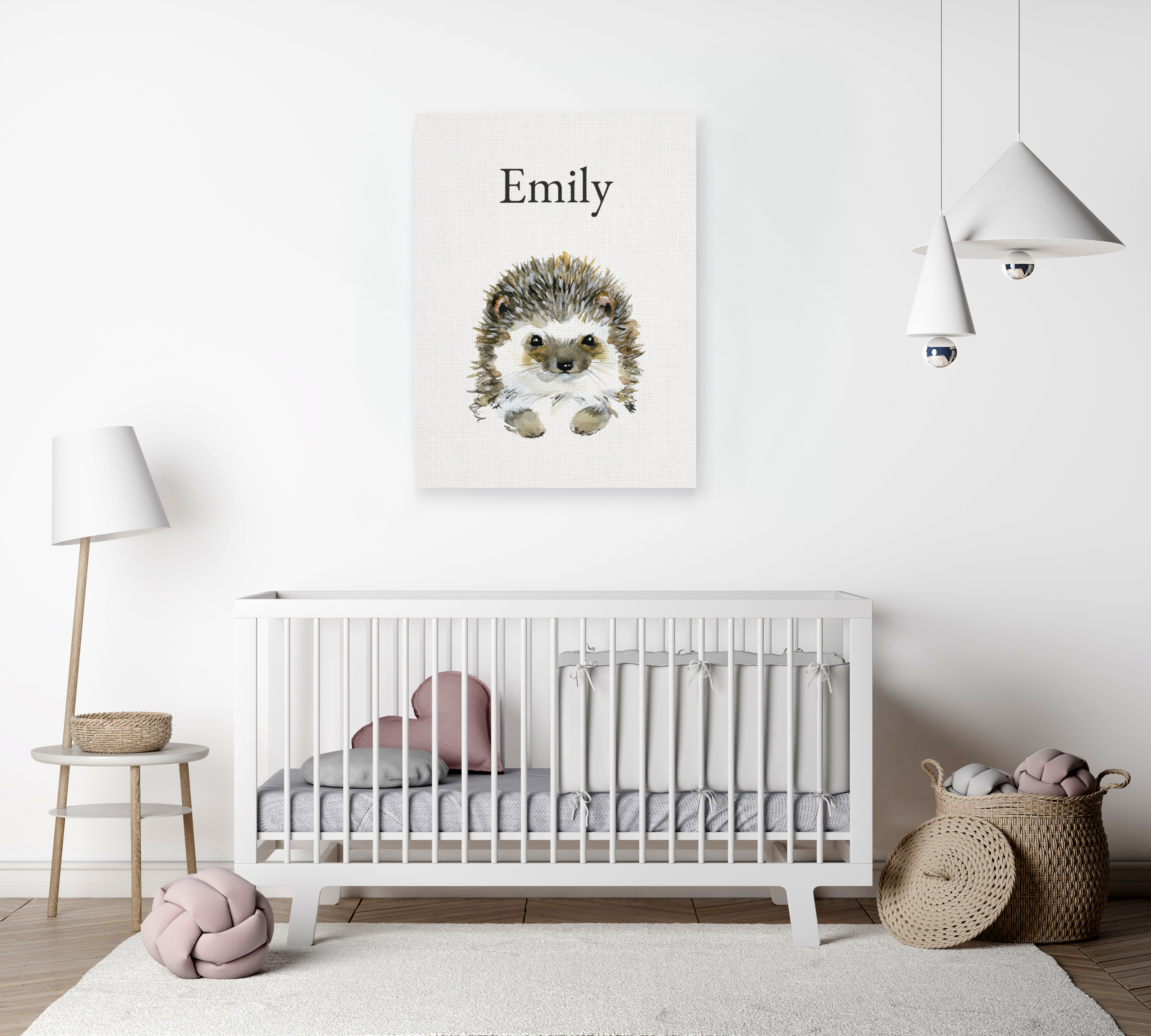 2. Use Wooden Letters
One nursery trend we love is the use of large, wooden blocks to spell out names or short quotes. You can find these letters at most craft stores. Some are plain wood while others incorporate special features like metal studs, pops of paint, and even lights.
These are great if you have a large, empty wall that you want to use to make a dramatic impression. Most letters are available in a few different sizes, so feel free to go big if you have the space!
3. Incorporate an Inspiring Quote
The space above your baby's crib can feel a little daunting to design. After all, it's the area they're going to be gazing up at while they drift off to dreamland, and you want to make sure it's filled with peaceful, cozy mementos.
While they might not be able to read just yet, you can set the stage early by hanging an inspirational quote where they'll be sure to see it. Our Word Art prints are available in different fonts, colors, and styles, designed to make any space shine.
The best part? They're fully customizable! You can create your own, one-of-a-kind print using a special quote that's meaningful to you and your family. This might be a cherished lyric, a family motto, or a line from a beloved book.
Stick with a single saying, create a collage incorporating multiple quotes, or spread a longer quote across several prints. Either way, make it your own and transform the crib into a dream zone.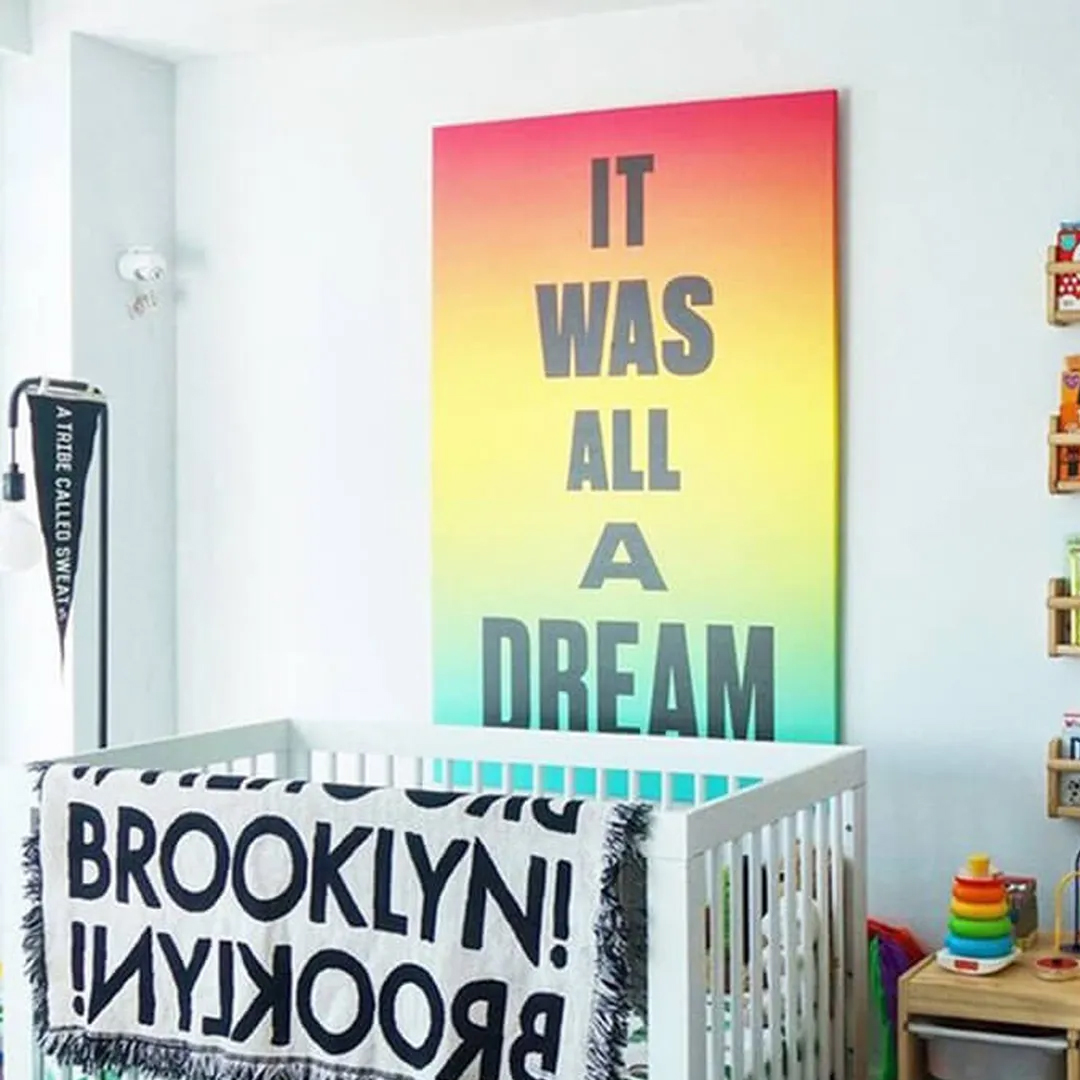 4. Personalize With Pillows
While most experts agree that pillows and blankets should be kept away from your baby's crib, you may still choose to accessorize with them on a rocking chair or sofa. This way, they can add color and pattern to the room, but will still be out of reach.
Chances are, you have plenty of solid-colored pillow covers on hand, either designated for the nursery or stashed away in a linen closet. They're affordable and easy to find at almost any home store, but they can sometimes lack personality and pizazz.
Why not use this opportunity to bring a little personalized charm into the nursery? Reach out to local crafters who can add custom embroidery to your pillow covers. They can embroider your child's name, initials, or even a special quote onto the front.
5. Get Creative With Wallpaper
Wallpaper is having a major moment. Gone are the days when you had to spend hours laboring over one wall, with a wet sponge in one hand and a bottle of glue in the other.
Now, you can find tons of adorable options in peel-and-stick designs that are easy to change out as your child's preferences evolve.
Keep it simple with pinstripes and polka dots, or go bold with whimsical and botanical prints. You can wallpaper the entire room for comforting, all-over color or highlight a statement wall for a more vivid effect.
6. Capture Time With a Canvas Print
As a parent, you know that the adage rings true. The days might feel long, but the years really are some of the shortest you'll ever experience.
While your baby's still a baby, you'll want to capture every part of their personality with plenty of photographs. Whether you're snapping them on your smartphone or posing for a professional photoshoot, these images serve as beautiful reminders of how the early days of their golden childhood began. Instead of keeping them all on the cloud, turn those pictures into a gorgeous keepsake instead.
Our Canvas Prints are handcrafted and expertly reviewed by our team of designers, printers, and craftspeople. In addition to a large selection of standard print sizes, we also offer custom-sized prints that can fit any space.
From their first bath to their first steps, you know you're going to get it all on film. These are meaningful moments that deserve to be celebrated and enjoyed every day, so go ahead and put them on full display. Then, as your child grows, you can add new canvases to create a collage of memories you'll treasure for a lifetime.
Create a Personalized Nursery They'll Adore
You're about to embark on one of the most amazing, memorable journeys of your life. As you shift into nesting mode, there are plenty of ways to create a personalized nursery everyone will love coming home to.
From canvas prints to personalized art and quotes, there's no limit to the designs you can create and the moments you can inspire. At Canvaspop, we're dedicated to helping you turn your house into a home, one memory at a time. Feel free to shop our full collections online and contact us if you have any questions.