8 Fall decor ideas
By Amy Wright | Oct 17, 2022
We might be holding on to the very last drop of nice weather, but soon the days will start getting shorter and the air will turn crisp again. Kids are going back to school, football season is ramping up, and we've broken the slow cooker out of hibernation. This can only mean one thing: fall is almost here!
As your family prepares for this seasonal shift, it's fun to think about ways to get your home ready, too. So grab your pumpkin spice latte, pull on that cozy sweater, and settle in. Today, we're sharing eight easy ways you can transition your decor into fall mode, one piece at a time.
1. Add a different rug
Rugs are one of the quickest and easiest ways to change up the feel of a space. If you've been living with that same neutral one for years, this is a great time to roll it up and stash it away for the season.
Look for a new one that incorporates shades of autumn, including chestnut brown, dark orange, and sage green. You don't have to go so far as to choose one with a leaf motif, but who are we to stop you? No matter which design you choose, try to find one that will work year-round and complement the rest of your decor.
2. Switch up your portraits
There's just something special about the light in autumn. Golden hour seems to last most of the afternoon and well into the evening, casting a warm and beautiful glow on everything outdoors. Why not take advantage of this feature and schedule a portrait session that highlights your family and the spectacular backdrop?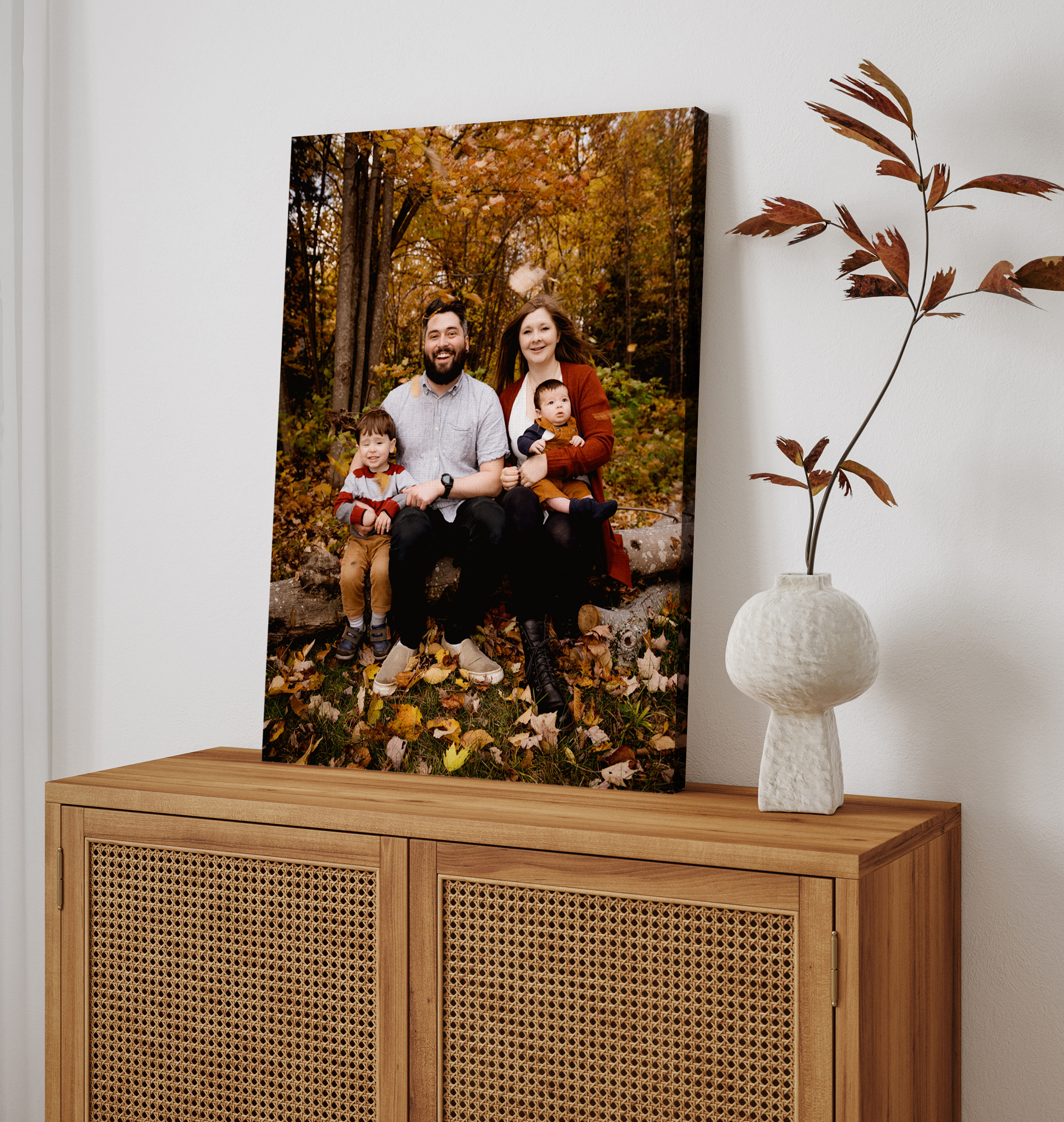 Professional photographers will know the best places around town to hold a photoshoot, from local farms to stunning mountaintops. You can also bring your camera or smartphone, along with a tripod, and simply set the self-timer mode to capture some unforgettable moments. Once you have a few pictures you love, we make it easy for you to add them to your wall. Our premium gallery framed prints look gorgeous standing on their own or grouped into a gallery collection.
3. Bring the outdoors in
Spend just a few minutes outdoors during the fall, and you'll quickly see how ablaze with color this season truly is. From ruby red and goldenrod yellow to burnt orange and jade green, there are stunning hues everywhere you look.
While these scenes make spectacular landscape photography, don't stop there! Snip a few branches from your property and bring them indoors. This is an easy (and free!) way to create a simple, fall-themed tablescape that everyone will love.
4. Try an easy DIY craft
When it feels this good outside, you don't exactly want to be holed up at home working on an extensive project. Thankfully, there are plenty of easy crafts that only take a few minutes and make a striking impression!
Colorfully painted gourds are a great place to start! While natural gourds can look gorgeous on their own, painting them with a few cans of vibrant spray paint takes them to an entirely new level. This simple tutorial is inexpensive and comes together in minutes.
Choose your favorite hues, allow the paint to dry completely, and arrange them together for an instant centerpiece you'll want to leave up long after the last leaves have fallen from the trees.
5. Bring in cozy textures
Fall nights are the perfect time to wrap yourself in a cozy throw blanket, make some popcorn, and settle in to watch Netflix. It's much easier to do so when that blanket is right within reach! While you might not want your heavy throws draped across the back of your couch all summer long, now is a great time to bring them out and showcase their beauty.
If you're in the market for a few new ones, look for thick, luxurious ones in soft fabrics like fleece, wool, chenille, and flannel. If you're feeling crafty after the gourds, you can even try your hand at making your own oversized knit blanket by following this step-by-step guide!
6. Add fall-themed wall art
While you're updating your family portraits, go ahead and change up your wall art, too! Art is a great way to decorate for each season, especially when it's affordable and accessible.
While those bright botanicals and seascapes might have been a great way to usher in summer, they may look out of place with the rest of your fall decor. For the next few months, consider swapping them out for autumnal landscapes that evoke the colors, images, and overall spirit of the season.
Our landscape prints are a great place to start, and you can easily sort them by color, subject, and orientation to find the perfect piece. In addition, many fine art prints also incorporate the warmer, moodier shades of fall. Choose an eye-catching canvas print or a coordinating frame and you're all set!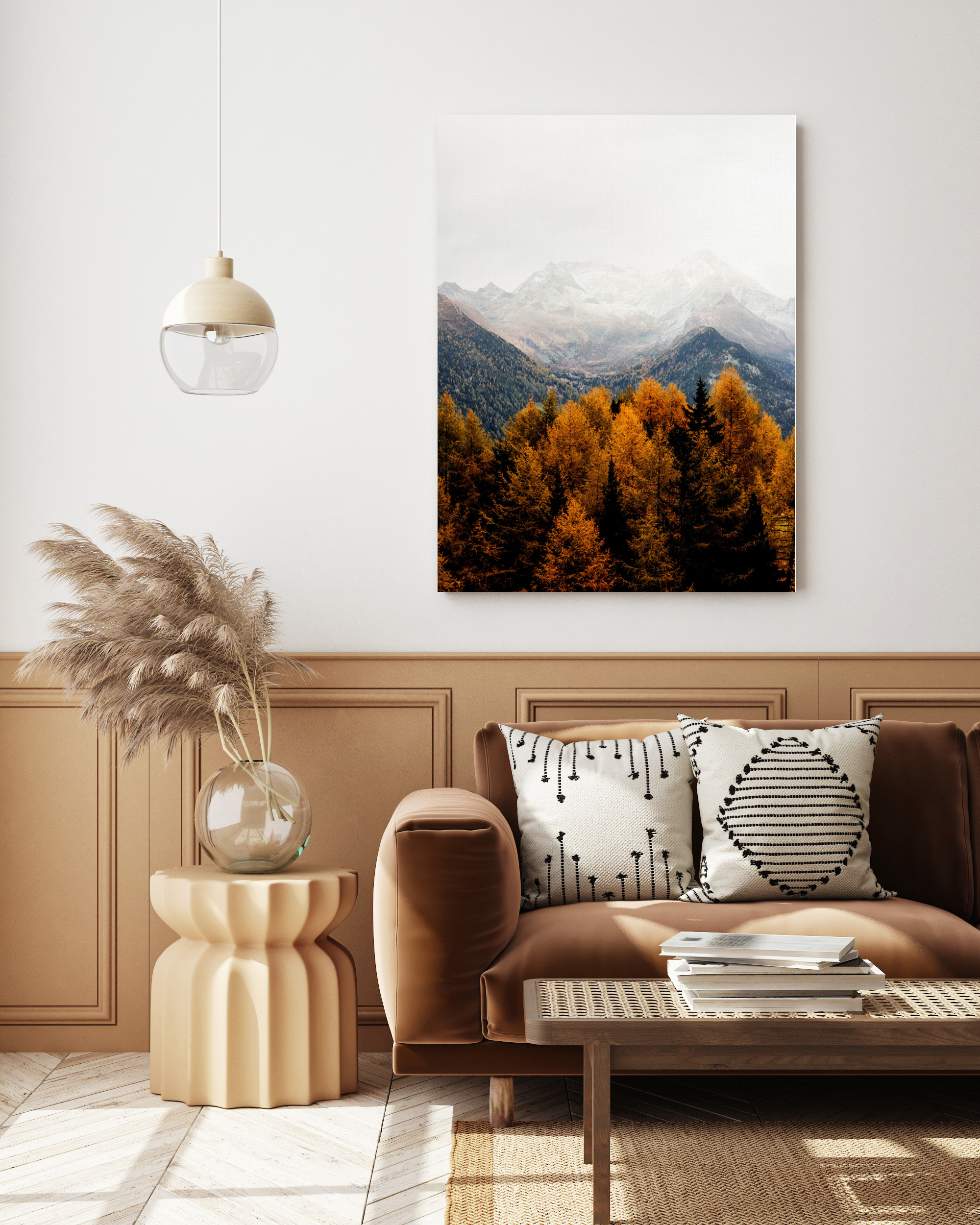 7. Make an unexpected wreath
As we inch closer to the holidays, you're bound to see plenty of front doors swathed in varying shades of green. This is the season for wreaths, but that doesn't mean you have to follow the crowd.
In addition to your favorite branches, feel free to add in other elements that represent fall, such as mini pumpkins, pine cones, unshelled pecans, or corn husks! You can find tutorials for almost any type of material online, so look around and see what you have on hand, or what's growing outdoors.
All you need to get started is a simple foam wreath form, which you can find at almost any craft store. From there, the possibilities are endless!
8. Enhance your curb appeal
With everyone spending more time outdoors, you might be thinking more about how your front porch looks. While a wreath is a great way to add visual interest, continue the look throughout the space.
Not sure where to start? Head to your local lawn and garden store and stock up on a few essentials, such as pumpkins of various sizes, lanterns, and potted mums.
Look for oversized metal buckets that you can easily place the mums inside of, adding a touch of industrial charm without the step of transplanting them. You can group the flowers together in one spot, or stagger them on your stairsteps so each one can shine on its own. Finally, find a fall-themed mat for the front door, and you're ready to go!
Decorate for fall and embrace the season
Fall offers plenty of opportunities for you to make special family memories. You don't have to spend all of your free time scheming up new decor plans, but it is fun to commemorate the season at home!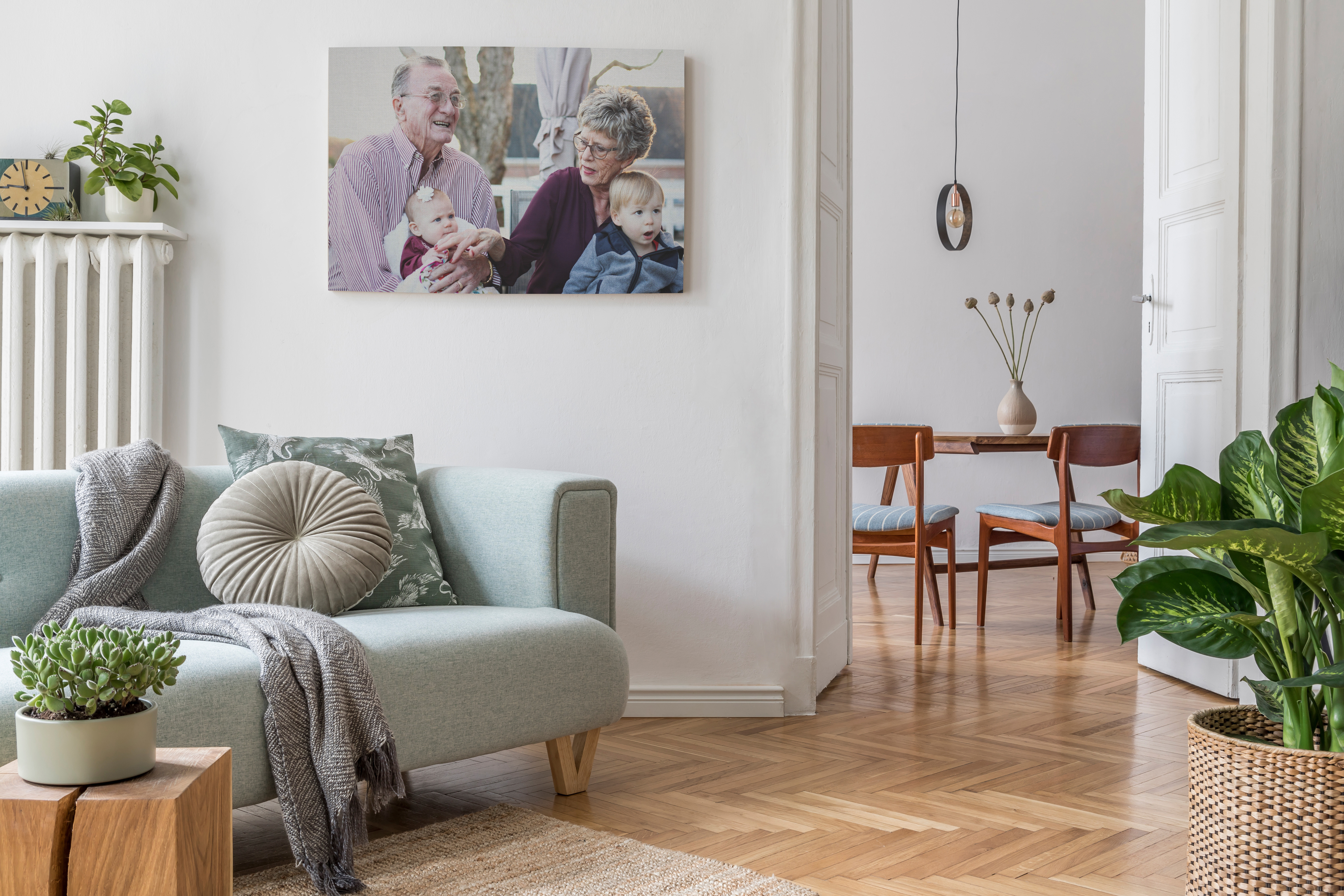 With these quick and easy ideas, you can get everything set up in no time. This way, you can relax and enjoy the moments with your family as they happen. While you do, remember to capture them with a click, and we'll help you turn them into heirloom prints you'll cherish forever!