6 Best word art prints for kids
By Amy Wright | Jul 25, 2022
With a home full of kids and more on the way, decorating a brand new nursery or playroom can bring a sense of unparalleled joy! There is no doubt that each detail involved in a room is a glimpse into the wonderful life that unfolds right in front of you, from the furnishings to the colors on the walls to the decor and accessories. Adding custom kids word art to your baby's room or playroom is a great way to make it feel more personal and unique.
Whether you're redecorating your child's bedroom or selecting nursery art for your little one's abode, Canvaspop has kids art prints that inspire joy and positivity. Bring years of comfort and happiness to your child's room or nursery by decorating it with personalized wall art. When picking kids art prints, most parents follow a cohesive theme that ties into the overall decor of the house. It is important to choose word art prints that have a timeless appeal so that they continue to inspire your children as they grow up. Make sure you select custom art that remains relevant and unique to your child's room over the years. With Canvaspop Kids Art Collection, you can create an artful space that inspires enthusiasm and bliss. Embrace a playful aesthetic with framed illustrations or premium canvas prints and check out the handpicked selection of personalized baby and kids wall art designed to look great in any nursery or kid's room.
Baby Animal Prints
Decorate your baby's nursery with exotic baby animals for a vibrant look that will make their imagination run wild. Baby animal prints are a time-honored nursery wall art tradition that's both gender-neutral and classically beautiful. Canvaspop has jungle, woodland, farm, as well as baby animal kids art prints, which complement each other very well. Choose from many adorable baby animals, personalize with watercolor effects and add custom words to your colorful animal wall art. Don't be afraid to experiment with Canvaspop's easy-to-use editing tool to get a more visible picture of your kids art. These prints go beyond the typical kids wall art and inspire with their mesmerizing watercolor style that will always stay fresh. Baby animal prints will provide your child with an endless supply of entertainment and interaction.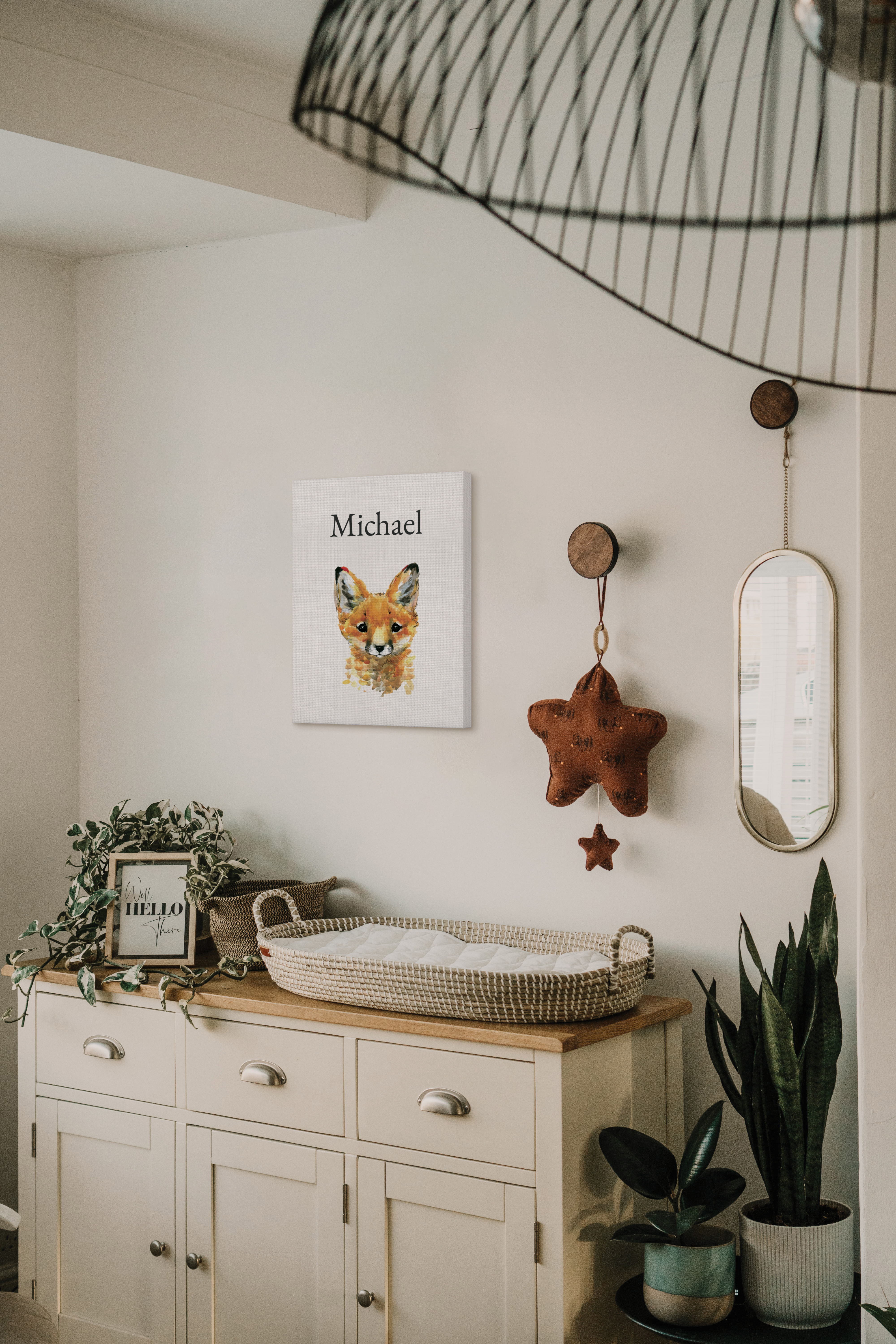 Things That Go
You are anything but basic, so why should your word art prints be boring. The decor in your nursery needs to reflect the uniqueness of your family's personality. Showcase your kid's passion for cars on your playroom or nursery walls. With Canvaspop's Things that Go art prints, you can't go wrong. Print your child's name alongside their favorite wheels to stimulate their imagination and excitement. Funky car art prints are a great way to encourage your child's creativity as they grow up. The possibilities are endless when it comes to creating nursery wall art prints that are both charming and unique. Let's go! Vroom vroom!
Embark on a journey of discovery with Canvaspop word art print ideas for kids! Adding word art prints and kids art prints to your baby's room creates a sleek and trendy aesthetic. If you and your family are going to choose phrases, make sure they are meaningful and personal to you.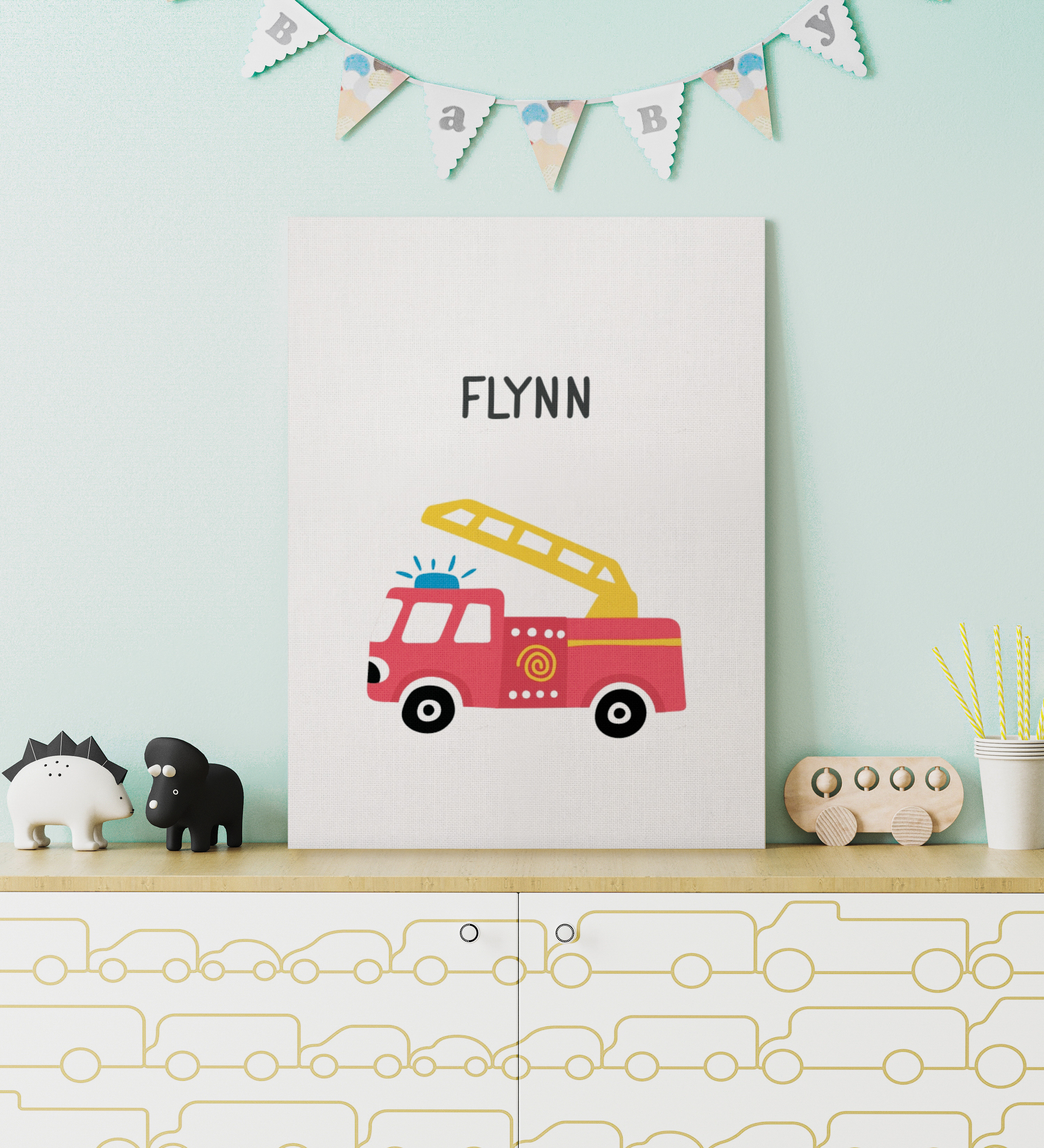 Little Robots
Kids art prints inspired by humanoid robot characters will give your nursery decor an iconic retro feel. It can make any room look like a precious time capsule straight out of your childhood storybooks. Whether you need a little spaceman robot or a C-3PO-inspired kids word wall art, Canvaspop has framed canvas prints perfect for those who dream big. Check out the collection of artsy Little Robots prints that are a wonderful addition to your baby's room or play corner.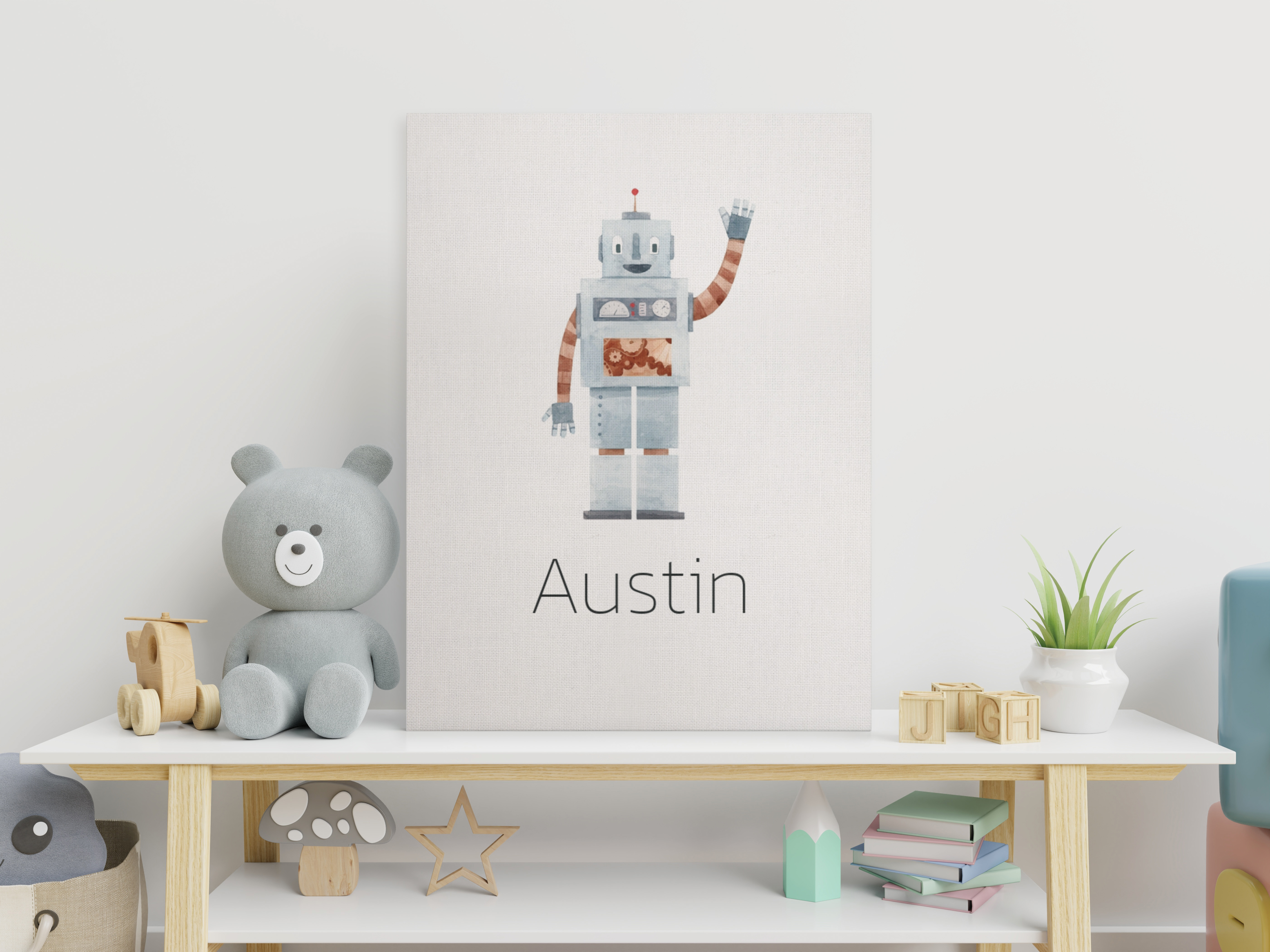 Dinosaurs
Make your child's walls look like they are straight out of a Jurassic World movie. You can make your little one's bedroom a roaring haven with custom dinosaur wall art. Sometimes having a neutral sea of pink or blue is too boring. Mix it up with prehistoric dinosaur canvas prints meant to transform any playroom into a roaring retreat. Any jungle wonderland can be brought to life with the bold appeal of Canvaspop dinosaur canvas prints. You can add a little magic to your child's room with whimsical baby animal wall art prints and personalized word art prints.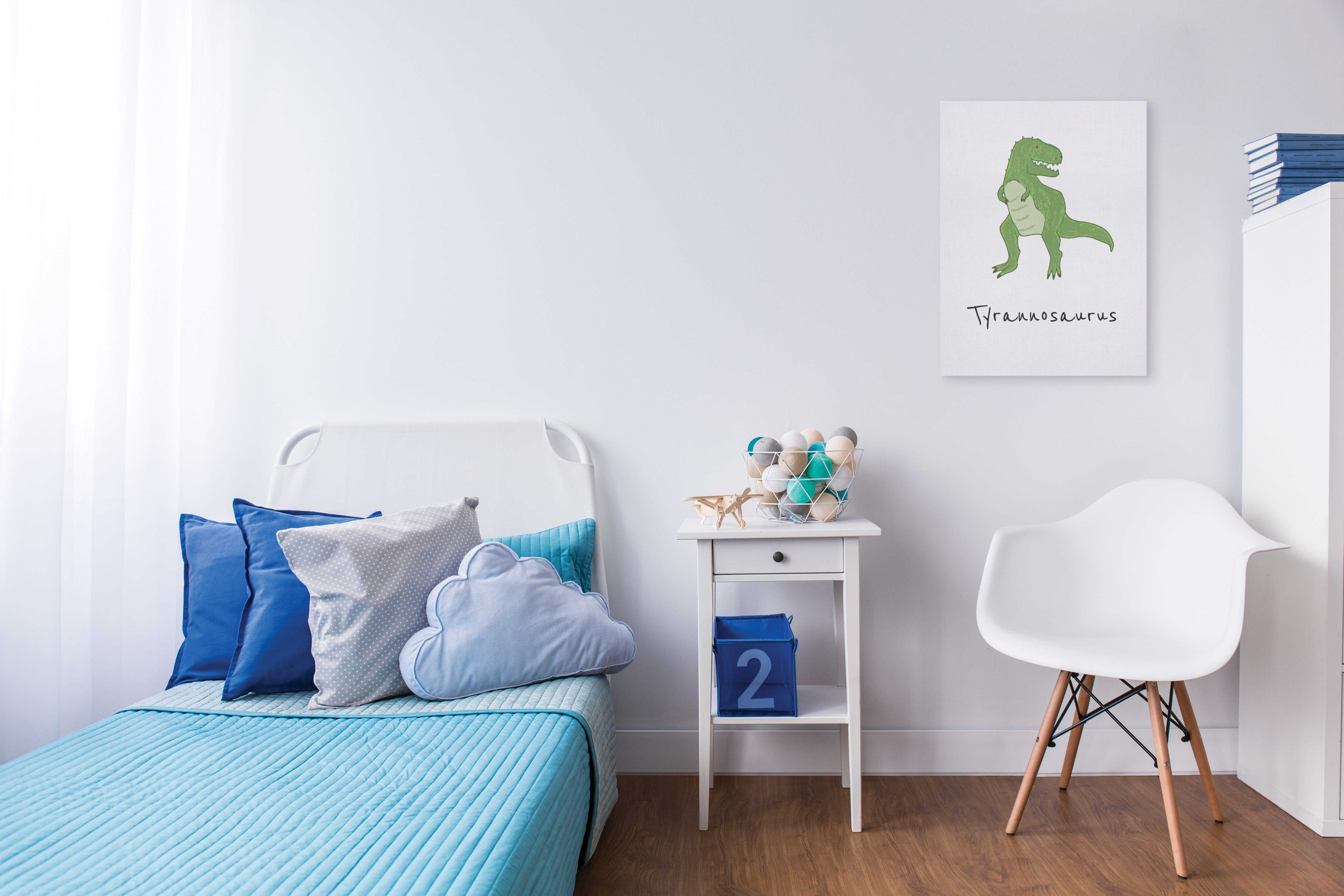 Rise and Shine
Bring a sense of dreamy optimism to your nursery or playroom with Canvaspop inspirational Rise and Shine nursery word art. Stylize your print with personal text to make it extra special. The Canvaspop canvas art prints add sparkle to your baby's place of comfort that inspires, teaches, and ignites their imagination. Plus, with its calming nordic boho vibe, the rise and shine styles are perfect for creating naturally beautiful wall moments! Whether it's a moon, star, or rainbow, this wall art is the perfect addition to any modern boho nursery or nurturing nook. You can let your favorite wall art prints inspire your overall nursery theme when you select your kids art.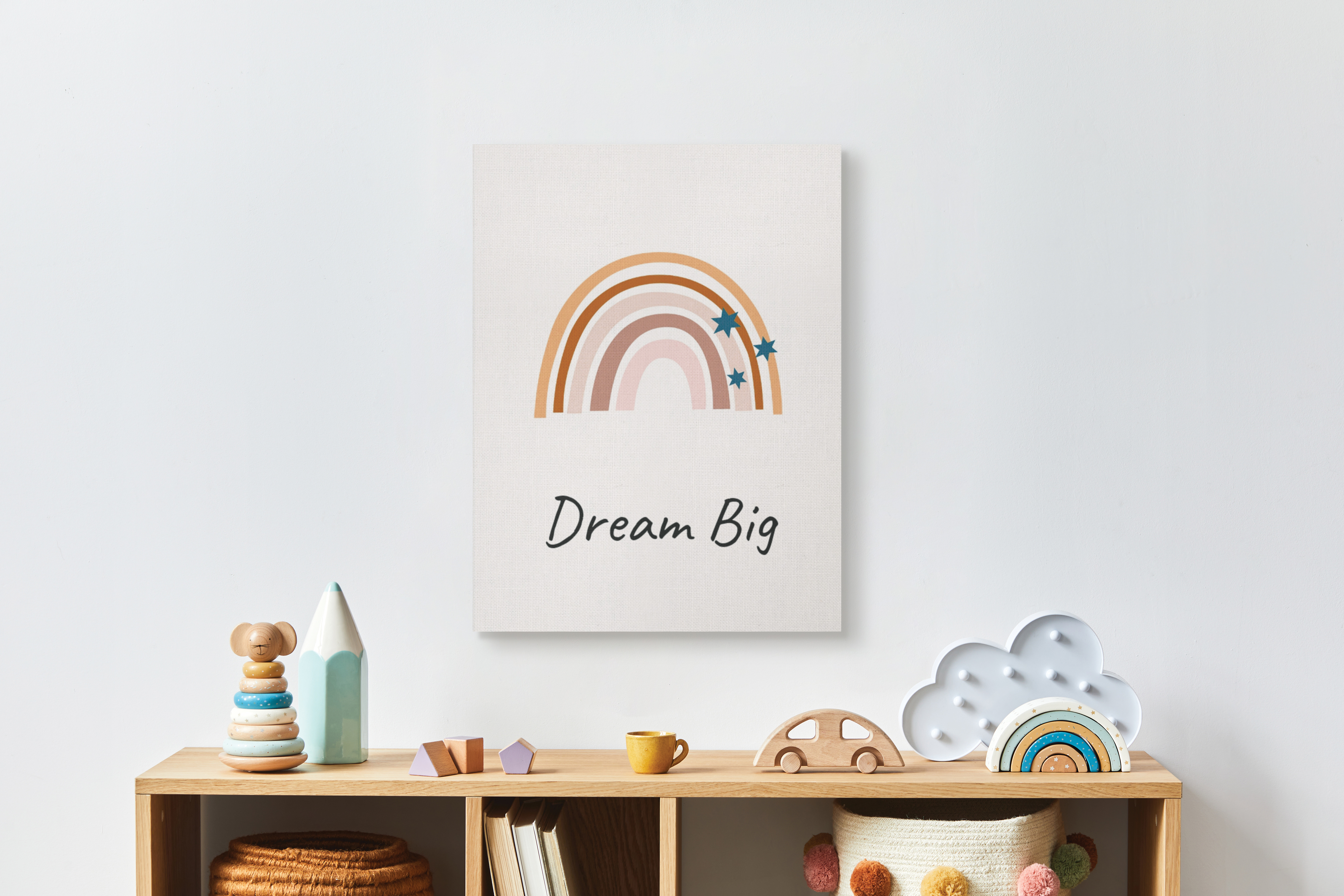 Nursery Animals
One of the greatest things about nursery wall art is that it can be easily incorporated into a child's room as they grow. As a bonus, Nursery Animals are the cutest and sweetest pieces that look great in a child's playroom as they grow up. Canvaspop's nursery animal word art prints feature hand-drawn cartoon creatures that are perfect for children of any age. It doesn't matter if your entire house isn't super minimalist, your baby's room is a blank canvas just begging for your personal touches.
To bring a sense of tranquility to any nursery or baby room, we recommend painting the walls ivory white and framing them with word art prints for kids. You can transform any room in your house with custom word art and kids wall art using these top tips. Your kids playroom or nursery can be transformed into a beautiful mother-baby sanctuary with personalized canvas prints made exclusively with Canvaspop.