3 photo display ideas for your wedding
By Amy Wright | Jun 1, 2023
Your wedding day is one of the most special and memorable moments of your life. It's a day when you and your loved ones celebrate your love and commitment to each other. And what better way to capture those memories than with beautiful printed photographs?
Not only are they a great way to remember your special day, but they also make great decorations for your home. Whether you're looking for a creative way to showcase your favorite wedding photos or want to make a statement on your big day in a unique display, we've got you covered.
How to use your photos during the wedding
Do you want to make your photos a part of your big day? There are plenty of ways to incorporate your special memories into your wedding day.
1. Tabletop photo display
Create a tabletop display by placing your favorite wedding photos in elegant frames on each reception table. You can mix and match between canvas prints and framed prints to create a unique and beautiful display that reflects your personality, style, and wedding theme.
2. Oversized canvas prints
Create a custom oversized canvas of your favorite photo as the focal point. You can use your engagement or pre-wedding photos to create the perfect backdrop for your entrance. This is a great way to welcome guests and make a memorable first impression. An oversized canvas print of the special couple can also double as a personalized guestbook well worth hanging long after your big day. This unique, visual spin on guest books takes a canvas print and turns it into a collaborative art project that's totally unique, personal, and worthy of hanging on your wall.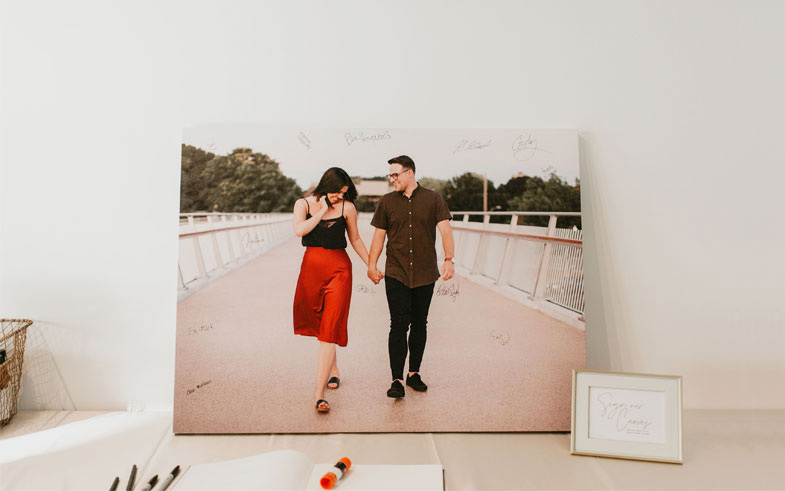 3. Create a wall of frames
Turn your wall into an art installation with multiple photo frames. Choose different sizes and image contrast to create a unique and interesting layout.
Your guests can take pictures with the frames as a fun activity, admire your photos, and reminisce about your special day as they look around.
What to do with the pictures after the wedding
After the wedding, you have hundreds, if not thousands, of stunning wedding photos of you and your partner, the guests, the decor, and even the food. While you can always keep them in an album or on your phone, why not make them even more memorable? Here are some creative ways to keep the memories of your special day alive:
Create a photo collage
Fill a wall with photos from different moments of your big day and create a beautiful photo collage that captures the beauty of the event. This way, you'll be able to enjoy your memories every day.
Create a gallery wall
Turn your favorite wedding photo into a stunning gallery wall. Make this a centerpiece of your home and create a unique and beautiful display that reflects your personality, style, and wedding theme.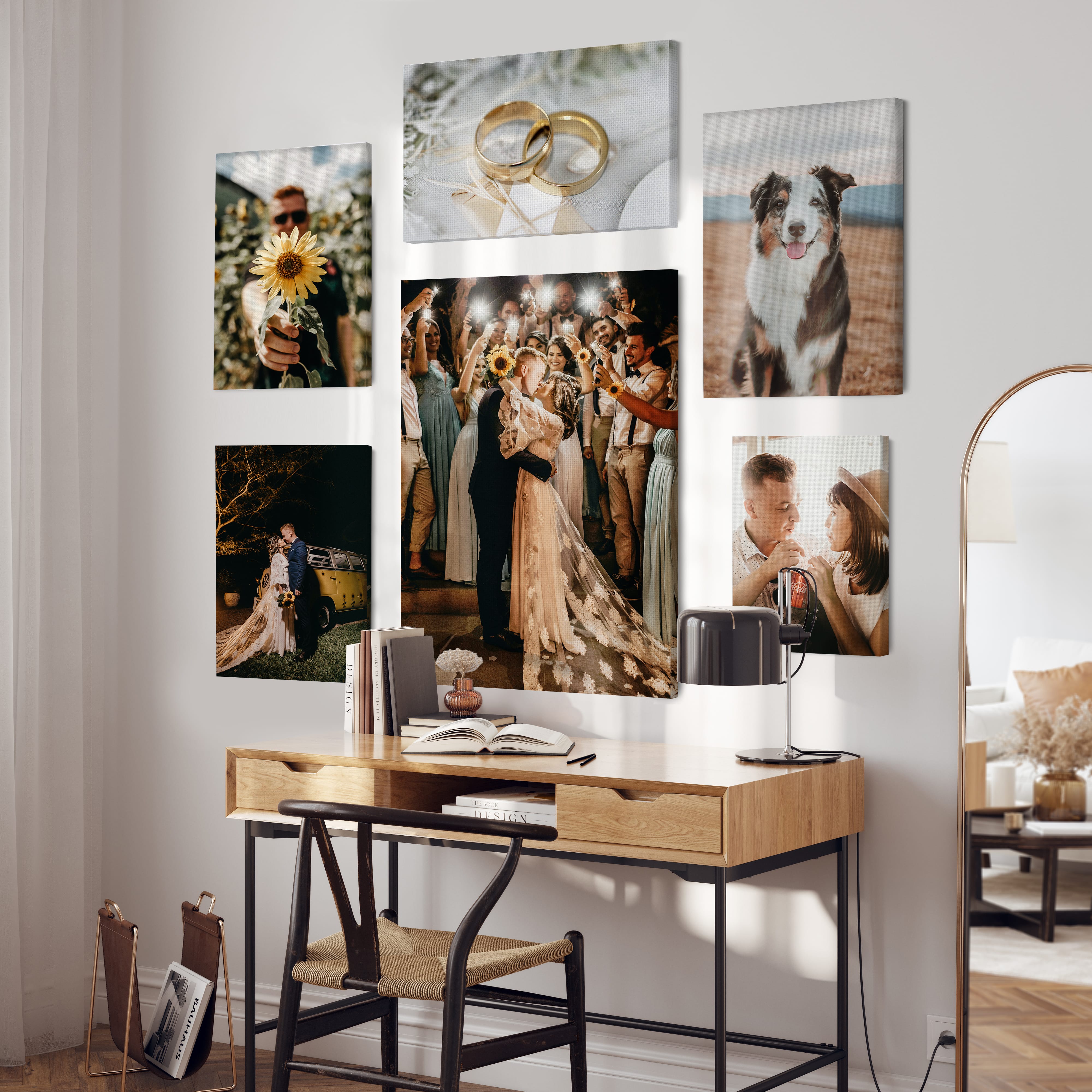 Some tips for creating a gallery wall include: - Choose a large print and create an eye-catching display - Pick photos that tell a story about you and your partner - Add statement lighting to give your love the spotlight it deserves
Doing this will create a beautiful and customized wall mural that will make your home feel truly special.
Create with Canvaspop and make your memories last
No matter how you choose to display your wedding photos, our experienced customer service and design team are here to help you turn your photos into beautiful works of art.
We provide a variety of printing services, including canvas prints, framed prints, and even metal prints. Plus, we offer custom sizes so you can create a one-of-a-kind piece that reflects your personality and style.
We take pride in delivering high-quality prints that will stand the test of time, so you can rest assured your memories will last for generations to come. So, what are you waiting for? Show off your wedding photos in style with Canvas Let us help make your memories last a lifetime.